Sept ans de réflexion
Sur le tournage - scène 11
Date: le 15 septembre 1954, à une heure du matin.
Lieu: entre la 51 et 52st Street, au croisement de Lexington Avenue.
Scène: il s'agit d'une scène mythique, l'une des plus célèbres de l'histoire du cinéma, qui reste sans doute la "scène la plus vue au monde", celle où la robe blanche de Marilyn se soulève entraînée par l'air d'une grille de métro. La presse en parla comme de "l'exhibition la plus intéressante depuis Lady Godiva".
Date: September 15, 1954, at one o'clock.
Location: between 51 and 52st Street on the corner of Lexington Avenue.
Scene: it is a mythical scene, one of the most famous in the history of cinema, which is probably the "most scene view in the world," the one where the white dress of Marilyn Monroe rises, driven by the blow of the subway grate. The press spoke of as "the most interesting exhibition since Lady Godiva".
---
Le tournage de cette scène eut des conséquences dans la vie privée de Marilyn Monroe en jouant un rôle déterminant dans sa relation de jeune mariée d'avec Joe DiMaggio: l'accès de jalousie de son époux. Au départ, Joe DiMaggio n'avait nullement l'intention de se rendre sur le lieu de tournage: il se trouvait dans un bar, à quelques pâtés d'immeubles de là, avec son ami Georges Solotaire. Mais sachant peut-être pertinemment qu'il avait tort, il fini par accepter de s'y rendre, après maintes insistances de son ami, l'influent journaliste people Walter Winchell, qui l'emmèna sur le lieu du tournage. Ensemble, ils traversèrent les cordons des policiers et se postèrent à côté de la première caméra. Joe ne put supporter de voir des milliers de gens déshabiller sa femme du regard des heures d'affilées et marmonna :"Qu'est-ce que c'est que ce cirque ?" et, en s'adressant à Winchell: "Je te l'ai dit que je n'avais rien à foutre ici ! Partons !". Choqué, il quitta le plateau plein de rage. Sans doute Walter Winchell avait prévu la réaction de Joe et parvint à le convaincre de venir sur le plateau, afin d'alimenter ses propres rubriques à potins. Une fois les prises de vues terminées, Winchell entraîna ensuite Joe dans la loge de Marilyn, qui, affalée dans un fauteuil, salua Joe: "Salut Giuseppe !"; Winchell percevant que sa gaieté n'était pas naturelle. D'ailleurs, presque aussitôt, une dispute entre le couple éclata, jusqu'au dîner. Winchell, gêné, finira par quitter le repas. De retour au Saint Regis Hotel, où le couple séjournait, ils eurent une violente dispute, et l'on rapporte que Joe devint brutal avec sa femme. Le caméraman chef opérateur du film, Milton Krasner, qui occupait une chambre au Saint Regis, fut réveillé par des hurlements de colère de l'autre côté du mur. Gladys Whitten, la coiffeuse de Marilyn, raconta que le lendemain matin, Marilyn lui a dit qu'elle avait appelé en criant de toutes ses forces Gladys et l'habilleuse. Gladys racontera plus tard: "(...) son mari était fou furieux et l'a battue. (...) Des coups aux épaules, on en voyait les traces; mais on les a fait disparaître avec un peu de crème teintée et elle a continué le travail." Amy Greene, la femme du photographe Milton Greene, rendit aussi visite à Marilyn pour essayer un vison: "J'étais assise sur le lit, dans son vison, et Marilyn commence à se déshabiller. (...) Elle enlève son corsage: elle était pleine de bleus dans le dos, je n'arrivais pas à y croire. (...) Elle ne savait quoi dire, et comme ce n'était pas une menteuse, elle dit simplement: 'Eh oui'. (...)".
Le lendemain de la dispute, le 16 septembre, c'est pourtant avec Joe que Marilyn reprit l'avion pour regagner la Californie. Trois semaines plus tard, la Fox publiera un communiqué de presse annonçant que le couple se séparait.
The filming of this scene had consequences in the private life of Marilyn Monroe playing a key role in its relationship with Joe DiMaggio: the jealousy of her husband. Initially, Joe DiMaggio did not intend to go to the set: he was in a bar a few blocks of buildings there with his friend George Solotaire. But perhaps knowing full well he was wrong, he finally agreed to go there, after much insistence of his friend, the influential people journalist Walter Winchell, who took him at the place of the shooting. Together, they crossed police cords and stayed next to the first camera. Joe could not bear to see thousands of people seeing his wife undressed by the air for hours and he muttered: "What is this circus ?" and, in addressing Winchell: "I have told you that I had nothing to do here. Let's go!". Shocked, he left the set full of rage. Winchell probably foresaw the reaction of Joe and managed to convince him to come on the set, in order to feed his own topic to gossip. Once the shooting ended, Winchell led Joe into the lodge of Marilyn, who slumped in a chair, bowed Joe: "Hi Giuseppe !" Winchell perceiving that his cheerfulness was not natural. In fact, almost immediately, an argument between the couple broke up until the dinner. Winchell, embarrassed, leaved during the meal. Back to St. Regis Hotel, where the couple stayed, they had a heated argument, and it is reported that Joe became violent with his wife. The cameraman cinematographer of the film, Milton Krasner, who occupied a room at the St. Regis, was awakened by screams of anger on the other side of the wall. Gladys Whitten, the hairdresser of Marilyn, told the next morning that Marilyn said she had called and shouted with all his might Gladys and her dresser. Gladys said later: "(...) her husband was mad and beat her (...) Shots shoulders, we saw the traces, but it was the away with a bit of tinted moisturizer. And she continued to work. " Amy Greene, the wife of photographer Milton Greene, also made a visit to Marilyn to try a mink: "I was sitting on the bed in her mink and Marilyn begins to undress (...) She takes off her blouse: it was full of bruising in her back, I could not believe it (...) She did not know what to say, and as she was not a liar, she simply said.. 'Yes' (. ..) ".
The day after the fight, in September 16, it is with Joe that Marilyn took the plane back to California. Three weeks later, Fox will announce that the couple were separated.
> Joe et Walter Winchell - photographies de Bruno Bernard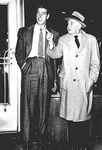 ---
> Dans le Trans-Lus Theater
> Le 15 septembre 1954 marque le premier anniversaire du Cinémascope
Date of September 15, 1954 marks the first anniversary of CinemaScope
- Marilyn coupe le gâteau avec Walter Winchell et Joe / Marilyn cuts the cake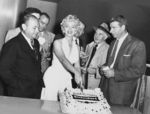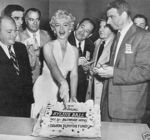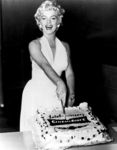 - Marilyn avec Earl Wilson et Gina Lollobrigida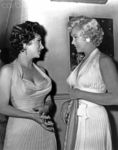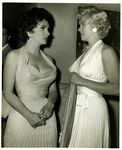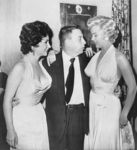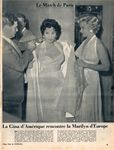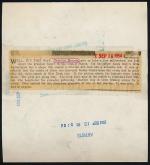 ---
> Photographies de Milton Greene

---
---
> Photographies de Bruno Bernard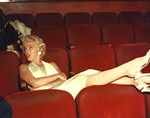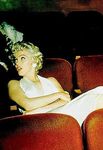 ---
> Autographe de Marilyn et Joe
signatures du 15 septembre 1954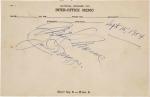 ---
---
>> sources:
- Livres: Bernard of Hollywood's Marilyn / De Norma Jean à Marilyn, de Susan Bernard / Marilyn among friends, Sam Shaw / L'Encyclopédie d'Adam Victor / Marilyn Monroe et les caméras, de Georges Belmont / Les trésors de Marilyn Monroe, de Jenna Glatzer / Les vies secrètes de Marilyn Monroe, d'Anthony Summers.

---
All photos are copyright and protected by their respective owners.
copyright text by GinieLand.