White Polka Blue-Grey Dots Dress
robe blanche à pois gris bleus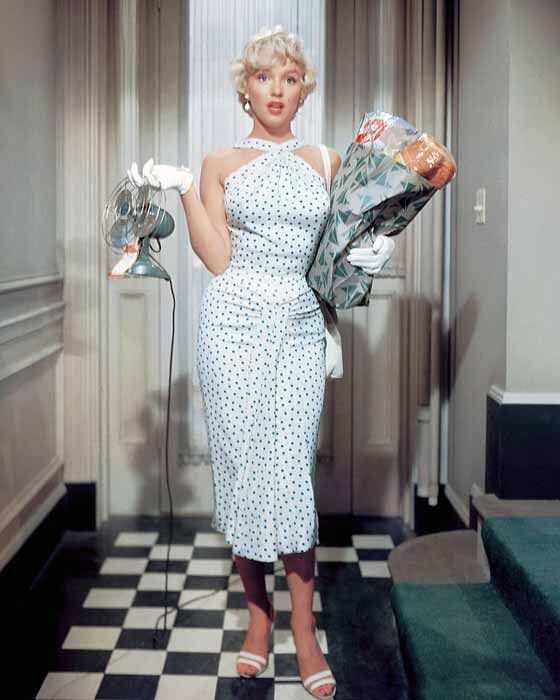 Cette robe moulante blanche à pois bleutés a été conçue par le créateur et couturier de la 20th Century Fox, William "Billy" Travilla pour le film The Seven year Itch (Sept ans de réflexion) tourné l'automne 1954. Marilyn Monroe fit les essais de test costumes pour cette robe le 28 août 1954:
Dans le film, il s'agit de la première scène d'apparition de Marilyn Monroe où elle est vêtue de la robe (sur le blog: voir les captures , les photos de la scène , du tournage), scène où Richard Sherman (Tom Ewell) fait connaissance avec sa nouvelle voisine, diablement sexy.
---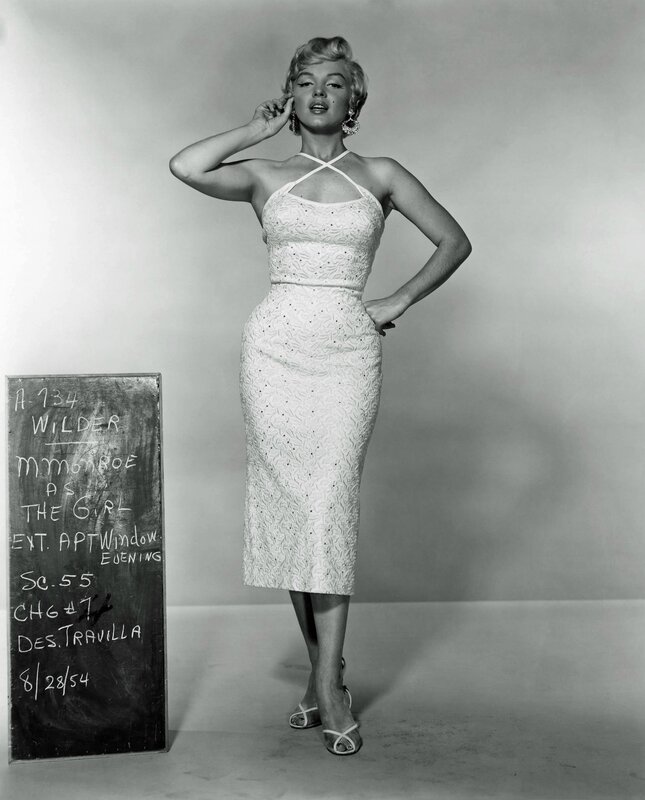 William Travilla a conçu une autre robe du même style pour le film (sur le blog: voir les captures 1 , captures 2, les photos de la scène , du tournage).
La robe possède les mêmes caractéristiques que celle à pois: moulante, très près du corps, même longueur, avec des lanières croisées à l'avant, dénudée dans le dos; elle est certes de la même couleur (blanche), mais à la place des pois, ce sont des paillettes brillantes qui sont disséminées sur le tissu:
---
La robe à pois réapparaît quatre années plus tard, en 1958; et c'est l'actrice Barbara Nichols qui la porte dans le film américain "Ten North Frederick" réalisé par Philip Dunne:
> extrait du film (scène à 1min 25sec)

---
La playmate Arline Hunter qui copia Marilyn dans les poses photographiques et par son look, posa pour des portraits studio vêtue de la robe à pois:
---
© All images are copyright and protected by their respective owners, assignees or others.
copyright text by GinieLand.
Enregistrer