Arline Hunter
(1931 )
mannequin et actrice américaine
La "Marilyn érotique"

american actress and model
The "erotic Marilyn"

Arline Hunter -aussi orthographiée Arlene- est née le 16 décembre 1931 à Caldwell, dans l'Idaho, aux Etats-Unis. Très jeune, elle pose en tant que mannequin pour subvenir à ses besoins, mais aussi pour payer l'université à son frère.
Arline Hunter - also spelled Arlene - was born December 16, 1931 in Caldwell, Idaho, USA. Very young, she posed as a model to support herself, but also to pay college for her brother.

---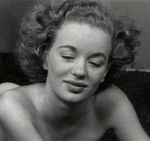 En 1948, elle tourne dans un court métrage érotique, intitulé The Apple Knockers and the Coke, aussi connu sous le nom de The Girl, the Coke and the Apple. Projeté dans des salles de cinémas new-yorkaises dans les années 1970s, le film se vend avec le nom de Marilyn Monroe en tête d'affiche. Retrouvé à l'aube des années 1980, ce petit film sera encore à nouveau injustement attribué à Marilyn Monroe, le tout s'appuyant sur une vague ressemblance entre Arline et Marilyn jeune.
Elle tournera dans d'autres films érotiques, comme The Sea Siren (La sirène de la mer).
In 1948, she starred in an erotic short, titled The Apple Knockers and the Coke, also known as The Girl, the Coke and the Apple. Screened in New York theaters in the 1970s, the film was screened with the name of Marilyn Monroe headlining. Rediscovered at the dawn of the 1980s, this little film will once again be unfairly attributed to Marilyn Monroe, all based on a vague resemblance between Arline and the young Marilyn.
She will appear in other erotic films, like The Sea Siren.

---
Le 26 juin 1952, Marilyn Monroe se rend à un procès à la cour de Los Angeles pour témoigner contre Kaupman et Kaplen, qui ont utilisé son nom sur des photographies érotico-pornographique à des fins publicitaires (elles étaient vendues par voie postales); sur les clichés, il s'agissait d'Arline Hunter.
On June 26, 1952, Marilyn Monroe goes to a trial in Los Angeles court to testify against Kaupman and Kaplen, who used her name in erotic-pornographic photographs for advertising purposes (they were sold by mail); on the pictures, it was Arline Hunter.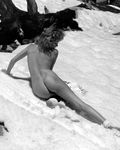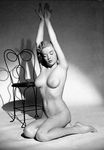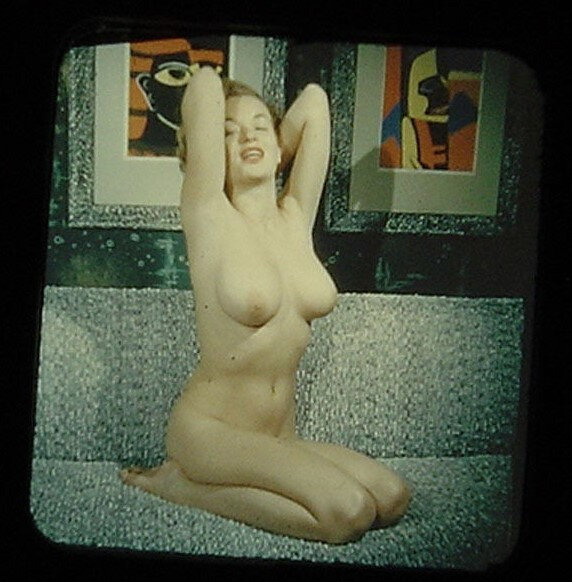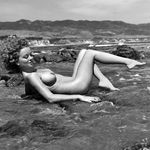 photographies d'illustrations d'Arline Hunter nue
---
D'ailleurs, Arline va construire sa carrière autour de cette ressemblance: en juillet 1953, elle apparaît dans le magazine populaire Eye, qui la présente comme la "délicieuse double de Marilyn"; elle fait aussi les couvertures des magazines Celebrity, Screen Photography, Night and Day.
Moreover, Arline will build her career around this resemblance: in July 1953, she appears in the popular Eye magazine, which presents her as the "delicious double of Marilyn"; she also does the covers of Celebrity, Screen Photography, Night and Day magazines.

presse américaine des années 1950s avec Arline Hunter
---
Et en août 1954, elle est élue la "playmate du mois" par le magazine Playboy, en posant exactement comme Marilyn l'avait fait en 1949, allongée nue sur des draps de satin rouge.
And in August 1954, she is elected "playmate of the month" by Playboy magazine, posing exactly as Marilyn has done in 1949, lying naked on red satin sheets.

---
Arline va aussi poser sous l'objectif du photographe André De Dienes, qui photographia pendant plusieurs années la jeune Norma Jeane, future Marilyn. Outre ses contrats publicitaires, le photographe était aussi spécialisé dans les photos de femmes nues.
Arline will also pose for photographer André De Dienes, who photographed for several years the young Norma Jeane, future Marilyn. In addition to his advertising contracts, the photographer was also specialized in photos of naked women.

---
Puis au cours des années 50, Arline se teindra les cheveux en blonde platine et arborera la même coupe que Marilyn. Elle ne rencontrera malheureusement jamais un réel succés, sa carrière étant spécifiquement basé par des photographies où elle pose nue;
Then during the 1950s, Arline dyed her hair in platinum blonde and wore the same hairstyle as Marilyn. She will unfortunately never meet a real success, her career being specifically based on photographs in which she poses nude;

---
Marilyn
Sept ans de réflexion

Arline Hunter
porte la robe de Marilyn



---
Elle n'obtiendra que de maigres rôles au cinéma, dans des films mineurs, où elle interprète la plupart du temps des personnages très sexy. Elle apparaîtra aussi dans des séries télé comme Perry Mason.
She will get only meager roles in the cinema, in minor films, where she plays most of the time very sexy characters. She will also appear in TV series like Perry Mason.

---
Elle vit désormais dans une maison de retraite au sud de la Californie.
She now lives in a retirement home in Southern California.
---
> Sources web:
> Biographie sur glamourgirlsofthesilverscreen.com
> Biographie et Films sur wikipedia
> Filmographie sur imdb
---
© All images are copyright and protected by their respective owners, assignees or others.
copyright text by GinieLand.