---
Photographies
---
lot 981: MARILYN MONROE INSCRIBED PHOTOGRAPH
A photograph of Marilyn Monroe mounted to board and inscribed on the board "Oh George,/ You're a genius!/ Marilyn Monroe." The black and white image was taken by Cecil Beaton and said to be Monroe's favorite image of herself.
The consignor relates that in the late 1950s he attended an event at Frank Sinatra's Palm Springs home as a guest of Sammy Davis Jr. The consignor remembers the photograph being given by Monroe, who was also a guest of Sinatra's, to Davis' valet, whom he named as "George." This is a possible inaccuracy and may have been given to Frank Sinatra's longtime valet, George Jacobs. The consignor was given the image by the valet George, who said he could not take the item back to Los Angeles. The consignor has had the photograph in his possession since that time.
---
lot 986 à 999: MARILYN MONROE JOSEPH JASGUR PHOTOGRAPHS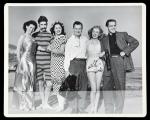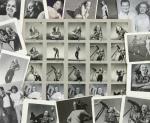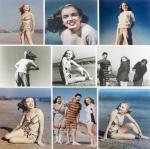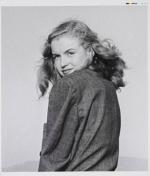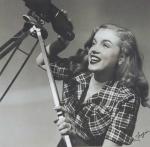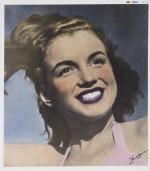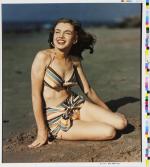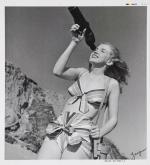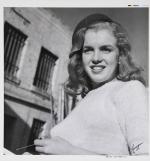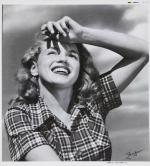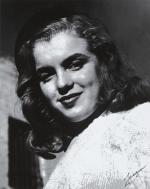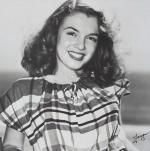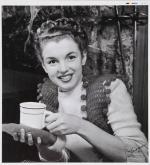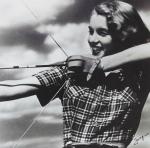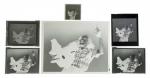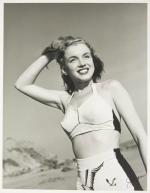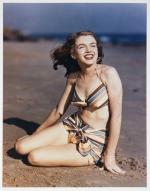 ---
Lot 1001: COLLECTION OF MARILYN MONROE PHOTOGRAPHS
A group of approximately 35 unsigned copies of photographs and images of Marilyn Monroe taken by various photographers, collected by photographer Joseph Jasgur.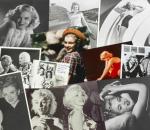 ---
Lot 1003: MARILYN MONROE 1941 SCHOOL PHOTOGRAPH
A vintage original Marilyn Monroe school photograph from Ralph Waldo Emerson Junior High School. Titled "Class of Summer, 1941." Monroe appears in the seventh row from the bottom and the 15th person from the right. inscriptions on verso are written to a student named Barbara. The then named Norma Jeane Baker was 15 years old.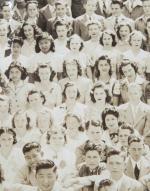 ---
Lot 1004 à 1023: MARILYN MONROE ANDRE DE DIENES PHOTOGRAPHS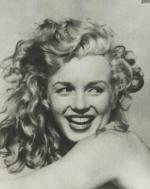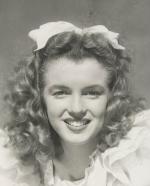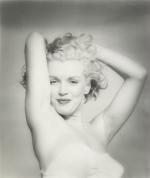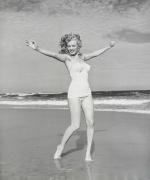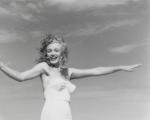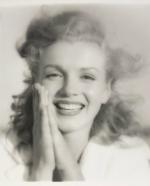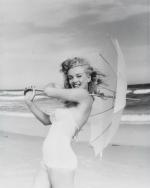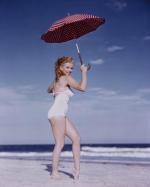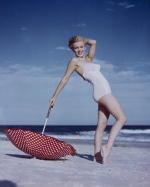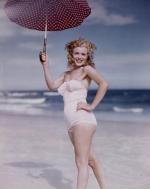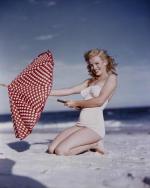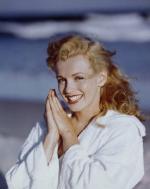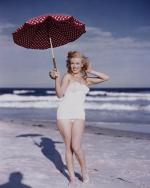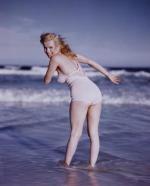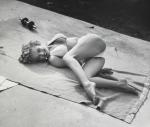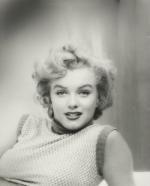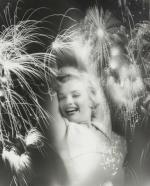 ---
Lot 1027: MARILYN MONROE HAROLD LLOYD PHOTOGRAPH PRINT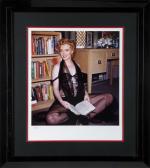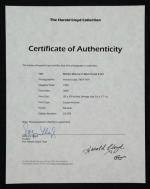 ---
Lot 1028: MARILYN MONROE BEHIND-THE-SCENES PHOTOGRAPHS
A pair of photographs of Marilyn Monroe on the set of Niagara (20th Century, 1953). The black and white images show Monroe in a skirt suit and beret. One marked on verso "Marilyn Monroe/ in film 'Niagara'/ taken June 11, 1952/ Park St. Niagara Falls." The images are believed to have never been published.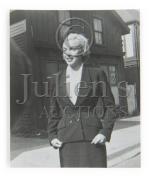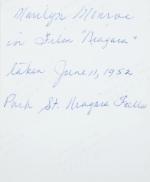 ---
Lot 1029: MARILYN MONROE AND BILLY WILDER PHOTOGRAPH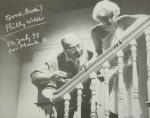 ---
Lot 1031: DON'T BOTHER TO KNOCK WARDROBE AND PUBLICITY PHOTOGRAPH ARCHIVE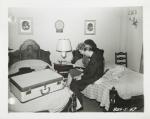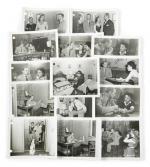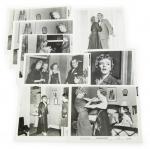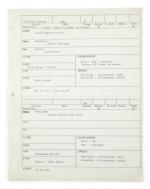 ---
Lot 1032: THERE'S NO BUSINESS LIKE SHOW BUSINESS ARCHIVE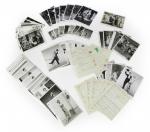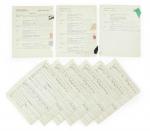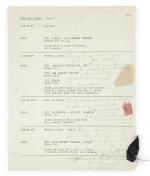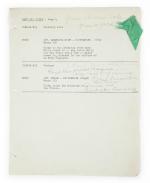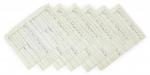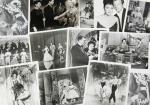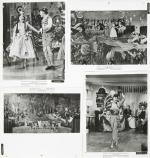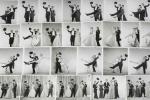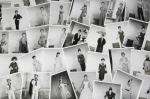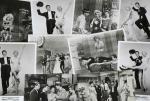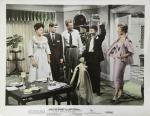 ---
Lot 1033-34, 1036-37: MARILYN MONROE GEORGE BARRIS PHOTOGRAPHS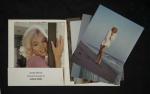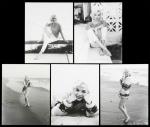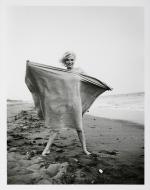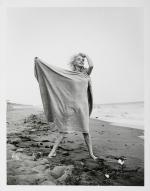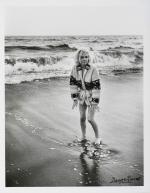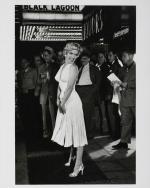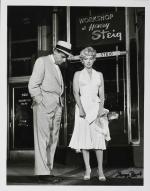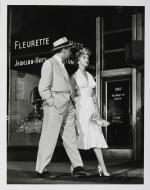 ---
Lot 1035: MARILYN MONROE IMAGES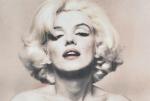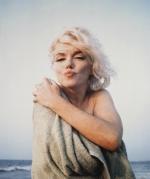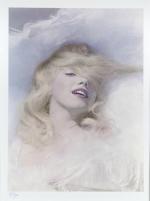 ---
Lot 1038: MARILYN MONROE BUS STOP MILTON GREENE NEGATIVES AND COPYRIGHTS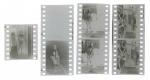 ---
Lot 1039: MARILYN MONROE AND TONY CURTIS PHOTOGRAPH

---
Lot 1046 à 1050: MARILYN MONROE MANFRED LINUS KREINER PHOTOGRAPHS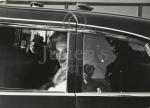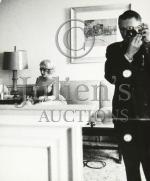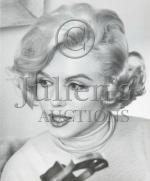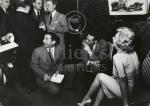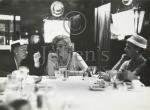 ---
Lot 1051: MARILYN MONROE AND MARLON BRANDO AT PREMIERE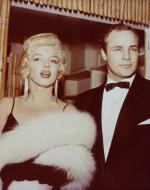 ---
Lot 1055: MARILYN MONROE CANDID PHOTOGRAPH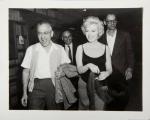 ---
lot 1061-62: THE MISFITS NEGATIVES AND COPYRIGHT
The photographs offered here were taken on the Nevada set of the film by Thomas Kaminski in 1960.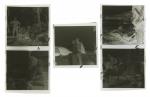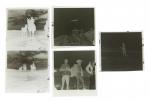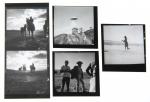 ---
Lot 1067: MARILYN MONROE PHOTOGRAPH SIGNED BY ALLAN GRANT
An original vintage photograph signed by Allan Grant. This photograph was taken on July 7, 1962, in Monroe's Brentwood home for an article in LIFE magazine that went to newsstands on August 3. Monroe died on August 5, two days later.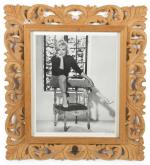 ---
lots 1074 à 1079: MARILYN MONROE BERT STERN "THE LAST SITTING" PHOTOGRAPH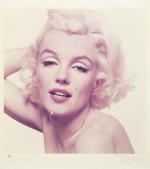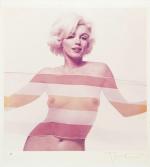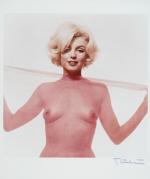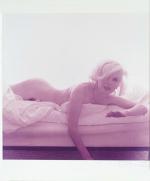 ---
Documents papiers
---
lot 982: PRESIDENT KENNEDY'S BIRTHDAY GALA TICKETS AND PROGRAM
A pair of two tickets to President John F. Kennedy's Birthday Party at Madison Square Garden on May 19, 1962. Side Balcony Seats 305 J 1 &2. With a color program titled on the cover "Happy Birthday Mr. President." The four-page booklet includes a list of the dinner committee and sponsors and order of appearance: Jack Benny, Ella Fitzgerald, Jerome Robbins Ballets, Danny Kaye, Henry Fonda, Maria Callas, Peggy Lee, Peter Lawford, Marilyn Monroe, Jimmy Durante and Eddie Jackson, Bobby Darin, Henry Fonda, Mike Nichols and Elaine May, and Diahann Carroll.
---
Lot 1002: MARILYN MONROE SIGNED MODEL RELEASE FORM
A signed model release form for Marilyn Monroe's third modeling session with Joseph Jasgur. Jasgur photographed Norma Jeane Dougherty and the cast of a local production titled "The Drunkards" in color and black and white at Zuma Beach, California. The form is dated "March23-'46" and signed in ink "Norma Jeane Dougherty." The form is also signed by Mary Lou Bennett and Tom Burton, who participated in the session.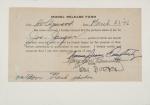 ---
Lot 1042: MARILYN MONROE RECEIVED FAN MAIL
A postcard and pair of envelopes received by Marilyn Monroe from fans. The fan mail was sent to Monroe at 20th Century Fox from international fans; envelopes are postmarked 1954. Accompanied by a contemporary print publicity still showing Monroe surrounded by fan mail.
---
Lot 1044: MARILYN MONROE PRODUCTIONS BANK REGISTRY
A page of transaction activity for a Colonial Trust Company account of Marilyn Monroe Productions Inc. dating from July 1, 1959, to July 30, 1959. Showing an ending balance of $78, 476.80.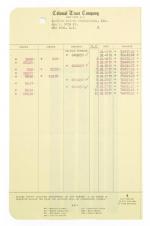 ---
Lot 1045: MARILYN MONROE TRUSTEE ACCOUNT CHECK
A typed check written to the Screen Actors Guild, Inc. in the amount of $25.00, drawn from a Marilyn Monroe Trustee Account at Bank of America. The check is numbered 655 and dated March 9, 1956, signed by Inez Melson, Monroe's business manager. Description notes that this check was for Monroe's current SAG dues.


---
lot 1056: MARILYN MONROE AND ARTHUR MILLER CHECK
An unwritten check from Marilyn Monroe and Arthur Miller's joint account at The First National City Bank of New York. The check is numbered 44 on the top right and still has the attached ledger on the left. 8 by 2 3/4 inches
PROVENANCE Partial Lot 142, "Property from the Estate of Marilyn Monroe and Other Collections," Julien's Auctions, Los Angeles, California,
June 4, 2005

---
lot 1057: MARILYN MONROE SIGNED CARD
A Marilyn Monroe signed card. The card, from Saks Fifth Avenue, is signed in blue ink and upside down from the department store name. 2 3/4 by 3 1/2 inches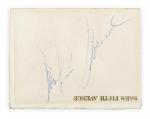 ---
lot 1059: MARILYN MONROE LETTERS TO AND ABOUT
A collection of letters sent to and about Marilyn Monroe. The group includes a letter written to Marilyn Monroe from Jack Hirschberg on Some Like It Hot (UA, 1959) stationery, dated December 17, 1958. Hirschberg was the publicist for the film. He wrote to offer his condolences regarding Monroe's miscarriage. Also included are a letter from American Airlines dated August 1, 1960, regarding a lost piece of luggage and attached form that was supposed to be filled out and returned to the airline, accompanied by return envelope; copies of letters written by Cherie Redmond and attached note dated July 27, 1962, ten days before Monroe's death, to Eunice Murray explaining the two letters that are in regard to a furniture order of Monroe's.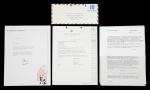 ---
lot 1060: LET'S MAKE LOVE ORIGINAL SCRIPT
A Let's Make Love script dated January 15, 1960. Blue paper cover, reads at upper right "Second Revised Shooting/ Final/ 4014-79/ Permanent File," 139 pages. The comedic film starred Marilyn Monroe opposite Yves Montand. The pair were rumored to have had an affair during the the production of the film.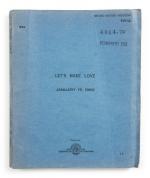 ---
Lot 1064: MARILYN MONROE TAX DOCUMENT AND TYPED LETTER
Relating to Marilyn Monroe's purchase of her home at 12305 5th Helena Drive in Brentwood, California. The typed letter, dated "March 6, 1962," reads, "Dear Sir: Please change your records to show that I am the owner of Lot 20, Tract No. 5462. Very Truly Yours, Marilyn Monroe."
Larger, 11 by 8 1/2 inches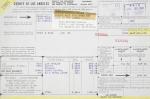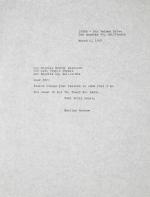 ---
Lot 1068: MARILYN MONROE REAL ESTATE DOCUMENT
A Marilyn Monroe signed, typed purchase offer for Monroe's Los Angeles home on Helena Drive. This is the only home Monroe ever purchased. Document dated January 9, 1962, with a purchase price of $52,500. Monroe would die eight short months later.
15 by 9 1/4 inches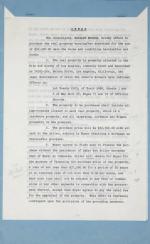 ---
Lot 1071: MARILYN MONROE RECEIVED AND SENT CORRESPONDENCE
A group of correspondence sent and received by Marilyn Monroe, including a two-page typed, signed letter to Monroe from Jean Negulesco, typed on Negulesco's stationery and dated July 14, 1958. The letter is in regard to flowers and a book sent by the director to Monroe. The book was The Midwife of Pont Clary , which Negulesco wanted to adapt into a film for Monroe. He wrote, "The thing of The Midwife of Pont Clary is fundamentally sex …" and later suggests Monroe give the book to her husband, Arthur Miller, to read. Also included are a copy of a wire message sent by Monroe to Inez Melson dated June 10, 1959, regarding the boarding of a bird named Clyde; a typed, signed letter from playwright William Inge complimenting Monroe on her performance in Some Like It Hot (UA, 1959), dated April 6, 1959, and signed "Bill Inge"; and a confirmation copy of a telegram sent by Monroe to Roberto Boss in Mexico regarding a furniture order, with a typed, dictated copy of same, dated June 16, 1962, less than two months before Monroe's death.

---
Vêtements, Bijoux

---
lot 983: MARILYN MONROE/ANDY WARHOL LAVENDER TRIBUTE DRESS
A lavender Travilla tribute dress honoring Marilyn Monroe and Andy Warhol. The sheer crepe sunburst pleated halter dress was inspired by the white dress Monroe made famous in The Seven Year Itch (20th Century, 1955) and attributed by the Travilla estate as being re-created for an Andy Warhol memorial service at The Beverly Hilton in the colors of his iconic "Marilyn" silkscreen images. A label reads "Travilla." No size present.
PROVENANCE From the Estate of William Travilla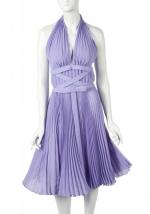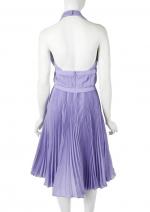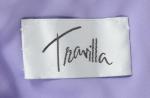 ---
Lot 1052: MARILYN MONROE EARRINGS
A pair of clip-on rhinestone earrings owned by Marilyn Monroe. Each earring is composed of a single full-cut prong-set rhinestone and five strands of cascading prong-set baguette cut rhinestones with simple clip backs. Monroe wore these earrings to the premiere of The Rose Tattoo (Paramount Pictures, 1955) and Actor's Studio benefit dinner which she attended with Marlon Brando. Also believed to have been worn to the opening of The Middle of the Night on Broadway in 1956. The play was produced by Joshua Logan who also directed Monroe in Bus Stop (20th Century, 1956). The link below contains video of Monroe wearing the earrings.
noseasboba.tumblr.com/post/56723074922
PROVENANCE Lot 200, "The Personal Property of Marilyn Monroe," Christie's, New York, Sale number 9216, October 27 & 28, 1999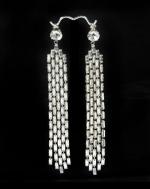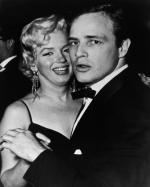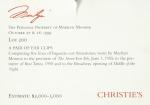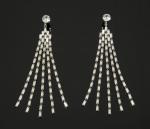 ---
lot 1053: MARILYN MONROE SKIRT
A black wool straight skirt with arched seams down the front, a back zipper and a back slit; interior label reads "Jax." Marilyn Monroe had numerous basic black wool straight skirts that were virtually all identical, this being one of them. Accompanied by a reprinted image of Monroe in the same or similar skirt.
PROVENANCE Lot 32, "Property from the Estate of Marilyn Monroe and Other Collections," Julien's Auctions, Los Angeles, California, June 4, 2005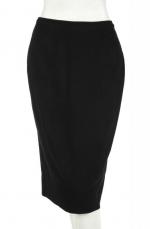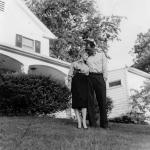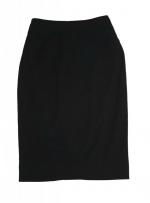 ---
lot 1058: MARILYN MONROE BLACK BRASSIERE
Marilyn Monroe's black brassiere. Underwire brassiere, sheer black material covers each cup with solid black fabric covering demi-cup. Originally intended for sale at the landmark Marilyn Monroe auction at Christie's in 1999, it still bears a Christie's tag. Housed with an image of Monroe with a small plaque that reads "From the Wardrobe of Marilyn Monroe."
21 3/4 by 19 3/4 inches, Framed
PROVENANCE Partial Lot 72,"Property From the Estate of Marilyn Monroe," Julien's, Los Angeles, June 4, 2005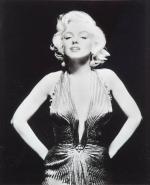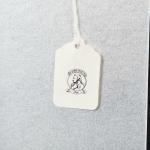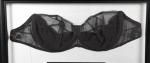 ---
Lot 1063: MARILYN MONROE CEIL CHAPMAN COCKTAIL DRESS
A black jersey figure hugging Ceil Chapman cocktail dress from the personal wardrobe of Marilyn Monroe. The dress has a ruched bodice, draping to the hips, 3/4 sleeves, a ballerina neckline with piping trim that plunges to the back.
PROVENANCE Lot 226, "The Personal Property of Marilyn Monroe," Christie's, New York, Sale number 9216, October 27 & 28, 1999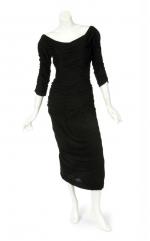 ---
Objets Divers
---
Lot 1000: JOSEPH JASGUR GRAFLEX CAMERA
Vintage Graflex R.B. Super D 4x5 film camera used by Joseph Jasgur to take photos of Norma Jeane (Marilyn Monroe). Accompanied by a 4x5 Graflarger back, five 4x5 film magazines, one Ektalite field lens for 4x5 back, one Polaroid Land back for Graflex camera, one box of Polaroid Polapan 4x5 Land Film Type 52, and four shutter release cables.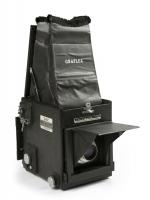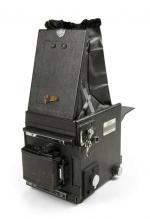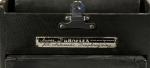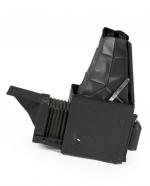 ---
lot 1024: PLAYBOY MAGAZINE FIRST ISSUE SIGNED BY HUGH HEFNER
A first issue of Playboy magazine (HMH Publishing, 1953) with Marilyn Monroe on the cover and signed by Hugh Hefner. The magazine, which launched in December 1953, sold for 50 cents a copy. Accompanied by a photograph of Hefner with the signed item.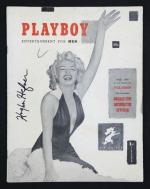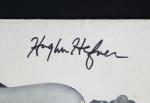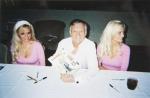 ---
lot 1025: MARILYN MONROE 1954 "GOLDEN DREAMS" CALENDAR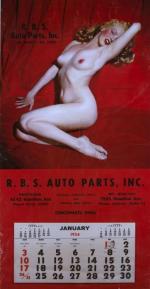 ---
lot 1026: MARILYN MONROE 1955 GOLDEN DREAMS CALENDAR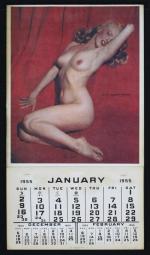 ---
Lot 1030: MARILYN MONROE 1952 PHOTOPLAY AWARD
An award plaque presented to Marilyn Monroe by Photoplay magazine. The bronze-tone plaque affixed to a wood frame reads "Photoplay Magazine/ Presents/ The New Star Award/ To/ Marilyn Monroe/ for her/ Rapid Rise to Stardom/ in 1952." Monroe wore the Travilla designed gold lamé gown from Gentlemen Prefer Blondes (20th Century, 1953) to the February 9, 1953, event where the award was presented. 14 by 11 1/2 inches
PROVENANCE Lot 313, "The Personal Property of Marilyn Monroe," Christie's, New York, Sale number 9216, October 27-28, 1999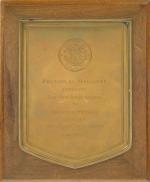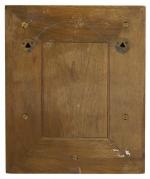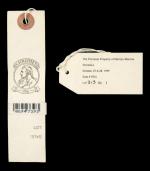 ---
Lot 1043: MARILYN MONROE HAIR ROLLER
A spring-style wire hair roller owned by Marilyn Monroe.
PROVENANCE Partial Lot 245, "Property From the Estate of Marilyn Monroe," Julien's Auctions, Los Angeles, June 4, 2005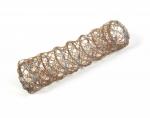 ---
lot 1054: MARILYN MONROE MASCARA
A gold-toned metal tube of Helena Rubinstein mascara.
Length, 4 1/2 inches
PROVENANCE Partial lot 275, "Property from the Estate of Marilyn Monroe and Other Collections," Julien's Auctions, Los Angeles, California, June 4, 2005

---
Lot 1065: MARILYN MONROE MEXICAN TAPESTRY
A Mexican wall hanging wool tapestry owned by Marilyn Monroe. Tapestry reads "Chac Mool," with figure holding a bowl of fire. Accompanied by a Gene Anthony photograph of the tapestry in Monroe's Brentwood home.
77 by 55 inches
PROVENANCE Partial Lot 450, "The Personal Property of Marilyn Monroe," Christie's, New York, Sale number 9216, October 27-28,1999; Lot 893, "Julien's Summer Sale," Julien's Auctions, Planet Hollywood Resort and Casino, Las Vegas, June 27, 2009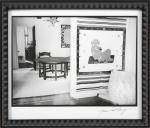 ---
Lot 1066: MARILYN MONROE OWNED PAINTING
A framed oil on canvas painting, signed "Olga" on lower left corner.
30 1/4 by 49 1/4 inches
PROVENANCE Partial Lot 426, "The Personal Property of Marilyn Monroe," Christie's, New York, Sale number 9216, October 27-28, 1999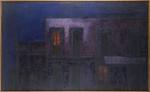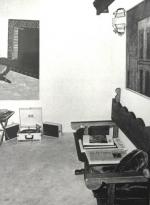 ---
Lot 1069: MARILYN MONROE OWNED BOOK
A copy of Relax and Live by Joseph Kennedy (New York: Prentice Hall, 1953) from the personal collection of Marilyn Monroe with Christie's auction bookplate on front inside cover. Pencil markings can be found on page 43 and evidence of candle wax on page 47.
PROVENANCE Partial Lot 559, "The Personal Collection of Marilyn Monroe," Christie's, New York, Sale number 9216, October 27 & 28, 1999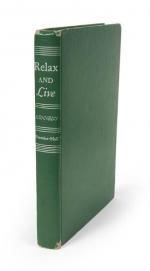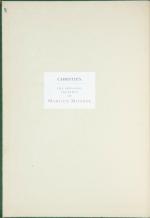 ---
Lot 1070: MARILYN MONROE OWNED BOOK
A copy of Some Characteristics of To - Day by Dr. Rudolf Steiner (London: Steiner Publishing, 1942) from the personal collection of Marilyn Monroe with Christie's auction bookplate on front inside cover. Accompanied by a contemporary image of Monroe in front of a bookshelf.
PROVENANCE Partial Lot 559, "The Personal Collection of Marilyn Monroe," Christie's, New York, Sale number 9216, October 27 & 28, 1999

---
Lot 1072: LIFE MAGAZINE "REMEMBER MARILYN"
from September 8, 1972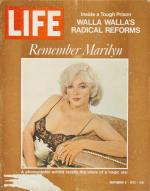 ---
Lot 1073: MARILYN MONROE BERT STERN AVANT GARDE 2 MAGAZINE
published in March 1968