Le jeudi 28 juin 1956, en découvrant que les journalistes campent encore dans les rues de Gold Mine et Old Tophet devant sa maison de Roxbury, Arthur Miller leur propose un accord. Les docteurs ont ordonné à Marilyn Monroe le plus grand repos et elle désire s'exposer au soleil sans devoir se cacher sous une couverture. Mais les journalistes ne veulent pas s'éloigner de la maison, de peur de rater le mariage. Donc Arthur leur promet que le mariage ne se déroulera pas avant samedi et si les reporters acceptent de partir, Arthur et Marilyn tiendront une conférence de presse le lendemain après-midi (le vendredi). Arthur Miller précise "J'ai toujours tenu parole. Et je le ferai dans ce cas précis." Une heure plus tard, les journalistes se sont dispersés.
Miller et sa famille sont dans l'attente de la décision de la commission, à savoir si il pourra obtenir un passeport ou non pour accompagner Marilyn en Angleterre. L'HUAC (Commission des Activités Anti-Américaines) a voté unanimement de laissé un délai de 10 jours avant de se prononcer; en fait, ils laissent à Miller un délai de réflexion pour livrer les noms de communistes.
Morty Miller, le cousin d'Arthur, vient chez Arthur chercher deux flacons de sang; les analyses de sang étant obligatoire pour obtenir la licence de mariage.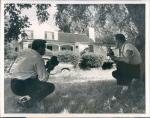 On Tuesday, June, 28, 1956, by discovering that reporters stipp camped out at Gold Mine and Old Topher Streets, in front of his Roxbury's house, Arthur Miller propose them a deal. Doctors have ordered Marilyn to get some res and she wants to sunbathe without having to hide under a hedge. But reporters don't want to get away from the house, for fear of missing the wedding. So, Arthur promises that the marriage will not take place until Saturday and if reporters are willing to go, Arthur and Marilyn will held a press conference on the afternoon of the next day (Friday). Arthur Miller specifies "I have always kept my word and I will in this instance." One hour later, reporters disperse.
Miller and his family wait for the decision of the Commitee, if he will get a passport or not, in order to go in England with Marilyn. HUAC (House Un-American Activities Committee) has voted unanimously to wait ten days before deciding on a contempt citation; in fact, they let Miller the choice to give names of Communists.
Morty Miller, Arthur's cousin, comes at Arthur's to keep two vials of blood; blood tests have to be tested before to get the marriage license.
---
© All images are copyright and protected by their respective owners, assignees or others.
copyright text by GinieLand.