Depuis la disparition de Jerry Lewis le 20 août 2017, de nombreux articles évoquant une liaison entre l'acteur et Marilyn Monroe refont surface sur le web. En effet, Jerry Lewis avait dévoilé cette liaison qu'en 2011 dans une interview pour le magazine américain GQ .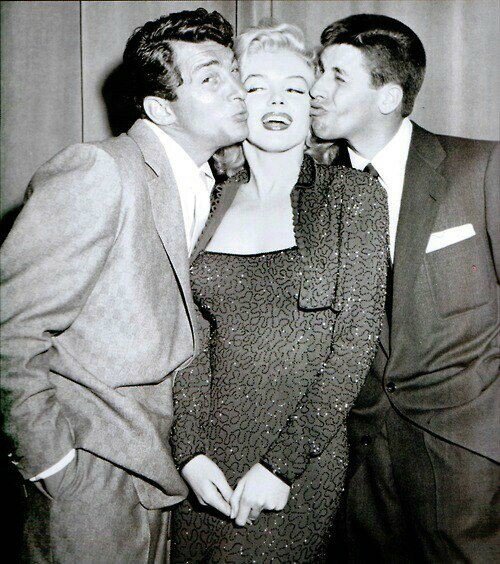 Dean Martin, Marilyn Monroe & Jerry Lewis
- Redbook Award - 24/02/1953
Ancien ami proche du président John Fitzgeral Kennedy, dont Jerry Lewis a dit "avec lui, j'ai eu l'ami­tié la plus belle et la plus intense de mon exis­tence", il aurait vécu une folle passion d'un mois seulement avec Marilyn. Et c'est avec son humour qu'il parvint à la séduire. S'il n'a jamais dévoilé les détails de leur rencontre, ni la date ou période exacte à laquelle elle a eu lieu, il ne cachait pas l'intensité de cette relation éphémère. Il a avoué avoir été captif de cette folle attraction reconnaissant la "tragique et mythique bombe sexuelle" qu'était Mariltn Monroe. Comme un souvenir douloureux, il expliquait "d'un sourire teinté de regret", combien il ne contrôlait plus sa propre vie à cette époque: "J'étais paralysé pendant un mois (le mois qu'ils ont passé ensemble, ndlr)". Les confessions s'arrêtent là. Rien n'est jamais venu infirmé ou confirmé cette révélation.
Extrait de l'interview / article de GQ de 2011:
Asked for a list, he demurs, "That's not good press." But in the midst of another story, Lewis is suddenly insistent that Marilyn Monroe and President Kennedy—with whom Lewis was close—never had the affair many believe they had. When I look skeptical, he turns stern. "I'm telling you what I know. Never! And the only reason I know is because I did. Okay?"
Wait, what??
He nods, adding that Monroe used sex like he uses humor: to make an emotional connection. "She needed that contact to be sure it was real."
Okay, but what was it like, I ask, to make love to the most famously tragic sexpot of all time?
"It was…" he says, taking a beat, "long." He smiles ruefully. "I was crippled for a month." Another pause. "And I thought Marlene Dietrich was great!"
Extrait de l'interview accordée au magazine français Gala dans une suite du Four Seasons Hotel, à Beverly Hills, en septembre 2016:
Gala: "Vous êtes consi­déré comme une légende d'Hol­ly­wood. Qu'est-ce qui vous a le plus impres­sionné lors de vos premières années ?"
Jerry Lewis: "Mari­lyn Monroe toute nue ! Je peux vous dire qu'il fallait avoir la forme pour être son amant ! Pendant un mois, je ne pouvais même plus bouger ! (rires) J'ai toujours admiré Holly­wood, j'ai tout aimé à Los Angeles, les lieux, la nour­ri­ture, les gens, etc… Cet endroit m'a rendu heureux toute ma vie."
---
Source: articles Paris Match et Le Figaro
© All images are copyright and protected by their respective owners, assignees or others.
copyright text by GinieLand.

Enregistrer