Books loved by Hollywood's golden era stars, from Marilyn Monroe to Audrey Hepburn
02/09/2019 | en ligne sur Evening Standard
The great American novel is a girl's best friend
Way back before the advent of the Internet and social media, movie stars had to find ways to entertain themselves on set without getting into highly public Twitter spats.
Many celebrities from Hollywood's golden age were avid bookworms, with the likes of Marilyn Monroe tearing through American classics and Grace Kelly curating a private library in Monaco. Old Hollywood's reading habits have now been documented in new book, The Hollywood Book Club: Reading with the Stars.
While we might be more used to seeing Audrey Hepburn or Marlon Brando bringing literary adaptations to life onscreen, the book by Steven Rea, published thismonth, is a collection of black and white pictures showing stars enjoying some reading time of their own.
From shots of Gregory Peck researching his Oscar-winning role by reading Harper Lee's To Kill a Mockingbird to Monroe's reading nook filled with Hemingway, Steinbeck and Tolstoy, the full collection comprises of 55 candid shots of Hollywood stars reading.
Described as a "bibliophile-meets-cinephile celebration of the convergence points between these two very different media", it's a fascinating insight into what a golden era shelfie may have looked like.
We've compiled a list of books that celebrities including Monroe, Kelly, Hepburn, James Dean and more were into to add to your reading list.
---
Marilyn Monroe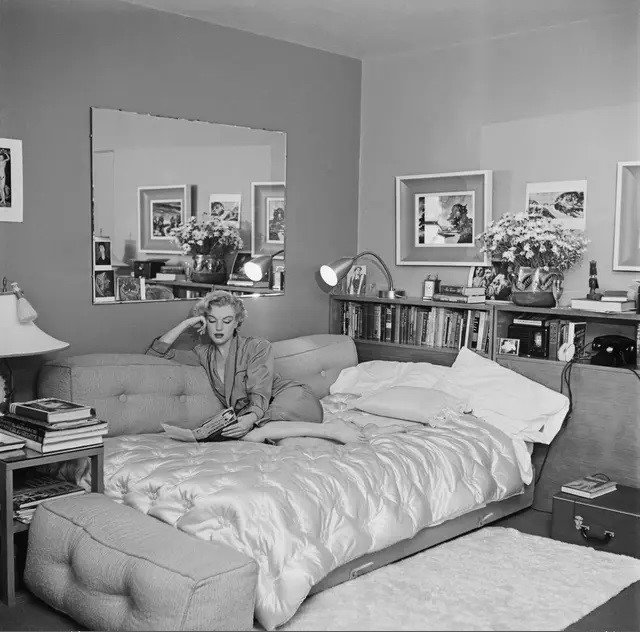 Marilyn Monroe reading in her personal library in 1951 / Getty Images
Endless books have been written about Monroe and her quotes have been immortalised in low-res Instagram posts, however, she found her inspiration from her vast personal collection of books. In fact, Monroe loved poetry so much that evidence of her own poems surfaced in 2010 when a collection of her personal documents was released. The poems were later released in the book Fragments: Poems, Intimate Notes, Letters by Marilyn Monroe.
Monroe had a huge book collection, with many of her novels put up for auction in 1999 in New York. Monroe was a major fan of landmark American novels, as well as poems, hulking great Euronovels and plays. There were a couple of surprising choices, like the occasional children's book or pop culture novel.
Marilyn Monroe's favourite books and authors
The Sun Also Rises by Ernest Hemingway
The Great Gatsby by F Scott Fitzgerald
On the Road by Jack Kerouac
Ulysses by James Joyce
Crime and Punishment by Fyodor Dostoevsky
Long Day's Journey tInto Night by Eugene O'Neill
From Russia With Love by Ian Fleming
The Little Engine that Could by Watty Piper
Selected Plays of George Bernard Shaw
The Portable Blake by William Blake
---
the rest of the article to read on Evening Standard
---
> sur le blog: Le livre The Hollywood Book Club
---
© All images are copyright and protected by their respective owners, assignees or others.