27 juin 2008
L'édition américaine du magazine Playboy de juillet 2008 (avec Cindy Margolis en cover), consacre un dossier "Monroe & Moran"
sur Marilyn Monroe et le photographe et peintre de pin-up Earl Moran,
avec publication de superbes photos -quelques inédites- en voici les scans:
(nb un grand merci à Lacrymosa pour les scans)
>> Pour vous procurer le magazine:
- Dans les points "presses étrangères" (gares, aéroports, grandes enseignes libraires)
- Commandez le mag sur le site web USA de Playboy
- Commandez le mag sur le site français journaux.fr
/ Ne vous trompez pas d'édition: il s'agit du Playboy US
avec Cindy Margolis en couverture /
22 avril 2008
Le mensuel Studio Magazine d'avril 2008 (avec Alice Taglioni en couverture), est un numéro collector consacré à la couleur rouge, avec une photo pleine page de Marilyn Monroe à l'intérieur du mag.
Numéro 2045, prix: 4.50 Euros.

Je n'ai pas de scan de la page
mais voici la photo de Marilyn publiée dans le magazine
11 avril 2008
Marilyn Monroe en couverture du magazine bimestriel Dreams numéro 43, paru le 4 avril 2008.
Dreams est "le premier et le seul magazine grand public de langue française" consacré exclusivement à la joaillerie, la bijouterie et l'horlogerie.
Site web de l'éditeur: dreamsmagazine
Attention: le magazine coûte 5 Euros, et hormis la couverture, il n'y a que deux photos pleines pages de Marilyn dans le magazine (dont une photo identique à celle de couverture)
25 février 2008
Dans le magazine voici de la semaine du 13 février 2008, un petit article intitulé "Certaines l'aiment show" dans la rubrique beauté, nous expliquait comment se faire le look de Marilyn, copié actuellement par la chanteuse Kylie Minogue.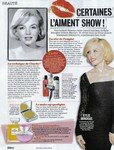 19 janvier 2008
Article du magazine Photography Mag en juin 1954 portant sur un reportage photos illustrant une interview de Marilyn par Earl Wilson.
Retranscription -incomplète- de l'article
Broadway columnist Earl Wilson is kind of a nice guy. He knows and loves show people, and has a special spot in his heart for the kids with the brassy hair, the brassy stare and the anxious expression that means they're not eating too well or too often. Marilyn Monroe used to be one of those kids and when she hit the top in just a few long strides, Earl was genuinely happy for her. But he knew that stardom can change people and wondered if the bright lights were dazzling the world's loveliest pin-up girl, so on a trip to Hollywood he went to see her, taking along his favorite camera and, as always, his beautiful and clever wife. Both Wilsons were completely surprised. This was indeed a new Marilyn. The frightened kid was gone. Here was a serene and confident woman. Earl was pleased to note that the famous Monroe curves were more gorgeous and curvy than ever. But what impressed him most was the good, practical sense taht's inside of that lovely, golden head. Marilyn told her old friend all about her dreams for Marilyn Monroe Productions, Inc and pretty soon they were involved in a thoroughly complicated chat about incorporation, investments, production problems and what-not. Poor Earl's head was fairly spinning as he tried to keep up with the conversation - and at the same time believe this was really Marilyn Monroe spouting all this business talk. She had him so confused and fascinated that he almost forget to pull out his camera and ask for some exclusive shots. Marilyn sighed, pulled off her glasses, dropped her expression of intense concentration and pretty soon Earl was snapping happily away as a droppy-eyed sex siren lounged in front of his camera. We're lucky enough to have the pictures (aren't they luscious ones?) along with Earl's personal report of his session with The Monroe.
Légendes des photos
>> page 2:
-légende 1 : This gal may look like all sex -but there's plenty of common sense here, too, as she makes plans for her future.
-legende 2 : Earl Wilson's camera catches his friend Marilyn in a typical pose - lips parted, eyes drooping, body reclining.
>> page 3:
-légende 1 : Camera snaps busily away as Marilyn strikes pose after she hopes to be on the other side of the camera herself.
-légende 2 : A press photographer explains the workings of his camera to her. She has a quick mind and constantly asks questions.
-légende 3 : Marilyn relaxes against the cushions, but she's gettig a stiff back. The star is always glad to pose.
-légende 4 : Marilyn obliningly poses for author Wilson with his zany book in hand. She's an avid reader and is trying to educate herself.
04 décembre 2007
Marilyn Monroe en couverture du magazine Yours (Special Yours Summer) du 22 mai 2006 avec un article intérieur de 4 pages - source scans : Sugars Marilyn
01 décembre 2007
Dans le magazine Gala de cette semaine (numero 755 semaine du 28/11/2007 au 04/12/2007) avec Nicolas Sarkozy en couverture: un dossier consacré aux photographes de l'agence Magnum, avec trois photos de Marilyn Monroe signées Bob Henriques pendant le tournage du film 7 ans de Reflexion.
15 novembre 2007
Magazine Fabulous Females de 1955 avec en couverture: une autre pin-up des années 50, mais européenne: la suédoise Anita Ekberg. A l'intérieur: 4 pages consacrées à Marilyn Monroe avec le sous-titre "Hollywood transformed Marilyn from a calendar decoration into a national institution", avec publication de photos prises par André De Dienes.
29 octobre 2007
Lot de 108 clippings* (= pages de magazines) datant de 1956 - 1964
en vente sur ebay italien
12 octobre 2007
Dans le magazine Gala de cette semaine (paru le 10/10/2007) avec Nolwenn Leroy en couverture: une photographie de Marilyn Monroe dans un article portant sur les colliers de perles.