18 septembre 2022
Année: 1994 & 1995
Marque / Produit: Chanel n° 5 / parfum
Pays: France & USA
Réalisateur: Jean-Paul Goude
Musique: Marilyn Monroe "I wanna be loved by you"
Actrice: Carole Bouquet
Information: utilisation de la technique du morphing
Year: 1994 & 1995
Brand / Product: Chanel n° 5 / perfume
Country: France & USA
Director: Jean-Paul Goude
Music: Marilyn Monroe "I wanna be loved by you"
Actress: Carole Bouquet
Information: use of the morphing technique
---
- web: Chanel No.5 IMDB
---
© All images are copyright and protected by their respective owners, assignees or others.
08 septembre 2022

Marilyn Monroe en huit anecdotes
28 août 2022 - Par Sébastien Cauchon sur vanityfair.fr
On pensait tout connaître de la vie de Marilyn ? Sébastien Cauchon, l'un de ses plus fins biographes, nous prouve le contraire en huit anecdotes.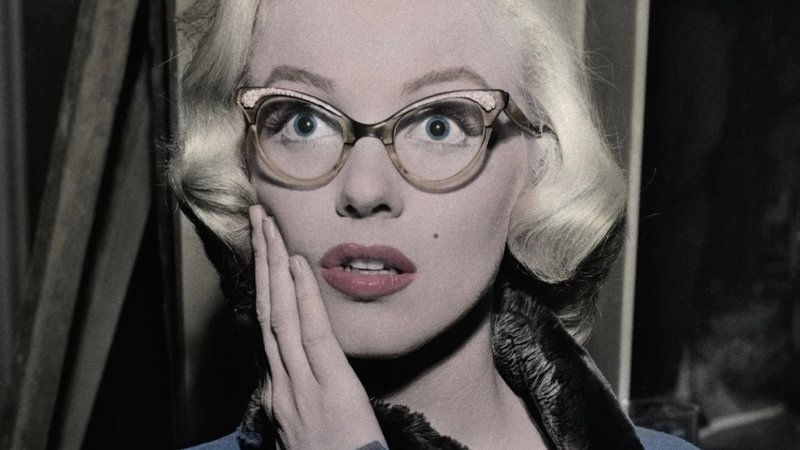 1. La liste de ses envies
Si Marilyn Monroe n'a jamais tourné pour Hitchcock, c'est bien malgré elle. Fin 1955, la star avait envoyé à la Fox une liste de ses 16 réalisateurs préférés : George Cukor, John Huston, Billy Wilder, qui l'ont portée à l'écran. Mais aussi le maître du polar donc, Elia Kazan, Vittorio de Sica, John Ford, avec qui cela ne se fera jamais. Dommage…
2. Sans domicile fixe
Meublés puis hôtels de luxe : Marilyn Monroe a compté pas moins de 38 adresses en seize ans de carrière. L'un de ses premiers pied-à-terre à Los Angeles? Le Studio Club. Une pension accueillant des actrices précaires et harcelées par des producteurs libidineux. En 1946, elle y louait la chambre 307 pour 12 dollars la semaine. Parmi les autres pensionnaires célèbres de l'établisse- ment : Kim Novak, Dorothy Malone ou Rita Moreno.

3. Flexitarienne
Hyperactive (30 films en seize ans!) elle suivait un régime protéiné avant l'heure. Au petit-déjeuner: œufs battus et lait tiède, pamplemousse et café. Pour les déjeuners et les dîners, des steaks (souvent crus), des côtelettes d'agneau ou du foie de veau grillé. Entre deux films, elle pouvait commettre quelques écarts, avec des sandwichs au fromage, des crèmes glacées, ou parfois une cuillère de caviar – mais arrosée de champagne.

4. Groupie
Avant Marilyn, il y eut Jean Harlow, l'autre blonde platine à l'aura dévorante. La star de Certains l'aiment chaud s'en est inspirée, mais son idole ultime restait la tragédienne italienne Eleonora Duse. Une actrice de théâtre légendaire, réputée pour sa pâleur et son introversion, dont elle gardait précieusement le portrait dans chacune de ses résidences.
5. Infidèle
On connaît sa passion pour le parfum Chanel n°5, mais l'actrice faisait parfois des infidélités à la célèbre fragrance, au bénéfice de Joy de Jean Patou. Et lorsqu'elle était en Angleterre, elle ne portait « rien d'autre au lit que l'eau de lavande de Yardley », révélait-elle en 1956 à un reporter curieux. Joli coup de publicité pour la marque, déjà plébiscitée par la reine Elizabeth II elle-même.

6. Main verte
Que faisait la plus grande star de Hollywood à ses heures perdues ? Du jardinage. En lectrice assidue de Horticulture Magazine, elle voulait tout savoir de la botanique. Son dernier achat? Un lot de plantes et de fleurs pour décorer son hacienda de Brentwood.
7. Addict à la mode
Tout le monde connaît la tenue portée par Marilyn Monroe à l'anniversaire de JFK en 1962. Mais sa garde-robe était plutôt constituée de basiques chics et confortables. Jusqu'à ce qu'elle découvre les imprimés colorés d'Emilio Pucci. C'est d'ailleurs dans une éclatante robe verte qu'elle sera enterrée, en souvenir d'un séjour à Mexico six mois avant sa disparition, où elle semblait plus radieuse que jamais.

8. Prémonitoire
Une inscription en latin sur quatre dalles de terre cuite : « Cursum Perficio », soit « Ici s'achève mon chemin ». Ce message s'affichait sur le perron de la villa d'inspiration mexicaine achetée par Marilyn Monroe en mars 1962. Coïncidence macabre, elle y sera retrouvée sans vie un an plus tard.
---
article paru dans le numéro 103 de Vanity Fair, en kiosque le 27 juillet 2022
---
© All images are copyright and protected by their respective owners, assignees or others.
copyright text Vanity Fair.
17 juillet 2022
Les Echos Week-End
n°23749
pays: France
parution le vendredi 15 juillet 2022
Le supplément magazine vendu avec l'édition du journal le vendredi
Article de 7 pages

---
La vie « made in France » de Marilyn Monroe
> Par Sebastien Cauchon; en ligne sur lesechos.fr
On connaît le goût de Marylin pour le parfum français mais moins celui pour les cocottes Le Creuset ou encore les objets Baccarat. En matière de lifestyle, la superstar hollywoodienne la jouait made in France. En atteste ses factures et autres correspondances que se sont amusé à éplucher « Les Echos Week-End ».

Marilyn Monroe et Yves Montand, le 16 janvier 1960 à Hollywood,
lors du cocktail annonçant le tournage du « Milliardaire », film dont ils partagent l'affiche.
(© AFP)
On connaît la passion de Marilyn Monroe pour le 5 de Chanel et celle, plus fugace, qui la lia le temps d'un tournage à Yves Montand. Deux symboles de la France à travers le monde que l'icône hollywoodienne contribua sans doute indirectement à populariser une fois ses deux coups de coeur dévoilés au grand jour. Ce que l'on sait moins, c'est que dans l'intimité, ce symbole de la pop culture américaine des fifties, disparue il y aura tout juste soixante ans le 4 août prochain, aimait également s'entourer des grands noms de l'art de vivre à la française.
Née en 1926 d'une mère qui l'éleva à peine et d'un père qu'elle ne connut jamais, Norma Jeane Mortenson traversa l'enfance dans des conditions plus que modestes. Peu de chance que le soft power français ait alors croisé la route de cette enfant des quartiers périphériques de Hollywood. Vite mariée à 16 ans (pour échapper à l'orphelinat) avec un pur Yankee éberlué, elle l'abandonna rapidement pour embrasser une carrière de mannequin.
Quête d'excellence
Et c'est en se réinventant devant les caméras de la 20th Century Fox sous le nom de Marilyn Monroe que Norma Jeane connut le succès. Puis, très vite, l'ambition secrète de devenir une grande actrice et d'être reconnue en tant que telle. Est-ce cette quête d'excellence qui la poussa à accumuler les commodes Louis XV, les reproductions de Pierre Bonnard et Pierre-Auguste Renoir ou encore les ouvrages d'Albert Camus, Flaubert ou Proust ?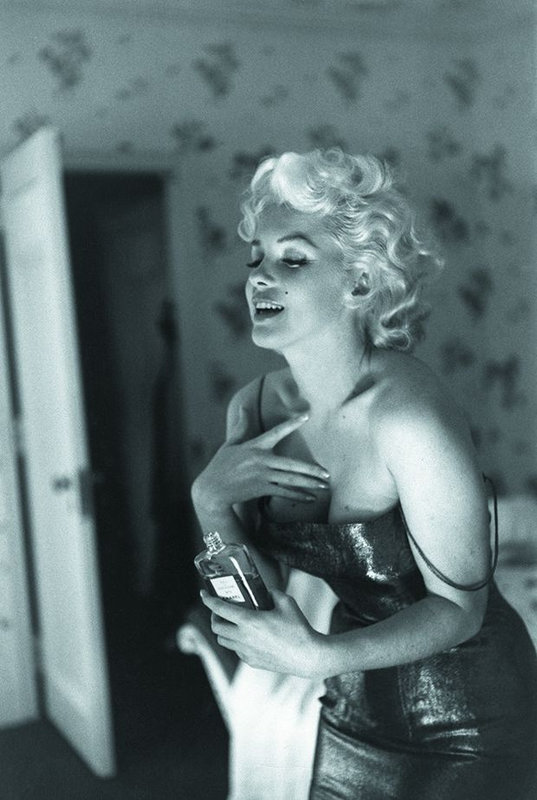 Marilyn se parfumant au Chanel N° 5, le 24 mars 1955, à l'hôtel « Ambassador » à New York.
© Ed Feingersh/Michael Ochs Archives/Getty Images
Loin d'être une pose, cet attrait pour le beau venu de France se retrouvait dans les objets du quotidien que la star choisissait avec soin, à mille lieues de l'image de la fille superficielle et rigolote, la fameuse « girl next door » que le studio s'efforça de vendre film après film avec un succès certain. Qui aurait cru que l'incarnation du glamour hollywoodien possédait une batterie de cuisine Le Creuset de huit pièces (dont deux cocottes) dans un délicat coloris jaune paille ? C'est ce que l'on découvre en octobre 1999 à la faveur de la très médiatisée vente aux enchères des effets personnels de la star organisée par la maison Christie's. Les observateurs attentifs savent pourtant que Marilyn n'a pas attendu la création du Comité Colbert (en 1954) pour succomber aux charmes du « made in France ».
N°5, Arpège et Joy
Folle du 5 et de ses notes d'aldéhydes, ylang-ylang, néroli, bergamote et citron, elle s'approvisionne régulièrement auprès des grands magasins de luxe tels I. Magnin à Los Angeles ou Saks à New York. Jusqu'à en posséder 26 flacons, selon la légende. Marilyn lui substitue ponctuellement deux autres best-sellers de la parfumerie française : Arpège de Lanvin ou Joy de Patou. Les actrices ne sont alors pas encore des égéries et paient sur leurs deniers propres, comme le confirment les nombreuses factures de ce type que l'on retrouvera parmi les effets personnels de la star après sa disparition.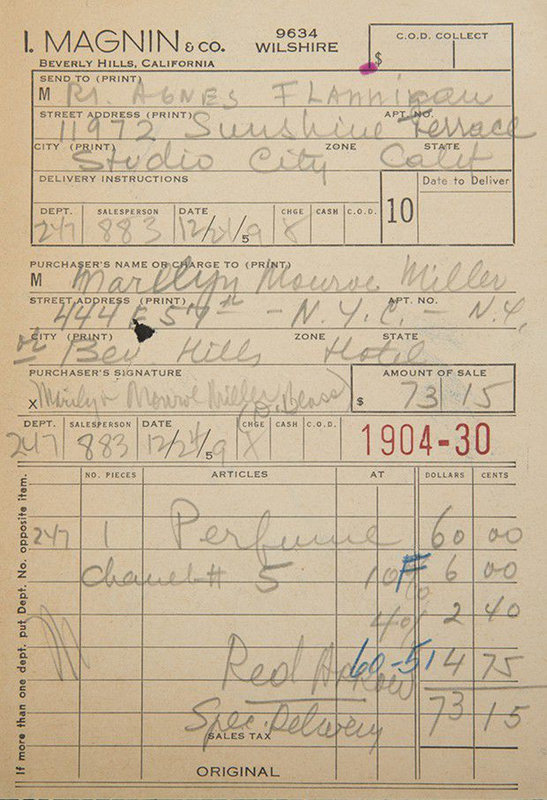 Facture de parfum Chanel N° 5 acheté au grand magasin I. Magnin de Beverly Hills.
© Courtesy of Julien's Auctions
Marilyn succombe également dès ses débuts professionnels à un autre étendard du raffinement à la française : le champagne. Boisson officielle du septième art dont elle partage la blondeur et le caractère pétillant, elle en remplit les réfrigérateurs de ses diverses résidences successives (38 en seize ans, tout de même). Le Dom Pérignon 1953 avait clairement sa préférence : en juin 1962, Pat Newcomb, l'attachée de presse personnelle de la star, avait ainsi veillé à ce que le photographe Bert Stern en ait a minima trois bouteilles en stock pour sa séance prévue pour « Vogue ».
Une autodidacte au goût très sûr
Prévoyant, Stern s'était muni d'une caisse entière. « Le champagne ne coûtait alors que 11 dollars la bouteille, au lieu de 55 actuellement », écrivait-il en 1982 dans le récit de cette ultime séance. En 2022, la mythique cuvée est quasi introuvable et proposée à plusieurs milliers d'euros aux amateurs lorsqu'une bouteille vintage fait ponctuellement apparition sur le marché des collectionneurs fortunés.
Si Moët & Chandon peut s'enorgueillir d'avoir su séduire les papilles de la star avec son millésime 1953, Marilyn ne dédaignait pas pour autant les autres grandes maisons champenoises. Ses bons de commande ou encore ses notes de room-service pendant les tournages indiquent que le Piper-Heidsieck ou le Mumm Cordon Rouge trouvaient régulièrement grâce à ses yeux. Nulle trace de vulgaire « sparkling » californien dans ses factures, Marilyn Monroe était définitivement une autodidacte de goût, y compris dans le domaine vinicole.
Le bal « April in Paris »
Un goût très sûr et une quête d'excellence qui lui font fuir Hollywood en 1954 pour s'établir à New York. Elle y fonde sa propre maison de production en 1955 et épouse l'année suivante le dramaturge Arthur Miller. L'intelligentsia de la côte Est l'accueille à bras ouverts et Marilyn souhaite se réinventer, les conditions sont réunies pour que s'épanouisse son amour de la France.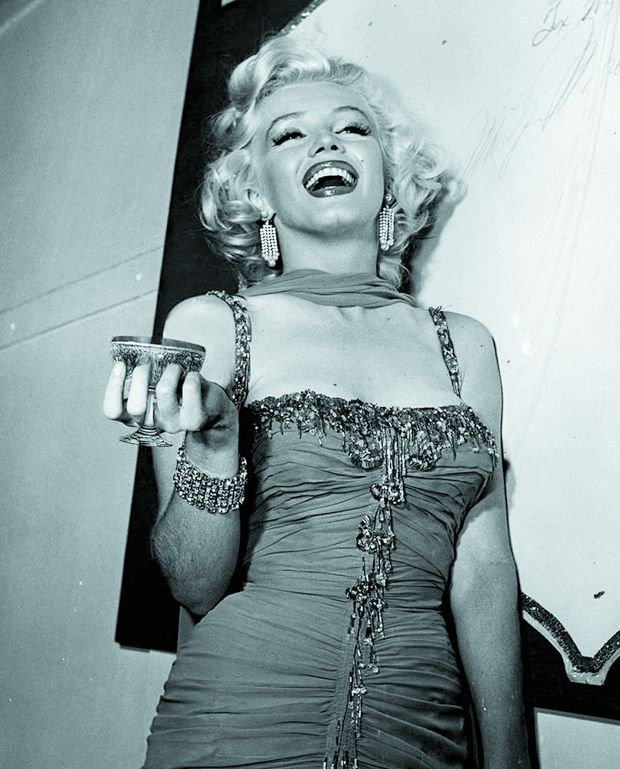 Le champagne est l'un des raffinements à la française qu'adorait Marilyn,
avec un goût sûr pour les grandes maisons. © Ramey Agency/ABACA
Elle accepte ainsi avec plaisir l'invitation au bal « April in Paris » qui se tient au « Waldorf Astoria » le 11 avril 1957. Lancé cinq ans plus tôt par le futé manager français de l'établissement, un certain Claude Philippe, l'événement s'est imposé comme le raout mondain et caritatif de l'année auprès de la bonne société new-yorkaise.
Sous couvert de renforcer l'amitié franco-américaine, le dîner dansant est une magnifique opération de promotion des artistes français et des fleurons du savoir-faire hexagonal qui financent la soirée : Dior, Balmain, Givenchy, Cartier ou encore la Fédération nationale française de dentelles, tulles, broderies et passementeries. L'invitation est facturée 100 dollars (reversés à des oeuvres de charité) et donne aux participants fortunés bon pour une tombola dont les lots vont de la Renault Dauphine au cendrier de chez « Maxim's » !
Razzia chez Baccarat
Fidèle à sa légende, Marilyn arrive en retard, main dans la main avec Arthur Miller, avec qui elle ouvre langoureusement le bal sous les flashs des photographes. Lors du dîner, elle croise Gérard Philipe, Zizi Jeanmaire et Jean Marais.
On ignore si les représentants de la maison Baccarat sont présents ce soir-là, mais Marilyn va dévaliser peu après le showroom new-yorkais de la manufacture de cristal originaire de Meurthe-et-Moselle pour décorer son appartement du 444 East 57th Street où elle vient d'emménager avec Miller. Emblématique horloge Soleil (trônant au-dessus de la cheminée), carafes à décanter, chandeliers, verres à eau et à vin, candélabres… les pièces Baccarat affluent dans le grand appartement dont la star a fait recouvrir les sols de moquette beige et des pans de murs entiers de miroirs.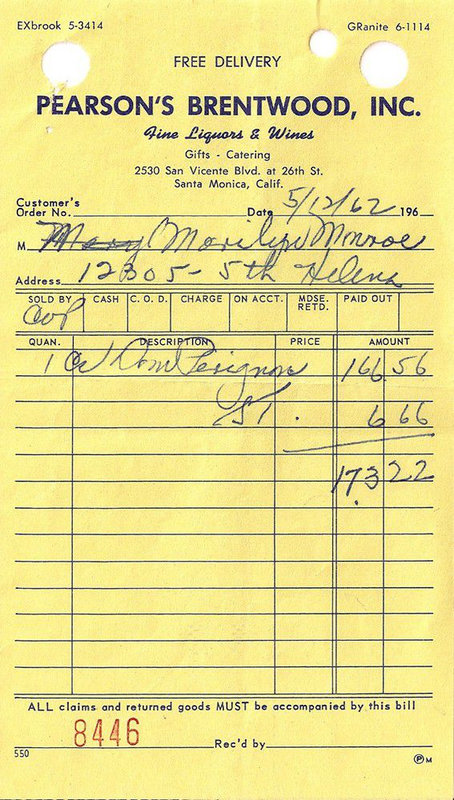 Facture d'une caisse de Dom Pérignon, le champagne préféré de Marilyn,
achetée en mai 1962, trois mois avant sa mort. © Ramey Agency/ABACA
La marque a, il est vrai, installé sa boutique « flagship » new-yorkaise à quelques mètres du domicile de l'actrice, au 55 East 57th Street. Une adresse à laquelle on trouve au premier étage la salle d'exposition de la maison Porthault. A l'en croire, celle-ci y aurait vendu ici même à Marilyn son linge de maison imprimé Coeurs rose issu des ateliers de Rieux-en-Cambrésis… Ce que l'on sait avec certitude, c'est que Marilyn fréquentait effectivement cette adresse, puisque le 25 novembre 1958, une facture en atteste, elle poussa la porte de la boutique Baccarat pour y faire l'achat d'un cendrier en cristal référence « numéro 33 » pour la somme de 180,25 dollars.
Une garde-robe monopolisée par Norman Norell
Etonnamment, peu de pièces de haute couture française dans la garde-robe de la star qui aspire alors pourtant à transformer son image et gommer les années pin-up de ses débuts. Deux raisons à cela. Tout d'abord, l'actrice privilégie dans l'intimité les tenues simples et confortables, empruntant si besoin au département costumes de la Fox les robes glamours le temps d'une soirée de gala. Ensuite, un homme veille sur ses tenues depuis son arrivée sur la côte Est et l'accompagne dans le processus de sophistication de la « nouvelle » Marilyn. Il s'agit du couturier Norman Norell, un ami des Greene, chez qui Marilyn a trouvé refuge après avoir quitté Hollywood.
Sur les conseils d'Amy Greene, Norell est mis à contribution pour renouveler la garde-robe de la star grâce à un ingénieux partenariat : il fournira ses créations gracieusement et prendra en charge une partie des frais du train de vie de la star (coiffeur, esthéticienne, manucure), et en contrepartie Marilyn portera du Norell pour toutes ses apparitions publiques, lui assurant ainsi une immense publicité. Oubliés les robes à noeuds fuchsia, les lamés or et les bustiers plongeants de soie rouge et dentelles. Norman Norell pare Marilyn d'une élégance minimaliste de bon ton.
Les tables laquées de « Mrs Miller »
Son influence s'étend au-delà du dressing puisque c'est lui qui joue les intermédiaires entre l'actrice et la maison Leleu. Fleuron des arts décoratifs français, Leleu crée alors du mobilier d'exception mêlant bois laqués, marbre, albâtre et bronze pour les grands de ce monde. Le 29 septembre 1959, la secrétaire de Marilyn Monroe adresse un courrier au siège parisien de la maison Leleu, avenue Franklin Roosevelt : « Messieurs, suite aux arrangements pris avec Mr. Norman Norell, veuillez trouver ci-joint un chèque d'acompte de 150 dollars pour trois tables laquées au nom de Mrs Arthur Miller. » La commande est précise, on indique que « la laque doit être de style numéro 1, comme indiqué sur les échantillons apportés par Mr. Norell ».

Correspondance échangée à l'occasion de la commande de trois tables gigognes
à la maison française Leleu. © Courtesy of Julien's Auctions
Fils du fondateur Jules, Jean Leleu s'empresse de lancer la livraison des trois tables gigognes destinées au salon de la plus grande star au monde. Le 6 octobre, il informe par retour de courrier « Mrs Miller » de la bonne réception de son acompte et de l'expédition de sa commande prévue « dans les premiers jours de décembre ». Il précise timidement : « Je me réjouis de savoir certains de mes meubles chez vous, même si ce sont de petites pièces. Vous pourriez être intéressée par nos produits et nos tendances, aussi je joins à ce courrier quelques pages de publications françaises à notre sujet. » Avant de s'enhardir : « Nous sommes reconnus comme des décorateurs d'exception spécialisés dans la fabrication de meubles modernes sur mesure. Notre savoir-faire est inégalé : c'est la raison pour laquelle nous avons été sélectionnés pour la décoration de nombreux navires de luxe, ambassades, résidences présidentielles, etc. » Et de tenter enfin sa chance : « Ce serait pour moi un plaisir de réaliser pour vous des esquisses personnalisées s'il vous arrivait d'avoir des résidences à meubler et décorer. »
Subjuguée par Yves Montand
Las, comme l'atteste l'épaisse correspondance conservée à ce sujet, les formalités de douanes vont compliquer et retarder la livraison de la caisse renfermant les fameuses tables. Et Marilyn ne renouvellera pas commande à la maison Leleu… Mais la France n'est jamais loin d'elle en cette année 1959. Quelques mois plus tôt, c'est en effet un artiste français qu'elle découvre sur les planches du Henry Miller Theater à Broadway. Le 21 septembre 1959, Marilyn assiste à la première du one man show « An evening with Yves Montand ». Subjuguée, et alors que Miller était retenu par son travail d'écriture, elle retourne avec lui voir le spectacle trois jours plus tard.
Le 16 janvier 1960, c'est à Hollywood que les couples Montand et Miller sont réunis pour une conférence de presse annonçant le début de tournage du film « Le Milliardaire » dont Marilyn et Montand se partagent l'affiche.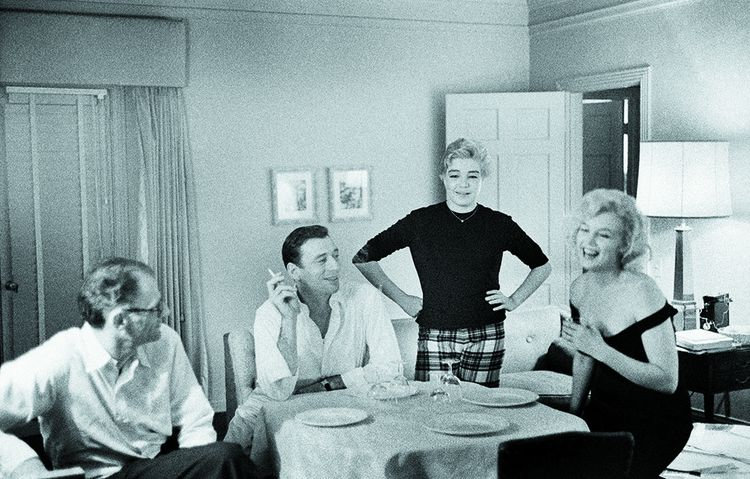 Les couples Marilyn Monroe-Arthur Miller et Yves Montand-Simon Signoret,
dans l'appartement de Montand au « Beverly Hills Hotel »,
durant le tournage du « Milliardaire », en 1960.
© Bruce Davidson/Magnum Photos
Comme si le titre original du film n'était pas assez prémonitoire (« Let's Make Love »), Marilyn déclare à la presse : « Après mon mari et ex aequo avec Marlon Brando, je trouve qu'Yves Montand est l'homme le plus séduisant que j'aie jamais rencontré. » Les couples Signoret-Montand et Monroe-Miller s'installent dans des bungalows voisins au « Beverly Hills Hotel » pour la durée du tournage et le photographe Bruce Davidson immortalise le temps d'un dîner la catastrophe annoncée dans un cliché devenu célèbre. Simone Signoret regarde Yves Montand qui regarde Marilyn qui regarde Arthur Miller qui regarde Yves Montand, un sourire crispé aux lèvres.
La suite est connue. Et si, dans l'un des numéros musicaux du film, Marilyn y susurre dans un français adorable « Mon coeur est à papa », en privé, son mariage avec Arthur Miller ne se relèvera pas de son « coup de foudre d'écolière » tel que Montand, en parfait goujat, qualifiera leur brève romance avant de rentrer à Paris.
Un Rodin dans le salon
L'épisode semble éloigner la France de Marilyn qui, en divorçant de Miller, déserte la côte Atlantique pour s'établir à nouveau à Los Angeles. C'est à Brentwood qu'elle achète en mars 1962 une hacienda de style espagnol qu'elle entreprend de rénover dans le plus pur style mexicain. Sans oublier toutefois d'équiper sa cuisine de casseroles en cuivre estampillées « Bazar de Paris » ou de décorer son salon quasi nu d'un bronze de Rodin, « La Main de Dieu », un achat d'impulsion à plus d'un millier de dollars.

Le 26 février 1959, au consulat de France à New York,
Marilyn reçoit l'Etoile de Cristal décernée par l'Académie française du cinéma
des mains de son président Georges Auric, en présence du consul, Raymond Laporte (à gauche).
© PAUL SLADE/PARISMATCH/SCOOP
Lorsqu'elle s'avance le 19 mai 1962, sur la scène du Madison Square Garden pour entonner « Happy Birthday » à John Fitzgerald Kennedy, Marilyn entre dans l'histoire du XXe siècle. Impossible pour l'assistance qui la regarde scintiller sous les projecteurs dans une robe de sirène, d'imaginer que dans trois mois elle succombera à une overdose de barbituriques. Tous ignorent également que cette robe hallucinante, portée pour son ultime apparition, est composée de gaze de soie grège (venue de France !) rehaussée de 2.500 cristaux cousus à la main. Et que son créateur, Jean-Louis Berthault, ancien chef costumier de la Columbia puis d'Universal Pictures désormais à son compte, était Français, né à Paris et sorti diplômé de l'Ecole des Arts décoratifs à la fin des années 1930.
---
Marilyn Monroe Estate, un business juteux
Lorsqu'elle meurt à 36 ans, en 1962, Marilyn Monroe laisse un testament dont les principaux bénéficiaires sont sa mère Gladys, sa demi-soeur Berniece, sa secrétaire May Reis et son professeur d'art dramatique Lee Strasberg. Une phrase va cependant permettre à ce dernier de rafler le vrai trésor caché de la succession. En plus de lui attribuer 75 % de la propriété intellectuelle qu'elle détenait sur certains de ses films qu'elle avait coproduits, à la clause 4 du document, l'actrice a en effet indiqué : « Je lègue tous mes effets personnels et vêtements à Lee Strasberg, mon souhait étant qu'il répartisse ces derniers comme bon lui semble entre mes amis, mes confrères et ceux à qui je tiens. » Lee va bien vider intégralement l'appartement de New York et la maison de Brentwood de la star. Mais, au mépris de la volonté exprimée, les milliers d'articles vont être stockés dans d'immenses garde-meubles new-yorkais et ne seront jamais redistribués aux proches et collègues de Marilyn. En 1982, Lee Strasberg meurt à son tour et sa seconde épouse, Anna Strasberg, qui n'a jamais connu l'actrice, hérite des biens et droits de la star. Elle charge l'homme d'affaires californien Roger Richman d'exploiter le nom et l'image de la star. Il développe la marque Marilyn Monroe de 1983 à 1995 en signant des contrats lucratifs, notamment avec les magasins Bloomingdale's. Mais, en 1996, Anna Strasberg remercie Richman et confie le Marilyn Monroe Estate à CMG Worldwide, qui règne sur le business des stars disparues et multiplie les contrats de licence.
En 1999, Anna Strasberg confie à Christie's le soin d'organiser la vente aux enchères des effets personnels de Marilyn. La vente du siècle permet à la veuve d'empocher un total de 13,4 millions de dollars, dont plus de 1,2 million pour la célèbre robe brodée de sequins du « Happy Birthday » à JFK.
Après une belle opération avec Le Seuil en 2010, à qui elle confie le soin de publier un recueil de textes et poèmes tirés des archives de Marilyn, Anna Strasberg cède en 2011 ses droits de propriété intellectuels liés à la star au groupe Authentic Brands pour un montant non communiqué estimé entre 20 et 30 millions de dollars.
Après les pièces nobles (costumes, robes griffées, scénarios annotés, mobilier, fourrures et bijoux), Anna Strasberg disperse régulièrement ce qu'il lui reste des effets personnels de Marilyn (dont une montagne de paperasse comptable) dans des ventes aux enchères. Spécialiste de la « memorabilia », la maison Julien's Auctions de Beverly Hills organise ainsi chaque été une vente intitulée « Hollywood Legends » où tout ce qu'a un jour touché Marilyn s'envole à prix d'or. Toaster, tube de rouge à lèvres et casse-noisettes inclus. La prochaine vente se tient ces 15 et 18 juillet (*) et offre aux collectionneurs (ou investisseurs) la possibilité de remporter, entre autres, un chèque signé en 1952 par Marilyn à la pharmacie Schwab's (estimé entre 3.000 et 5.000 dollars), une note manuscrite de dix lignes adressée à Lee Strasberg (estimation 6.000-8.000 dollars) ou encore un carreau de faïence issu de la salle de bains de la dernière demeure de la star (estimation 1.000-2.000 dollars).
(*) www.julienslive.com
---
Marilyn et la France, les occasions ratées
Francophile dans l'âme, Marilyn Monroe n'aura jamais foulé le sol français.
En juillet 1956, lorsqu'elle quitte les Etats-Unis pour l'Europe, c'est pour tourner en Angleterre « Le Prince et la Danseuse », adaptation d'une pièce de Terence Rattigan dont elle a acquis les droits, confiant la réalisation et le rôle principal à ses côtés à Laurence Olivier. Elle se promet de suivre son époux, Arthur Miller, qui doit faire un saut à Paris rencontrer Yves Montand et Simone Signoret qui adaptent « Les Sorcières de Salem ». Mais la mésentente entre Marilyn et Laurence Olivier plombe le tournage qui s'enlise à Londres, Miller ira seul à Paris.
Le 7 mars 1958, Simone Noir de chez Christian Dior pense savoir que Marilyn Monroe s'apprête à venir à Paris. Elle adresse un courrier à l'actrice lui indiquant qu'elle se réjouit de sa venue et qu'elle espère que Marilyn se rendra à la boutique Dior en dépit de son planning chargé. Naturellement, « nous pouvons venir vous montrer des modèles à votre hôtel », précise-t-elle, en joignant une liste de prix. Marilyn ne se rendra pourtant jamais au 30 avenue Montaigne. Et pour cause, invitée en avril 1958 par l'Académie française du cinéma à se voir décerner à Paris l'Etoile de Cristal de la meilleure interprète étrangère, elle recevra in fine son trophée le 26 février 1959… au consulat français de New York des mains du compositeur Georges Auric, venu pour l'occasion.
Quant au Festival de Cannes, s'il convie très officiellement Marilyn Monroe dès 1955 en s'adressant à son attaché de presse Rupert Allan puis à son associé Milton H. Greene, malgré tous les efforts déployés, chacune de ses tentatives fut hélas infructueuse.
En 1960, c'est Joséphine Baker, présidente du gala de l'Union des artistes, qui convie Marilyn à exécuter « devant le Tout-Paris » un numéro de cirque « insolite » à l'occasion du 30e anniversaire du gala. « Vous savez combien Paris vous aime et combien les acteurs français seraient fiers de vous accueillir », précise-t-elle dans sa lettre en français adressée au « Beverly Hills Hotel ». Sa destinataire notera sur un mémo en réponse son regret de ne pouvoir participer à l'événement le 4 mars 1960 pour cause de tournage d'un film. Marilyn en dompteuse, acrobate ou meneuse de revue sur la piste du Cirque d'Hiver Bouglione ? La France aurait en effet adoré.
---
Les objets personnels de Marilyn ont la cote
1. La robe « Happy Birthday à JFK » : 4,81 millions de dollars lors de sa seconde vente, le 17 novembre 2016, par Julien's.
2. Une bague platine et diamants offerte par Joe DiMaggio (qu'elle épousa en 1954) : 772.500 dollars chez Christie's.
3. Son piano d'enfance : 662.500 dollars chez Christie's.
4. Une robe portée dans « La Rivière sans retour » : 526.000 dollars chez Julien's.
5. Une lettre adressée par Joe DiMaggio en 1952 : 525.000 dollars chez Christie's.
---
© All images are copyright and protected by their respective owners, assignees or others.
copyright text Les Echos

06 octobre 2020
Bikini Jaune à Lacets
Yellow Lace up Bikini
Maillot de bain deux pièces de couleur jaune, que Marilyn Monroe a porté à de nombreuses reprises lors de séances photos quand elle était une jeune modèle.
C'est un bikini à lacets: le soutien gorge de forme triangle se ferme par un cordon blanc devant ou derrière le corps, et la culotte comporte des lacets blancs qui se nouent de chaque côté. Elle devait beaucoup aimer ce maillot qu'elle a porté pendant au moins sept ans (de 1946 à 1952).
Two-piece yellow swimsuit, that Marilyn Monroe wore many times during photoshoots when she was a young model.
It's a lace-up bikini: the triangle-shaped bra closes with a white lace in front or back of the body, and the panties have white laces that tie on each side. She must have love this swimsuit that she wore during at least seven years (from 1946 to 1952).

---
Le maillot de bain est en réalité fait de trois pièces: en plus du soutien gorge et de la culotte, il comporte une petite jupe ouverte sur le côté dont le lacet se noue par croisement. Ce type de maillot de bain trois pièces était très en vogue au début des années 1950s aux Etats-Unis.
The swimsuit is actually made of three pieces: in addition to the bra and the panties, it includes a small skirt open on the side whose lace is tied by crossing. This type of three-piece swimsuit was very popular in the early 1950s in the United States.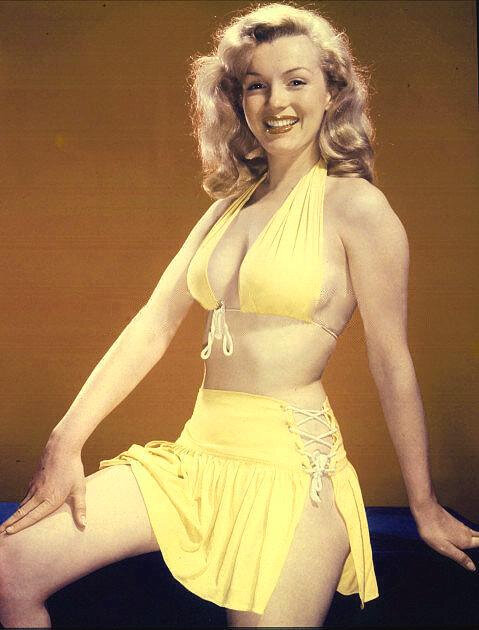 ---
Les séances photos
The Photoshoots
---
C'est encore sous le nom de Norma Jeane Dougherty que la future Marilyn Monroe signe un contrat avec le photographe Richard C Miller qui photographie la jeune modèle pour des clichés publicitaires le 26 mars 1946 sur la plage de Santa Monica. Norma Jeane est photographiée dans différentes tenues et maillots de bain. Ce sont les premières photographies la montrant porter ce maillot de bain deux pièces jaune.
It's again under the name of Norma Jeane Dougherty that the future Marilyn Monroe signs a contract with the photographer Richard C Miller who photographs the young model for advertising shots in March 26, 1946 on the beach in Santa Monica. Norma Jeane is pictured in a variety of outfits and swimsuits. These are the first photographs showing her wearing this two-piece yellow swimsuit.

---
Toujours en 1946, pour des portraits aux allures de pin-up pris dans le studio du photographe Bruno Bernard, Norma Jeane accessoirise le bikini en le portant avec la petite jupe jaune.
Also in 1946, for pin-up-like portraits taken in the studio of photographer Bruno Bernard, Norma Jeane accessorizes the bikini by wearing it with the little yellow skirt.
---
Cette même année 1946, autres poses de style pin-up pour le photographe et illustrateur Earl Moran.
That same year 1946, other pin-up style poses for photographer and illustrator Earl Moran.
---
Encore en 1946, et toujours pour des portraits pris en studio mais sous l'objectif du photographe Laszlo Willinger.
Again in 1946, and still for portraits taken in a studio, but under the lens of photographer Laszlo Willinger.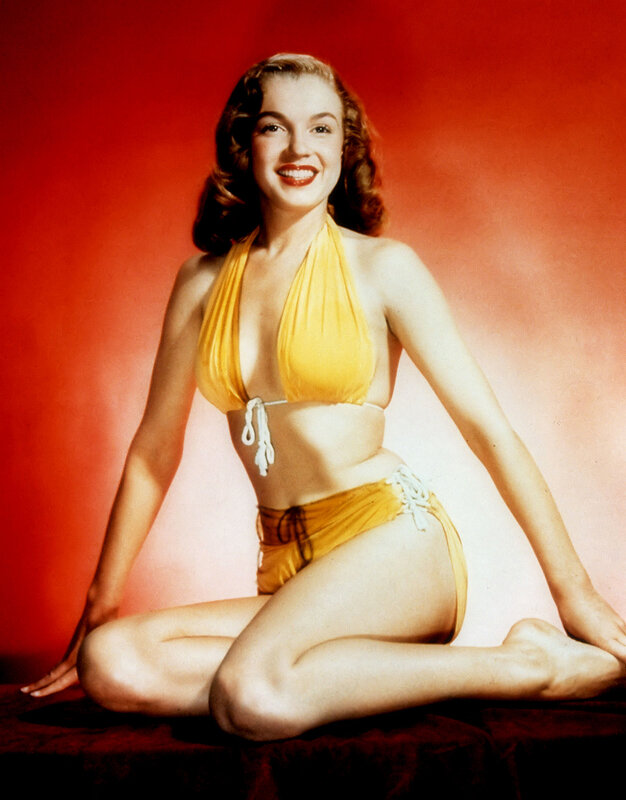 ---
Cette même année 1946, on devine par le haut du maillot qu'elle le porte encore pour des portraits noir et blanc pris par Edwin Steinmeyer (dit 'Steinie') destinés à l'agence de mannequin Blue Book où elle y est inscrite; la séance a lieu dans l'Ambassador Hotel où l'agence est située.
That same year 1946, we can see from the top of the swimsuit that she was still wearing it for black and white portraits taken by Erwin Steinmeyer (known as 'Steinie') for the Blue Book model agency where she was registered as a model; the session takes place in the Ambassador Hotel where the agency is located.
---
Au début de 1947, elle porte le maillot avec la jupe pour des portraits dans un studio au décor de nuages dans les studios de la Fox qui distribuera les photos dans la presse pour promouvoir leur nouvelle starlette.
At the beginning of 1947, she wore the bathsuit with the skirt for portraits in a studio with a decor of clouds in the Fox studios which would distribute the photos in the press to promote their new starlet.

---
C'est en 1948 qu'elle réapparaît avec le maillot: elle porte le soutien gorge et la petite jupe pour des portraits en studio pris par le photographe Laszlo Willinger. En 1950, l'une des photographies servira de support publicitaire pour le maquillage Westmore.
It was in 1948 that she reappeared with the swimsuit: she wears the bra and the little skirt for studio portraits taken by the photographer Laszlo Willinger. In 1950, one of the photographs served as an advertising medium for Westmore makeup.

---
Puis c'est le 26 mai 1950 que Marilyn porte à nouveau le maillot lors d'une séance photos de Bob Beerman qui prend place dans une villa privée de Westwood village.
Then on May 26, 1950, Marilyn wears the swimsuit again during a Bob Beerman photoshoot which takes place in a private villa in Westwood village.
Cependant, elle a cette fois-ci noué le cordon du soutien gorge non plus devant, mais dans le dos.
However, this time she tied the bra cord no longer in front, but in the back.
---
On la redécouvre encore vêtue du maillot dans une autre séance photos couleur non datée (en 1950 ou 1951) où elle pose à la plage sur le sable au bord de l'eau.
We rediscover her still wearing the swimsuit in another undated color photoshoot (in 1950 or 1951) where she poses at the beach, in the sand by the water.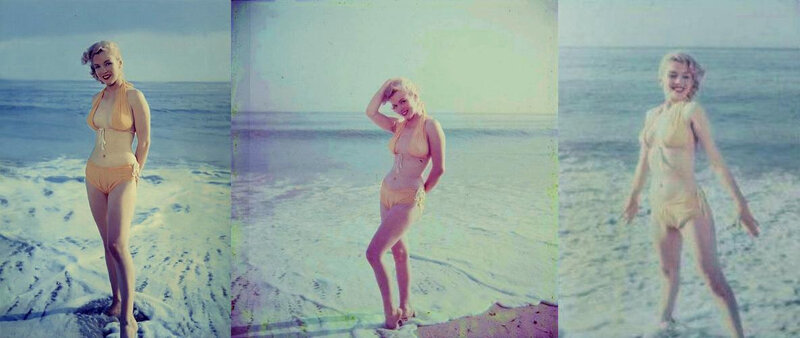 ---
Durant l'année 1951, elle fait plusieurs séances avec le photographe Anthony Beauchamp: elle apparaît vêtue du maillot de bain deux pièces dans deux d'entre elles.
During the year 1951, she made several sessions with the photographer Anthony Beauchamp: she appeared dressed in the two-piece swimsuit in three of them.

- En pin-up telle une Vénus allongée sur une serviette éponge dans un tranzat.
In pin-up like a Venus lying on a terry towel in a tranzat.

- A la plage pour des photographies plus spontanées.
At the beach for photographs with more spontaneous poses.


---
Toujours en 1951, elle est aussi photographiée par Earl Theisen mais aux studios de la Fox , en mode pin-up glamour.
Always in 1951, she is photographed by Earl Theisen, at the Fox studios , in glamorous pin-up mode.

---
Enfin, elle porte pour une dernière fois le bikini jaune en 1952, dans une séance photos en studio de David Preston où elle reprend des poses de pin-up.
Finally, she wears the yellow bikini for the last time in 1952, in a David Preston studio photoshoot where she resumes pin-up poses.

---
D'autres Bikinis à Lacet de Marilyn
Other Lace-up Bikinis of Marilyn

---
La jeune modèle Marilyn a porté d'autres maillots de bain deux pièces du même style qui se nouent par un petit lacet.
Young model Marilyn wore other two-piece swimsuits of the same style which are tied with a small lace.
---
En 1946, en prenant la pose pin-up pour le photographe et illustrateur Earl Moran: le soutien gorge est de forme plus ronde en se nouant sur le devant, et la culotte se noue en lacet de croisement; le lacet est plus foncé. L'artiste la représentera avec ce maillot de couleur jaune.
In 1946, taking the pin-up pose for the photographer and illustrator Earl Moran: the bra is rounder in shape by being tied at the front, and the panties are tied in a crossed lace; the lace is darker. The artist will represent her with this yellow color.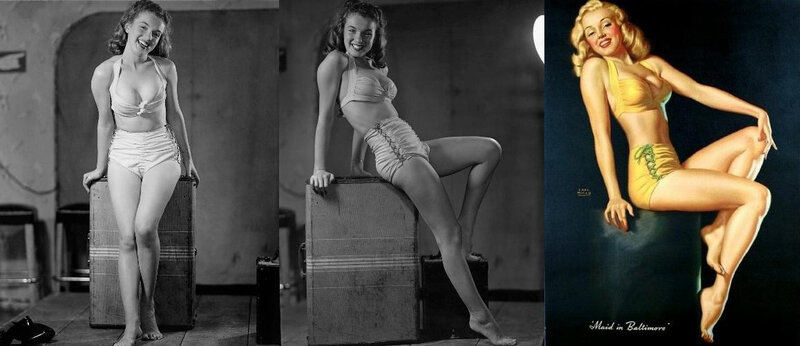 ---
Le même maillot, encore sous l'égide d'Earl Moran l'année suivante -en 1947- des poses pin-up dans un fauteuil.
The same swimsuit, still under the aegis of Earl Moran the following year -in 1947- pin-up poses in a sofa.

---
En 1948, encore sous l'oeil d'Earl Moran, elle pose allongée en pin-up sur un matelas. Elle ne porte que la culotte, et il semble qu'il s'agisse d'un autre modèle, plus moulant avec un lacet noir noué en croisement. On devine le haut du maillot (le soutien gorge) posé à côté d'elle avec un lacet noir.
In 1948, still under Earl Moran's eye, she poses as a pin-up lying on a mattress. She only wears the panties, and it looks like another type, more tight-fitting with a black lace tied in the crossover. We can guess the top of the swimsuit (the bra) posed next to her with a black lace.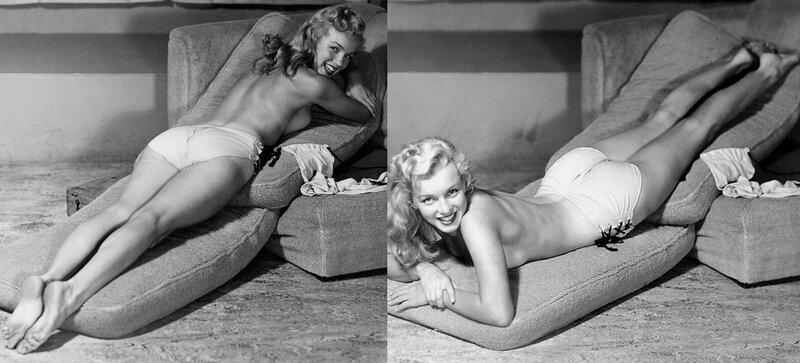 ---
Encore en 1948, dans un studio photo, sous l'objectif de Laszlo Willinger, elle porte un bikini à rayures vertes : le soutien gorge sans bretelles se noue par un lacet blanc sur le devant, et la culotte à volant en dentelles a aussi un lacage croisé sur le côté.
Again in 1948, in a photo studio, under the camera lens of Laszlo Willinger, she wears a green striped bikini: the strapless bra is tied with a white lace on the front, and the ruffled lace panties also have a crossed lacing on the side.
---
Les Bikinis à Lacets
Lace-up Bikinis

---
Ava Gardner, fin des années 1940s
---
Les actrices Jane Rusell, 1942
Dale Evans, 1945
Carole Landis, années 1940s
---
Des mannequins des années 1950s/1960s
Model girls from the 1950s/1960s
---
Elizabeth Taylor, dans les années 1950s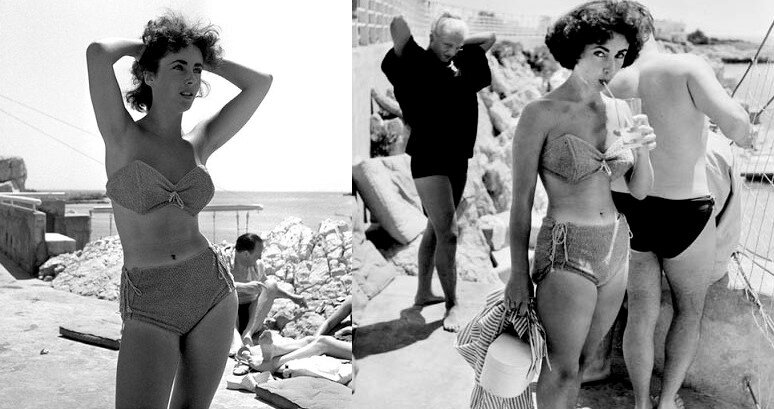 ---
Défilé Chanel, juin 1994: Claudia Schiffer et Naomi Campbell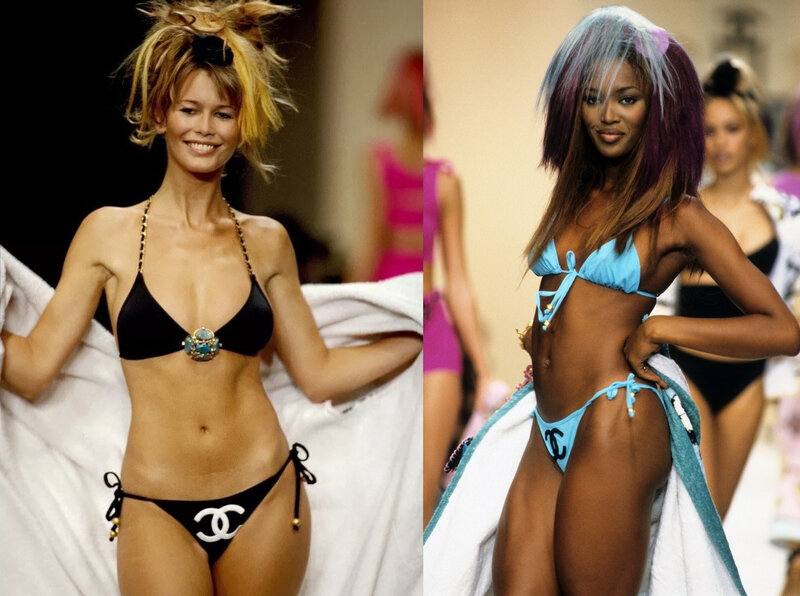 ---
All photos are copyright and protected by their respective owners.
copyright text by GinieLand.
30 décembre 2018
Et la femme créa le style
Auteurs: Valéria Manferto de Fabianis
préface de Anna Molinari
texte de Paola Saltari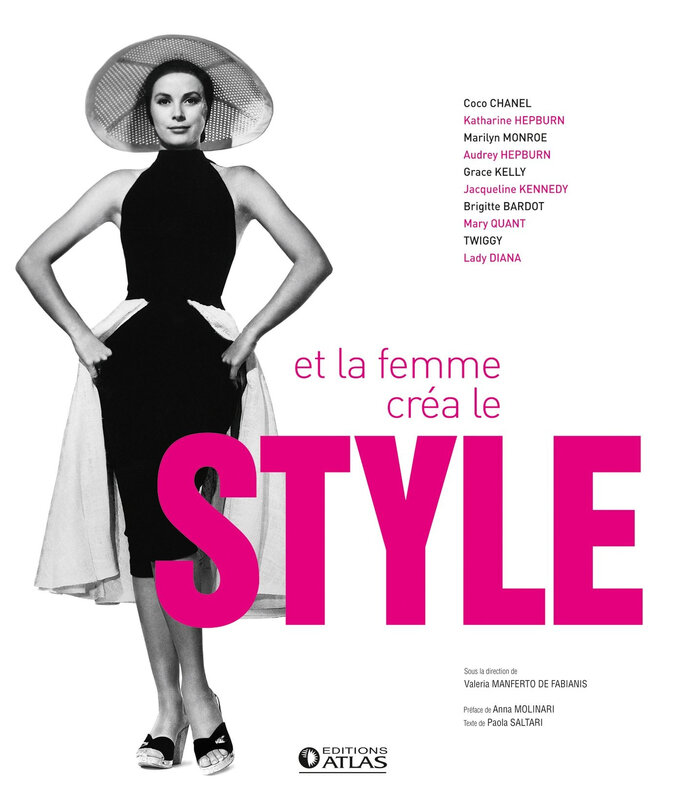 Date de sortie: octobre 2012
Relié 272 pages
Dimensions: 25,4 x 3,1 x 29,6 cm
Langue: français
Éditeur: Editions Atlas
ISBN-10: 2723491463
ISBN-13: 978-2723491464
Prix éditeur: 35 Euros
Ou le commander ? sur amazon

Description (quatrième de couverture): Les dix muses qui ont transformé l'univers féminin. Cet ouvrage fait revivre quelques-unes des icônes féminines du style et de l'élégance ayant fasciné des générations entières, et qui encore aujourd'hui représentent des modèles de beauté et de distinction où puiser l'inspiration. Ce bel ouvrage propose de superbes photographies des dix femmes qui ont marqué l'histoire de la mode : Brigitte Bardot, Mary Quant, Twiggy, Marylin Monroe, Audrey Hepburn, Grace Kelly, Coco Chanel, Lady Diana ou encore Jacqueline Kennedy. Des femmes qui, à leur époque, ont contribué à révolutionner la féminité.
sommaire
avant-propos
préface
introduction
Coco Chanel La demoiselle du n°5
Katharine Hepburn Une star anticonventionnelle
Marilyn Monroe Les hommes préfèrent les blondes
Audrey Hepburn Elégance innée
Grace Kelly Glace bouillante
Jacqueline Kennedy Simplement Jackie
Brigitte Bardot Et Dieu créa BB
Mary Quant Swinging London
Twiggy Le visage des années soixante
Diana Spencer La princesse glamour
---
/!/ Il s'agirait de la reédition du livre Et la femme créa le style Les dix muses qui ont tranformé l'univers féminin (sorti en 2010 aux éditions White Star).
---
Mon Avis en Bref... 08/10
Beau livre de collection contenant de superbes photographies pleines pages de haute qualité sur les plus belles femmes du XXème siècle qui ont marqué l'Histoire de la culture. Pour chacune d'entre elles: une rapide biographie, un décryptage suscint de leur style et quelques citations. Le livre contient 30 pages sur Marilyn Monroe (dont 18 photographies grands format en noir et blanc).
---
Vous avez le livre ?
Apportez votre critique, votre avis ou votre note (/10)
Do you have the book ?
Gives your opinion, review or note (/10)
Et la femme créa le style
Les dix muses qui ont tranformé l'univers féminin
Auteurs: Valéria Manferto de Fabianis
préface de Anna Molinari
texte de Paola Saltari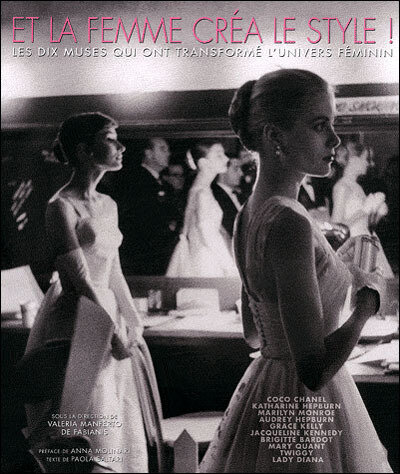 Date de sortie: juin 2010
Relié 250 pages
Dimensions: 25,4 x 3,1 x 29,6 cm
Langue: français
Éditeur: White Star
ISBN-10: 8861123201
ISBN-13: 978-8861123205
Prix éditeur: 35 Euros
Ou le commander ? sur amazon

Description: Ces pages font revivre quelques-unes des icônes féminines du style et de l'élégance ayant fasciné des générations entières, et qui encore aujourd'hui représentent des modèles de beauté - de distinction où puiser l'inspiration. Cet ouvrage propose un extraordinaire recueil de photographies des 10 femmes qui ont marqué l'histoire de la mode : depuis des stars de cinéma comme Marilyn Monroe et Audrey Hepburn, jusqu'à des personnages controversés comme Lady Diana et Coco Chanel. Des femmes qui, à leur époque, ont contribué à révolutionner le concept de féminité, et qui, à travers leur personnalité et leur vie privée, ont été au coeur des chroniques mondaines durant des années. Des récits de vie inoubliables et des portraits intimes célébrés dans un livre sans précédent.
Coco Chanel
Katharine Hepburn
Marilyn Monroe
Audrey Hepburn
Grace Kelly
Jacqueline Kennedy
Brigitte Bardot
Mary Quant
Twiggy
Diana Spencer
---
Vous avez le livre ?
Apportez votre critique, votre avis ou votre note (/10)
Do you have the book ?
Gives your opinion, review or note (/10)
23 février 2017
Saturday Evening Post
- The New Marilyn Monroe - Part 2

pays magazine: USA
paru le 12 mai 1956
article: 2ème partie "The New Marilyn Monroe"
en ligne sur saturdayeveningpost.com
---
Part Two: Here She Talks About Herself
By Pete Martin
Originally published on May 12, 1956
Marilyn explains how Freud helped cure her inferiority complex and tells why she posed for that famous nude calendar.

The "new Marilyn" and Don Murray, male lead
in her next picture, Bus Stop. (Gene Lester, © SEPS)
"That nude calendar Marilyn Monroe posed for will probably be reprinted as long as we have men with twenty-twenty vision in this country," Flack Jones told me. Jones had put in several years as a publicity worker at Marilyn Monroe's Hollywood studio before opening his own public-relations office. "Curious thing about it," Jones went on, "when that calendar first came out, it had no bigger sale than any other nude calendar.
"You may not know it, but there's a steady sale for such calendars. You might think that there are too few places where you can hang them up to make them worthwhile. But there're lots of places where they fit in very nicely — truckers' havens, barbershops, bowling alleys, poolrooms, washrooms, garages, toolshops, taprooms, taverns — joints like that. The calendar people always publish a certain number of nude calendars along with standards like changing autumn leaves, Cape Cod fishermen bringing home their catch from a wintry sea, Old Baldy covered with snow. You're not in the calendar business unless you have a selection of sexy calendars. The sale of the one for which Marilyn posed was satisfactory, but not outstanding. It only became a 'hot number' when the public became familiar with it."
Billy Wilder, the Hollywood director who directed Marilyn in The Seven Year Itch, is witty, also pungent, pithy, and is not afraid to say what he thinks. "When you come right down to it," Wilder told me, "that calendar is not repulsive. It's quite lovely. Marilyn's name was already pretty big when the calendar story broke. If it hadn't been, nobody would have cared one way or the other. But when it became known that she had posed for it, I think that, if anything, it helped her popularity. It appealed to people who like to read about millionaires who started life selling newspapers on the corner of Forty-second and Fifth Avenue; then worked their way up. It was as if Marilyn had been working her way through college, for that pose took hours. Here was a girl who needed dough, and she made it by honest toil."
"I was working on the Fox Western Avenue lot when this worried man from Fox came tearing in wringing his hands," Marilyn told me recently. "He took me into my dressing room to talk about the horrible thing I'd done in posing for such a photograph. I could think of nothing else to say, so I said apologetically, 'I thought the lighting the photographer used would disguise me.' I thought that worried man would have a stroke when I told him that.
"What had happened was I was behind in my rent at the Hollywood Studio Club, where girls stay who hope to crash the movies. You're only supposed to get one week behind in your rent at the club, but they must have felt sorry for me because they'd given me three warnings. A lot of photographers had asked me to pose in the nude, but I'd always said, 'No.' I was getting five dollars an hour for plain modeling, but the price for nude modeling was fifty an hour. So I called Tom Kelley, a photographer I knew, and said, 'They're kicking me out of here. How soon can we do it?' He said, 'We can do it tomorrow.'
"I didn't even have to get dressed, so it didn't take long. I mean it takes longer to get dressed than it does to get undressed. I'd asked Tom, 'Please don't have anyone else there except your wife, Natalie.' He said, 'O.K.' He only made two poses. There was a shot of me sitting up and a shot of me lying down. I think the one of me lying down is the best.
"I'm saving a copy of that calendar for my grandchildren," Marilyn went on, all bright-eyed. "There's a place in Los Angeles which even reproduces it on bras and panties. But I've only autographed a few copies of it, mostly for sick people. On one I wrote, 'This may not be my best angle,' and on the other I wrote, 'Do you like me better with long hair?"
I said to Marilyn that Roy Craft, who is one of the publicity men at Fox, had told me that he had worked with her for five years, and that in all that time he'd never heard her tell a lie. "That's a mighty fine record for any community," I said.
"It may be a fine record," she admitted, "but it has also gotten me into trouble. Telling the truth, I mean. Then, when I get into trouble by being too direct and I try to pull back, people think I'm being coy. I'm supposed to have said that I dislike being interviewed by women reporters, but that it's different with gentlemen of the press because we have a mutual appreciation of being male and female. I didn't say I disliked women reporters. As dumb as I am, I wouldn't be that dumb, although that in itself is kind of a mysterious remark because people don't really know how dumb I am. But I really do prefer men reporters. They're more stimulating."
I asked Flack Jones in Hollywood, "When did this business of her making those wonderful Monroe cracks start?"
"You mean when somebody asked her what she wears in bed and she said, 'Chanel Number Five'?" Jones asked. "You will find some who will tell you that her humor content seemed to pick up the moment she signed a contract with the studio, and that anybody in the department who had a smart crack lying around handy gave it to her. Actually, there were those who thought that more than the department was behind it. 'Once you launch such a campaign,' they said, 'it stays launched. It's like anyone who has a smart crack to unleash attributing it to a Georgie Jessel or to a Dorothy Parker or whoever is currently smart and funny.' There was even a theory that the public contributed some of Marilyn's cracks by writing or calling a columnist like Sidney Skolsky or Herb Stein, and giving him a gag, and he'd attribute it to Marilyn, and so on around town. But the majority of the thinking was that our publicity department gave her her best cracks."
"Like what?" I asked.
"Like for instance. I'll have to lead up to it; as you know, in this business you can be destroyed by one bad story — although that's not as true as it used to be — and when the story broke that Marilyn had posed in the nude for a calendar and the studio decided that the best thing to do was to announce the facts immediately instead of trying to pretend they didn't exist, we said that Marilyn was broke at the time and that she'd posed to pay her room rent, which was true. Then, to give it the light touch, when she was asked, 'Didn't you have anything on at all when you were posing for that picture?' we were supposed to have told her to say, 'I had the radio on.'"
Flack Jones paused for a long moment. "I'm sorry to disagree with the majority," he said firmly, "but she makes up those cracks herself. Certainly that 'Chanel Number Five' was her own."
When I told Marilyn about this, she smiled happily. "He's right. It was my own," she said. "The other one — the calendar crack — I made when I was up in Canada. A woman came up to me and asked, 'You mean to say you didn't have anything on when you had that calendar picture taken?' I drew myself up and told her, 'I did, too, have something on. I had the radio on.'"
"Give her a minute to think and Marilyn is the greatest little old ad-lib artist you ever saw," Flack Jones had insisted. "She blows it in sweet and it comes out that way. One news magazine carried a whole column of her quotes I'd collected, and every one of them was her own. There've been times when I could have made face in this industry by claiming that I put some of those cracks into her mouth, but I didn't do it. This girl makes her own quotables. She'll duck a guy who wants to interview her as long as she can, but when she finally gets around to it, she concentrates on trying to give him what he wants — something intriguing, amusing and off-beat. She's very bright at it.
"A writer was commissioned to write a story for her for a magazine," Jones said. "The subject was to be what Marilyn eats and how she dresses. As I recall it, the title was to be 'How I Keep My Figure,' or maybe it was 'How I Keep in Shape.' The writer talked to Marilyn; then ghosted the article. He wrote it very much the way she'd told it to him, but he had to pad it out a little because he hadn't had too much time with her. As a result, in one section of his article he had her saying that she didn't like to get out in the sun and pick up a heavy tan because a heavy tan loused up her wardrobe by confusing the colors of her dresses and switching around what they did for her.
"The article read good to me, and took it over to Marilyn for her corrections and approval. Most of the stuff was the routine thing about diet, but when she came to the part about 'I don't like suntan because it confuses the coloring of my wardrobe,' she scratched it out. I asked her, 'What's the matter?'
"'That's ridiculous,' she said. 'Having a suntan doesn't have anything to do with my wardrobe.' I said, 'You've got to say something, Marilyn. After all, the guy's article is pretty short as it is.' She thought for a minute; then wrote, 'I do not suntan because I like to feel blonde all over.' I saw her write that with her own hot little pencil.
"The magazine which printed that story thought her addition so great that they picked it out and made it a subtitle. She'd managed to transpose an ordinary paragraph about wardrobe colors into a highly exciting, beautiful, sexy mental image. Some guys have said to me, 'Why, that dumb little broad couldn't have thought that up. You thought it up, Jones.' I wish I could say, 'Yeah, I did,' but I didn't. Feeling blonde all over is a state of mind," he said musingly. "I should think it would be a wonderful state of mind if you're a girl.
"One reason why she's such a good interview," Flack Jones went on, "is that she uses her head during such sessions. She tries to say something that's amusing and quotable, and she usually does. When I worked with Marilyn I made it a practice to introduce her to a writer and go away and leave her alone, on the grounds that a couple of grown people don't need a press agent tugging at their sleeves while they get acquainted. So if her interviews have been any good, it's her doing."
"One day she gave a tape interview and it was all strictly ad-lib," he said. "I know, because I had a hard time setting it up. It was for a man who was doing one of those fifteen-minute radio interviews here in Hollywood, to be broadcast afterward across the country. We had a frantic time trying to get him the time with her, but finally he got his recorder plugged in, and the first question he pitched her was a curve. He wanted to know what she thought of the Stanislavsky school of dramatic art or whatever. Believe it or not, old Marilyn unloaded on him with a twelve-minute dissertation on Stanislavsky that rocked him back on his heels."
"Does she believe in the Stanislavsky method?" I asked.
"She agreed with Stanislavsky on certain points," Jones said. "And she disagreed on others, and she explained why. It was one of the most enlightening discussions on the subject I've ever heard. It came over the radio a couple of nights later, and everybody who listened said, 'Oh, yeah? Some press agent wrote that interview for her.' My answer to that was, 'What press agent knows that much about Stanislavsky?' I don't."
In the course of my research, before interviewing Marilyn, I'd discovered that Billy Wilder agreed with Jones. "I think that she thinks up those funny things for herself," he said. Wilder's Austrian background gives his phrases an offbeat rhythm, but because of its very differentness, his way of talking picks up flavor and extra meaning.
"I think also that she says those funny things without realizing that they're so funny," Wilder said. "One very funny thing she said involves the fact that she has great difficulties in remembering her lines. Tremendous difficulties. I've heard of one director who wrote her lines on a blackboard and kept that blackboard just out of camera range. The odd thing is that if she has a long scene for which she has to remember a lot of words, she's fine once she gets past the second word. If she gets over that one little hump, there's no trouble. Then, too, if you start a scene and say, 'Action!' and hers is the first line, it takes her ten or fifteen seconds to gather herself. Nothing happens during those fifteen seconds. It seems a very long time."
"How about an example of when she's bogged down on a second word," I asked.
"For instance, if she had to say, 'Good morning, Mr. Sherman,"' Wilder told me, "she couldn't get out the word 'morning.' She'd say, 'Good …' and stick. Once she got 'morning' out, she'd be good for two pages of dialogue. It's just that sometimes she trips over mental stumbling blocks at the beginning of a scene.
"Another director should be telling you this story, not me," Wilder said. "This other director was directing her in a scene in a movie, and she couldn't get the lines out. It was just muff, muff, muff, and take, take, take. Finally, after Take Thirty-two, he took her to one side, patted her on the head, and said, 'Don't worry, Marilyn, honey. It'll be all right.' She looked up into his face with those big wide eyes of hers and asked, 'Worry about what?' She seemed to have no idea that thirty-two takes is a lot of takes."
When I sat down to talk to Marilyn, I said, "I've tried to trace those famous remarks attributed to you and find out who originated them."
"They are mine," Marilyn told me. "Take that Chanel Number Five one. Somebody was always asking me, 'What do you sleep in, Marilyn? Do you sleep in P.J.'s? Do you sleep in a nightie? Do you sleep raw, Marilyn?' It's one of those questions which make you wonder how to answer them. Then I remembered that the truth is the easiest way out, so I said, 'I sleep in Chanel Number Five,' because I do. Or you take the columnist, Earl Wilson, when he asked me if I have a bedroom voice. I said, 'I don't talk in the bedroom, Earl.' Then, thinking back over that remark, I thought maybe I ought to say something else to clarify it, so I added, 'because I live alone.'"
The phone rang in her apartment, and she took a call from one of the hand-picked few to whom she'd given her privately listed number. While she talked I thought back upon a thing Flack Jones had said to me thoughtfully, "I'm no psychiatrist or psychologist, but I think that Marilyn has a tremendous inferiority complex. I think she's scared to death all the time. I know she needs and requires attention and that she needs and requires somebody to tell her she's doing well. And she's extremely grateful for a pat on the back."
"Name me a patter," I said.
"For example," he said, "when we put her under contract for the second time, her best friend and encourager was the agent, Johnny Hyde, who was then with the William Morris Agency, although he subsequently died of a heart attack. Johnny was a little guy, but he was Marilyn's good friend, and, in spite of his lack of size, I think that she had a father fixation on him.
"I don't want to get involved in the psychology of all this," Flack Jones continued, "because it was a very complicated problem, of which I have only a layman's view, but I honestly think that Marilyn's the most complicated woman I've ever known. Her complexes are so complex that she has complexes about complexes. That, I think, is one reason why she's always leaning on weird little people who attach themselves to her like remoras, and why she lets herself be guided by them. A remora is a sucker fish which attaches itself to a bigger fish and eats the dribblings which fall from the bigger fish's mouth. After she became prominent, a lot of these little people latched onto Marilyn. They told her that Hollywood was a great, greedy ogre who was exploiting her and holding back her artistic progress."
I said that the way I'd heard it, those hangers-on seemed to come and go, and that her trail was strewn with those from whom she had detached herself. I'd been told that the routine was for her to go down one day to the corner for the mail or a bottle of milk and not come back; not even wave good-by.
"But she has complete confidence in these little odd balls, both men and women, who latch onto her, while they're latched," Jones said. "I'm sure their basic appeal to her has always been in telling her that somebody is taking advantage of her, and in some cases they've been right. This has nothing to do with your story, but it does have something to do with my observation that she's frightened and insecure, and she'll listen to anybody who can get her ear."
"Johnny Hyde was no remora," I said.
"Johnny was a switch on the usual pattern," Jones agreed. "He was devoted to her. He could and did do things for her. I happened to know that Johnny wanted to marry her and Marilyn wouldn't do it. She told me, 'I like him very much, but I don't love him enough to marry him.' A lot of girls would have married him, for Johnny was not only attractive, he was wealthy, and when he died Marilyn would have inherited scads of money, but while you may not believe it, she's never cared about money as money. It's only a symbol to her."
"A symbol of what?" I asked.
"It's my guess that to her it's a symbol of success. By the same token I think that people have talked so much to her about not getting what she ought to get that a lack of large quantities of it has also become a symbol of oppression in her mind. If I sound contradictory, that's the way it is."
When Marilyn had completed her phone call, I put it up to her, "I guess you've heard it argued back and forth as to whether you are a complicated person or a very simple person, even a naive person," I said. "Which do you think is right?"
"I think I'm a mixture of simplicity and complexes," she told me. "But I'm beginning to understand myself now. I can face myself more, you might say. I've spent most of my life running away from myself."
It didn't sound very clear to me, but I pursued the subject further. "For example," I asked, "do you have an inferiority complex? Are you beset by fears? Do you need someone to tell you that you're doing well all the time?"
"I don't feel as hopeless as I did," she said. "I don't know why it is. I've read a little of Freud and it might have to do with what he said. I think he was on the right track." I gave up. I never found out what portions of Freud she referred to or what "right track" he was on.
"What happened in 1952, when the studio sent you to Atlantic City to be grand marshal of the annual beauty pageant?" I asked Marilyn instead. "Did you mind going?"
She smiled. "It was all right with me," she said. "At the time I wanted to come to New York anyhow. There was somebody I wanted to see here. This was why it was hard for me to be on time leaving New York for Atlantic City for that date. I missed the train and the studio chartered a plane for me, but it didn't set the studio back as much as they let on. They could afford it."
Flack Jones had told me that story too. "They'd arranged a big reception for Marilyn at Atlantic City," he said. "There was a band to meet her at the train, and the mayor was to be on hand. Marilyn and the flacks who were running interference for her were to arrive on a Pennsylvania Railroad train at a certain hour, but, as usual, Marilyn was late, and when they got to the Pennsylvania Station the train had pulled out. So there they were, in New York, with a band and the mayor waiting in Atlantic City. Charlie Einfeld, a Fox vice-president — and Charlie can operate mighty fast when he has to — got on the phone and chartered an air liner — the only one available for charter was a forty-six-seat job; it was an Eastern Air Lines plane as I recall it — and they all went screaming across town in a limousine headed for Idlewild.
"The studio's magazine man in New York, Marilyn and a flack from out here on the Coast boarded the plane and took off for Atlantic City," Flack Jones said. "Bob and the Coast flack were so embarrassed at missing the train, and the plane was such a costly substitute that they were sweating like pigs. On this big air liner there was a steward aboard — they'd shanghaied a steward in a hurry from some place to serve coffee — but all of this didn't bother Marilyn at all. She tucked herself into a seat back in the tail section, hummed softly; then fell fast asleep and slept all the way. The other two sat up front with the steward, drinking quarts of coffee because that was what he was being paid to serve. They drank an awful lot of coffee."
Flack Jones said that Marilyn and her outriders were met at the Atlantic City airport by a sheriff's car and that they were only three minutes late for the reception for Marilyn on the boardwalk. There she was given an enormous bouquet of flowers, and she perched on the folded-down top of a convertible, to roll down the boardwalk with a press of people following her car.
"She sat up there like Lindbergh riding down Broadway on his return from Paris," Flack Jones said. "The people and the cops and the beauty-carnival press agents followed behind like slaves tied to her chariot wheels. That is, she managed to move a little every once in a while when the crowd could be persuaded to back away. Then Marilyn would pitch a rose at the crowd and it would set them off again, and there'd be another riot. This sort of thing went on — with variations — for several days. It was frantic.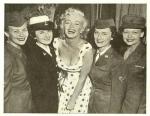 "But," Flack Jones explained, "there was one publicity thing which broke which wasn't intended to break. It was typical of the way things happen to Marilyn without anybody devising them. When each potential Miss America from a different part of the country lined up to register, a photograph of Marilyn greet- ing her was taken. Those pictures were serviced back to the local papers and eventually a shot of Miss Colorado with Marilyn wound up in a Denver paper; and a shot of Miss California and Marilyn in the Los Angeles and San Francisco papers, and so forth."
For a moment Flack Jones collected his thoughts in orderly array; then went on, "Pretty soon in came an Army public-information officer with four young ladies from the Pentagon. There was a WAF and a WAC and a lady Marine and a WAVE. The thought was that it would be nice to get a shot of Marilyn with 'the four real Miss Americas' who were serving their country, so they were lined up. It was to be just another of the routine, catalogue shots we'd taken all day long, but Marilyn was wearing a low-cut dress which showed quite a bit of cleavage — quite a bit of cleavage. That would have been all right, since the dress was designed for eye level, but one of the photographers climbed up on a chair to shoot the picture."
The way Marilyn described this scene to me was this: "I had met the girls from each state and had shaken hands with them," she said. "Then this Army man got the idea of aiming his camera down my neck while I posed with the service girls. It wasn't my idea for the photographer to get up on a chair."
"Nobody thought anything of it at the time," Jones had told me, "and those around Marilyn went on with the business of their workaday world. In due course the United Press — among others — serviced that shot. Actually it was a pretty dull picture because, to the casual glance, it just showed five gals lined up looking at the camera."
Jones said that when the shot of the four service women and Marilyn went out across the country by wirephoto, editors took one look at it and dropped it into the nearest wastebasket because they had had much better art from Atlantic City.
"That night the Army PIO officer drifted back to the improvised press headquarters set up for the Miss America contest," Flack Jones said. "He took one look and sent out a wire ordering that the picture be stopped."
"On what grounds?" I asked.
"On grounds that that photograph showed too much meat and potatoes, and before he'd left the Pentagon he'd been told not to have any cheesecake shots taken in connection with the girls in his charge. Obviously what was meant by those instructions was that he shouldn't have those service girls sitting on the boardwalk railings showing their legs or assuming other undignified poses. There was nothing in that PIO officer's instructions which gave him the right to censor Marilyn's garb, but he ordered that picture killed anyhow."
According to Jones, every editor who had junked that picture immediately reached down into his wastebasket, drew it out and gave it a big play. "In Los Angeles it ran seven columns," he said, "and it got a featured position in the Herald Express and the New York Daily News. All the way across country it became a celebrated picture, and all because the Army had 'killed' it."
He was silent for a moment; then he said, "Those who were with her told me afterward that it had been a murderous day, as any day is when you're with Marilyn on a junket," he went on. "The demands on her and on those with her are simply unbelievable. But finally she hit the sack about midnight because she had to get up the next day for other activities. The rest of her crowd had turned in too, when they got a call from the U.P. in New York, asking them for a statement from Marilyn about 'that picture.'"
"'What picture?' our publicist-guardian asked, and it was then that they got the story. They hated to do it, but they rousted Marilyn out of bed. She thought it over for a while; then issued a statement apologizing for any possible reflection on the service girls, and making it plain that she hadn't meant it that way. She ended with a genuine Monroeism. 'I wasn't aware of any objectionable décolletage on my part. I'd noticed people looking at me all day, but I thought they were looking at my grand marshal's badge.' This was widely quoted, and it had the effect of giving the whole thing a lighter touch. The point is this: a lot of things happen when Marilyn is around." He shook his head. "Yes, sir," he said. "A lot of things.
"Another example of the impact she packs: when she went back to New York on the Seven Year Itch location," Jones went on. "All of a sudden New York was a whistle stop, with the folks all down to see the daily train come in. When Marilyn reached LaGuardia, everything stopped out there. One columnist said that the Russians could have buzzed the field at five hundred feet and nobody would have looked up. There has seldom been such a heavy concentration of newsreel cameramen anywhere. From then on in, during the ten days of her stay, one excitement followed another. She was on the front page of the Herald Tribune, with art, five days running, which I'm told set some sort of a local record.
"In the case of The Itch, there was a contractual restriction situation," Flack Jones said. "The studio's contract called for the picture's release to be held up until after the Broadway run of the play. When Marilyn went back to New York for the location shots for Itch, the play version was still doing a fair business, but it was approaching the end of its long run. If you bought a seat, the house was only half full. Then Marilyn arrived in New York and shot off publicity sparks and suddenly The Itch had S.R.O. signs out again. The result was that it seemed it was never going to stop its stage run; so, after finishing the picture, Fox had to pay out an additional hundred and seventy-five thousand dollars to the owners of the stage property for the privilege of releasing their movie.
"Things reached a new high — and no joke intended," Flack Jones went on, "when Billy Wilder shot the scene where her skirts were swept up around her shoulders by a draft from a subway ventilator grating. That really set the publicity afire again, and shortly after that The Itch location company blew town while they were ahead. The unit production manager had picked the Trans-Lux Theater on Lexington Avenue for the skirt-blowing scene. He'd been down there at two o'clock in the morning to case the spot; he'd reported happily, 'The street was fully deserted,' and he'd made a deal with the Trans-Lux people for getting the scene shot there because there was nobody on the street at that hour.
"It seemed certain that Billy Wilder would have all the room in the world to work, and he had left word that nobody was to know what location he'd selected, because he didn't want crowds. But word leaked out. It was on radio and TV and in the papers, so instead of secrecy you might almost say that the public was being urged to be at Lexington Avenue on a given night to Marilyn's skirts blow. Instead of having a nice, quiet side street in which to work, Wilder had all the people you can pack on a street. Finally the cops roped off the sidewalk on the opposite side to restrain the public, and they erected a barricade close to the movie camera. But that wasn't good enough, and they had to call out a whole bunch of special cops."
Flack Jones said that when Wilder was ready to shoot, there were 200 or 300 photographers, professional and amateur, swarming over the place. Then Marilyn made her entrance from inside the theater out onto the sidewalk, and when she appeared the hordes really got out of control and there was chaos. Finally Wilder announced that he'd enter into a gentleman's agreement. If the press would retire behind the barricades, and if the real working photographers would help control the amateurs, he would shoot the scene of Marilyn and Tom Ewell standing over the subway grating; then he'd move the movie camera back and the amateur shutter hounds could pop away at Marilyn until they were satisfied.
"So the New York press took care of the amateurs and made them quit popping their flashbulbs," Flack Jones said. "Wilder got the scene and the volunteer snapshooters got their pictures. Everybody was there. Winchell came over with DiMaggio, who showed a proper husbandly disapproval of the proceedings. I myself couldn't see why Joe had any right to disapprove. After all, when he married the girl her figure was already highly publicized, and it seemed odd if he had suddenly decided that she should be seen only in Mother Hubbards."
I asked Marilyn herself if she thought that Joe had disapproved of her skirts blowing around her shoulders in that scene. I said I had heard his reaction described in two ways: that he had been furious and that he had taken it calmly.
"One of those two is correct," Marilyn said. "Maybe you can figure it out for yourself if you'll give it a little thought."
Something told me that, in her opinion, Joe had been very annoyed indeed. And while we were on the subject of Joe, it seemed a good time to find out about how things had been between them when they had been married, and the unbelievable scene which accompanied the breaking up of that marriage. "Not in his wildest dreams could a press agent imagine a series of events like that," Flack Jones had told me.
When I brought the subject up, Marilyn said, "For a man and a wife to live intimately together is not an easy thing at best. If it's not just exactly right in every way it's practically impossible, but I'm still optimistic." She sat there being optimistic. Then she said, with feeling, "However, I think TV sets should be taken out of the bedroom."
"Did you and Joe have one in your bedroom?" I asked.
"No comment," she said emphatically. "But everything I say to you I speak from experience. You can make what you want of that."
She was quiet for a moment; then she said, "When I showed up in divorce court to get my divorce from Joe, there were mobs of people there asking me bunches of questions. And they asked, 'Are you and Joe still friends?' and I said, 'Yes, but I still don't know anything about baseball.' And they all laughed. I don't see what was so funny. I'd heard that he was a fine baseball player, but I'd never seen him play."
"As I said, the final scenes of All-American Boy loses Snow White were unbelievable," Flack Jones told me. "Joe and Marilyn rented a house on Palm Drive, in Beverly Hills, and we had a unique situation there with the embattled ex-lovebirds both cooped in the same cage. Marilyn was living on the second floor and Joe was camping on the first floor. When Joe walked out of that first floor, it was like the heart-tearing business of a pitcher taking the long walk from the mound to the dugout after being jerked from the game in a World Series."
---
© All images are copyright and protected by their respective owners, assignees or others.
copyright text by Saturday Evening Post.
Enregistrer
Enregistrer
Enregistrer
Enregistrer
04 novembre 2013
Année: Novembre 2013
(sur les écrans à partir du 17/11/2013)
Marque / Produit: Chanel n°5 / Parfum
Pays: France
22 octobre 2013

Marilyn Monroe : Égérie Chanel intemporelle
publié le 21 octobre 2013
en ligne sur purepeople
Marilyn Monroe fascine toujours. Plus de cinquante ans après sa mort. La maison Chanel vient d'annoncer que l'actrice était sa nouvelle égérie pour incarner le mythique parfum de la maison, Chanel N°5.

Une fragrance qu'elle connaît très bien et qu'elle a rendue célèbre en déclarant à Life Magazine en 1952 qu'elle ne portait que quelques gouttes de Chanel N°5 pour se glisser dans son lit...

Une bonne nouvelle pour la maison de la rue Cambon qui renoue officiellement avec la diva et qui présentera son nouveau spot de pub le 17 novembre prochain. Un rapprochement qui s'opère depuis quelques mois déjà, la maison ayant déjà mis en scène l'actrice au destin tragique, au cours des vidéos Inside Chanel qui retracent l'histoire de la maison aux doubles C.

Marilyn prend la relève de Brad Pitt, égérie masculine du N°5 à travers une publicité en noir et blanc dans laquelle il se lançait dans un monologue face caméra.
Marilyn Monroe, icône de style et de glamour ébranlée par de récentes révélations sur la chirurgie esthétique, a longtemps été utilisée par de nombreuses maisons. Dior avait par exemple fait appel à un sosie dans l'une de ses publicités pour le parfum J'adore.

Nicole Kidman, Estella Warren ou encore Audrey Tautou font partie des anciennes égéries de la maison à avoir porté les couleurs de la fragrance la plus célèbre et vendue du monde... Une bouteille de Chanel N°5 se vend toute les deux secondes à travers le monde. Un mythe inépuisable.

20 août 2013
Année: 2012
Produit/Marque: Chanel (Parfum n°5)
Pays: USA