23 octobre 2016
Marilyn Monroe avec Arthur Miller et Hedda Rosten à une représentation au cinéma du film Le Prince et la Danseuse en 1957 à New York.
Marilyn porte une robe rouge orangée de Jax. Photographies de Frieda Hull, membre de la bande de fans des 'Monroe Six'.
Marilyn Monroe with Arthur Miller and Hedda Rosten at a showing of The Prince and the Showgirl at a cinema in New York in 1957.
Marilyn wears a red-orange dress by Jax. Photos taken by Frieda Hull, a fan member of the 'Monroe Six' band.

> source: enchères Marilyn Monroe Auction, 2016 November
---
© All images are copyright and protected by their respective owners, assignees or others.
copyright text by GinieLand.
Enregistrer
Enregistrer
Enregistrer
Enregistrer
29 décembre 2015
---
Documents papiers
---
Lot 515 MARILYN MONROE NAME CHANGE MEMO
A Twentieth Century-Fox inter-office memo regarding Marilyn Monroe's name change from Norma Jeane Dougherty to her now famous professional name. The typed memo is dated December 9, 1946, and refers to the December 3, 1946, letter that first confirmed the change. This particular memo was intended for Mr. A. De Weese and is signed by George Wasson.
Winning bid:$8,960 - Estimate: $1,000 - $2,000

---
Lot 518 MARILYN MONROE HANDWRITTEN SIGNED CHECK
A Marilyn Monroe signed check dated October 2, 1951, in the amount of $3.00, paid to Hollywood Mineral Baths. The information is handwritten aside from the establishment's name, which is stamped.
3 1/2 by 8 1/2 inches
PROVENANCE Lot 74, "Pop Culture," Christie's, New York, Sale Number 2012, June 25, 2008
Winning bid:$3,200 - Estimate: $2,000 - $4,000

---
Lot 522 MARILYN MONROE SIGNED CHECK, 1953
A Marilyn Monroe handwritten and signed check from a Bank of America Los Angeles account, dated March 21, 1953, in the amount of $50.00 paid to Mr. John R. Tilley. The check is housed in a frame with an image of Monroe taken by Cecil Beaton, said to be her favorite photograph of herself.
unsold - Estimate: $4,000 - $6,000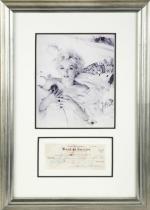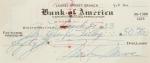 ---
Lot 525 MARILYN MONROE TWICE-SIGNED PAPER
A Marilyn Monroe twice-signed cut sheet. Each side is signed "Marilyn Monroe" in blue ink.
Winning bid:$3,840 - Estimate: $3,000 - $5,000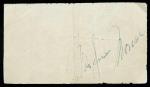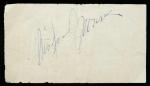 ---
Lot 529 MARILYN MONROE SIGNED CONVERSION TO JUDAISM CERTIFICATE
Marilyn Monroe's certificate of conversion to Judaism. Signed by Monroe and dated July 1, 1956. Monroe converted to Judaism to marry playwright Arthur Miller. The couple had a traditional Jewish wedding on July 1, 1956. The certificate, signed by Miller and other witnesses, reads in part "Hear O Israel The Lord Our God/ The Lord is One/ Certificate of Conversion/ This is to record that Marilyn Monroe [signed]/ having sought to join the house of Israel by accepting/ the religion of Israel and promising to live by its principles/ and practices was received in the Jewish Faith/ on July 1, 1956/ corresponding to the Hebrew date 22nd Tammuz, 5716/ at Lewisboro, New York." Housed in a framed display with three black and white images of Monroe and Miller at their wedding and an informational plaque.
26 by 39 1/4 inches, framed
Winning bid:$70,400 - Estimate: $50,000 - $70,000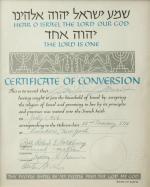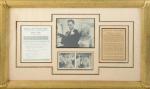 ---
Lot 531 MARILYN MONROE INSCRIBED NAPKIN
A Marilyn Monroe inscribed American Airlines napkin that reads "To Alex, Love and Kisses Marilyn Monroe." Accompanied by a business card from the American Airlines employee who obtained the napkin.
Winning bid:$2,240 - Estimate: $2,000 - $4,000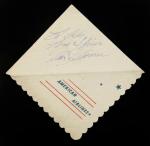 ---
Lot 533 GARY COOPER LETTER TO MARILYN MONROE
A Gary Cooper typed, signed letter to Marilyn Monroe. The letter is written on Cooper's personal stationery and dated June 22, 1960. The letter is addressed to "Miss Monroe" and reads in part, "The roses were beautiful and I can't tell you how much I appreciate the trouble you went to. I just want to thank you with all my heart," signed "Gary."
Winning bid:$1,280 - Estimate: $800 - $1,200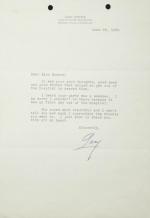 ---
Lot 535 MARILYN MARILYN MONROE SIGNED CHECK
A Marilyn Monroe typed, signed check dated May 26, 1961, in the amount of $65.85 paid to Hedda Rosten, drawn from an account at Bankers Trust Company New York and signed in blue ink.
Winning bid:$3,200 - Estimate: $5,000 - $7,000



---
Lot 536 MARILYN MONROE SIGNED SETTLEMENT
A Marilyn Monroe signed settlement contract between Monroe and Irving Stein following the departure of Stein from Marilyn Monroe Productions, Inc. The contract is dated February 19, 1959, and signed on the fourth page by Monroe, Stein, and their respective attorneys. The final page is cut down from its original size and now measures 7 1/2 by 8 inches. According to the settlement, Monroe agreed to pay Stein $33,000 to end their relationship and any ownership interests Stein once held in Marilyn Monroe Productions, Inc. Additional notes and initials within the document not believed to be in Monroe's hand.
unsold - Estimate: $6,000 - $8,000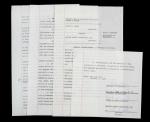 ---
Lot 543 SOMETHING'S GOT TO GIVE SCRIPT AND SHOOT INDEX
A script titled Something's Got To Give dated March 14, 1963, with a shoot index dated March 25, 1963. The 1962 production of this film ended abruptly and was recast and retitled as Move Over, Darling (20th Century, 1963). This script belonged to Ad Schaumer, assistant director of Move Over, Darling.
Larger, 11 1/2 by 9 1/4 inches
PROVENANCE From the Estate of Ad Schaumer
Winning bid:$1,280 - Estimate: $200 - $400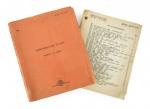 24 mars 2014
Durant la semaine précédente (du 24 au 29 juin 1956) passée à Roxbury dans la propriété de Arthur Miller, Marilyn Monroe a demandé à Augusta Miller, la mère d'Arthur, de lui apprendre des recettes de plats typiquement juifs.
Par ailleurs, Marilyn insiste pour que les Miller téléphonent à un rabbin de la branche réformée du judaïsme, Robert Goldburg, qui accepte de lui donner une brève instruction religieuse et de célébrer la cérémonie nuptiale.
During the previous week (24 to 29 June 1956) into Roxbury, at the home of Arthur Miller, Marilyn Monroe asked to Augusta Miller, Arthur's mother, to teach her recipes from typical Jewish meals.
Furthermore, Marilyn insists for that Miller phone to a rabbi of the reformed branch of Judaism, Robert Goldburg, who agrees to give her a brief religious instruction and to celebrate the wedding ceremony.
Le dimanche 1er juillet 1956, soit deux jours après la cérémonie civile du mariage, est célébré le mariage juif de Marilyn Monroe et Arthur Miller. C'est Marilyn qui avait insisté pour obtenir cette cérémonie religieuse. La cérémonie du mariage est gardée secrète jusqu'au dernier moment.
On Sunday 1st of July 1956, two days after the civil marriage ceremony, is celebrated the Jewish Wedding Ceremony of Marilyn Monroe and Arthur Miller. This is Marilyn who has insisted to obtain that religious ceremony. The wedding ceremony is kept secret until the last moment.

---
Plus tôt dans la journée, Marilyn Monroe se convertie au judaïsme -pour ce mariage- dans la ville de Lewisboro, dans l'Etat de New York: elle promet au rabbin Robert Goldburg, que tous ses enfants seraient élevés dans la foi judaïque et prête serment: "Je déclare, en la présence de Dieu et des témoins assemblés ici, rechercher le compagnonnage d'Israël".
Parmi les témoins se trouvent Arthur Miller, Kermit Miller le frère d'Arthur, et Milton H. Greene. Le rabbin lui remet un certificat de conversion (cf document ci-contre).
Earlier that day, Marilyn Monroe is converted to Judaism -for this marriage- in the town of Lewisboro in the State of New York: she promises to Rabbi Robert Goldburg, that all her children would be raised in the Jewish faith and oath "I declare, in the presence of God and witnesses assembled here, to seek companionship of Israel."
Among the witnesses are Arthur Miller, Kermit Miller the Arthur's brother, and Milton H. Greene. The rabbi gives her a certificate of conversion (see document).
---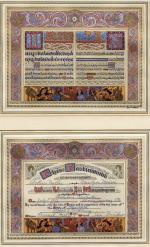 Arthur Miller et Marilyn Monroe vont signer le Ketubah, un accord prénuptial traditionnellement juif, définissant les droits et les responsabilités de l'époux envers la mariée. Ce document (cf ci-contre), richement coloré, est imprimé sur deux oblongues de feuilles et on peut y lire: "Je suis à mon bien-aimé, et mon bien-aimé est à moi. Aucun homme sans femme, aucune femme sans homme, et ni sans Dieu". Ce certificat témoigne que Arthur Miller et Marilyn Monroe ont été unis dans le mariage dans la ville de Lewisboro, à Westchester, le 1er Juillet 1956, 22 Tamouz 5716, conformément au rite d'Israël et en conformité avec les lois de l'État de New York. Signé par le Rabbin Robert E. Goldburg et par les témoins: le frère d'Arthur, Kermit Miller, ainsi que du professeur d'art dramatique de Marilyn, Lee Strasberg.
Arthur Miller and Marilyn Monroe's ketubah, traditionally a special Jewish prenuptial agreement, outlining the rights and responsibilities of the groom in relation to the bride. This beautiful, richly colored document (see above) is printed on two oblong 8 ½ in. x 11 in. leaves and reads, "I am my beloved's, and my beloved is mine. No man without woman; no woman without man; and neither without God". This Testimonial witnesses that Arthur Miller and Marilyn Monroe were united in marriage in the city of Lewisboro, Westchester on July 1, 1956, 22nd of Tammuz 5716, In accordance with the rite of Israel and in compliance with the laws of the State of New York. Signed by Rabbi Robert E. Goldburg and witnessed by Arthur's brother, Kermit Miller, as well as Marilyn's acting coach, Lee Strasberg.
---
L'après-midi, les invités (amis et famille) attendent sur la terrasse en dalles de la propriété de l'agent littéraire de Miller, Kay Brown, une ancienne ferme, située à Waccabuc, près de Katonah, dans le Comté de Westchester, dans l'Etat de New York, pendant que les futurs mariés arrivent de Roxbury, où se trouve la propriété de Miller. Les invités sont au nombre de 25 (ou 30 selon les sources) et ne sont composés que d'amis très proches et de la famille de Miller: les enfants (Jane et Robert) et parents (Isadore et Augusta Miller) d'Arthur, son frère Kermit Miller, sa soeur Joan Copeland, son cousin Morty Miller et leurs conjoints respectifs, les Strasberg (Lee et Paula), les Greene (Milton et Amy, ainsi que Cecilia, la mère de Milton et Kitty Owen, la cuisinière des Greene), les Rosten (Norman et Hedda), mais aussi Jay Kanter (l'agent de Marilyn), le scénariste George Axelrod et le couturier John Moore. Il fait très chaud ce jour là, les hommes retirent leurs vestes et les femmes portent des petites robes d'été. De longues tables recouvertes de nappes blanches et des chaises pliantes sont installées dans le jardin, près de la baie vitrée de la maison. Comme à son habitude, Marilyn est en retard.
In the afternoon, the guests (friends and family) waiting on the flagstone terrace of the white home of literary agent of Miller, Kay Brown, a former farmhouse, located in Waccabuc, near Katonah, in Westchester County in the State of New York, while the bride and groom come from Roxbury, where there is the Miller's home. Guests are 25 (or 30 depending on the sources) and are composed of only close friends and Miller's family: children (Jane and Robert) and parents (Isadore and Augusta Miller) of Arthur, his brother Kermit Miller, his sister Joan Copeland, his cousin Morty Miller and their respective spouses, the Strasbergs (Lee and Paula) , the Greenes (Milton and Amy, and Cecilia, Milton's mother, and Kitty owen, cooker of the Greene), the Rostens (Norman and Hedda) and also Jay Kanter (Marilyn's publicist), the scriptwriter George Axelrod and the fashion designer John Moore. It is a heat day, so men remove their jackets and women wear little summer dresses. Long tables covered with white tablecloths and folding chairs are set in a large bay window. As usual, Marilyn is late.
> Milton Greene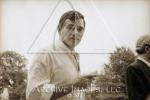 > Milton Greene avec Cecilia (sa mère) et Kitty Owen (sa cuisinière)

---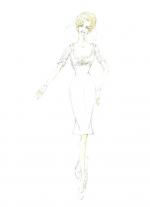 Puis Marilyn et Arthur arrivent: elle est vêtue d'un simple blue jean et se précipite dans une chambre à l'étage où la dame d'honneur, Hedda Rosten, l'aide à se changer avec la robe de mariée beige en mousseline de soie, signée des créateurs John Moore et Norman Norell, avec des fronces sur les manches et le corsage et une ceinture de satin sous le buste. Amy Greene a prêté son voile qu'elle a fait tremper dans du café une semaine auparavant, afin de renforcer l'aspect de douceur d'ombres beige du voile en auréole. (cf illustration de Michelle Shin ci-contre). Le costume qu'Arthur porte a été acheté par Milton et fourni par Jack Walker, un ami proche de Greene, qui a couru au magasin de mercerie pour hommes Mannie Walker. Miller le porte avec une cravate et a mis une fleur à sa boutonnière. Les autres dames d'honneur sont Judy Kantor et Amy Greene, qui a aidé Marilyn à se coiffer et se maquiller.

Then Marilyn and Arthur arrive: she is wearing a simple blue jeans and rushes into a room upstairs where matron of honor, Hedda Rosten, help her to change with the wedding chiffon beige dress, by the designers John Moore and Norman Norell, with ruching on the sleeves and bodice and a satin sash under the bust. Amy Greene has loaned her veil that she had soaked veil in coffee a week before, to enhance the appearance of smooth beige shadows of halo veil (see illustration below against Michelle Shin). The suit Arthur wears is actually purchased by Milton and provides by Jack Walker, dear friend of the Greene's, who runs the Mannie Walker men's haberdashery store. Miller wears a tie and put a flower in his buttonhole.
The other matrons of honor are Judy Kantor and Amy Greene, who helped Marilyn to make hair and makeup.
Cependant, Marilyn semble perturbée depuis deux jours (en fait, depuis le mariage civil du vendredi): elle est nerveuse, anxieuse et se renferme sur elle-même, comme l'ont constaté Milton et Amy Greene. Milton avait d'ailleurs téléphoné à Irving Stein, l'avocat de Marilyn pour lui demander de "se tenir prêt en cas de difficulté de dernière minute". Pendant que Marilyn se prépare dans la chambre, Milton en profite pour discuter avec elle: "Je ne t'ai pas vu sourire de toute la journée. Tu es bien sûre de ce que tu fais ? (...) Tu veux vraiment de ce mariage ? Tu n'y es pas obligée, tu sais. Si tu veux tout arrêter, ce n'est pas compliqué", lui dit Milton. Des larmes commencent à couler sur le visage de Marilyn et Amy la réconforte en lui précisant: "On peut te mettre dans une voiture pour sortir doucement par la porte de derrière. Nous, on se débrouillera avec les invités. Le mariage civil pourrait certainement être annulé avant que le rituel religieux ne vint apporter sa solennité à l'union". Et Marilyn de répondre calmement: "Non, je crois que je ne veux pas me marier".
Milton sort de la chambre et s'apprête à renvoyer tout le monde, mais Marilyn le rappele: "Non, Milton ! On a invité tous ces gens, on ne peut pas faire ça, on ne peut pas les décevoir !"
D'après Amy, Marilyn avait vu un mauvais présage dans la mort accidentelle de la journaliste Maria Scherbatoff (le 29 juin, lors de la conférence de presse donnée avec Miller à Roxbury): "Mais elle savait aussi, présage ou pas, qu'elle commettait une terrible erreur en acceptant ce mariage". D'ailleurs, un autre ami de Marilyn confie: "Elle n'était pas sûre de l'aimer, mais elle n'était pas sûre non plus de ne pas l'aimer. Au cœur de sa confusion, cependant, était son sentiment qu'elle était dépassée avec cet homme. Son insécurité allait crescendo à cette époque. Elle ne pouvait pas s'empêcher de se demander ce que cet intellectuel voulait d'elle, et cela la rendait folle. Cherchait-il juste une femme trophée, comme Joe ? C'est ce qui se passait vraiment ici."
However, Marilyn seems disturbed for two days (in fact, since the civil marriage on Friday ): she is nervous, anxious and contains about herself, as noted by Milton and Amy Greene. Milton has also phoned to Irving Stein, Marilyn's lawyer, asking him to "be ready in case of trouble of last minute." While Marilyn prepares herself in the bedroom, Milton tooks the opportunity to discuss with her: "I have not seen you smile all the day. You're very sure of what you do ? ( ... ) Do you really want to this marriage ? You are not required on it, you know. If you want to stop everything, it's not complicated, " says Milton. Tears begin to flow on the face of Marilyn and Amy comforts her by saying "We can put you in a car to go out softly by the door behind the house. We will attend the guests. Civil marriage certainly could be canceled before the religious ritual come to bring solemnity to the union." And Marilyn answers calmly, "No, I think I don't want to marry." Milton leaves the room and is about to oust everyone but Marilyn recalls him: "No, Milton ! We have invited all these people, we can't do that, we can't let down them !"
According to Amy, Marilyn saw a bad omen in the car accidental of journalist Maria Scherbatoff whi diead (on June 29, just before the press conference with Miller in Roxbury): "But she also knew, omen or not, that she was making a terrible mistake by accepting this marriage." Moreover, another friend of Marilyn says: "She wasn't sure that she loved him, but she wasn't sure she didn't. At the core of her confusion, though, was her sense that she was in over her head with this man. Her insecurity were running wild by this time. She couldn't help but Wonder what this intellectual wanted with her, and it was driving her crazy. Was he just looking for a trophy wife, as Joe had ? What was really going on here".
---
Pendant ce temps, le Rabbin Robert Goldberg et les invités patientent dans le living-room. Milton Greene accompagne Marilyn à la sortie de la chambre pour la mener au bras de Lee Strasberg, qui joue ainsi le rôle du père de substitution de la mariée en la menant à l'autel. La cérémonie, qui a lieu devant la cheminée de marbre du living-room, ne dure qu'à peine 10 minutes et se célèbre selon le rituel juif. Les époux boivent le vin rouge: Marilyn soulève son voile pour déposer ses lèvres sur la coupe. Elle prononce un "je le veux" d'une voix douce et tremblante. Ils s'échangent les alliances: au cours des deux jours précédents, Miller avait acheté un anneau d'or chez Cartier qui portait l'inscription: "A. à M., juin 1956. Maintenant Pour Toujours." Puis, Miller casse son verre en l'écrasant de ses pieds, en souvenir de la destruction de Jérusalem, et la foule s'écrie: "Mazel Tov!"
Meanwhile, Rabbi Robert Goldberg and guests wait in the living room. Milton Greene accompanies Marilyn from the bedroom and lead her to the arm of Lee Strasberg, who plays the role of a surrogate father to the bride, leading her to the altar. The ceremony, which takes place in front of the marble fireplace in the living-room, lasts just 10 minutes and is celebrated according to the Jewish ritual. The couple drink red wine: Marilyn raised her veil to submit her lips on the cup. She delivers an "I do " in a soft, tremulous voice. They shall exchange alliances: in the previous two days, Miller has bought a gold ring from Cartier's which bore the inscription: "A. to M., June 1956, Now For Ever." Then Miller crushes his glass under his feet, in remembrance of the destruction of Jerusalem, and the crowd cried "Mazel Tov!"

--- En attendant la mariée / Waiting for the bride ---
> Kermit Miller, Arthur Miller et Lee Strasberg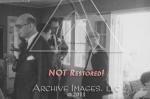 > Kitty Owen et Cecilia Greene

> Hedda Rosten, le Rabbin Goldberg et Arthur Miller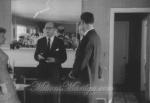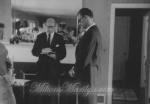 --- La cérémonie / The ceremony ---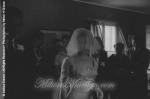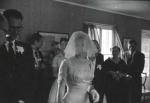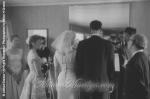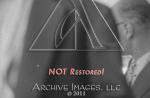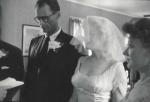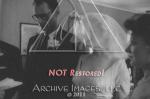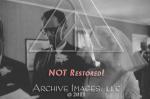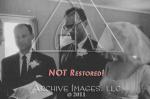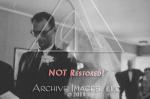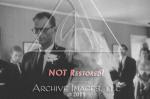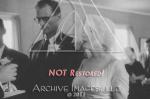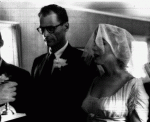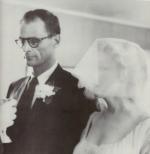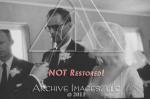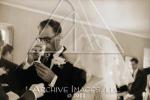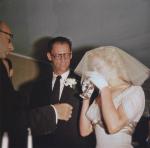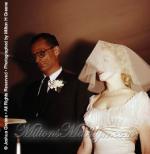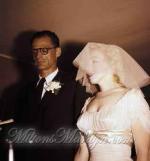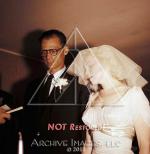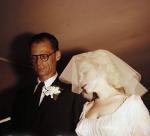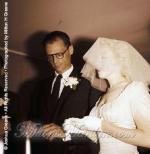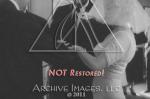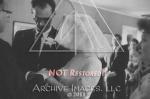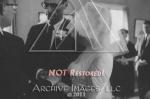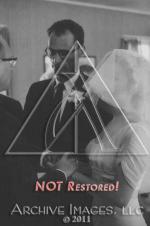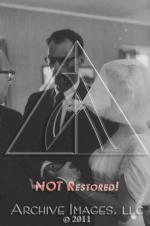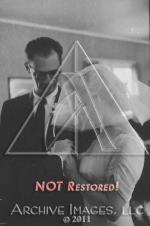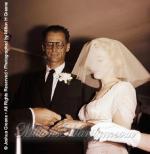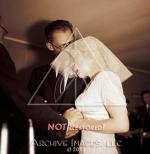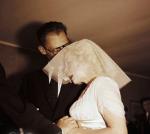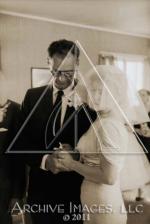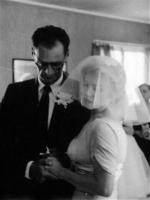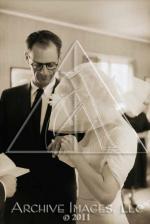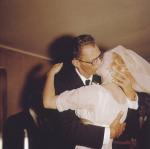 ---
Ensuite, le repas du mariage prend des airs bucoliques, avec l'organisation d'un lunch en plein air dans le jardin.
Au menu: homard, dinde et champagne, ainsi que la pièce montée (les Miller s'étaient adressés à huit pâtissiers avant d'en trouver un qui accepte de la confectionner en quelques heures). Marilyn et Arthur coupent ensemble les tranches, et s'embrassent sans retenue. Arthur Miller, habituellement stoïque, se montre très attentionnée et enchanté de sa nouvelle épouse; et Marilyn semble très heureuse. Depuis plusieurs mois, les proches de Miller ont observé une aisance physique qui l'avait complètement transformé. Norman Rosten dira: "Le conte de fées était devenu réalité. Le Prince était apparu, la Princesse était sauve." Marilyn écrira au dos d'une photographie du mariage: "Espoir, Espoir, Espoir."
Then, the wedding meal takes bucolic aspect, with the organization of a lunch outside, in the garden.
On the menu: lobster, turkey and champagne and the wedding cake (Millers had approached eight pastry before finding one who agrees to make it in a few hours). Marilyn and Arthur cut the slices together, and kiss each other without restraint. Arthur Miller, usually stoic, is very caring and delighted with his new wife, and Marilyn seems very happy. For several months, Miller's closest friends have observed a physical ease that has completely transformed him. Norman Rosten will say that "The fairy tale came true. The Prince appeared, the Princess was safe." Marilyn wrote on the back of the wedding photography "Hope, Hope, Hope."
--- Dans la maison / In the house ---
> Kitty Owen (cuisinière des Greene) et Marilyn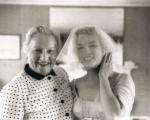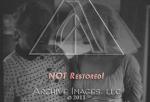 --- Sur la terrasse / On the terrace ---
> Marilyn, Arthur et Joan Copeland (soeur d'Arthur)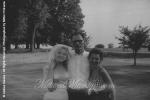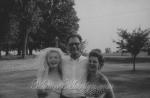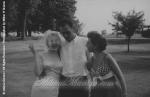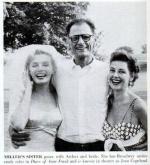 > Arthur, Marilyn et Kermit Miller (frère d'Arthur)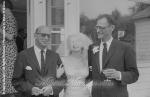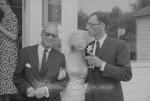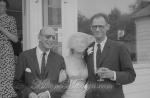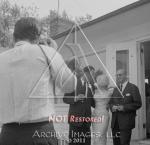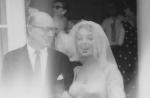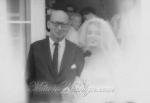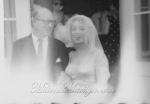 > Arthur, Marilyn et Cecilia (mère de Milton Greene)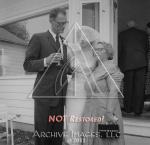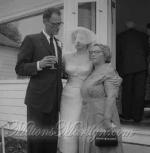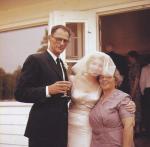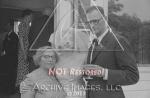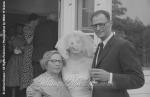 > Paula et Lee Strasberg, Marilyn et Arthur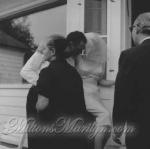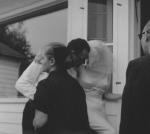 --- Le repas / The Lunch ---
---
> captures

> videos film footage


---
---
.photographies de Milton H. Greene
.sources:
Marilyn Monroe, biographie de Barbara Leaming
Les vies secrètes de Marilyn Monroe, d'Anthony Summers
Marilyn Monroe, encyclopédie d'Adam Victor
Les trésors de Marilyn Monroe, de Jenna Glatzer
Marilyn Monroe et les caméras, Georges Belmont
Life Remembering Marilyn
Marilyn in Fashion de Nickens and Zeno

---
© All images are copyright and protected by their respective owners, assignees or others.
copyright text by GinieLand.
Enregistrer
16 août 2011
Le 12 décembre 1955, Marilyn Monroe se rend à la première du film de Daniel Mann The Rose Tattoo (La Rose Tatouée) à l'Astor Theatre de New York, avec dans les rôles principaux, Anna Magnani et Burt Lancaster, pourtant absents à cette première new-yorkaise. Marilyn, resplendissante dans une robe noire assortie de longs gants noirs et d'un fourreau blanc, portant de longues boucles d'oreilles, pose avec malice et glamour devant les photographes et les caméramen venus spécialement filmer l'arrivée des stars.
---
> Photographie de Paul Slade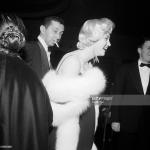 >> video de l'arrivée de Marilyn

---
---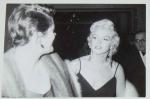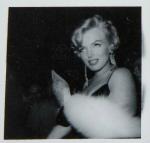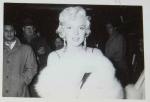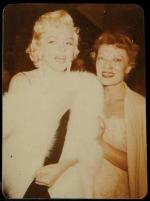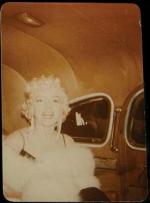 - de la collection de Frieda Hull, une fan des Monroe Six
-from the personal collection of Frieda Hull, one of the 'Monroe Six'
---
Après la projection du film, les célébrités se rendent à une soirée tenue au Sheraton Astor Hotel, dans le but de récolter des fonds pour l'Actors Studio (100 000 dollars seront obtenus), lors d'un dîner et d'une soirée dansante où les reporters sont nombreux. Marilyn est escortée par Marlon Brando, avec qui elle vit alors une aventure amoureusement secrète à cette période. Parmi les invités, se trouvent Lee, Paula et Susan Strasberg, le couple Rosten, Arthur Jacobs, Jayne Mansfield et Arthur Miller, qui sera photographiée publiquement pour la première fois au côté de Marilyn.
>> Marilyn et Marlon Brando en interview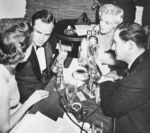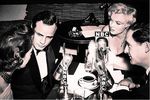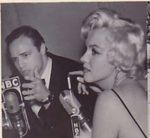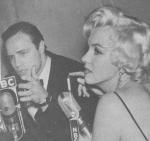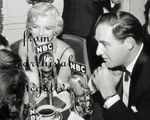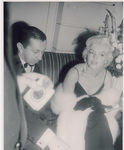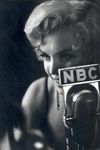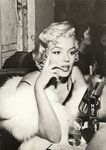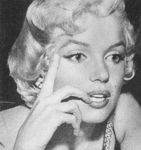 -photographie de Nate Cutler >>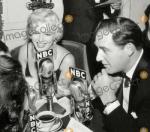 -photographie de Sid Caesar >>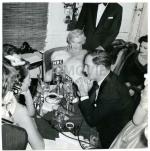 >> Marilyn avec l'écrivain Bill Denby et sa soeur Dorothy Denby
photographie de Max Peter Haas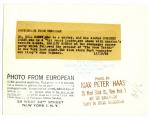 >> Marilyn avec Susan Strasberg et Jayne Mansfield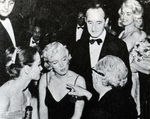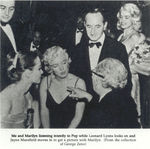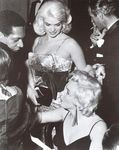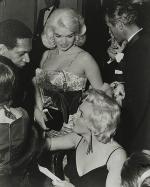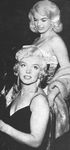 > Helen Hayes et Joan Crawford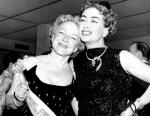 >> Marilyn danse dans les bras de Marlon Brando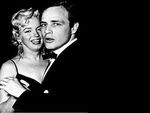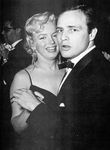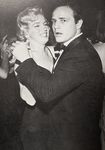 ---
---
>> Photos de Roy Schatt: Marilyn et Arthur Miller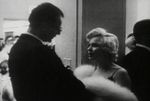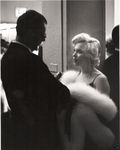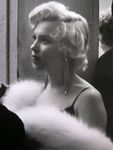 >> l'interview


---
---
All photos are copyright and protected by their respective owners.
copyright text by GinieLand.
Enregistrer
02 février 2011
Marilyn Monroe en vacances chez les Rosten,
à Amagansett, East Hampton (Etat de New York) l'été 1955.
Marilyn Monroe in holiday at the Rosten's
in Amagansett, East Hampton (New York), in the summer of 1955.

---
> Marilyn joue au badminton avec Hedda, Norman et leur fille Patricia.
Marilyn plays badminton with Hedda, Norman and their daughter Patricia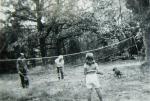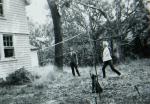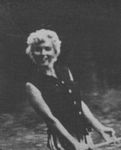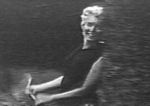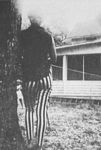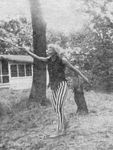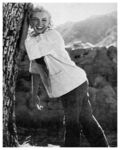 > video


---
> Marilyn tient la main de la petite Patricia Rosten et de Hedda Rosten
Marilyn holds the hand of the little Patricia Rosten and Hedda Rosten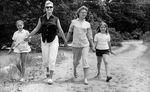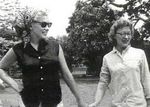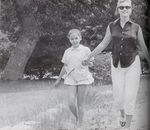 ---
> Marilyn et Hedda Rosten
Marilyn with Hedda Rosten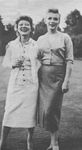 ---
> Moments de détente à Long Island
Relaxing moments in Long Island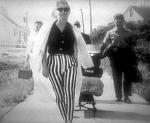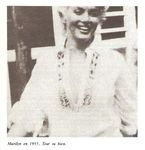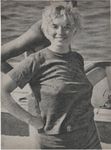 ---
© All images are copyright and protected by their respective owners, assignees or others.
copyright text by GinieLand.

Enregistrer
Enregistrer
Enregistrer
Enregistrer
01 février 2011
Un soir d'août 1955, la photographe Eve Arnold se promène sur la plage de Miller Place lorsqu'elle rencontre par hasard l'écrivain Norman Rosten, accompagnée d'une blonde. Eve Arnold n'a pas identifié de suite la personne: "la nuit tombait et la jeune femme tournait le dos à la lumière de sorte que j'eus du mal à reconnaître en elle l'éblouissante Marilyn". Elle propose à la photographe un projet photographique pour le magazine Esquire et convient d'un rendez-vous à la plage le lendemain, un samedi après-midi.
Lorsque Eve Arnold et son fils Francis arrive à la plage, ses amis sont déjà là -parmi eux, la famille Rosten: Norman Rosten, le père, Hedda Rosten, sa femme, et leur fillette Patricia- mais Marilyn Monroe n'est pas encore arrivée et la photographe n'a pas apporté ses appareils, pensant qu'il s'agit là d'une simple réunion entre amis où Marilyn veut rester incognito. Mais d'un coup, la photographe entend des gens parler et se regrouper au loin: c'est Marilyn qui arrivait, descendant lentement la falaise. Elle portait un bikini au haut croisé d'une cocarde et d'un bas court et moulant blanc, un grand chapeau de paille et une paire de boots de l'armée. Marilyn s'installe sur sa serviette de plage et de plus en plus de monde accourent sur la petite plage pour l'apercevoir et lui demander des autographes. C'est ainsi que bon nombre de photographes amateurs mitraillent la star. Puis Marilyn joue au ballon avec Francis, le fils d'Eve Arnold, avant d'aller se baigner. C'est alors qu'une foule l'entoure dans l'eau, ce qui était plutôt dangereux pour sa sécurité. La police a donc dû intervenir pour "sauver" Marilyn en l'emmenant dans leur hors-bord, Marilyn saluant de la main la foule.
>> Video

22 septembre 2010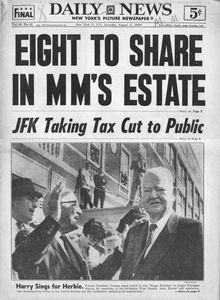 Le journal américain de New-York Daily News du samedi 11 août 1962, titre en Une "Eight to share in MM's Estate" et révèle, dans un article de deux pages, intitulé "8 who helped Marilyn most share in will", les huit personnes apparaissant dans le testament de Marilyn, rédigé un an auparavant, révélé par son avocate Inez Melson:
> Cinq d'entre eux sont new-yorkais: certains l'ont aidé dans sa vie professionnelle comme privée:
Lee Strasberg qui dirige l'Actors Studio;
ses amis -le poète- Norman et -sa femme- Hedda Rosten, qu'elle avait rencontré à l'époque de son mariage avec Arthur Miller;
> Six d'entre eux sont des femmes:
dont sa mère, Mrs Gladys Baker Eley qui, placée dans un hôpital psychiatrique, ne sait pas encore que sa fille de 36 ans est décèdée;
sa demie-soeur, Berniece Miracle;
sa secrétaire de New York May Reis;
sa professeur d'art dramatique Mrs Michael Chekhov;
sa psychanaliste Dr Marianne Kris ...
> Joe DiMaggio, qui s'occupa des funérailles, n'apparaît pas dans le testament.
> On estime alors son héritage s'élevant à plus de 100 000 $.

On apprend aussi qu'Inez Melson a dû prendre les dispositions nécessaires pour évacuer les fourrures et bijoux de valeurs de la maison de Marilyn à Brentwood, afin qu'ils ne puissent pas être volés.
Puis l'article revient sur les circonstances de sa mort: les investigations menées sont lentes, la confirmation de son décès dû à l'absorption de barbituriques n'ayant pas encore été confirmé. La version officielle livrée alors était la présence d'un flacon pouvant contenir 25 comprimés de nembutal sur la table de chevet, mais aussi d'autres flacons contenant d'autres tranquilisants et d'hydrate de chloral.
18 août 2010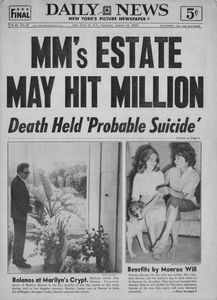 Le journal américain de New-York Daily News du samedi 18 août 1962, titre en Une "MMs Estate May Hit Million - Death held 'probable suicide'" en s'interrogeant sur l'héritage de Marilyn, et publie deux photographies: une de José Bolanos se receuillant devant la tombe de Marilyn, et une photo de Patrica Rosten avec sa mère, amies de Marilyn (respectivement fille et femme de Norman Rosten), Marilyn ayant légué à Patricia, alors âgée de 16 ans, 5000 $ pour son éducation. A l'intérieur du journal, un reportage constitué de plusieurs articles:

Tout d'abord, le journal analyse l'héritage de Marilyn "s'élevant à près de 800 000 $, voir 1 million" après que les procureurs de New York

Aaron Frosch

et

Arnold Weissberger

aient confirmé aux journalistes le contenu de l'héritage de Marilyn, selon ses voeux: "Son argent provenait essentiellement des films qu'elle a tourné, et de ses investissements productifs, elle n'avait que peu de dettes". Ils ont lu son testament devant la presse, rédigé le 14 janvier 1961, avec pour témoins Frosch et sa secrétaire,

Mdme Louise H. White

: "Je lègue tous mes effets personnels et vêtements à

Lee Strasberg

", sa soeur

Berniece Miracle

reçut 10 000 $ auquel s'ajoute 40 000 $ correspondant à 25 % du solde. Puis 10 000 $ à son amie et secrétaire

May Reis

. A ses ami Norman Rosten et sa femme Hedda: 5000 $ pour l'éducation de leur fille

Patricia

. Pour sa mère

Gladys

, Marilyn laissa 100 000 $, versés en 5000 $ par an; mais aussi 2500 $ par an pour son coach qui l'a formé,

Mdme Michael Chekhov

. Après la mort de Gladys et de Chekhov, l'argent serait versé au

Dr Marianne Kris

, psychiatre de New York, pour l'organisation des institutions psychiatriques; et Le Dr Kris reçoit par ailleurs 25% du solde. Tous les biens de son appartement new yorkais (444 E. 57th Street) furent envoyés au département de police pour être en sûreté et devra être réclamé par Frosch.
Par ailleurs, il est rapporté la venue de

José Bolanos

, 35 ans, lundi 13 août; il apporta des fleurs sur la tombe de Marilyn pour s'y receuillir. Il refusa d'accorder une interview à propos d'un éventuel mariage avec Marilyn, mais il confia avoir été très proche d'elle, beaucoup plus que n'importe quel autre homme. Les autorités voulaient interroger Bolanos sur le mystérieux dernier appel téléphonique qu'elle a eut avant sa mort, mais il refusa d'en parler. Marilyn et Bolanos se fréquentaient beaucoup en février au Mexique, puis les derniers mois de Marilyn à Hollywood.
Ensuite, le journal revient sur la conclusion du coroner de Los Angeles

Theodore J. Curphey

, concernant la mort de Marilyn: "un suicide probable", dû à son comportement et à ses dépressions.
Enfin, des bribes de conversations qu'elle a eut avec

George Barris

, l'un des derniers photographes à avoir travaillé avec elle, sont ici rapportées.
>> Source scans sur emulsioncompulsion.com