07 février 2012
Some Like it Hot filmed at the Hotel Del Coronado

Article en ligne sur hoteldel.com
SOME LIKE IT HOT FILMED AT THE HOTEL DEL CORONADO
Named #1 Comedy by the American Film Institute
Regarded by critics as one of the finest American movies ever made, Some Like It Hot continues to delight audiences 50 years after it debuted in 1959; in fact, the American Film Institute named it No. 1 on their list of the 100 best comedies of all time.
Filmed in 1958, the United Artists movie was shot on location at the Hotel del Coronado, Southern California's landmark Pacific resort. The Del's iconic Victorian architecture made it the perfect backdrop for the film's 1929 setting, along with acting icons Marilyn Monroe, Jack Lemmon and Tony Curtis.
Says author and scholar Laurence Maslon, who will release The Some Like It Hot Companion in September (published by Collins Design, an imprint of HarperCollinsPublishers in the US and Anova Books in the UK), "There have been a lot of movies shot on a lot of locations, but only a few marriages of celluloid and place can be considered truly legendary. Chief among those magical moments is the sight of Marilyn Monroe cavorting on the beautiful beach at the footsteps of the Hotel del Coronado."
Plot
The Prohibition-era story follows the exploits of Lemmon and Curtis, out-of-work Chicago musicians who accidentally witness a gangland slaying. Making a run for their lives, the men disguise themselves as women and join an all-girl band traveling by train to Florida. Here, a ukulele-strumming singer, played by Monroe, catches the eyes of both men, but it is Curtis' character who assumes still another identity – an unlucky-in-love millionaire – to successfully woo and win Monroe.
Lemmon's cross-dressed character, meanwhile, is vigorously pursued by a bona fide millionaire, played by Joe E. Brown. The hilarious gender-shifting romantic romp is played out at California's famed Hotel del Coronado, which director Billy Wilder found to be the perfect substitute for Florida in the Roaring Twenties.
Sunshine … California-Style
At least one Floridian was less than happy about Wilder's decision to shoot the movie in San Diego. Miami Mayor Robert King High reportedly said it was "a sacrilege" to let Southern California play the role of Florida's "Sunshine State." This sour criticism was ably met by Coronado's mayor, who wired back, "Some like it hot, but not as hot as Miami in September." The mayor's rebuttal also referenced Florida's gnats, mosquitoes and hurricanes, none of which plagued the temperate island of Coronado.
An "Uproariously Improbable Set"
Like all American resorts, the Hotel del Coronado had endured some tough years during the Depression and World War II, but it was this period of benign neglect that helped preserve the resort, making it the perfect setting for Wilder's 1929 story, which he co-wrote with I.A. Diamond. Said Wilder, "We looked far and wide, but this was the only place we could find that hadn't changed in thirty years. People who have never see this beautiful hotel will never believe we didn't make these scenes on a movie lot. It's like the past come to life."
Although at least one critic didn't believe the hotel was real, describing The Del as "an uproariously improbable set." The hotel's 1888 Queen Anne Revival-style architecture does tend toward the fanciful, with rambling white clapboard, lazy verandas and red-turreted roofs, which an earlier writer had characterized as a cross between an ornate wedding cake and a well-trimmed ship.
Although only exterior scenes were filmed at hotel, the interior scenes do look very Del-like (right down to the placement of the lobby elevator and stairs). This probably explains why so many Some Like It Hot devotees – even after seeing the Hotel del Coronado for themselves – absolutely refuse to believe that the movie's interior scenes were not filmed at The Del.
Only at The Del: The Stars Align
During filming, Marilyn Monroe was accompanied by her husband, esteemed playwright Arthur Miller (he made two special trips from the East Coast to join her at The Del). Also in Monroe's entourage was acting coach Paula Strasberg, along with Monroe's secretary and press agent. Coronado police officers were assigned to guard Monroe throughout her stay.
Meanwhile, Tony Curtis' wife, Janet Leigh, was also on hand (Leigh was pregnant with their second child, Jamie Lee Curtis, at the time). Jack Lemmon's future wife, Felicia Farr, also joined the troupe.
By almost everyone's account, Monroe was very difficult to work with throughout the film's production – her tardiness and inability to remember lines have become legendary. Interestingly, however, quite a few reports confirm that Monroe was "on her mettle" during the entire Coronado portion of filming.
In fact, in his book Conversations with Wilder (1999), writer/director Cameron Crowe addressed Billy Wilder about this aspect of the film, saying, "I grew up in San Diego [and] the legend is that the hotel was the most magical part of the filming … that Marilyn felt relaxed there."
To which, Wilder replied, "Yeah, that was fun. We had a good time there. Marilyn remembered her lines … everything was going according to schedule." Added Crowe: "Marilyn seems fully engaged in those scenes."
According to another source, Wilder speculated that Monroe was inspired at The Del, where adoring spectators were plentiful because she preferred a live audience. Wilder later told Crowe that the Coronado fans were "screaming and yelling," and then added that when he wanted the crowd to quiet down, he had her say, "'Shhh' … they listened to her." In the end, Wilder probably characterized Monroe the best, calling her "a calendar girl with warmth, with charm."
And a last bit of Del trivia: During her stay, a hotel chef reported that Marilyn fancied his cold soufflé vanilla pudding with egg-white decoration, which she requested daily.
Favored by the Fans, Overlooked by the Oscars
The movie was a box office success, grossing over $8 million initially and earning several million more over the next few years – somewhere between $10 and $15 million.
Monroe's financial deal – she received between $100,000 and $300,000, as well as 10 percent of the film's gross profits – was a very lucrative arrangement in its day, and Some Like It Hot turned out to be her most profitable venture.
The movie was also a critical success. Variety called it the biggest hit of 1959; Monroe received a Golden Globe for her performance, as did Jack Lemmon. The film itself also won a Golden Globe for "best comedy."
In spite of its financial success and public accolades, the film received only one minor Academy Award for "Best Black and White Costume Design." Today it is thought that Some Like It Hot was just too risqué for 1959, when the big winner that year was Ben-Hur (also in the running for various Academy Awards were the likes of Diary of Anne Frank, Room at the Top, Pillow Talk and Porgy and Bess).
The Some Like It Hot story line is racy, and Monroe's costumes are incredibly revealing, even by today's standards (though, according to Wilder, Marilyn was not interested in fashion … as long as the costumes revealed "something," she was satisfied). Ahead of its time perhaps, present-day reviewers marvel that the movie still comes across as such a wholesome film; this was Monroe's forte: she was sexy, but childlike.
Although this is the Monroe film most shown on television today, the actress reportedly never liked her performance.
Fun Film Facts
Writers Wilder and co-author I.A Diamond were inspired by another cross-dressing comedy, the 1932 German musical Fanfare of Love, and they deliberately set the story in the past because, as Diamond put it, "When all the costumes look peculiar to us, a guy in drag looks no more peculiar than anybody else."
Much like The Del itself – which was designed as it was being built – the last 15 minutes of Some Like It Hot was being written and rewritten as it was being filmed.
The film was shot in black and white because Wilder thought that male actors in female make-up would look too ridiculous in color. The black-and-white format – which also suited the period style of the film – did not appeal at all to Monroe, who contractually insisted that all her films be shot in color. Wilder was able to convince her that the 1920s setting would look more authentic in black-and-white. Interestingly, Wilder (who chose to make many of his movies in black and white) later said that Some Like It Hot was the one movie that would have benefited from color.
Although Wilder hired one of the world's most famous female impersonators to teach Lemmon and Curtis how to walk in high heels, Lemmon refused the help – he didn't want his character to be that adept as a woman.
Monroe's character, "Sugar Kane," is supposed to be 25 years old, although Monroe was 32 when the movie was made.
After Some Like It Hot, Monroe and Curtis never worked with Billy Wilder again, but Jack Lemmon remained one of the director's favorite actors, and they made six more films together.
What to Look For
At one of the previews, the first shot of Lemmon and Curtis dressed as women was such a crowd-pleaser that Wilder added in every other shot he had for that scene (and, if you look carefully, you'll be able to see them walking by the same railroad car again and again). In addition, Wilder deliberately didn't show the characters as they transformed themselves from men to women because he knew the comic impact would be greater if audiences were introduced to "the ladies" all at once.
Monroe was displeased at her initial entrance – also at the train station – and Wilder and Diamond concurred. They rewrote the scene so that Monroe's entrance was punctuated by steam blasts from the train.
The film clearly shows The Del's two original front entrances. When the resort opened in 1888, the hotel offered a combined men's and women's entrance and a separate "unaccompanied" women's entrance, which afforded lone women travelers a discreet way to check in. Though the two entrances survived past the 1958 filming of Some Like It Hot, only one remains today.
In the scene where Curtis and Monroe run out to the yacht, it is supposed to be night, but it's obviously not dark; Monroe's frequent tardiness made it impossible to shoot the scene at night.
In the role of gangster Spats Colombo, George Raft parodies the gangster role he played in the 1932 film Scarface, in which his character repeatedly flipped a coin. In Some Like It Hot, Spats Colombo is very irritated when he sees someone else flipping a coin, demanding, "Where did you pick up that cheap trick?" Raft – who didn't accompany the cast to Coronado – was at The Del in 1936, during the filming of Yours for the Asking.
When Lemmon's female character is telling Curtis' male character about his engagement to a real millionaire, he punctuates ever line with a flourish of maracas. Wilder anticipated the scene being so successfully funny that he wanted to allow "space" for the audience laughter, and the maracas were added to provide the appropriate pauses.
There were two scenes that supposedly gave Monroe the most trouble: The scene where she knocks on the door and says, "It's me, Sugar" required 47 takes; another scene, where Monroe had to rummage through a dresser drawer for a bottle of bourbon, proved even more challenging, requiring 59 takes. In fact, Wilder claimed that after he put the cue inside one of the dresser drawers, Monroe couldn't remember which drawer it was in.
The last line – uttered by Joe E. Brown when he says to Jack Lemmon, "Nobody's perfect" – was never intended to remain the last line, but Wilder and Diamond couldn't come up with anything they liked better, so it stayed. Ironically, it has become a classic last line.
In some publicity photos, including the film's poster, Monroe just doesn't look like herself. That's because a body double was used for several publicity shots; it was Sandra Warren, an actress who appeared as one of Sweet Sue's Society Syncopators. Her body was uncannily like Monroe's, although Monroe face was ultimately superimposed.
###
Founded in 1992, KSL Resorts manages seven time-honored resorts with outstanding recreational amenities, including spa, golf, tennis and ski. Each is refined yet unpretentious, rich in legacy, and genuine in service. The KSL Resorts are:
Hotel del Coronado (San Diego, CA)
Beach Village at The Del (San Diego, CA)
La Costa Resort and Spa (Carlsbad, CA)
Rancho Las Palmas Resort & Spa (Rancho Mirage, CA)
Vail Mountain Lodge & Spa (Vail, CO)
Barton Creek Resort & Spa (Austin, TX)
The Homestead (Hot Springs, VA)

For more information, call 1-866-KSL-7727 or visit KSLResorts.com.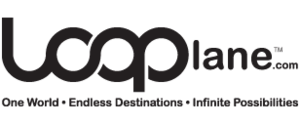 The Hotel Del Coronado — Victorian Elegance

Article publié le 18/05/2011
en ligne sur looplane.com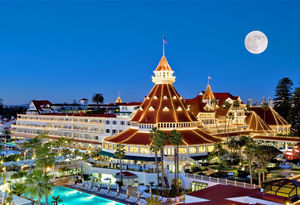 The Hotel del Coronado is a luxury hotel with a glamorous history. Set on the beach sands of Coronado Island, across the San Diego Bay in California, it has become an icon. It is sometimes called The Del and boasts one of the earliest Victorian wooden buildings of early California. The history of this hotel goes deep and it has been named a National Historic Landmark since 1977.
Built in 1888, the Hotel del Coronado has been named one of the top ten hotels in the world by USA Today. It was the backdrop of the movie, "Some Like it Hot," with Marilyn Monroe, Tony Curtis and Jack Lemon.

Marilyn and Tony Curtis, 1958.

Tony Curtis and Marilyn Monroe on the steps of the Del, 1958.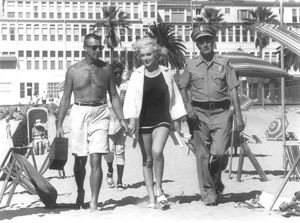 Marilyn Monroe during the filming of Some Like It Hot at the Hotel del Coronado. With make-up man Whitey Snyder and security guard – 1958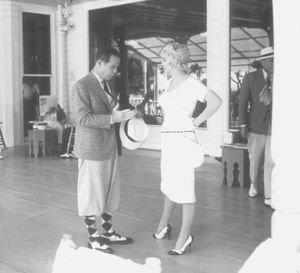 Marilyn Monroe and Joe E. Brown on the deck at the Del, 1958.
In the mid-1880′s grand hotels were being built to lure visitors to new areas of California. Coronado Island and North island were purchased for $110,000 with the intent to build a grand hotel that would draw attention to an otherwise stark landscape. With construction beginning in 1887, they had to tackle the problem of bringing in lumber from Oregon and labor from Chinese Immigrants in San Francisco.
This was one of the first hotels with electric lighting and the wiring was inspected by Thomas Edison. As they neared the completion of the hotel they ran out of money and investors. They turned to John Spreckles, the sugar manufacturer, who loaned them $100,000 to finish the hotel. He later bought the original owners out and owned the hotel until 1948.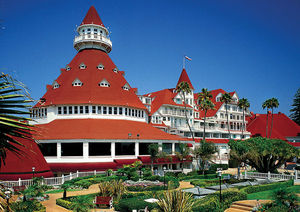 During World War II, the hotel was used to house Navy pilots being trained and families of officers going off to war.
After the war the hotel was sold and by 1960 it had fallen into disrepair. It was then purchased by John Alessio who began renovating it for $2 million. He then sold it in 1963 to a man named Lawrence. More money was poured into the hotel refurbishing it and adding rooms totaling $150 million dollars. In 1996, the hotel was sold to the Travelers Group. They upgraded the hotel again, keeping the original Victorian architecture and decor. In 2005 they added additional cottages and villas to the grounds to be used for more guest rooms. The hotel has been sold and currently is owned by Blackstone Group and KSL Resorts and Strategic Hotels.
Many notable travelers have been guests of the hotel. Presidents, British Royalty, movie stars and other famed guests have spent many a night on the shores of the Coronado. L. Frank Baum, the author of the book and movie, The Wonderful Wizard of Oz, stayed at The Del while working on his book. Stories abound that he based the Emerald City after the Hotel.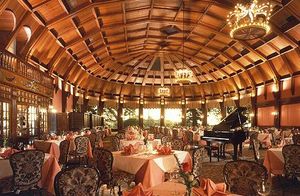 Top 10 Beach Icons, USA Today
#1 Best Beach in the Southern California, Travel Channel
#2 Best Beach in the United States, Travel Channel
America's Best Beaches, Wall Street Journal
America's Top 10 Beaches,"Dr. Beach," 2008 & 2009
The Hotel del Coronado has been rated:
Top 10 Resorts In The World, USA Today
Top 20 Hotel Spas in the World, Travel + Leisure
Reader's Choice for the Best Place To Get Married, Ranch & Coast
Top 50 Resorts For Parents & Kids, Travel +Leisure Family Magazine
500 Greatest Hotels in the World, Travel + Leisure Magazine
Top 100 U.S. Resorts, Travel + Leisure Magazine Readers Poll
#2 Best Place in the World to Get Married, Travel Channel
Best Resort Getaway, Los Angeles Magazine
Best Resort in San Diego, Orange County Register Readers Poll
Best San Diego Resort, Travel + Leisure en Espanol
Top 15 Family Resorts, Travel + Leisure Family Magazine
Marilyn Monroe and The Hotel del Coronado
The Del Beach Village
The Hotel Del Coronado
05 décembre 2011

Le Platine Hôtel : 100 % Marilyn Monroe
Par Laetitia Le Mouel, publié le 25/11/2011,
en ligne sur journaldesfemmes.com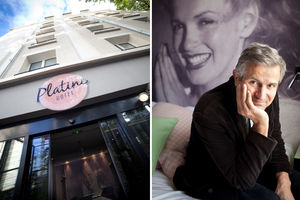 © S. de P. Platine Hôtel Façade de l'hôtel et portrait de Vincent Bastie

Situé dans le 15e arrondissement de Paris, proche de la Tour Eiffel, cet hôtel 3 étoiles a opté pour une déco qui rend hommage à Marilyn Monroe, au cinéma et aux années 1950.
Vincent Bastie, qui a signé la déco de l'Hôtel du Petit Moulin, du Burgundy et du Seven Hôtel, est l'architecte d'intérieur qui a créé l'univers glamour du Platine Hôtel.
Chambres thématiques >>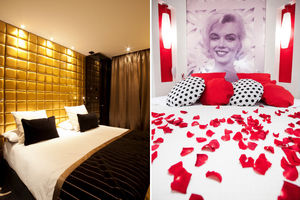 © S. de P. Platine Hôtel La chambre noir/doré et la chambre rouge/blanc
Au total, quatre thèmes ont été sélectionnés pour les 46 chambres de l'hôtel aux matières élégantes : le noir/doré, le rouge/blanc, le rose pâle/vert pistache, et le noir/jaune.
Têtes de lits sexy >>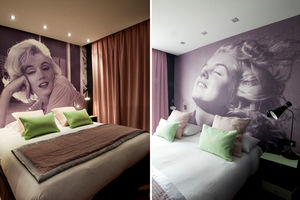 © S. de P. Platine Hôtel Deux chambres ponctuées de rose pâle et vert pistache
A l'aide de clichés géants en noir et blanc, Marilyn, naturelle, habille tous les murs des chambres. Disposés derrière les lits deux places, ces magnifiques portraits pris par André de Dienes et Georges Barris, font office de séduisantes têtes de lit.
Pellicules de film >>

© S. de P. Platine Hôtel Des chambres qui mettent en scène la pellicule de film au cinéma

Le Platine Hôtel est également composé de chambres dans lesquelles la pin-up aux formes pulpeuses apparaît au plafond. En effet, c'est l'image de la pellicule de film qui permet de créer un prolongement de la tête de lit jusqu'au plafond et nous plonge dans l'univers du septième art. Ici encore, on retrouve de superbes portraits de la star.
Salles de bains colorées et lumineuses >>

© S. de P. Platine Hôtel Salles de bains du Platine Hôtel
La surprise de l'hôtel, ce sont ses salles de bains pleines de lumières et de couleurs. Très astucieuse, la fibre optique parcourt le carrelage de manière à créer des points lumineux aléatoires situés aux intersections des carrés. Esthétique, l'effet visuel confère à la pièce une dimension féerique qui est accentuée par un spot placé au-dessus des douches. Il change régulièrement de couleur et plonge ainsi la salle de bains dans diverses ambiances.
Suites avec baignoire >>

© S. de P. Platine Hôtel La suite en rouge et blanc
Le Platine Hôtel est composé de deux suites avec baignoire. L'une qui reprend les codes rouge/blanc, l'autre en noir et doré. Si vous avez envie de vous détendre, un Spa est à votre disposition. L'institut Omnisens y propose une large gamme de soins.
Esprit Happy Days >>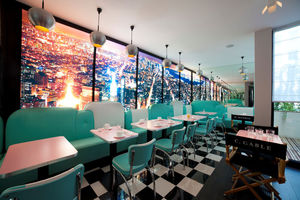 © S. de P. Platine Hôtel La salle de petit-déjeuner
Fauteuils de tournage, sol en damier, banquette et tables de "diner" américain en rose pastel et turquoise : la salle de petit-déjeuner de l'hôtel nous transporte dans l'Amérique des années 1950.
Ambiance Mad Men >>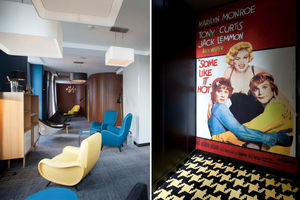 © S. de P. Platine Hôtel Bar de l'hôtel au rez-de-chaussée
et affiche du film "Certains l'aiment chaud" sur le palier d'escalier
Côté bar, de la moquette aux appliques murales en passant par le splendide mobilier vintage, notamment composé des tables basses laquées RED Edition, le décor reflète parfaitement l'ambiance "fifties". Coup de cœur pour la moquette pied-de-poule qui habille les couloirs, ainsi que les paliers des étages dans l'escalier, qui arborent d'immenses affiches de films dans lesquels Marilyn Monroe a joué.
En Savoir Plus >>
Le Platine Hôtel est le premier projet de la Compagnie Hôtelière de Bagatelle. Si vous aimez le cinéma et l'esprit vintage, inspirez-vous de cette déco glamour à souhait !
Où : Platine Hôtel, 20 rue de l'Ingénieur Robert Keller 75015 Paris/ 01 45 71 15 15
Le site : Platine Hôtel
---
> sur le blog: l'article de l' hotel Platine
09 novembre 2011
La rivière sans retour
Sur le tournage
Pendant le tournage de River of no return (La rivière sans retour) au Canada l'été 1953, Marilyn Monroe loge à la chambre 816 du Banff Spring Hotel, situé à Alberta. Elle pose ici, le 17 août 1953, avec son pied plâtré.
---
- photographies de John Florea -
24 octobre 2011
La rivière sans retour
Sur le tournage
Le 24 juillet 1953, Marilyn Monroe se rend à Seattle pour prendre l'avion en direction du Canada, pour tourner les scènes extérieures de River of no return (La rivière sans retour) réalisé par Otto Preminger, avec l'acteur Robert Mitchum. Elle fait une escale à Vancouver, où elle reste une journée: elle est interviewée par des journalistes de la presse locale, visite Stanley Park, rencontre le chef des Indiens Mathias Joe Capilano (elle sera prise en photos par le photographe de la presse locale: William Cunningham); puis se rend à Jasper, et part en voiture à Alberta, où se trouve son hôtel: un chalet du Banff Spring Hotel.
---
> Marilyn à Vancouver
Elle est interviewée par Monty Mc Farlane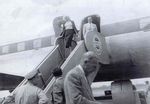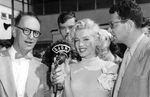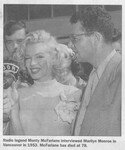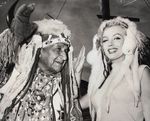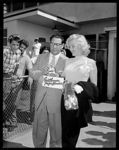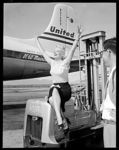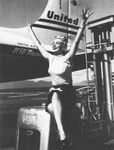 > Marilyn et Robert Mitchum et Rory Calhoun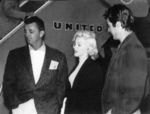 ---
> Marilyn à Jasper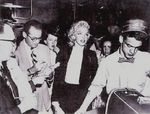 > avec Harry Home et Sandy Robinson (des habitants de Jasper)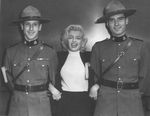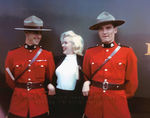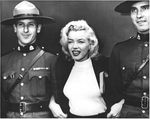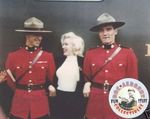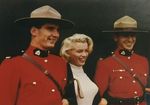 > Marilyn au Banff Spring Hotel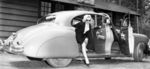 ---
> dans la presse

---
> sur le web: article Marilyn visits Vancouver
La rivière sans retour
Sur le tournage
Pendant le tournage de River of no return (La rivière sans retour) au Canada l'été 1953, Marilyn Monroe loge à la chambre 816 du Banff Spring Hotel, situé à Alberta.
> dans la presse

27 mars 2011
Les Désaxés
Sur le tournage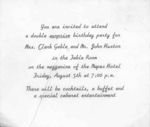 Le 5 août 1960, une soirée est organisée au Mapes Hotel, à Reno dans le Nevada, lieu de tournage du film The Misfits, pour fêter un double anniversaire: celui de Kay Gable (la femme de Clark) et celui de John Huston. L'équipe du film y est conviée: Marilyn Monroe, Clark Gable, John Huston, Frank Taylor (le producteur du film).
06 mars 2011
Marilyn Monroe et Joe DiMaggio, en Mars 1961,
sortent de leur hôtel Tides Motor Inn à St Pete en Floride.
12 août 2010
Niagara
Sur le tournage

Marilyn Monroe pendant le tournage du film Niagara
au Canada, dans sa chambre du General Broke Hotel.
Photographies de Jock Carroll

>> Planches Contact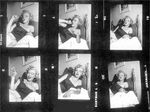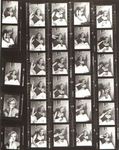 >> Séance en chemisier rouge, pantalon rayé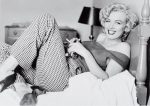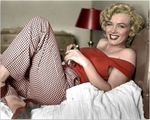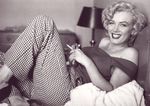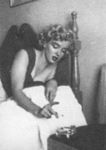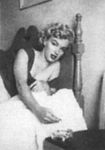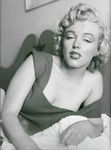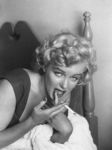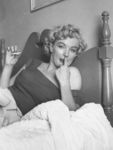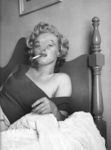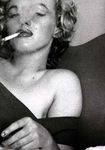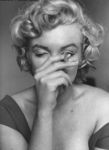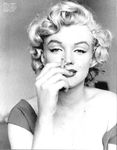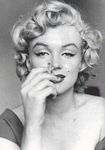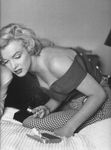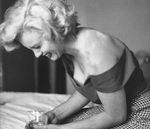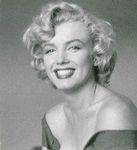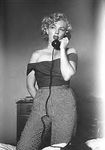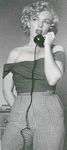 >> Séance dans le lit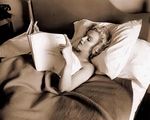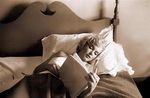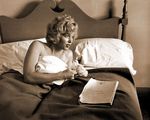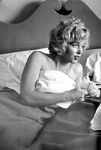 >> Séance en peignoir: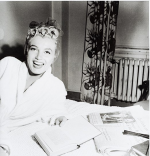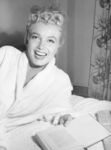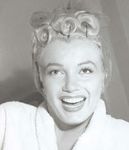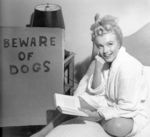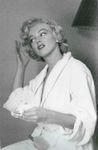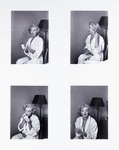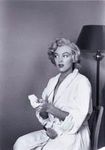 28 juillet 2010
Fin août 1952, Marilyn Monroe est à New York pour la promotion du film Monkey Business et séjourne au Sherry-Netherland Hotel. Marilyn portait la robe rose avec laquelle elle fit la promotion du film Niagara.
---