The Lost Footage of Marilyn Monroe
That film image of Ms. Monroe's skirt rising high in a gust of air? It's a reshoot of a discarded and more risqué scene seldom seen until now.

published in January 13, 2017
by HELENE STAPINSKIJAN
en ligne sur nytimes.com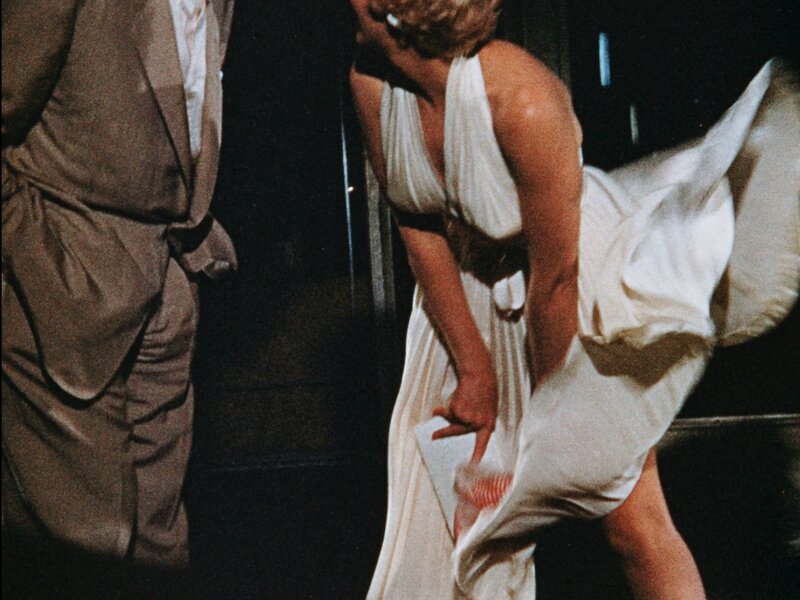 A still of Marilyn Monroe filming "The Seven Year Itch" on the Upper East Side from the found footage of Jules Schulback, a furrier and avid taker of home movies.
Credit Jules Schulback, via Bonnie Siegler
It happened one night in the late summer of 1954.
Jules Schulback, a New York furrier and taker of home movies, heard that Marilyn Monroe would be on the Upper East Side of Manhattan filming scenes again for her new picture, "The Seven Year Itch." Two days earlier, Mr. Schulback had taken footage of her with his 16-millimeter Bolex movie camera around the corner from his townhouse apartment.
So he grabbed the camera — the one usually used for family picnics and parades and the stuff of everyday life — and headed over to the subway grate in front of Wright's Food shop, just down the street from the Trans-Lux movie theater on Lexington Avenue and 52nd Street.
Though it was around 1 a.m., a large crowd had already gathered, mostly newspaper photographers and curious men waiting to see Marilyn. The movie studio and the director, Billy Wilder, had counted on this, inviting the press and the public to drum up buzz for the new movie, which starred Ms. Monroe as "the Girl Upstairs," who entices a middle-aged executive, played by Tom Ewell, while his wife is away with the kids for the summer.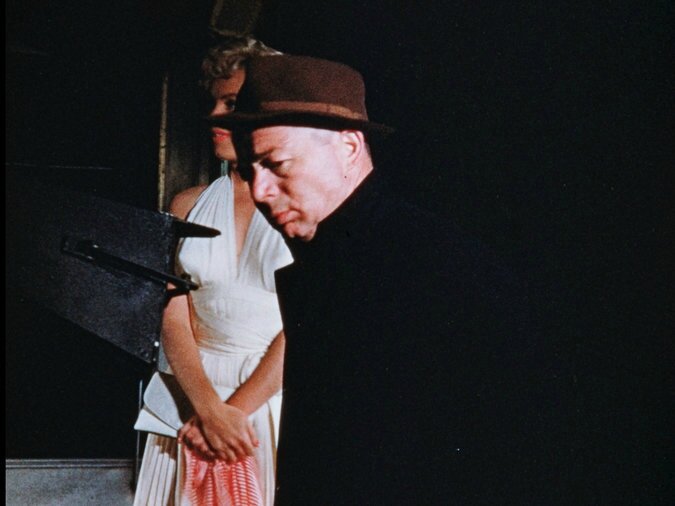 Mr. Schulback captured Billy Wilder, the director of "The Seven Year Itch,"
with Ms. Monroe in the background in her famous dress,
accessorized by a white clutch and a red-and-white scarf.
Credit Jules Schulback, via Bonnie Siegler
In the famous street scene, the two are leaving the movies as Ms. Monroe pauses over a grate to enjoy the breeze from the subway as it blows up her dress on a hot summer night. "Isn't it delicious ?" she purrs. The breeze came from a large fan under the grate operated by the film's special effects chief. The night — Sept. 15 — was actually quite chilly. But the stunt worked. It became known as "the shot seen around the world."

But there was a dark subtext to the comedy. Gathered at that late hour were hundreds of gawkers, almost all men, who catcalled and yelled things like, "Higher! Higher !" as Ms. Monroe's dress blew up over her head. For two hours, the men watched from surrounding buildings and from the street.
"Unfortunately, one of them was her husband, Joe DiMaggio," Mr. Wilder is quoted as saying in his biography, "Nobody's Perfect." "And he didn't like what he saw, or what everyone else was seeing."
Mr. DiMaggio hadn't planned on visiting the set that night, and was waiting for his wife at the St. Regis Hotel, where the couple were staying. But the columnist Walter Winchell had persuaded him to come along. Ms. Monroe was not happy her husband had shown up. But he was even more unhappy and angrily stormed off. Later that night the couple had a screaming fight in their room. The next morning, her hairdresser covered up Ms. Monroe's bruises with makeup. Three weeks later, Ms. Monroe filed for divorce.

Mr. Wilder never used the Lexington Avenue footage and reshot the scene on a closed lot in Hollywood, though photographs of that night appeared everywhere. Except for some brief, grainy shots from a newsreel covering the divorce, footage from that night was never screened.
"The footage immediately disappeared," Mr. Wilder said in the biography. "But one day I'm sure some film scholar will dig it up."

A filmstrip discovered in a shopping bag filled with home movies offers a rare glimpse of
Marilyn Monroe in color in New York.
By JULES SCHULBACK, VIA BONNIE SIEGLER
The story of the night Marilyn Monroe's white halter-top dress blew up was well known among Jules Schulback's children, and even among his grandchildren. His granddaughter Bonnie Siegler said he bragged from time to time about his personal film shoot with Marilyn.
"He was a real raconteur," said Ms. Siegler, a graphic designer who runs her own company, Eight and a Half. "I didn't know if the story was real." But even though she had never seen it, she often told people that her grandfather had footage of Marilyn Monroe on the subway grate.

Ms. Siegler's older sister, Rayna Dineen, said her grandfather, whom they called Opi (a German term of endearment), was rarely without his camera. "He would be filming everywhere, all the time." There were reels of vacations, family picnics, birthday parties and bar mitzvahs. He had even filmed a 12-minute day in the life of his daughters, depicting them waking up, brushing their teeth and going to school.
"But the Marilyn story was one of his favorite stories to tell," Ms. Dineen said.
It was just one of dozens of amazing tales. Mr. Schulback had a long, technicolorful life, one so filled with drama that his Monroe story sometimes seemed like a footnote.

In 1938, Mr. Schulback had argued with his family in Germany that Adolf Hitler was much more dangerous than anyone thought. According to Ms. Siegler, his family believed that Hitler's hate speech was simply rhetoric, and that he wouldn't act on anything he was saying. Mr. Schulback, 25 at the time, urged them to pack their bags and leave Berlin with him. But they resisted, opting to wait and see how things developed, never imagining the horror that awaited them and millions of other European Jews.
Mr. Schulback was not taking any chances.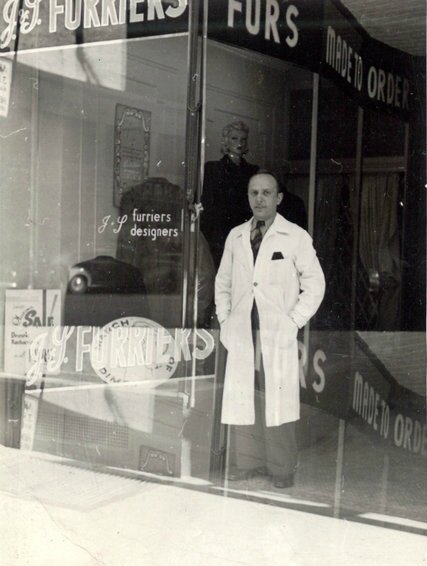 Mr. Schulback was a furrier by trade. He chronicled his family and the odd serendipitous moment in his neighborhood — such as Marilyn Monroe on location — with his 16-millimeter Bolex movie camera.
In 1938, Jews immigrating to the United States needed a sponsor, someone to take financial responsibility for them. Mr. Schulback sold everything he had, bought an expensive suit, booked passage on the Queen Mary, reserved a room at the Plaza and headed to America to find a sponsor for him and his wife, Edith, and their daughter Helen, who was then a toddler.

"He was like: 'I'm your lost, rich relative. I won't be a burden.' But he had no money. He played it," Ms. Siegler said. He secured a signature, then returned to collect his family, but was stopped trying to enter Nazi Germany by a suspicious border guard. Knowing the Germans were big fans of the 1934 Clark Gable hit, "It Happened One Night," Mr. Schulback told the guard he was the distributor for Mr. Gable's new movie. He claimed that if he couldn't enter the country, neither would the film. "The guy was like, 'Oh, we love Clark Gable,' and waved him through," Ms. Siegler said.

Mr. Schulback grabbed Edith and Helen, again imploring his other relatives to leave, and escaped back to the United States with a few suitcases, claiming to the Nazi immigration officers that his family was going on vacation. The date was Nov. 8, the day before Kristallnacht.

In Berlin, he had been a furrier, and his shop was destroyed that night. His remaining family — four sisters, parents and in-laws — would all perish in the Holocaust.
The United States was good to Mr. Schulback. He and his family lived a happy, successful life in New York, much of it preserved in his home movies.

As a child, Ms. Siegler loved going to her grandfather's Upper East Side apartment not just because of his great stories and sense of humor, but also because he lived opposite the New York Doll Hospital. From his apartment window, she could see the buckets of doll eyes and doll arms. "It was really intense," she said.

When Edith had a stroke in the 1970s, she was given only a few weeks to live. But Mr. Schulback, always a man of action, refused to let his wife die in the hospital and took her home. The couple moved into the ground-floor apartment of a building around the corner, and Mr. Schulback became her nurse. "Half her body was paralyzed, she couldn't speak," Ms. Siegler said. "But he loved her and took care of her for 26 years until she finally died."

After 35 years in that same apartment, Mr. Schulback — who had been president of the 61st Street Block Association — was forced to leave. The Andrew W. Mellon Foundation had bought the townhouse where he lived and the one behind it and wanted to reconfigure the property. So Ms. Siegler and her husband, Jeff Scher, helped move her 92-year-old grandfather to a new place on the other side of Central Park.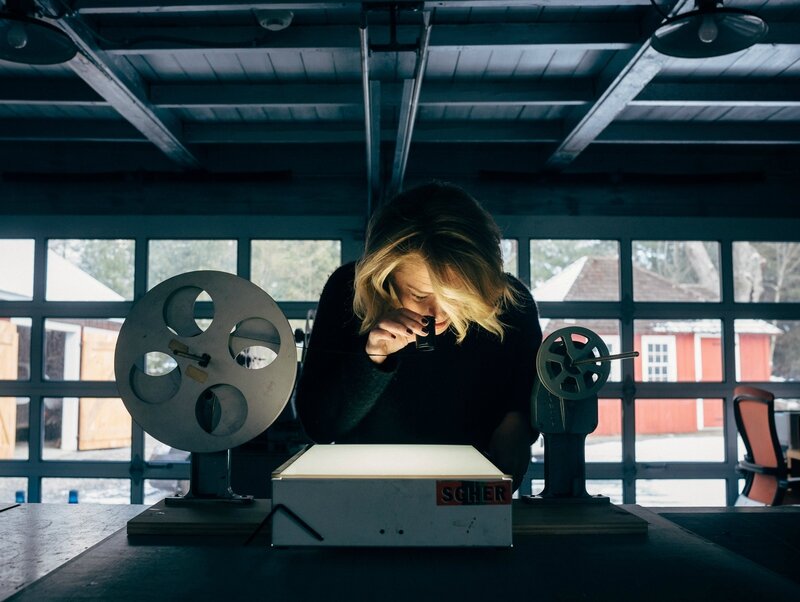 Bonnie Siegler examines film of Ms. Monroe taken by Mr. Schulback,
who was her grandfather, over a light box in her studio.
Credit Ryan Christopher Jones for The New York Times
In 2004, in the arduous packing up of Mr. Schulback's home, the couple came across a big stash of film. It was stored in a back room that the family called "Opi's fur room," where Mr. Schulback had once assembled garments from animal pelts for his business. "No one ever wanted to go back there," Ms. Siegler said. "But when we went in, we found this plastic bag filled with just tons of film, home movies, bought movies and everything mixed together."

Ms. Siegler's husband, an experimental filmmaker, couldn't wait to screen the films. He was particularly interested in seeing whether Marilyn and the subway grate footage actually existed. "It was like this family myth," Mr. Scher said. "So long rumored and never confirmed."

The same was true for its source material. For decades, innuendo swirled around the Lexington Avenue shoot for "The Seven Year Itch." Ms. Monroe and Mr. DiMaggio had married that January and had already had a bumpy ride, the Yankee Clipper enraged by her exhibitionism and by rumors of infidelity, according to Lois W. Banner, the author of the 2012 biography "Marilyn: The Passion and the Paradox."
"She was having an affair with her musical director at the time, and everyone knew about it in the business," said Dr. Banner, a professor emeritus of history and gender studies at the University of Southern California. So before he even arrived on set, there was tension. "DiMaggio," Dr. Banner said, "was not happy with Marilyn."

There are several theories as to why the footage from that night was never used. Some believe the Manhattan shoot was done purely as a publicity stunt, which was made even more sensational when Mr. DiMaggio showed up. Some biographers say the enthusiastic crowd was just too noisy, making the film unusable.
A third theory was that the footage was too risqué and Ms. Monroe wanted to shoot a more demure version, so as not to further infuriate her husband. There was even talk at the time that she wasn't wearing any underwear. Mr. Wilder tried to put those rumors to rest in his biography. She had put on not just one, but two sets of underwear, he said.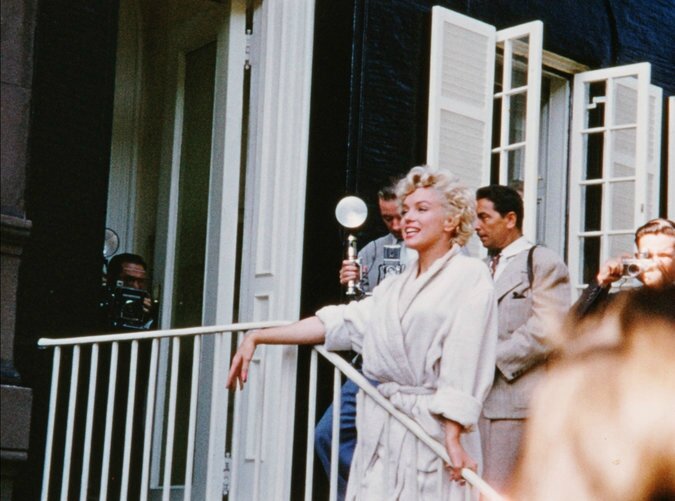 Before the billowing-skirt scene, Mr. Schulback filmed Ms. Monroe in a terry robe
greeting fans and members of the press on the stoop of 164 East 61st Street.
Credit Jules Schulback, via Bonnie Siegler
Dr. Banner said all three reasons quite likely played into the final decision to reshoot. "But the photographs of that night had gone viral by the time the film was being put together," she said, "and played a great role in her fame." The skirt-blowing scene used in the finished film is incredibly brief and tame. The image many people have of that moment comes from the press shots and publicity stills in New York, and not from the finished movie.

Back in the pelt room of Mr. Schulback's apartment, Mr. Scher excitedly gathered up the old metal film canisters. None were labeled, Mr. Scher recalled. Some of the film was off the reel and sitting there like big balls of spaghetti, as if there had been a projector mishap years ago.
Later that night in his studio in the couple's apartment on West 16th Street, Mr. Scher slowly and carefully wound the film, since some of it was very brittle and in danger of breaking. He did a few repairs and then began looking at it using a light box, spooling it from reel to reel by hand. There were about 50 rolls of 16-millimeter film and around 75 rolls of 8 millimeter.
There were the family outings and parades. The birthdays and bar mitzvahs.
And there, amid the mundane scenes of precious everyday life, was Marilyn Monroe, in crisp, colorful Kodachrome. "This stuff just popped out," Mr. Scher said. "It was real! Preserved like the home movies are, too. Just these moments in time."
Mr. Scher could clearly see the actress's dress billowing up. "Like a parachute with a pair of legs attached," he said. "It was startling. Like seeing a myth materialize."
It was a shadow version of lost footage amid home movies of a family that almost certainly wouldn't have existed had the Schulbacks stayed in Germany.

Ms. Siegler zeroing in to Ms. Monroe by using a photographer's loupe.
The Schulback footage has been seldom seen since it was taken in 1954.
Credit Ryan Christopher Jones for The New York Times
Mr. Scher called out to his wife: "It's really here!" They watched all 3 minutes 17 seconds in amazement.
"There was something so magical about it," Ms. Siegler said. "For years I didn't know if it was real. I certainly didn't believe it wholeheartedly. And there it was. It was like the end of the story."
The film starts with a spliced-in intertitle that reads "World Premiere," Mr. Schulback's little inside joke.
And then there is Marilyn Monroe, in a white terry robe, coming down the stoop of a white-shuttered building at 164 East 61st Street, between Lexington and Third Avenues. It was the earlier scene — before the subway grate footage — that Mr. Schulback had shot. Cameramen and press photographers are gathered outside as the actress smiles and waves.

Cut to Ms. Monroe in a second-floor window wearing a slip and blow-drying her hair. Mr. Ewell walks down the street and into the building. The film cuts inexplicably to 30 seconds of what must be a Shriners parade in Manhattan, then jumps to another intertitle, which reads "Our Baby."

And suddenly, there is Ms. Monroe again, this time on the subway grate in that famously fluttering white dress, holding a matching white clutch in her right hand and a red-and-white-striped scarf in her left.

Mr. Schulback was incredibly close, filming right behind Mr. Wilder's shoulder, stopping to wind his hand-held camera every 25 seconds. Now and then, a silhouette of the director's arm intrudes into Mr. Schulback's crystal-clear shot. At one point Mr. Wilder, in a fedora, passes across the frame. Ms. Monroe gets into position and yawns, while the cinematographer sets up the camera. Through a gap in the film crew, Mr. Schulback captures just her face, looking off to the left, serious and unsmiling.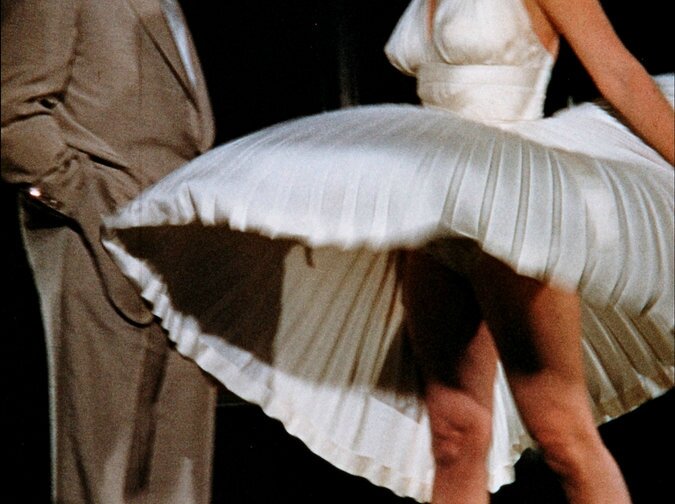 Another skirt-goes-wild still from the Schulback footage.
Credit Jules Schulback, via Bonnie Siegler
Then Mr. Ewell is there, chatting with Ms. Monroe, who pushes him into position. The dress flutters again, Ms. Monroe holds it down, bending slightly, smiling and talking to Mr. Ewell, but it flutters up some more and she laughs, her head thrown back. It blows up again, but she doesn't push it down this time, and it flies up over her head, clearly revealing two pairs of underwear that, because of the bright lights, do not protect Ms. Monroe's modesty quite as much as she might have liked.

Then, as suddenly as she appeared, Marilyn is gone, and the film reverts to home-movie mode: Edith Schulback walking on the grass at a family outing in the country. It's like being shaken from some crazy dream, back to reality.
Interest in that moment in film history from more than 50 years ago endures. The new movie musical starring Ryan Gosling and Emma Stone, "La La Land," makes brief filmic reference to it in the opening number, with a young dancer's yellow dress blowing up. And a Snickers commercial from the Super Bowl last year stars Willem Dafoe, Eugene Levy and a computer-generated Monroe on the famous set. "It's that iconic image," said Dr. Banner, the Monroe biographer. "People are still fascinated by the context in which it all happened."

After screening the film with her husband, Ms. Siegler immediately told her grandfather that she had found the footage. "I was so excited about it — more for the reason that his story was true." She shrugged. "But he never had any doubts." Mr. Schulback moved in 2005 and died six months later.
Ms. Siegler and Mr. Scher made a print and screened it for about 100 people in 2004 at the upstate home of their friends Kurt Andersen and his wife, Anne Kreamer. The two couples had started a small film festival for neighbors and friends, hanging a sheet on the side of a barn and serving popcorn, ice pops and beer.
The people in the audience that summer night had no idea what they were in for.
"That scene is one of the most iconic scenes in American cinema," said Mr. Andersen, an author, radio host and a founder of Spy magazine. "So to have film of it actually being shot, it's like watching the Zapruder film. It's just extraordinary."
The crowd that evening sat in silence as Marilyn Monroe's dress blew up on the side of the barn. "People were gob-smacked," Mr. Andersen said. "They were like, 'What did I just see ?'"

That was the only time anyone outside the family had seen the film. Until now.
Correction: January 13, 2017
An earlier version of this article misspelled the surname of the writer who screened the Marilyn Monroe home movie in his backyard. He is Kurt Andersen, not Anderson
---
> video 1

> video 2 (plans en rapproché)

captures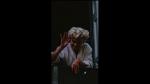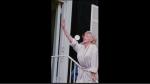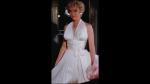 > captures dans les articles du blog:
screen caps on the articles in the blog:
13/09/1954 Sur le tournage de The Seven Year Itch 15 - partie 2
13/09/1954 Sur le tournage de The Seven Year Itch 15 - partie 1
15/09/1954 NYC - Sur le tournage de The Seven Year Itch scène 11