Photoplay

country: USA
date: 1952, April
content: 3 pages article on Marilyn Monroe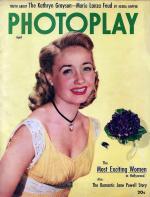 pays: USA
date: avril 1952
contenu: article de 3 pages sur Marilyn Monroe
---
Pages de l' article "Temptations of a Bachelor Girl"
---
Temptations of a Bachelor Girl
She's young, she's beautiful and she lives alone. And she knows how to have fun - and stand clear of gossip
By Marilyn Monroe
I like the life of a bachelor girl - including its temptation. It's a lot better life than the one I used to have. I can remember when I was practically a nonentity. What else is a girl who doesn't know much about her background ?
Everyone used to tell me what to do and how to do it, with me afraid of myself, always trying to please someone else.
So i find it pleasant now to come and go as I wish, to do what I want to do when I want to do it. However, I wouldn't say the life of a bachelor girl is all roses. There is, for one thing, the matter of loneliness...
Loneliness offers temptations. Girls who live alone can become so tired waiting for someone to ask them out that they look anywhere for excitement, accept almost any kind of date, go on any kind of party - just to go. They come to settle for too little, to take the easy road instead of growing more mature and becoming stronger. To settle for too little, can lead to a wrong marriage, to promiscuousness, to self-deceit. I've managed to avoid this danger because my work and other interests keep me mentally and physically occupied.
Recently, my days have begun at six in the morning. It's been seven when I got home to have dinner, study my lines and then work on my school lessons. I'm not supposed to be the type, I know, but I've been taking a literature course at UCLA. I've gained much from it.
Dates, too, are a problem for the bachelor girl - if she allows them to be. But not long ago when I could think of no one I knew well enough to ask to take me to a party, I went alone. And had a wonderful time.
Another night, dateless, I was pretty depressed. I called a couple of friends to ask them over, but they were busy. I tried listening to records, but wasn't in the mood. Finally, I got in my car and drove down to the beach. I got over the bleak mood, but I felt like every other bachelor girl - it would have been so nice to have someone to come home to.
A few men may have rather strange ideas about a bachelor girl's character, fell that because she lives alone she must be a little careless of her reputation. A girl can give this impression, or she can make her moral principles quite clear.
I once heard a bachelor girl say, "You know, it's so difficult to live alone. You have to be twice as careful in what you do and say so as not to give people - men especially - the wrong impression.
I didn't waste much time in disagreeing with this character, in telling her, "I see no reason for worrying about what other people think or say about me as long as I can face myself. I owe no apologies to anyone and have no intention of going around making explanations."
Some bachelor girls, of course, act as if they were carrying a sign reading, "The pure of heart." There's no point in this attitude either. If you're going to be on a tightrope when you go out for fear you'll say or do something that will give the wrong impression, you're better off at home. Some girls, of course, adopt the pure in heart attitude after spending most of the evening leading a man on. Then, when he reacts accordingly, they're oh ! so shocked !
A man will take a cue from a girl every time - whether she's a bachelor girl or not.
On dates, there may be the problem of letting a man know what the evening stops at your front door. However, when a man puts his foot inside your front door and wants to come in, just thank him for a nice evening and - close the door !
I have confidence in men - and their more noble, as well as their baser, instincts. A man wants approval. He won't force his attentions on you if you make it clear that said attentions are unwelcome.
If he doesn't go for the quiet explanation of "keep out", if he argues, gets belligerent, can't understand why he can't come in for "a few minutes", then I lose all interest in protecting his manly feelings. If he asks for a door to be closed in his face - he deserves it.
Some people, I know, disapprove of a bachelor girl entertaining a man at home. I entertain men at home - usually for dinner or for an evening of record-playing. I don't leave my door open and I don't have to know a man for two years before I invite him to my apartment. Neither do I say, "Come on up" to someone I've just met.
Before I think seriously of marriage, the goal of most bachelor girls, there are, I know, things about myself I'll have to change.
First I'll have to do an about-face on my would-be present independence and start establishing some roots. This, I think, will not be difficult since I adapt easily. There's also my personal carelessness. I come home from the studio, kick off my shoes and leave them where they fall. I may pick them up later and I may not. I go into the kitchen, fix a hurried meal, and sit on the floor by the fire and listen to records as I eat. When it's time to go to bed, I'm apt to drop my clothes wherever I am.
This might not do if I were married. With a husband as careless as I am we'd have quite a place. But carelessness is a habit we bachelor girls get into.
I'll also have to learn to share more before I quit my bachelor girl estate. I'm used to making my own decisions and taking care of my own problems. I'd have to be on guard not to be quite as efficient around my husband. I doubt that any man appreciates a wife who wants to pay all the bills, carve the roast and mix the cocktails.
There's also the matter of being on time. Because there's no one around me to keep me posted on my appointments, I often forget to arrive on time. This I understand is something which no husband appreciates.
I don't plan, however, to put these changes into effect just yet. I'm going to stay a bachelor girl for a while. It's a wonderful life -in spite of all the temptations.

---
Traduction
Tentations d'une célibataire
Elle est jeune, elle est belle et elle vit seule. Et elle sait s'amuser - et se tenir à l'écart des commérages
Par Marilyn Monroe

J'aime la vie d'une célibataire - y compris sa tentation. C'est une vie bien meilleure que celle que j'avais eu l'habitude d'avoir. Je me souviens quand j'étais pratiquement rien ni personne. Qu'est-ce qu'une fille qui ne connaît pas grand-chose de son passé ?
Tout le monde me disait quoi faire et comment le faire, j'avais peur de moi-même, essayant toujours de plaire à quelqu'un d'autre.
Alors je trouve agréable maintenant d'aller et venir comme je veux, de faire ce que je veux faire quand je veux le faire. Cependant, je ne dirais pas que la vie d'une célibataire est toute rose. Il y a, d'une part, la question de la solitude...
La solitude offre des tentations. Les filles qui vivent seules peuvent devenir si fatiguées d'attendre que quelqu'un leur demande de sortir, qu'elles cherchent n'importe où l'excitation, acceptant presque n'importe quel type de rendez-vous, participant à n'importe quel type de fête - juste pour y aller. Elles en viennent à se contenter de trop peu, à emprunter la voie de la facilité au lieu de mûrir et de devenir plus fortes. Se contenter de trop peu peut conduire à un mauvais mariage, à la promiscuité, à l'auto-tromperie. J'ai réussi à éviter ce danger parce que mon travail et d'autres intérêts m'occupent mentalement et physiquement.
Dernièrement, mes journées commencent à six heures du matin. Il est sept heures quand je rentre à la maison pour dîner, étudier mes répliques et ensuite travailler sur mes cours à l'école. Je ne suis pas censée être de ce genre, je le sais, mais j'ai suivi un cours de littérature à l'UCLA. J'y ai beaucoup gagné.
Les rendez-vous sont aussi un problème pour la célibataire - si elle les permet. Mais il n'y a pas si longtemps, quand je ne pouvais penser à une personne que je connaissais assez bien pour demander de m'emmener à une fête, j'y allais seule. Et j'y passais un moment merveilleux.
Un autre soir, sans rendez-vous, j'étais assez déprimée. J'ai appelé quelques amis pour leur demander de venir, mais ils étaient occupés. J'ai essayé d'écouter des disques, mais je n'étais pas d'humeur. Finalement, je suis montée dans ma voiture et j'ai conduit jusqu'à la plage. J'ai surmonté mon humeur morne, mais je me sentais comme toutes les autres filles célibataires - ça aurait été tellement agréable d'avoir quelqu'un avec qui rentrer à la maison.
Certains hommes peuvent avoir des idées assez étranges sur le caractère d'une fille célibataire, estimant que parce qu'elle vit seule, elle doit être un peu insouciante de sa réputation. Une fille peut donner cette impression, ou elle peut exprimer clairement ses principes moraux.
J'ai entendu une fois une fille célibataire me dire : "Tu sais, c'est tellement difficile de vivre seule. Il faut être deux fois plus prudente dans ce que l'on fait et dans ce que l'on dit pour ne pas donner aux gens - surtout aux hommes - une fausse impression."
J'ai très vite été en désaccord avec ce qu'elle disait, et de lui répondre : "Je ne vois aucune raison de m'inquiéter de ce que les autres pensent ou disent de moi tant que je peux m'assumer. Je ne dois m'excuser à personne et n'ai nullement l'intention de faire le tour de la question pour donner des explications."
Certaines filles célibataires, bien sûr, agissent comme si elles portaient une pancarte indiquant « Le cœur pur ». Cette attitude ne sert à rien non plus. Si vous allez être sur la corde raide lorsque vous sortez, de peur de dire ou de faire quelque chose qui donnera une fausse impression, vous serez bien mieux de rester chez vous. Certaines filles, bien sûr, adoptent une attitude de cœur pur après avoir passé la majeure partie de la soirée à diriger les choses avec un homme. Puis, quand il réagit en conséquence, elles sont oh ! tellement choquées !
Un homme réagira face à une fille à chaque fois, qu'elle soit célibataire ou non.
Lors des rendez-vous, il peut y avoir le problème de faire savoir à un homme que la soirée s'arrête à votre porte d'entrée. Cependant, lorsqu'un homme met un pied à l'intérieur de votre porte d'entrée et veut entrer, remerciez-le simplement pour une bonne soirée et - fermez la porte !
J'ai confiance dans les hommes - et dans leurs instincts les plus nobles comme les plus bas. Un homme veut l'approbation. Il ne forcera pas ses attentions sur vous si vous indiquez clairement que ces attentions ne sont pas les bienvenues.
S'il ne part pas après l'explication simple de se "tenir à l'écart", s'il râle, devient belliqueux, ne peut pas comprendre pourquoi il ne peut pas entrer pour "quelques minutes", alors je perds tout intérêt à protéger sa virilité. S'il demande qu'une porte lui soit fermée au nez, il le mérite.
Certaines personnes, je le sais, désapprouvent qu'une fille célibataire amène un homme chez elle. J'amène les hommes chez moi - généralement pour le dîner ou pour passer la soirée à écouter des disques. Je ne laisse pas ma porte ouverte et je n'ai pas besoin de connaître un homme depuis deux ans de l'inviter dans mon appartement. Je ne dis pas non plus « Viens » à quelqu'un que je viens à peine de rencontrer.
Avant de penser sérieusement au mariage, qui est le but de la plupart des filles célibataires, il y a, je sais, en moi, des choses que je vais devoir changer.
Je devrais d'abord devoir faire volte-face sur ma prétendue indépendance actuelle pour commencer à m'enraciner. Cela, je pense, ne sera pas difficile puisque je m'adapte facilement. Il y a aussi mon insouciance personnelle. Quand je rentre du studio, j'enlève mes chaussures et je les laisse là où elles tombent. Je peux les ramasser plus tard comme je peux ne pas le faire. Je vais dans la cuisine, je me prépare rapidement un repas, je m'assois par terre près du feu et j'écoute des disques pendant que je mange. Quand il est l'heure d'aller au lit, j'ai tendance à laisser tomber mes vêtements à l'endroit où je me trouve.
Cela ne fonctionnerait peut-être pas si j'étais mariée. Avec un mari aussi insouciant que je le suis, nous trouverons notre place. Mais l'insouciance est une habitude dans laquelle nous nous encrons, les filles célibataires.
Je vais aussi devoir apprendre à être plus dans le partage avant de quitter mon statut de fille célibataire. J'ai l'habitude de prendre mes propres décisions et de m'occuper de mes propres problèmes. Je devrais être sur mes gardes pour ne pas être aussi efficace avec mon mari. Je doute qu'un homme apprécie qu'une femme veuille payer toutes les factures, découper le rôti et préparer les cocktails.
Il y a aussi la question de la ponctualité. Parce qu'il n'y a personne autour de moi pour me tenir au courant de mes rendez-vous, j'oublie souvent d'arriver à l'heure. Je comprends que c'est quelque chose qu'aucun mari n'apprécierait. Je ne prévois pas, cependant, de mettre ces changements en vigueur pour l'instant. Je vais rester célibataire un moment. C'est une vie merveilleuse, malgré toutes les tentations.

---
© All images are copyright and protected by their respective owners, assignees or others.