23 avril 2010
Jeudi 22 avril 2010, Jennifer Lopez portant une perruque blonde et chantant à la façon de Marilyn Monroe un "Happy Birthday" au présentateur George Lopez.

Enregistrer
20 avril 2010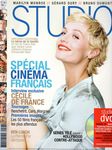 Dans le magazine Studio n°226, de septembre 2006 (Cécile De France en couverture), un article de 4 pages sur Marilyn Monroe et Bert Stern (scans perso).

Marilyn Monroe au Santa Monica Beach Hotel
Marilyn y a été photographiée avec Margaret Kerry,
qui servit de modèle pour la fée clochette de Peter Pan
>> voir Intox Marilyn inspira le fée clochette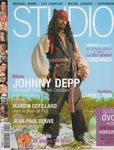 Dans le magazine Studio n°225, de Juillet-Août 2006 (Johnny Depp en couverture), une photo pleine page de Marilyn Monroe (prise par André DeDienes) pour illustrer l'édito (scan perso).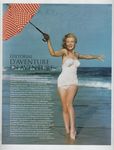 13 avril 2010
An x-ray of Marilyn Monroe's chest is going under the auctioneer's hammer along with other memorabilia.
An x-ray of Marilyn Monroe's chest taken by a young doctor in 1954 when she was admitted to the Cedars of Lebanon Hospital for surgery for endometriosis. The doctor apparently later used the x-ray in lectures to students and more recently left the x-ray to his daughter who is putting it up for sale. It is expected to sell for up to $1,200.
The X-ray is just one of many Monroe-related items up for sale at an auction being staged at the Planet Hollywood resort and casino in Las Vegas on June 26 this year by Julien's Auctioneers .
---
Other items include this couch from the office of Marilyn Monroe's therapist, Dr. Ralph Greenson. Greenson began treating Marilyn after her breakdown while filming The Misfits (1961).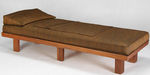 ---
Marilyn Monroe's change of rate card from 20th Century Fox dated May 11, 1953. Monroe's weekly pay rate changed from $750.00 to $1,250.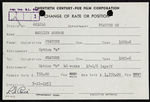 ---
Pink long-sleeved boat neck Pucci blouse of silk jersey. Given to the daughter of Monroe's analyst in 1962 because Monroe felt it was too large for her.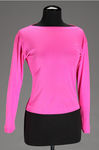 ---
An original black and white print of a photograph taken in 1954 of Marilyn Monroe in Korea.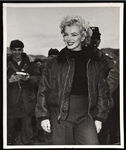 ---
An unopened bottle of Chanel No. 5 perfume owned by Monroe. Monroe aligned herself with the perfume in 1953, when asked what she wore to bed, Monroe replied, Chanel No. 5.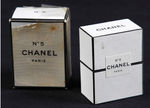 ---
A 32-page prompt book for the film 'Something's Got to Give' with title card typed with the name 'Marilyn Monroe'. Monroe was working on this remake of 'My Favorite Wife' at the time of her death. Notes throughout the book written in pencil by Monroe with her stage directions to herself.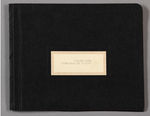 ---
An Italian-style carved chair with green velvet upholstery used in a July 1962 Marilyn Monroe photo shoot with Life magazine.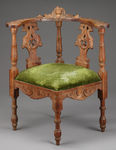 ---
Vintage wooden skis with metal initials "MM" on each ski, believed to be owned by Marilyn Monroe and used in an early photo shoot circa 1945.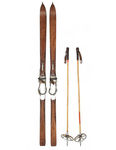 04 avril 2010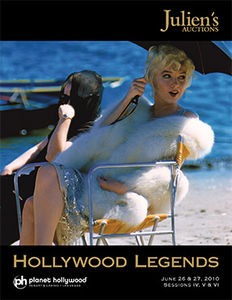 Le catalogue est en vente sur juliensauction au prix de 100 dollars ! Sur le site de Julien's, vous pouvez feuilleter les pages du catalogue. De nombreux objets, photographies, vêtements de Marilyn Monroe y sont présentés; ainsi que des affaires d'Anna Nicole Smith, qui était une grande admiratrice de Marilyn. Le catalogue présente la vente aux enchères des 26 et 27 juin 2010.

>> Pages objets Marilyn appartenus par Anna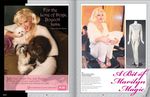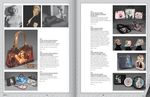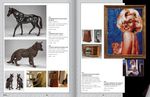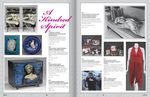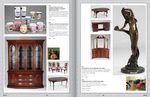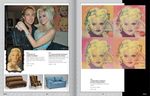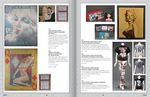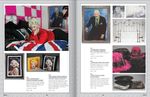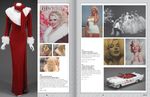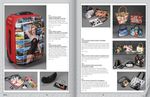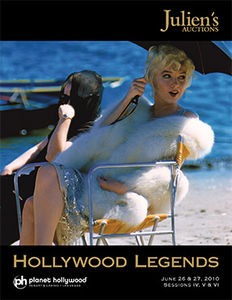 Vente aux enchères publique les 26 et 27 juin 2010 par JuliensAuction au Planet Hollywood de Las Vegas aux Etats-Unis.
Le catalogue (photo ci-contre) est en vente sur juliensauction

Le catalogue présente tous les produits qui seront mis aux enchères:
photographies,
vêtements personnels
costumes de films
bijoux
meubles et décorations de sa maison de Brentwood
objets persos (tels que livres)...
| | |
| --- | --- |
| | Photographie signée |
| Photographie signée par Allan Grant | Collier |
| Blouse du film "The Prince and the Showgirl" | Etolle en fourrure |
| Veste satinée | Chemisier |
| Pull orange Pucci | Veste éponge |
| Pantalon à carreaux | |
| Table de salon | |
| Miroir de Brentwood | Quatre petits bancs de Brentwood |
Hot Shots ! Photos rares et en couleurs de Marilyn Monroe pendant Some Like it Hot
>> source article dailymail

Onze photographies en couleur, jamais publiées jusqu'à aujourd'hui, représentant Marilyn Monroe et Tony Curtis sur le tournage de Some Like it Hot (Certains l'ament chaud) en Floride, ont été dévoilées.
A l'origine, le film aurait dû être tourné en couleur, mais après plusieurs essais caméras, la décision fut prise de le tourner en noir et blanc, à cause du maquillage de Tony Curtis et de Jack Lemmon, qui virait au vert sur la pellicule: les deux acteurs sont en effet déguisés et grimés en femmes, interprétant les personnages de Josephine et Daphné.

Ces photographies vont être vendues aux enchères au Planet Hollywood Resort du Casino de Las Vegas le 25 juin 2010 par la célèbre maison "Julien's Auctions". Le catalogue est en vente sur juliensauction
Dans le magazine Elle n°3353, paru le 2 avril 2010, un petit article sur le livre de Tony Curtis Certains l'aiment chaud et Marilyn. Prix: 2 €.