11 mai 2011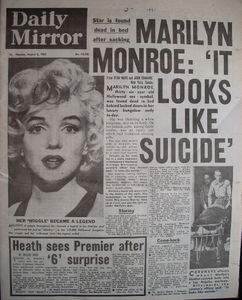 Marilyn Monroe en une du Daily Mirror du 6 août 1962, le lendemain de l'annonce de son décès. Le journal titre "It looks like a suicide" et publie une rapide biographie avec les souvenirs du journaliste Donal Zec, qui avait rencontré Marilyn lors de son séjour Londonien en 1956. Marilyn est décrite ici comme une personnage fragile.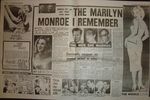 07 mai 2011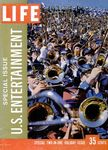 Le magazine américain Life du 22 décembre 1958 consacrait un article intérieur de 10 pages, à Marilyn Monroe, photographiée par Richard Avedon. Intitulé "Marilyn Monroe in a remarkable re-creation of Fabled Enchantresses", on y découvre Marilyn métamorphosée en Lillian Russell, Marlene Dietrich, Jean Harlow, Theda Bara et Clara Bow, suivi d'un articlé écrit par son mari Arthur Miller "My wife Marilyn".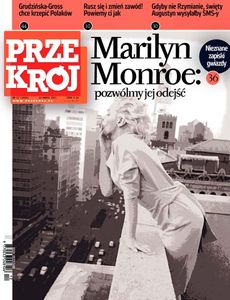 Magazine polonais, cet hebdomadaire est paru le 22 mars 2011 avec Marilyn Monroe en couverture, à l'occasion de la sortie du livre Fragments en Pologne. Plus d'infos sur le site web du magazine przekroj.pl
28 avril 2011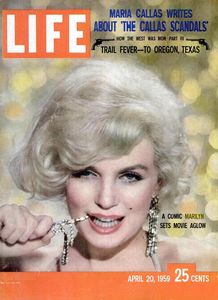 Le magazine américain Life du 20 avril 1959 consacrait sa couverture à Marilyn Monroe "A comic Marilyn sets movie aglow" et un article intérieur de 4 pages, consacré à la sortie du film "Some like it Hot" (Certains l'aiment chaud).
24 avril 2011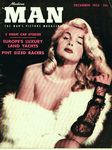 Le magazine américain Modern Man de 9décembre 1952 consacrait un article de 2 pages sur Marilyn Monroe, montrant la trasnformation de la jeune Norma Jeane en la star glamour Marilyn.
22 avril 2011
lot n°534: MARILYN MONROE PIN-UP MAGAZINE, 1953
A magazine titled "Marilyn Monroe Pin Ups" published by the Maco Magazine Corporation in 1953. Includes 14 pages of photographs and various, if inaccurate, facts about Monroe.
Estimate: $100 - $200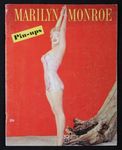 ---
lot n°535: MARILYN MONROE WARDROBE SHOTS FROM "DON'T BOTHER TO KNOCK"
Three original vintage black and white photograph of Marilyn Monroe in her wardrobe as Nell in "Don't Bother To Knock" (20th Century Fox, 1952). The Wardrobe boards, dated "12/3/51" show that the costumes were designed by Travilla. 10 by 8 inches
Estimate: $600 - $800

---
lot n°537: MARILYN MONROE MGM SWIMSUIT
A Marilyn Monroe costume swimsuit from an unknown production. Swimsuit is dark blue with light blue ribbon across bust. Metro-Goldwyn-Mayer tag reads "M. Monroe 36," additionally stamped MGM under bust lining. This was purchased in the 1970s from the prop resale house Remember When in Salt Lake City, Utah.
Estimate: $6,000 - $8,000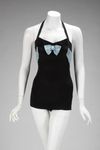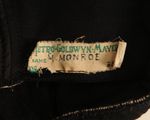 ---
lot n°538: MARILYN MONROE SURVEILLANCE RECORDS
A twenty-one typed pages dated from October 20 to November 5, 1954, containing detailed reports on the movements of Marilyn Monroe and her friends and suspected love interests. The pages are prepared for "City Detective and Guard Service" on the subject of "Dimaggio****Monroe."
They provide detailed accounts of the movements of Monroe and Hal Schaefer, Monroe's vocal coach for Gentlemen Prefer Blondes (Fox, 1953). While Schaefer was watched closely, the detectives noted everyone with whom Monroe interacted.
The entry dated October 24, 1954, reads in part, "…7:50 P.M. The Subject [earlier identified as Marilyn Monroe] arrived at 1312 Harper, parked and entered same. There was another auto parked in the drive-way, a 1950 Cadillac Conv. Lic. # 5N69948 Calif., registered to Jane Wyman--360 N. Camden Dr., Bev. Hills. Someone was playing the piano in the house. The husband of Jane Wyman is John Karger (he plays the piano), and it was our oppinnion [sic.] that Karger was in the house."
Joe Dimaggio hired private detectives to track Monroe's movements, as he feared she was being unfaithful. The detectives' observations state that one of the "operators" called DiMaggio and they noted his car in front of the building where the famous "wrong door raid" took place on the night of November 5, 1954.
Folded, 7 1/2 by 9 1/2 inches
Estimate: $800 - $1,200

18 avril 2011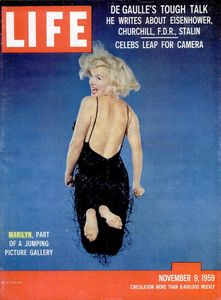 Le magazine américain Life du 9 novembre 1959 consacrait sa couverture à Marilyn Monroe et un article intérieur de 3 pages, sur la série "Jump" du photographe Philippe Halsman, qui fixait dans son objectif des personnalités en plein saut, à travers ici des photos de Sophia Loren, Audrey Hepburn, Brigitte Bardot et Grace Kelly.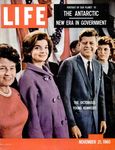 Le magazine américain Life du 21 novembre 1960 consacrait un article sur la rupture entre Marilyn Monroe et Arthur Miller, intitulé "End of famous marriage"; publiant des photos de tournage du film The Misfits.
17 avril 2011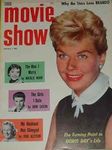 Le magazine américain Movie Show de janvier 1958, consacrait un article de deux pages intitulé Everybody loves Marilyn sur la participation de Marilyn Monroe à l'inauguration d'un building à New York.
(source Scans: site hollywoodcinderella.com )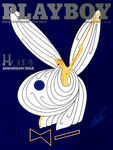 Le magazine -édition américaine- de Playboy de janvier 1987, consacrait un article de 10 pages sur Marilyn Monroe intitulé A loving tribute by Hugh M. Hefner et publiait des photographies d'Earl Moran.
(source Scans: site hollywoodcinderella.com )