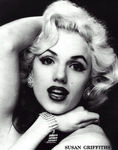 Susan Griffithsest américaine. Elle est sans doute la sosie professionnelle de Marilyn Monroe la plus connue et médiatisée, qui mène ainsi sa carrière depuis les années 1990. Sa participation en 1991 au grand show Legends in concert, à Las Vegas, où des sosies se produisaient sur scène, fit propulser sa carrière. Et Susan signa alors de nombreux contrats publicitaires (pour MacDo, Acura), et commença à apparaître en tant que sosie de Marilyn dans de nombreuses séries télés: Quoi de neuf docteur ? (en 1990), Code Quantum (en 1993), Dark Skies (en 1997) et plus récemment, Nip Tuck (en 2007).
Elle fait une apparition très remarquée au cinéma dans Pulp Fiction de Quentin Tarantino (en 1994). Mais son plus grand rôle est celui de Marilyn Monroe dans un biopic sur sa vie intitulé Marilyn and Me en 1991.
> Performances de Susan sur scène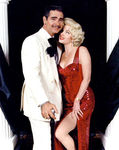 Elton John a diffusé sur un écran géant, lors de de l'un de ses concerts à Las Vegas, une vidéo où apparaît Susan, en Marilyn comme toujours, pour illustrer sa chanson Candle in the wind (la vidéo est réalisée par David La Chapelle).
> Candle in the wind: les photos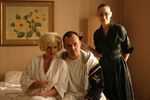 > Candle in the wind: la vidéo


Susan poursuit sa carrière, figurant dans des publicités (comme Mercedes Benz), et continue encore actuellement à se produire sur scène, en imitant Marilyn.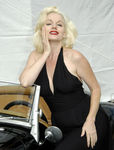 >> Sources:
>> son site officiel: susangriffiths.com
>> sa page facebook
>> son agence williamwareagency
>> filmographie sur imdb
Enregistrer