Eye
People and Pictures

country: USA
date: 1953, September
content: 7 pages article on Marilyn Monroe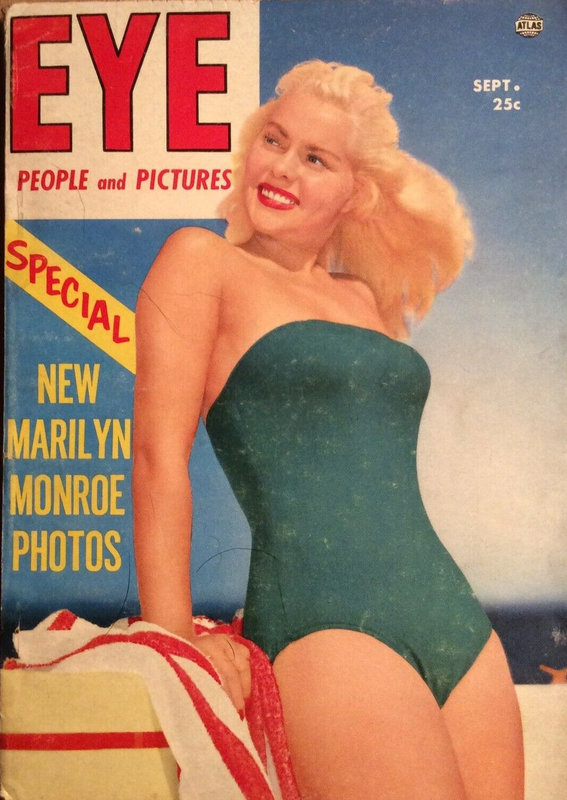 pays: USA
date: septembre 1953
contenu: article de 7 pages sur Marilyn Monroe
Les photographies sont de John Florea
---
article
MARILYN LEARNS
How to Marry a Millionaire
Marilyn's studio knew what it was doing when it cast her in Gentlemen Prefer Blondes. She's first choice on every red-blooded male's list. And in keeping with the avaricious gold-digger she played in that film, Fox is starring her in How to Marry a Millionaire. To make sure she carries on the tradition, a lucky lensman Gene Trindl was called in to teach Marilyn the art of capturing her quarry.
The assignment worked out beautifully. Tarting from the ground up (above), Trindl helped his willing scholar pick the right things to wear, and pointed out the value of mink to set off a girl's personality.
---
traduction
MARILYN APPREND
Comment épouser un millionnaire
Le studio de Marilyn savait ce qu'il faisait lorsqu'ils l'ont choisie pour Les hommes préfèrent les blondes. Elle est le premier choix sur la liste de tous les hommes virils. Et en accord avec la chercheuse d'or avare qu'elle a joué dans ce film, la Fox la fait jouer dans Comment épouser un millionnaire. Pour s'assurer qu'elle perpétue la tradition, un photographe chanceux, Gene Trindl, a été appelé pour enseigner à Marilyn l'art de capturer sa proie.
La mission s'est merveilleusement bien déroulée. En partant de zéro (ci-dessus), Trindl a aidé son érudit volontaire à choisir les bonnes choses à porter et a souligné la valeur du vison pour mettre en valeur la personnalité d'une fille.
---
Caption photos

Légende photos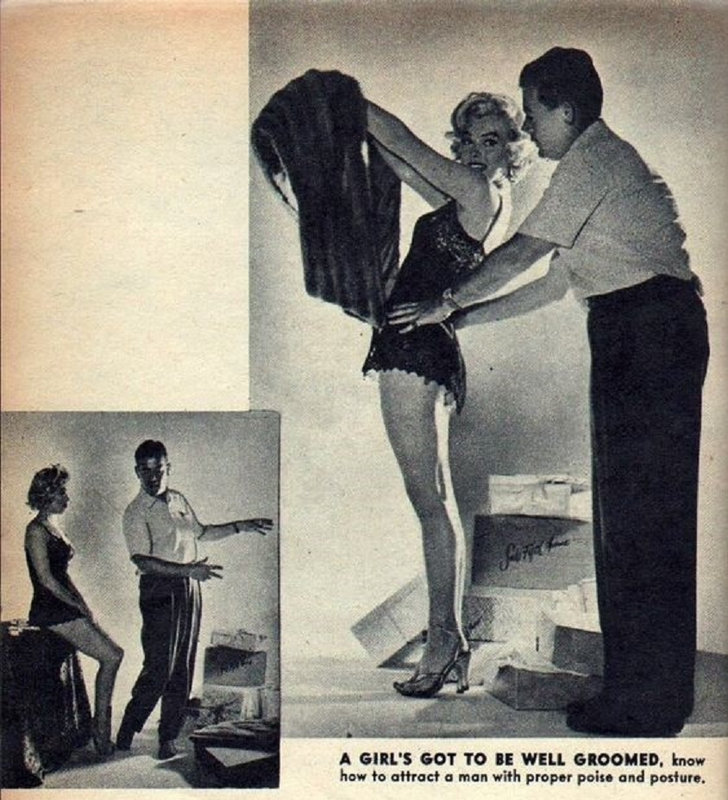 A GIRL'S GOT TO BE WELL GROOMED,
know how to attract a man with proper poise and posture.
UNE FILLE DOIT ÊTRE BIEN PRÉPARÉE,
savoir comment attirer un homme avec un équilibre et une posture appropriés.

ELIGIBILITY TEST.
Check his Dun & Bradstreet rating.
If his credit meets the requirements, the marriage campaign can get underway in earnest.
TEST D'ADMISSIBILITÉ.
Vérifiez sa cote Dun & Bradstreet.
Si son crédit répond aux exigences, la campagne de mariage peut démarrer sérieusement.
* Dun & Bradstreet est une compagnie américaine de statistiques sur les entreprises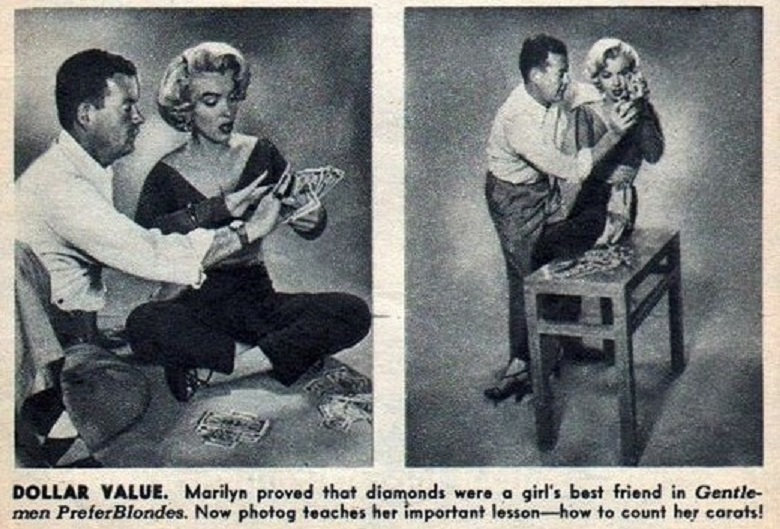 DOLLAR VALUE.
Marilyn proved that diamonds were a girl's best friend in Gentlemen Prefer Blondes.
Now photog teaches her important lesson - how to count her carats !
LA VALEUR DES DOLLARS.
Marilyn a prouvé que les diamants étaient le meilleur ami d'une fille dans Les hommes préfèrent les blondes.
Maintenant, le photographe lui donne une leçon importante : comment compter ses carats !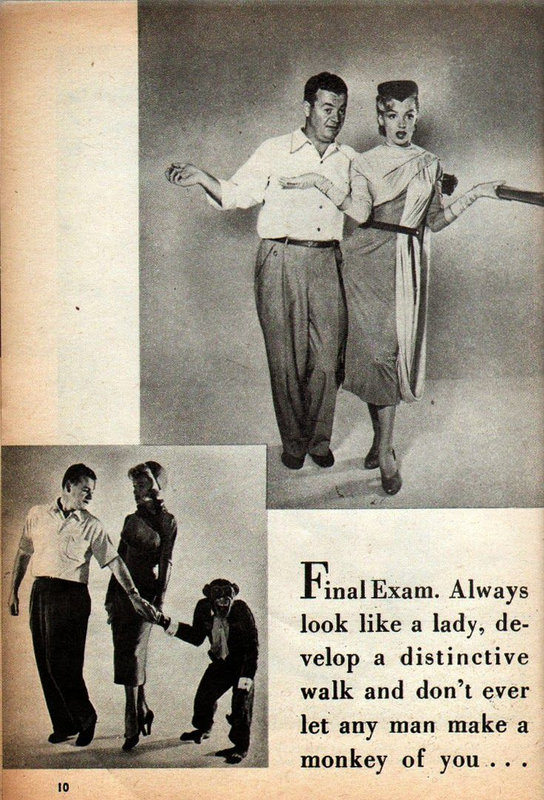 Final Exam.
Always look like a lady,
develop a distinctive walk
and don't ever let any man make a monkey of you...
Examen final.
Ressemblez toujours à une femme,
développez une démarche distinctive
et ne laissez jamais un homme faire de vous un singe...
---
© All images are copyright and protected by their respective owners, assignees or others.