Collier's

country: USA
date: 1953, June, 27
content: 2 pages article on Marilyn Monroe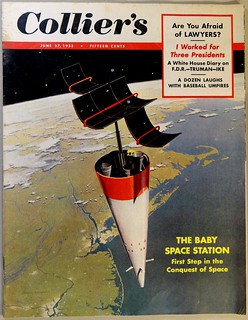 pays: USA
date: 27 juin 1953
contenu: article de 2 pages sur Marilyn Monroe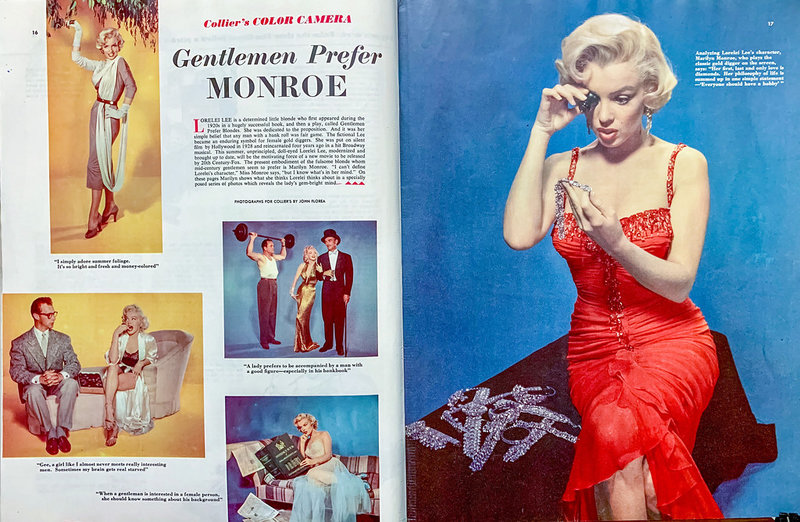 ---
article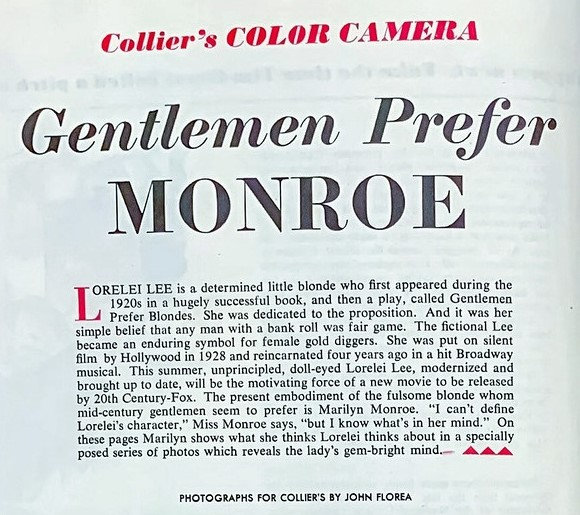 Collier's Color Camera
Gentlemen Prefer MONROE
LORELEI LEE is determined little blonde who first appeared durong the 1920s in a hugely successful book, and then a play, called Gentlemen Prefer Blondes. She was dedicated to the proposition. And it was her simple belief that any man with a bank roll was fair game. The fictional Lee became an enduring symbol for female gold diggers. She was put on silent film by Hollywood in 1928 and reincarnated four years ago in a hit Broadway musical. This summer, unprincipled, doll-eyed Lorelei Lee, modernized and brought up to date, will be the motivating force of a new movie to be released by 20th Century-Fox. The present embodiment of the fulsome blonde whom mid-century gentlemen seem to prefer is Marilyn Monroe. "I can't define Lorelei's character," Miss Monroe says, "but I know what's in her mind." On these pages Marilyn shows what she thinks Lorelei thinks about in a specially posed series of photos which reveals the lady's gem-bright mind.
PHOTOGRAPHS FOR COLLIER'S BY JOHN FLOREA
---
traduction
La caméra couleur de Collier's
Les hommes préfèrent MONROE
LORELEI LEE est une petite blonde déterminée qui est apparue pour la première fois dans les années 1920 dans un livre à grand succès, puis dans une pièce de théâtre, intitulée Les hommes préfèrent les blondes. Elle s'est consacrée à la proposition. Et c'était sa simple conviction que tout homme avec un bon compte en banque était un jeu équitable. La fictive Lee est devenu un symbole durable pour les chercheuses d'or. Elle a été mise en scène au cinéma muet par Hollywood en 1928 et s'est réincarnée il y a quatre ans dans une comédie musicale à succès à Broadway. Cet été, Lorelei Lee, sans scrupules, aux yeux de poupée, modernisée et remise au goût du jour, sera la force motrice d'un nouveau film qui sortira chez 20th Century-Fox. L'incarnation actuelle de la blonde pulpeuse que les messieurs du milieu du siècle semblent préférer est Marilyn Monroe. "Je ne peux pas définir le caractère de Lorelei", dit Mlle Monroe, "mais je sais ce qu'elle a en tête." Sur ces pages, Marilyn montre ce à quoi elle pense que Lorelei pense dans une série de photos spécialement posées qui révèlent l'esprit brillant de la dame.
PHOTOGRAPHIES POUR COLLIER'S PAR JOHN FLOREA
---
Caption photos

Légende photos

"J'adore tout simplement le feuillage d'été.
C'est si brillant et frais et la couleur de l'argent"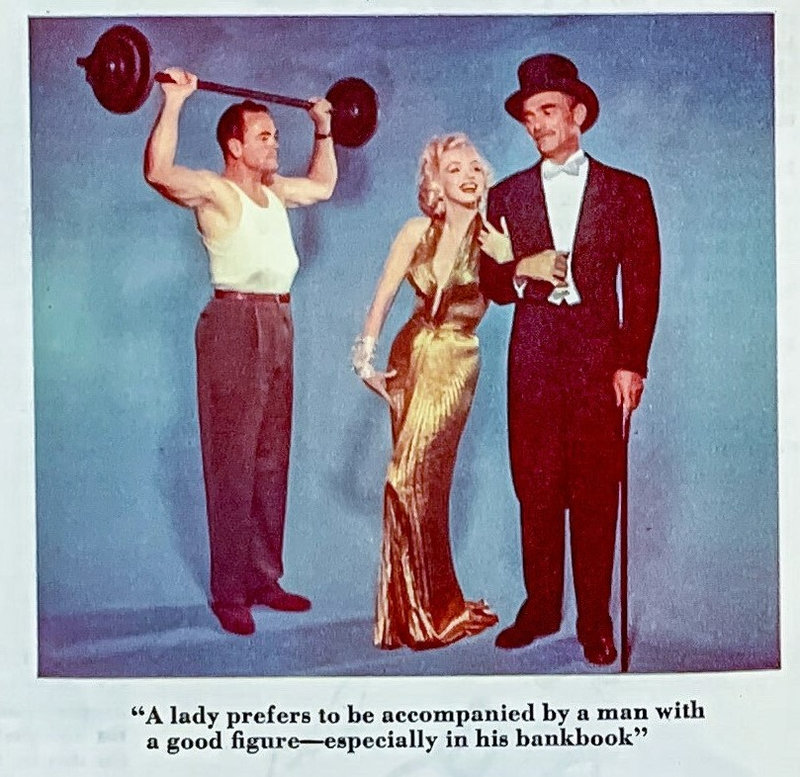 "Une dame préfère être accompagnée par un homme
avec une bonne figure - surtout dans son carnet de banque"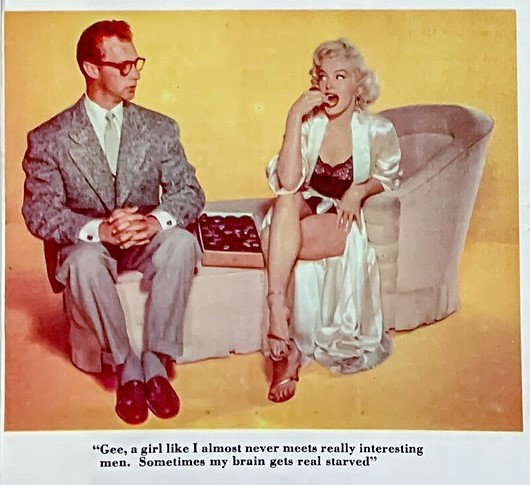 "Eh bien, une fille comme moi ne rencontre presque jamais d'hommes vraiment
intéressants. Parfois, mon cerveau est vraiment affamé"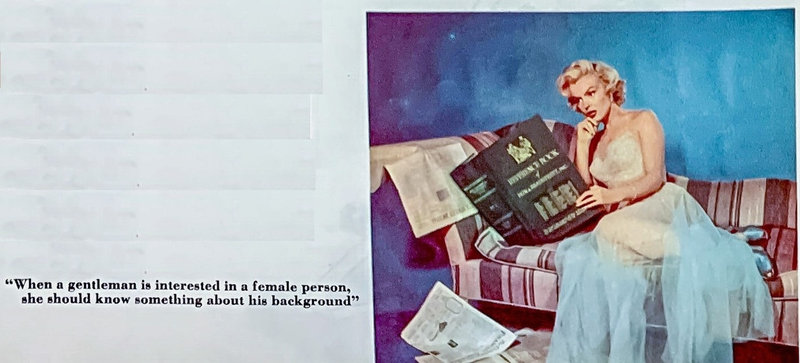 "Quand un gentleman s'intéresse à une femme,
elle devrait savoir quelque chose sur son passé"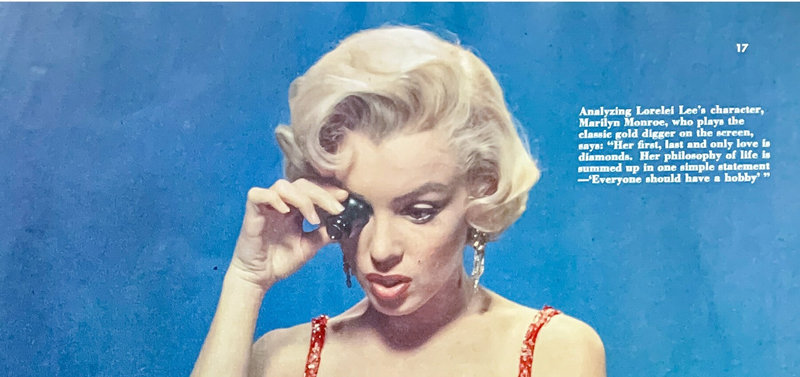 Analysant le personnage de Lorelei Lee, Marilyn Monroe,
qui joue la classique chercheuse d'or à l'écran, déclare :
"Son premier, dernier et seul amour, ce sont les diamants.
Sa philosophie de la vie se résume en une simple déclaration -
" Tout le monde devrait avoir un passe-temps" "
---
© All images are copyright and protected by their respective owners, assignees or others.