21 octobre 2023
Marilyn Monroe en robe blanche dans les studios de la 20th Century Fox début août 1951; elle pose notamment devant l'immense panneau publicitaire du film "As Young As You Feel" ("Rendez-moi ma femme") qui est sorti sur les écrans le 02 août 1951 aux USA.
Photographies non créditées.
Marilyn Monroe in a white dress in the 20th Century Fox studios in early August 1951; she poses in particular in front of the huge advertising billboard for the film "As Young As You Feel" which was released on screens on August 2, 1951 in the USA.
Uncredited photographs.
---
---
- Marilyn sur un escabeau en promo pour "As Young As You Feel" -
- Marilyn on a stepladder in promo for "As Young As You Feel" -

---
- Marilyn et le chat blanc "Pinky" ("Petit doigt" en français) -
- Marilyn and the white cat "Pinky" -
- information presse -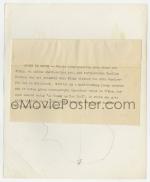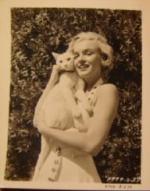 photo officielle de la Fox (cf numérotation en "F999")
---
- Magazines -
Images, 31/05/1952 - ALGERIE
Ecran, 1952 - ESPAGNE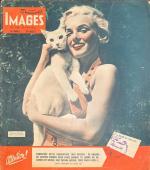 Movie Life, 03/01/1954 - AUSTRALIE
Cara Alegre, 01/1957 - PORTUGAL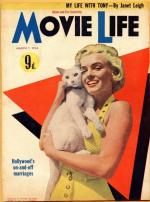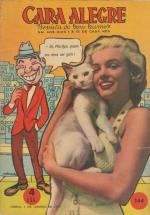 ---
© All images are copyright and protected by their respective owners, assignees or others.
copyright text by GinieLand.
19 octobre 2023
Reportage photographique de Marilyn Monroe dans son studio au Beverly Carlton Hotel, au Bel Air Hotel puis dans un studio photo vers avril 1951.
Les photos sont publiées dans les magazines américains Look (du 23/10/1951) et Filmland (en avril 1952).
> Sur le blog: magazine Look 23/10/1951 et magazine Filmland 04/1952

Photographic report of Marilyn Monroe in her studio at the Beverly Carlton Hotel, at the Bel Air Hotel then in a photo studio circa April 1951.
The photos were published in the American magazines Look (from 10/23/1951) and Filmland (in April 1952).
---
Marilyn en robe blanche
Marilyn in white dress

---
- Dans son appartement au Beverly Carlton Hotel -
In her apartment at the Beverly Carlton Hotel

Marilyn ramène le courrier de ses fans (principalement des militaires) chez elle; elle lit les lettres tôt le matin et répond elle-même à chacune d'entre elles. Sur la table, on distingue un emballage d'une orchidée, offerte par un mystérieux admirateur qui vit aussi au Beverly Carlton Hotel.
Son petit déjeuner consiste à boire un jus de fruit avec des pillules de vitamines.
L'une des photographies est publiée dans le magazine Look du 23 octobre 1951, sous le crédit du photographe Earl Theisen.
Marilyn brings her fan mails (mostly service men) at home; she reads the letters early in the morning and answers to each one herself. On the table, a package of an orchid can be seen, offered by a mysterious admirer who also lives at the Beverly Carlton Hotel.
Her breakfast consists of drinking fruit juice with vitamin pills.
One of the photographs is published in Look magazine in October 23, 1951, with the credit of photographer Earl Theisen.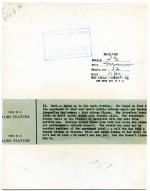 Information de la presse, au dos de la photo, avec la date (avril 1951):
Marilyn se réveille tôt le matin. Elle ne garde pas de nourriture dans l'appartement pour ne pas grignoter entre les repas et ainsi mettre en péril son patrimoine, cette silhouette de pin-up. Elle prend donc son petit-déjeuner avec des jus de fruits et prend quelques vitamines. Sa table de petit-déjeuner et de salle à manger dans la cuisine est encombrée de lettres de militaires qui sont des fans. Marilyn les ramène chez elle puisqu'elle répond elle-même à toutes les lettres des militaires. L'orchidée lui a été envoyée par un autre résident de son immeuble - un loup qui a gardé un flot constant de fleurs, de fruits et de bonbons arrivant à sa porte ; mais il n'a pas eu de chance: il ne l'a pas encore rencontrée. Et elle n'en a pas l'intention.
Press information, on the back of the photo, with the date (April 1951):
Marilyn wakes up in the early morning. She keeps no food in the apartment so that she won't nibble between meals and thereby jeopardise her assets - that pin-up figure. She therefore breakfasts on fruit juice, takes some vitamin pills. Her breakfast-dining table in the kitchen is cluttered with fan mail from service men. Marilyn brings these home with her since she ansewers all servicemen's letters herself. The orchid was sent her by another resident of the apartment hotel - a wolf who has kept a steady stream of flowers, fruit and candy coming to her door; but he's had no luck - he hasn't met her yet. And she doesn't intend him to.
- - - - Dans la presse - - - -

1 - photographie de Look, 23/10/1951 - USA
2 -photographie de Filmland, 04/1952 - USA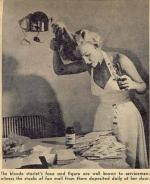 ---
Essayage d'un chapeau décoré
(le thème de décoration serait la fête de Pâques)
Wearing a decorated hat
(the decoration theme would be Easter)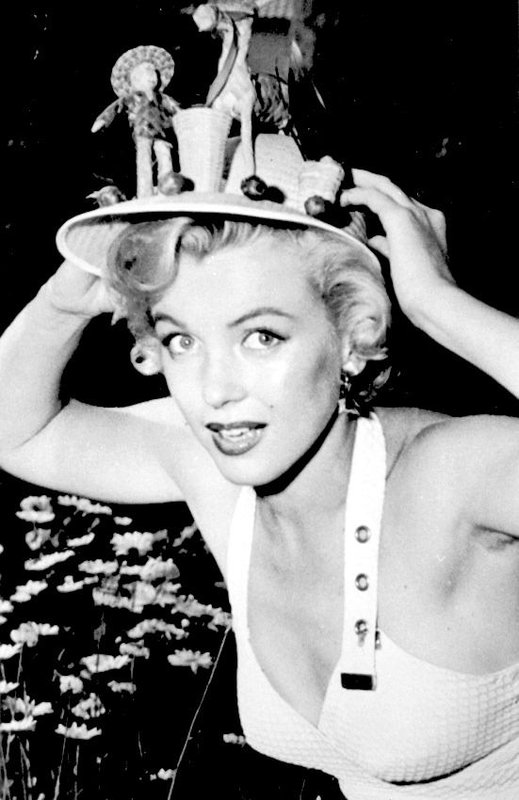 ---
Marilyn en maillot de bain blanc
Marilyn in white swimsuit

---
- A l'hôtel Bel Air -
At the Bel Air Hotel

Marilyn essaye les chapeaux (de Pâques)
- Photographies de Art Weissman -
Marilyn tries on (Easter) hats
- Photographs by Art Weissman -
- - - - Dans la presse - - - -

photographie de Filmland, 04/1952 - USA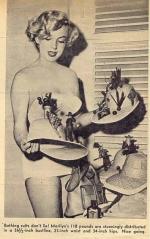 ---
- Portraits en Studio -
Studio Portraits

Marilyn prend des poses de pin-up
- Photographies de Earl Theisen et Art Weissman -
Marilyn strikes pin-up poses
- Photographs by Earl Theisen and Art Weissman -

- Backstage -
- - - - Dans la presse - - - -

1 - photographie de Look, 23/10/1951 - USA
2 & 3 -photographies de Filmland, 04/1952 - USA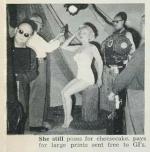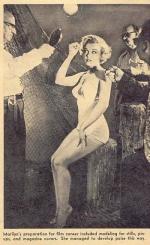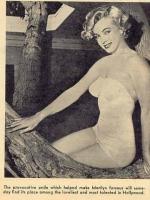 ---
Marilyn en maillot de bain à motifs
Marilyn in patterned swimsuit

---
- A l'hôtel Bel Air -
At the Bel Air Hotel

Marilyn prend des poses de pin-up à la piscine de l'hôtel
- Photographies de Art Weissman -
Marilyn strikes pin-up poses at the pool of the hotel
- Photographs by Art Weissman -
- - - - Dans la presse - - - -

photographie de Filmland, 04/1952 - USA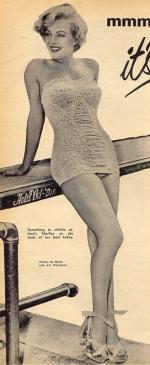 ---
- Portraits en Studio -
Studio Portraits

Ces photographies ont servi de portraits publicitaires pour les cosmétiques de Westmore - publicités en 1952 et 1953.
- Blog: 03/07/1952, L.A. - Contrat Studios de la Fox & Westmore
These photographs served as advertising portraits for Westmore cosmetics - advertisements in 1952 and 1953.
- - - - Pubs - - - -

1 - Pub Westmore, 1952 - USA
2 Pub Westmore, 1953 - USA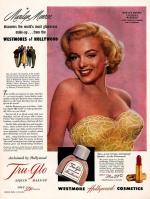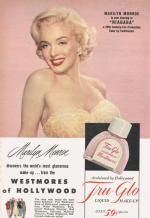 ---
© All images are copyright and protected by their respective owners, assignees or others.
copyright text by GinieLand.
18 octobre 2023
Début 1951, Marilyn Monroe s'installe chez Natasha Lytess, sa professeure d'art dramatique, qui vient d'acheter une maison située au 611 North Crescent Drive à Beverly Hills. Pour ce reportage photographique publié dans le magazine américain Movieland en mai 1951, Marilyn, qui porte un chemisier blanc et une longue jupe à boutons, est photographiée dans la maison. L'article explique qu'il s'agit de la maison de Marilyn, qui a accueilli Lytess et sa fille de 5 ans (Barbara). En réalité, la maison appartient à Natasha Lytess, qui vient de l'acheter en ce début d'année 1951. Pour l'acquérir, il manquait 1 000 $ à Lytess pour faire un emprunt et Marilyn qui vivait alors au Beverly Carlton Hotel, a vendu une étole en vison qui lui avait été offerte par Johnny Hyde, pour donner l'argent à Lytess.
Pas de crédit photographique précis pour cette série de photos: les photographes attitrés du magazine sont Joe Shere et Larry Barbier Jr.

At the beginning of 1951, Marilyn Monroe moved in with Natasha Lytess, her drama coach, who has just purchased a house located at 611 North Crescent Drive in Beverly Hills. For this photographic report published in the American magazine Movieland in May 1951, Marilyn, who wears a white blouse and a long buttoned skirt, is photographed in the house. The article explains that this is the home of Marilyn, who welcomed Lytess and her 5-year-old daughter (Barbara). In reality, the house belongs to Natasha Lytess, who just bought it at the beginning of 1951. To acquire it, Lytess needed $1,000 to take out a loan and Marilyn, who was then living at the Beverly Carlton Hotel, sold a mink stole given to her by Johnny Hyde, to give the money to Lytess.
No specific photo credit for this series of photos: the magazine's staff photographers are Joe Shere and Larry Barbier Jr.
---
Chez Natasha Lytess
At Lytess home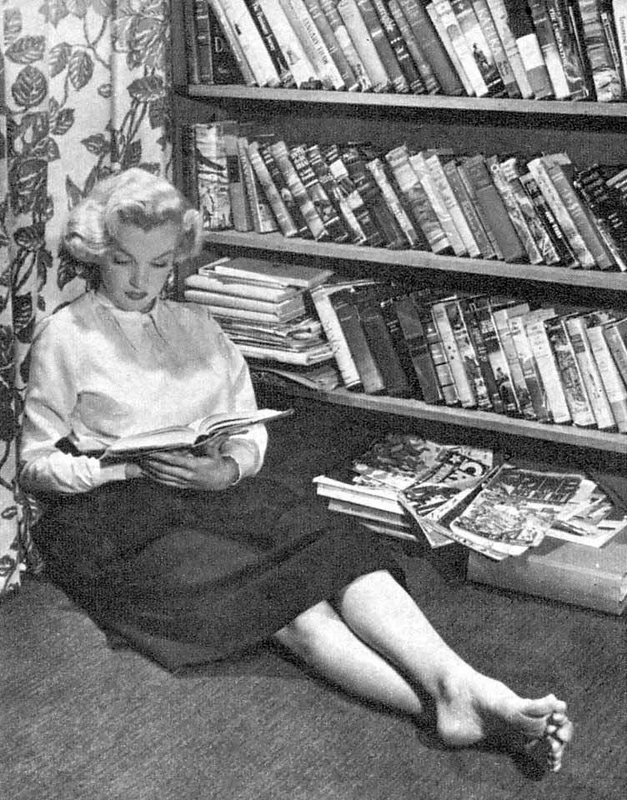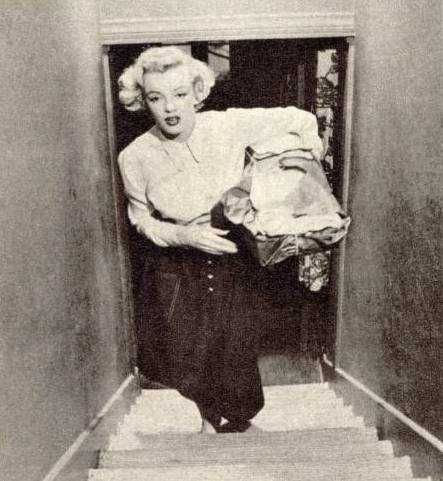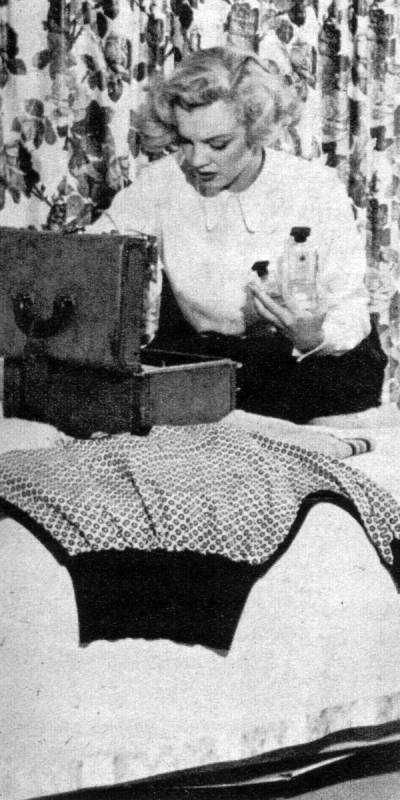 ---
Marilyn dans sa voiture Pontiac
Marilyn in her car Pontiac
---
- Dans la presse -
photographies publiées dans Movieland, 05/1951 - USA
- Blog: magazine Movieland, 05/1951 -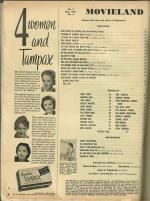 sommaire: crédit des photographes Shere & Barbier Jr
---
© All images are copyright and protected by their respective owners, assignees or others.
copyright text by GinieLand.
Marilyn Monroe dans les studios de la 20th Century Fox pendant l'été 1951; à l'époque du tournage (en juin et juillet) du film "Let's Make It Legal" ("Chéri, Divorçons"). Marilyn porte un chemisier blanc et une longue jupe à boutons.
Photographies non créditées; il s'agit d'un reportage photo publié dans le magazine américain Movie Teen en septembre 1951.
- Blog: magazine Movie Teen, 09/1951 -
Marilyn Monroe in the offices of 20th Century Fox studios during summer 1951; at the time of filming (in June and July) of the film "Let's Make It Legal". Marilyn wears a white blouse and a long buttoned skirt.
Uncredited photographs; This is a photo report published in Movie Teen magazine in September 1951.

---
Au pied de son appartement au Beverly Carlton Hotel
At the entrance of her apartment at the Beverly Carlton Hotel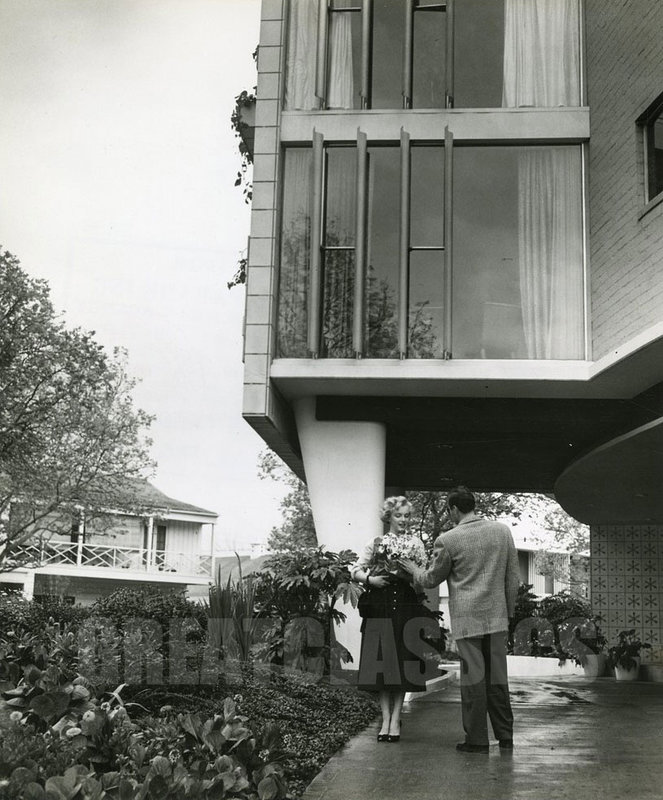 Un voisin admirateur lui offre des fleurs
An admiring neighbor gives her flowers
---
Au département coiffure et maquillage de la Fox
At the hair and make-up department of Fox
Le maquilleur de la Fox Ernie Parks
Fox makeup artist Ernie Parks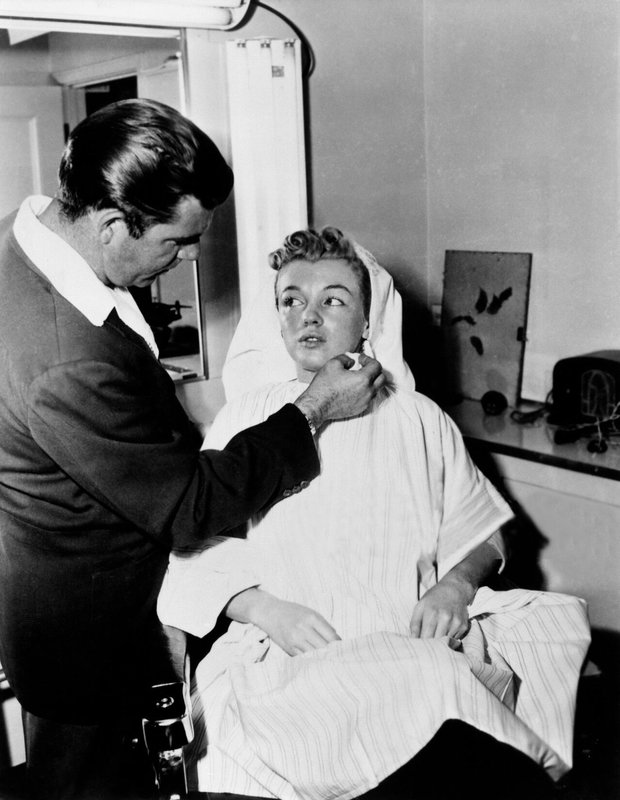 ---
Dans les studios, Marilyn croise des collègues:
In the studios, Marilyn meets colleagues: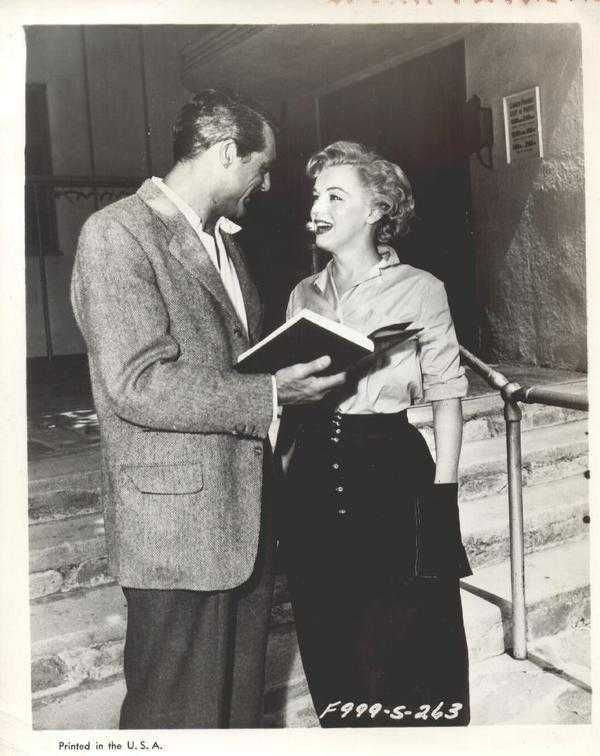 Cary Grant (qui sera son partenaire dans "Chérie, je me sens rajeunir") en 1952
Cary Grant (who will be her partner in "Monkey Business") in 1952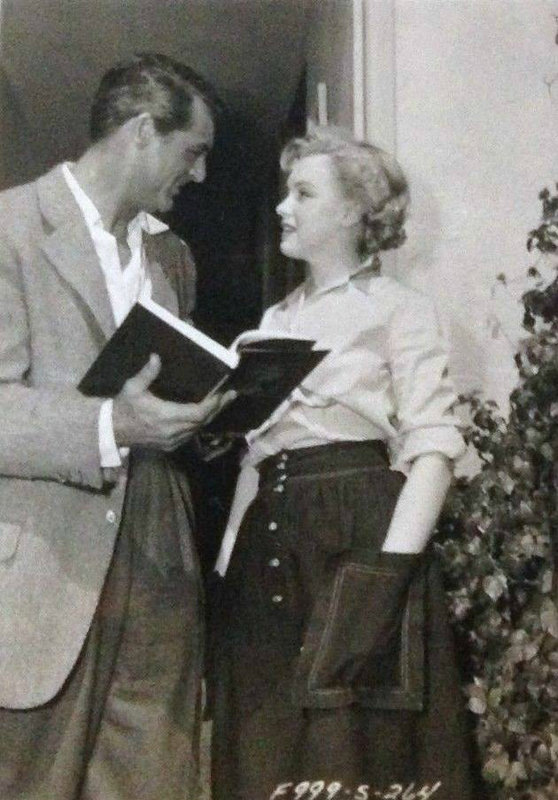 ---
Au kiosque à journaux, Dan Dailey lui achète des chewing gum
Marilyn et Dan se sont connus sur le tournage de "Le petit train du far-west" en 1949
At the newsstand, Dan Dailey buys her some chewing gum
Marilyn and Dan met on the set of "A Ticket To Tomahawk" in 1949
---
A la cantine de la 20th Century Fox, surnommée le "Café de Paris"
At the 20th Century Fox commissary, named the "Café de Paris"
Marilyn & MacDonald Carey,
son partenaire dans "Chéri, Divorçons"
her partner in "Let's Make It Legal"
---
Marilyn & l'acteur Michael Rennie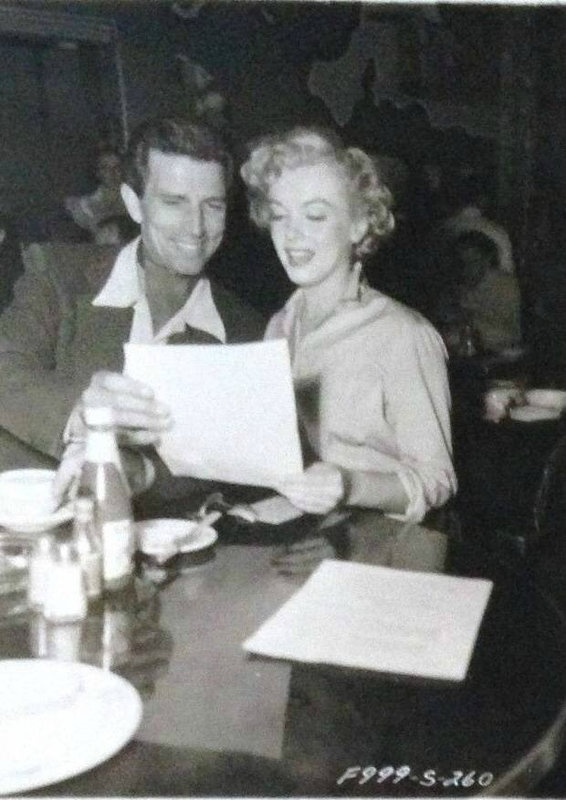 ---
- Dans la presse -
photographies publiées dans Movie Teen, 09/1951 - USA
- magazine Movie Teen, 09/1951 -

---
© All images are copyright and protected by their respective owners, assignees or others.
copyright text by GinieLand.
Movie Teen

country: USA
date: 1951, September
cover: Marilyn Monroe (by Don Ornitz)
content: 2 pages article on Marilyn Monroe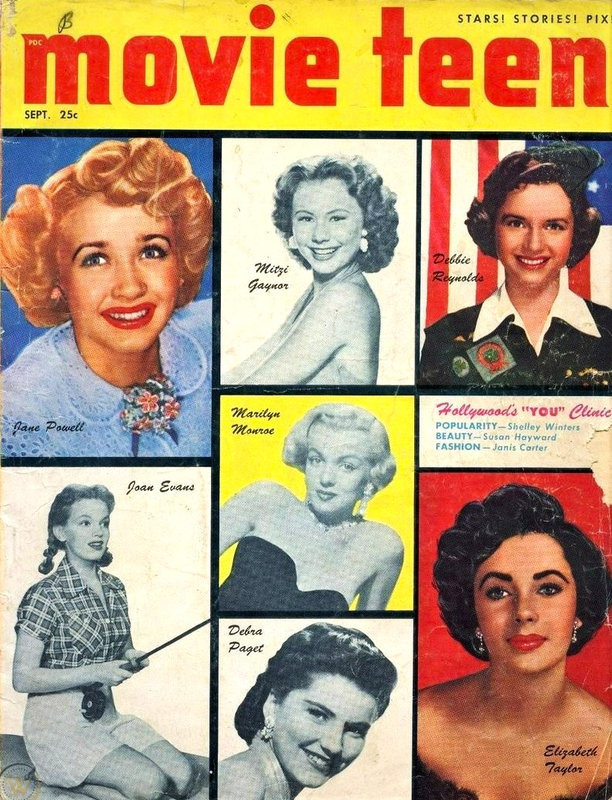 pays: USA
date: septembre 1951
couverture: Marilyn Monroe (par Don Ornitz)
contenu: article de 2 pages sur Marilyn Monroe
---
article
---
Article: A DAY WITH MARILYN MONROE
"Miss Cheesecake," GI Edition, works hard so someday she'll be praised for her acting !

The girl with the body beautiful, Marilyn was recently named their new pin-up queen by the GI editors of Stars and Stripes in Germany. But there is nothing easy about the way it takes to keep looking that way. Her usual day starts with protecting that body beautiful with a rigid routine of exercice and the right breakfast to keep her healthy and blooming for the taxing day ahead. Work, study, and a constant perfecting of her current assigment, mean a steady application. ABout the only relaxation Marilyn has time for is her admitted weakness for reading. She reads a little bit of everything and her night table is usually strewn with scripts and books. But she loves it all for Marilyn had no easy time in her climb. She worked hard on the small part in "Asphalt Jungle" and the returns were worth it to Marilyn.

Traduction UNE JOURNÉE AVEC MARILYN MONROE
"Miss Cheesecake", appellation des GI's, travaille dur donc un jour, elle sera félicitée pour son jeu !
La fille au corps magnifique, Marilyn a récemment été nommée leur nouvelle reine des pin-up par les éditeurs GI de Stars and Stripes en Allemagne. Mais il n'est pas facile de continuer à regarder dans cette direction. Sa journée habituelle commence par la protection de son beau corps avec une routine d'exercice rigide et le bon petit-déjeuner pour le garder en bonne santé et rester épanouie pour une journée éprouvante à venir. Le travail, les études et le perfectionnement constant de sa mission actuelle signifient une candidature stable. La seule détente pour laquelle Marilyn a du temps est sa faiblesse avouée pour la lecture. Elle lit un peu de tout et sa table de chevet est généralement parsemée de scripts et de livres. Mais elle aime tout car Marilyn n'a pas eu de moments faciles dans son ascension. Elle a travaillé dur pour son petit rôle dans "Quand la ville dort" et les retours en valaient la peine pour Marilyn.

---
Caption photos

Légende photos

The day starts bright and early with Marilyn, no dumbbell she, hoisting her exercice dumbbells, right, to keep her figure trim and spirit gay. Not till then does she raid the ice-box, below, for a breakfast of fruit and cheese. That apple a day does the usualt
La journée commence de bonne heure avec Marilyn, levant ses haltères d'exercice, à droite, pour garder sa silhouette en forme et son esprit gai. Ce n'est qu'à ce moment-là qu'elle fait une descente dans son frigo, en dessous, pour un petit-déjeuner composé de fruits et de fromage. Cette pomme par jour comme d'habitude
---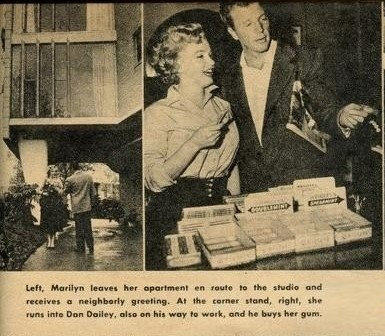 Left, Marilyn leaves her apartment en route to the studio and receives a neighborly greeting.
At the corner stand, right, she runs into Dan Dailey, also on his way to work, and he buys her gum.
À gauche, Marilyn quitte son appartement en route vers le studio et reçoit une salutation d'un voisin.
Au coin de la rue, à droite, elle croise Dan Dailey, également en route pour son travail, et il lui achète du chewing-gum.
---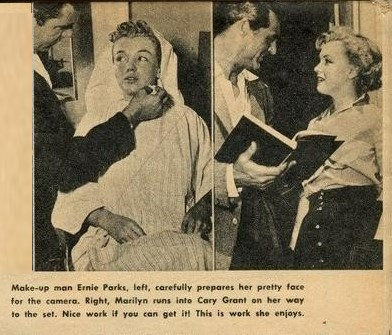 Make-up man Ernie Parks, left, carefully prepares her pretty face for the camera.
Right, Marilyn runs into Cary Grant on her way to the set.
Nice work if you can get it ! This is work she enjoys.
Le maquilleur Ernie Parks, à gauche, prépare soigneusement son joli visage pour la caméra.
À droite, Marilyn rencontre Cary Grant alors qu'elle se rendait sur le plateau.
Bon travail si tu peux l'obtenir ! C'est le travail qu'elle aime.

---
It's not all hard work for Marilyn as Macdonald Carey joins her for lunch at studio commissary.
Marilyn's friends are many.
Ce n'est pas que du travail difficile pour Marilyn puisque Macdonald Carey la rejoint pour déjeuner à la cantine du studio.
Les amis de Marilyn sont nombreux.
---
About to leave, Michael Rennie stops Marilyn for advice on what's good to eat. She recommends her own choice for Michael.
Sur le point de partir, Michael Rennie arrête Marilyn pour lui demander conseil sur ce qui est bon au menu. Elle recommande son propre choix pour Michael.

---
The long day over, Marilyn relaxes with more works. She reads into home recorder, then plays back for criticism of self.
La longue journée terminée, Marilyn se détend avec encore plus de travail. Elle lit dans un enregistreur personnel, puis l'écoute pour en faire sa propre critique.
---
The gay life of the Hollywood starlet relaxing by a swimming-pool is only in books !
Below, the pool belongs to the studio and Marilyn is posing for publicity shots, but it's not as relaxing as you might imagine it to be !
La vie joyeuse de la starlette hollywoodienne se prélassant au bord d'une piscine n'est que dans les livres !
Ci-dessous, la piscine appartient au studio et Marilyn pose pour des photos publicitaires, mais ce n'est pas aussi relaxant qu'on pourrait l'imaginer !
---
And so to bed, right. But before, Marilyn can catch up with well-earned beauty rest, she must wash, set and dry her hair, take care of her nails and polish up her appearance firt. This is a starlet's version of night life.
Et donc au lit, à droite. Mais avant que Marilyn puisse rattraper un repos beauté bien mérité, elle doit d'abord laver, fixer et sécher ses cheveux, prendre soin de ses ongles et peaufiner son apparence. C'est une version starlette de la vie nocturne.
---
© All images are copyright and protected by their respective owners, assignees or others.
17 juin 2023
A Ticket To Tomahawk
Les critiques
The reviews
---
Motion Picture Daily - April, 18, 1950
(USA)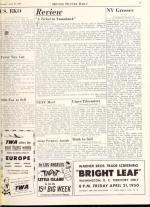 "A Ticket To Tomahawk"
(20th Century-Fox)
TAKING it straight, this big-scale Technicolor Western with its ingenious story base is a rattling good show for popular consumption. Taking it mixed, as it is with a sudden and unexpected switch to burlesque, "A Ticket to Tomahawk" becomes better.
Mary Loos and Richard Sale are co-authors of this yarn about the initial run of the Tomahawk and Western, narrow-gauge railroad probing into the Colorado mountains from the frontier town of Durango. Blocking this messenger of progress are stage coach interests headed by Mauritz Hugo whose hired henchmen are under instruction to wreck and murder if required to prevent the run.
Dan Dailey, drummer and troubadour of the road, gets innocently involved in the plot. Anne Baxter is the attractive, hard-riding and hard-shooting deputy sheriff whose job it is to get the train to Tomahawk before the franchise is forfeited. It is not an easy assignment because 40 miles of the right of way between Epitaph and Tomahawk are minus rails. The strategy calls for mule teams to haul the engine over the trackless distance and thereafter over a rickety trestle - with rails - to the end of the line. A war party of Arapahos, incited by Hugo, starts trouble, the trestle is blown up and the crisis revolved. Dailey saves the day by getting to the Indian chief, a one-time sidekick in a medicine show. The engine is dismantled, carried over the mountains, re-assembled and the run resumed. The final trouble develops when the boiler is punctured and the town line moved behind the engine to indicate the conditions of the charter have been fulfilled.
After false starts, Dailey's anticipated romance with Miss Baxter develops The villains of the piece are eliminated for a happy ending. The twist enters when Dailey meets his Indian friend and both start talking show business. It is a funny routine and a totally unexpected change of pace. Fireworks finally spelling a Chinese Happy New Year up in the hills give the tribesmen all the signs they require and any audience a howl. From that point on, they are in and so is the Tomahawk and Western.
This attraction slows down here and there which probably represents normal expectancies. But its main story line is fresh and different, if far-fetched. Performances are pretty much standard. Production values are excellent and Harry Jackson's employment of the camera in catching breath-taking mountain scenery is superb. Co-author Sale also directed and did representatively well. Robert Bassler produced.
Running time, 90 minutes. General audience classification. For May release.
RED KANN
Prenons les choses au clair, ce western Technicolor à grande échelle avec sa base d'histoire ingénieuse est un bon spectacle pour la consommation populaire. Mélangeons-le, comme avec un passage soudain et inattendu au burlesque, "A Ticket to Tomahawk" devient meilleur.
Mary Loos et Richard Sale sont co-auteurs de ce récit sur le parcours initial du Tomahawk et du chemin de fer Western à la voie étroite sondant les montagnes du Colorado depuis la ville frontalière de Durango. Bloquer ce messager du progrès sont les intérêts des diligences dirigés par Mauritz Hugo dont les hommes de main embauchés ont pour instruction de détruire et d'assassiner si nécessaire pour empêcher la fuite.
Dan Dailey, marchand ambulant et troubadour de la route, s'implique innocemment dans l'intrigue. Anne Baxter est la shérif adjointe attirante, dure et acharnée dont le travail consiste à amener le train à Tomahawk avant que la franchise ne soit perdue. Ce n'est pas une tâche facile car 40 milles du passage entre Epitaph et Tomahawk sont sans rails. La stratégie appelle des équipes de mulets pour transporter le moteur sur la distance sans rail, puis sur un chevalet branlant - avec des rails - jusqu'à la fin du parcours. Un parti guerrier d'Arapahos, incité par Hugo, sème le trouble, le chevalet est explosé et cela tourne à la crise. Dailey sauve la mise en se rendant chez le chef indien, un ancien acolyte d'un show de médecine. Le moteur est démonté, transporté au-dessus des montagnes, remonté et la course reprend. Le dernier problème se développe lorsque la chaudière est crevée et que la ligne de ville est déplacée derrière le moteur pour indiquer que les conditions de la charte ont été remplies.
Après un faux départ, la romance anticipée de Dailey avec Miss Baxter se développe. Les méchants sont éliminés pour une fin heureuse. La torsion entre lorsque Dailey rencontre son ami indien et les deux commencent à parler de show business. C'est une drôle de routine et un changement de rythme totalement inattendu. Les feux d'artifice qui finissent par épeler une Bonne Année à la chinoise dans les collines donnent aux membres de la tribu tous les signes dont ils ont besoin et à tout public un hurlement. À partir de ce moment, ils sont dedans, tout comme le Tomahawk et le Western.
Ce divertissement ralentit par ci et par là, ce qui représente probablement des attentes normales. Mais son scénario principal est frais et différent, bien que tiré par les cheveux. Les performances sont à peu près standard. Les valeurs de production sont excellentes et l'utilisation de l'appareil photo par Harry Jackson pour capturer des paysages de montagne à couper le souffle est superbe. Le co-auteur Sale a également réalisé et a bien réussi. Robert Bassler produit.
Durée, 90 minutes. Classement grand public. Sortie prévue en mai.

---
Variety - April, 19, 1950
(USA)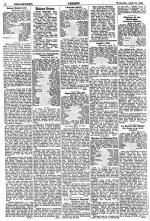 A Ticket to Tomahawk
(SONGS-COLOR)
Hollywood, April 15
Twentieth-Fox release of Robert Basler production. Stars Dan Dailey, Anne Baxter; features Rory Calhoun, Walter Brennan, Charles Kemper, Connie Gilchrist, Arthur Hunnicutt, Will Wright, Chief Yowlachie, Victor Sen Yung. Directed by Richard Sale. Written by Mary Loos and Richard Sale; camera (Technicolor), Harry Jackson; music, Cyril Mockridge; editor, Harmon Jones. Tradeshown April 14, '50 Running time, 90 mins.
"A Ticket to Tomahawk" provides a pleasant 90-minute ride for ducat-buyers and should register a moderate boxoffice success. It has Dan Dailey and Anne Baxter for the marquees, flashy color, beautiful outdoor scenery and a neat pace to back up its western satire.
Dailey is a loose-footed travelling salesman, enjoying existence until he buys a ticket to Tomahawk. He's the only passenger on a train that is beign hauled over the mountains by mules so that a franchise can be established. The stagecoach operator is out to halt the fulfilment at all costs, just as gun-slinging Anne Baxter, grand-daughter of a shooting marshal, is determined that the train go through. Mixed up in it are Indiance, dynamiting, dirty work at the crossroads and all the other stock ingredients of the prairie saga.
Richard Sale's direction and his scripting with Mary Loos, however, approach the standard material with a light air, ranging from out-and-out burlesque to clever satire, but still finds space for some good action and thriller moments among all the fun-poking. Dialog is zippy, as is the pace, and there are several topical numbers spotted to bolster the satire aims. These include the title tune by Mack Gordon and Harry Warren and "Oh What a Forward Young Man," used as a campfire song and dance number by Dailey and a comedy quartet of terpers.
Footage is no histrionic strain for the good lineup of players and they deliver easily and competently in projecting the chuckles. Dailey does well by his traveling salesman, and Miss Baxter romps through her spot as the gal alble with a six-gun but shy on birds-and-bees instruction. Rory Calhoun, principal dirty-worker for stage line owner Mauritz Hugo; Walter Brennan, engineer in love with the snappiest, most modern choo-choo puller turned out in the 1800's; Charles Kemper, deputy; Will Wright, the cantankerous grandpappy; Chief Yowlachie, Miss Baxter's personal guard, and Victor Sen Yung, Chinese, laundry-man, are maong those who help to insure the generally pleasant pay-off.
Robert Bassler's production guidance supplies some fancy outdoor scneery that is brightly displayed by Harry Jackson's camera, and the other physical appurtenances back up production aims.
Brog.
"A Ticket to Tomahawk" offre un trajet agréable de 90 minutes pour les acheteurs de ducats et devrait enregistrer un succès modéré au box-office. Il y a Dan Dailey et Anne Baxter pour les chapiteaux, des couleurs flashy, de beaux paysages extérieurs et un rythme soigné pour sauvegarder sa satire de l'Ouest.
Dailey est un vendeur ambulant aux pieds lâches, profitant de l'existence jusqu'à ce qu'il achète un billet pour Tomahawk. Il est le seul passager d'un train qui est tiré à travers les montagnes par des mulets afin qu'une franchise puisse être établie. L'opérateur de diligence est déterminé à arrêter l'exécution à tout prix, tout comme Anne Baxter, petite-fille d'un Marshall à la gâchette, est déterminée à ce que le train passe. S'y mêlent les indiens, le dynamitage, le sale boulot des carrefours et tous les autres ingrédients de base de la saga de prairie.
La direction de Richard Sale et son scénario avec Mary Loos, cependant, abordent le matériau standard avec un air léger, allant du burlesque pur et simple à la satire intelligente, mais trouve toujours de la place pour de bons moments d'action et de thriller parmi tous les amusements. Le dialogue est rapide, tout comme le rythme, et il y a plusieurs numéros d'actualité repérés pour renforcer les objectifs de la satire. Ceux-ci incluent la chanson titre de Mack Gordon et Harry Warren "Oh What a Forward Young Man", utilisée comme chanson de feu de camp et numéro de danse par Dailey et un quatuor comique de music-hall.
Les images ne sont pas une contrainte histrionique pour la bonne gamme de joueurs et ils livrent facilement et avec compétence la projection des rires. Dailey se débrouille bien en vendeur ambulant, et Miss Baxter se débrouille à sa place en tant que général apte avec son arme à six coups mais reste timide sur l'instruction des "oiseaux et des abeilles" (ndlr: le questionnement sur la sexualité). Rory Calhoun, le principal mauvais exécuteur du propriétaire de la ligne de chemin de fer Mauritz Hugo; Walter Brennan, ingénieur amoureux de l'extracteur de choo-choo le plus rapide et le plus moderne qui soit sorti dans les années 1800 ; Charles Kemper, député ; Will Wright, le grand-père acariâtre; Le chef Yowlachie, garde personnel de Mlle Baxter, et Victor Sen Yung, blanchisseur chinois, sont parmi ceux qui contribuent à assurer un résultat généralement agréable.
Les conseils de production de Robert Bassler fournissent des décors extérieurs fantaisistes qui sont brillamment affichés par la caméra de Harry Jackson, et les autres accessoires physiques soutiennent les objectifs de production.

---
Harrison's Reports - April, 22, 1950
(USA)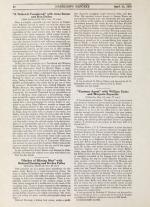 "A Ticket to Tomahawk" with Anne Baxter and Dan Dailey
(20 th Century-Fox, May; time, 90 min.)
Here is a highly enjoyable big-scale western in Technicolor, different enough to satisfy not only the action fans but also those who ordinarily do not go out of their way to see pictures of this type. The story has all the standard ingredients of the usual western plot, but what makes it different is the clever treatment, which ranges from burlesque to satire without affecting the melodramatic thrills, of which there are plennty. Dan Dailey, as a traveling salesman who becomes involved with villainous stagecoach operators trying to prevent a new railroad from establishing its franchise, and Anne Baxter, as a sure-shot deputy sheriff protecting the railroad, get the most out of their amusing characterizations and keep the audience chuckling through-out. Walter Brennan, as the train engineer, turns in his usual good performance. The production values are lavish and the color photography exceptionnaly good. The action takes place in the 1880's.
Dailey, the only passenger on a Tomahawk and Western train making its initial run, becomes innocently involved with two desperadoes hired by Mauritz Hugo, a stage-coach operator, who was determined to keep the train from reaching Tomahawk within a stipulated time in order that its franchise be forfeited. Making his way to the town of Epitaph to report an unsuccessful attempt to wreck the train, Dailey is taken for a bad man by Anne Baxter, the sheriff's granddaughter, who orders him to get out of town by sundown. Meanwhile the train reached Epitaph, and Walter Brennan, the engineer, discovers that there is no track for the next forty miles, to a point several miles from Tomahawk, the terminal. Deputized by her grandfather as a U.S. Marshal, Anne organizes a 20 mule team wagon train to haul the engine and other equipment over the track less rights-of-way. When it is learned that the franchise required that a paying passenger be carried, Dailey is compelled to go along. Rory Calhoun, secretly in league with Hugo, attaches himself to the mule train as an outrider. Calhoun's machinations, coupled with Indian attacks incited by Hugo, keep the mule train in plenty of hot water, but Dailey saves the situation when he learns that the Indian chief is an old friend, whith whom he had once appeared in a wild west show. He wins the cooperation of the Indians, and they help to bring the railroad engine to its destination, where it is re-assembled and put on the track leading to Tomahawk. By this time Anne discovers the truth about Calhoun. To save himself, Calhoun leaps aboard the steaming engine and takes off. Anne and Dailey give chase, board the engine and, after a desperate fight, toss Calhoun from the engine to his death. Meanwhile bullet holes cause the water to run out of the engine's boiler, and it comes to a stop just outside of the town line of Tomahawk. With but a few minutes to make good the franchise, Dailey induces the mayor to extend the town line to the rear end of the engine. He also induces Anne to become his bride.
It was produced by Robert Bassler and directed by Richard Sale, who wrote the original screen play with Mary Loos.
Fine for the family.
Voici un western à grande échelle très agréable en Technicolor, suffisamment différent pour satisfaire non seulement les fans d'action mais aussi ceux qui d'ordinaire ne se donnent pas la peine d'aller voir des films de ce genre. L'histoire a tous les ingrédients standard de l'intrigue habituelle du western, mais ce qui la rend différente, c'est le traitement intelligent, qui va du burlesque à la satire sans affecter les frissons mélodramatiques, qui sont nombreux. Dan Dailey, en tant que vendeur itinérant qui s'implique avec de méchants opérateurs de diligences qui tentent d'empêcher un nouveau chemin de fer d'établir sa franchise, et Anne Baxter, en tant que shérif adjointe sûre de pouvoir protéger le chemin de fer, tirent le meilleur parti de leurs caractérisations amusantes et permettent au public de rire tout le long. Walter Brennan, en tant qu'ingénieur du train, réalise sa bonne performance habituelle. Les valeurs de production sont somptueuses et la photographie couleur exceptionnellement bonne. L'action se déroule dans les années 1880.
Dailey, le seul passager d'un train de Tomahawk et d'Ouest effectuant son premier trajet, devient innocemment impliqué avec deux desperados embauchés par Mauritz Hugo, un opérateur de diligence, qui était déterminé à empêcher le train d'atteindre Tomahawk dans un délai stipulé pour que sa franchise soit perdue. Se rendant dans la ville d'Epitaph pour signaler une tentative infructueuse de détruire le train, Dailey est pris pour un méchant par Anne Baxter, la petite-fille du shérif, qui lui ordonne de quitter la ville au coucher du soleil. Pendant ce temps, le train atteint Epitaph, et Walter Brennan, l'ingénieur, découvre qu'il n'y a plus de voie pour les quarante prochains kilomètres, jusqu'à un point situé à plusieurs kilomètres de Tomahawk, le terminal. Remplacée par son grand-père en tant que maréchal américain, Anne organise un train de wagons d'équipe de 20 mulets pour transporter le moteur et d'autres équipements sur la route où manque les rails. Lorsqu'on apprend que la franchise exigeait qu'un passager payant soit transporté, Dailey est obligé de suivre. Rory Calhoun, secrètement de mèche avec Hugo, rejoint le train muletier en tant que cavalier. Les machinations de Calhoun, couplées aux attaques indiennes incitées par Hugo, maintiennent le train de mulets dans beaucoup d'eau chaude, mais Dailey sauve la situation lorsqu'il apprend que le chef indien est un vieil ami, avec qui il était apparu une fois dans un spectacle du Far West. Il gagne la coopération des Indiens, et ils aident à amener la locomotive à destination, où elle est réassemblée et mise sur la voie menant à Tomahawk. À ce moment-là, Anne découvre la vérité sur Calhoun. Pour se sauver, Calhoun saute à bord de la machine à vapeur et décolle. Anne et Dailey se lancent à sa poursuite, montent à bord de la locomotive et, après un combat désespéré, Calhoun est jetté par dessus-bord et meurt. Pendant ce temps, des trous de balle font évacuer l'eau de la chaudière de la locomotive qui s'arrête juste devant la limite de la ville de Tomahawk. Avec seulement quelques minutes pour rendre la franchise à temps, Dailey incite le maire à étendre la ligne de la ville jusqu'à l'arrière de la locomotive. Il persuade également Anne à devenir son épouse.
Produit par Robert Bassler et réalisé par Richard Sale, qui a écrit le scénario original avec Mary Loos. Pour toute la famille.
---
Film Bulletin - May, 08, 1950
(USA)
'A TICKET TO TOMAHAWK' MILDLY ENTERTAINING WETSERN FARCE IN TECHNICOLOR
Rates O O + generally
20th Century-Fox
90 minutes
Dan Dailey, Anne Baxter, Rory Calhoun, Walter Brennan, Charles Kemper, Connie Gilchrist, Arthur Hunnicutt, Will Wright, Chief Yowlachie, Victor Sen Yung, Mauritz Hugo, Raymond Greenleaf, Harry Seymour, Chied Thundercloud.
Directed by Richard Sale
Light-hearted and light-headed, "A Ticket to Tomahawk" has enough popular ingredient to satisfy not too stringent entertainement demands of almost anyone who goes to movies. Burlesqueing the western for the most part, the film is good for plenty of chuckles as it details the adventures of a drummer who helps get a train through virgin territory infested with Indians. There is ample action tu supplement the farcial proceedings and some exceptionnaly beautiful technicolor lends additional appeal. Some of the attempts of satire end up a - lamely, others may slip by the average moviegoer, but by and large director Richard Sale, who also collaborated on the screen play with Mary Loos, has succeeded in making the farce palatable and entertaining. He gets able assistance from stars Dan Dailey and Anne Baxter, the former sliding into the drummer characterization like a well-oiled piston, while Miss Baxter makes like a gun-handy deputy with an absurdity that is right in keeping with the capricious tone of the film. One of the best scenes has Dailey teaching the naive Anne the art of bussing: several others are little gems of direction and the closing gag sequence will send the audience out in fine humor.
An able supporting cast helps the principals spoof the hoary theme. Walter Brennan, though playing a role that is telescoped into virtually a bit, is effective as the sentimental engineer of the locomotive, "Emma Sweeney"; Rory Calhoun is suavely handsome in a villainous role, and some good bits are submitted by Charles Kemper, Connie Gilchrist, Victor Sen Yung and Will Wright. Special mention should be made of Harry Jackson's photography, which takes full advantage of the opportunities offered by the backgrounds and costumes.
STORY: Traveling salesman Dan Dailey is the only passenger aboard a Tomahawk and Western train on its initial run into Tomahawk, du to be completed at a specific time to retain its franchise. The owner of a stagecoach company, determined to destroy or delay the train, sets up hazards, which in addition to the fact that the last 40 miles of the way has no track and is hostile Indian territory, induces the marshal of Epitaph to assign his sure-shot daughter Anne Baxter, to head the group assigned to protect the train, which is towed the trackless way by a 20-mule team. Since a requirement is that the train have a passenger, Dailey is forced to go along. He becomes the saving force in completing the mission, folling the outlaws, tricking the Indians, and finally inducing the mayor of Tomahawk to move the city limits out beyond the end of the stalled train in the nick of time. BARN.

Léger et étourdi, "A Ticket to Tomahawk" a suffisamment d'ingrédients populaires pour satisfaire les demandes de divertissement pas trop strictes de presque tous ceux qui vont au cinéma. Menant le western au burlesque la plupart du temps, le film est bon pour beaucoup de rires car il détaille les aventures d'un marchand ambulant qui aide à faire passer un train à travers un territoire vierge infesté d'Indiens. Il y a beaucoup d'action pour compléter les procédures farfelues et quelques beautés exceptionnelles en technicolor confèrent un attrait supplémentaire. Certaines des tentatives de satire finissent mal, d'autres peuvent échapper au cinéphile moyen, mais dans l'ensemble, le réalisateur Richard Sale, qui a également collaboré au scnéario avec Mary Loos, a réussi à rendre la farce agréable au goût et divertissante. Il reçoit l'aide compétente des stars Dan Dailey et Anne Baxter, le premier glissant dans la caractérisation du marchand ambulant comme un piston bien huilé, tandis que Miss Baxter est comme une adjointe maniable avec une absurdité qui correspond parfaitement au ton capricieux du film. L'une des meilleures scènes montre Dailey enseignant à la naïve Anne l'art du bus: plusieurs autres sont de petits joyaux de mise en scène et la séquence de bâillon de clôture enverra le public de bonne humeur.
Un casting de soutien compétent aide les parodies à usurper le thème vénérable. Walter Brennan, bien que jouant un rôle qui se télescope pratiquement un peu, est efficace en tant qu'ingénieur sentimental de la locomotive, "Emma Sweeney"; Rory Calhoun est suavement beau dans un rôle de méchant, et quelques bonnes scènes sont établies par Charles Kemper, Connie Gilchrist, Victor Sen Yung et Will Wright. Une mention spéciale doit être faite à la photographie de Harry Jackson, qui profite pleinement des possibilités offertes par les arrière-plans et les costumes.
HISTOIRE : Le vendeur ambulant Dan Dailey est le seul passager à bord d'un train Tomahawk et Western lors de son trajet initial vers Tomahawk, qui doit arriver à une heure précise pour conserver sa franchise. Le propriétaire d'une compagnie de diligences, bien décidé à détruire ou à retarder le train, met en place des aléas, qui outre le fait que les 40 derniers km du trajet sont sans voie ferrée et en territoire indien hostile, incitent le maréchal d'Epitaph à assigner sa fille assurée Anne Baxter, à la tête du groupe chargé de protéger le train, qui est remorqué sans rail par une équipe de 20 mulets. Puisqu'une exigence est que le train ait un passager, Dailey est obligé de suivre. Il devient la force salvatrice en accomplissant la mission, en suivant les hors-la-loi, en trompant les Indiens et en incitant finalement le maire de Tomahawk à déplacer les limites de la ville au-delà de la limite du train qui avait été bloqué, juste à temps.
---
New York Times - May, 20, 1950
(USA) par Bosley Crowther - sur nytimes.com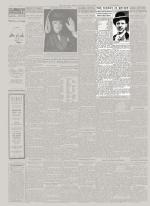 There's no business like show business. That incontrovertible truth, which is currently being demonstrated with cheerful impudence in "Annie Get Your Gun," has obviously captured the fancy of Twentieth Century-Fox and inspired it to enter competition on the "Annie" level with M.-G.-M. For yesterday Fox set up business on the Roxy's capacious screen with a Wild West show designed to rival—or, at least, to challenge—the one down the street. "A Ticket to Tomahawk" is its title and, by George, it's a pretty good show.It's not as good, perhaps, as "Annie." That comparison is inevitable. For one thing, it hasn't got a marksman to compare with Miss Oakley, bless her heart. Anne Baxter, who plays a Western hoyden with a burning curiosity about romance, is a doggone good shot in all departments but she's not in the championship class. And Dan Dailey, in the role of a peaceful salesman who gets caught in a crazy Wild West feud, does right well with a very small pistol, but Miss Oakley's companion fires a gun.Furthermore, it must be acknowledged that the ammunition which these people use does not pack the kick or the wallop of that of the rival troupe. The story supplied for the proceedings by Mary Loos and Richard Sale is charged for ordinary shooting, but you couldn't exactly call it a magnum load. And certainly the musical ammunition which Cyril Mockridge has casually tossed in sounds off like the feeble explosives of popguns alongside the big stuff of Irving Berlin.However, as we say, there's lots of pleasure in "A Ticket to Tomahawk." Viewed as an uncompetitive venture, it offers surprising good fun. To be sure, its fanciful story of a rail-versus-stagecoach race to portage a narrow-gauged locomotive over a Colorado mountain pass, with the villains and the Indians opposing and Mr. Dailey caught in between, has a very perceptible tendency to run down long before the end—a tendency which heroic juicings with Western action, wild and woolly, do not check. Still and all, it's a funny idea, cleverly engineered, with enough velocity at the outset to carry it most of the way.And we've got to score one advantage for "A Ticket to Tomahawk"; it was filmed, for the most part, amid scenery that is lovely on the Technicolored screen. Shot very largely on location in western Colorado, it does have an airiness and a beauty that you don't often find in such films. Likewise, the outdoor action of transporting a real old-fashioned iron horse, first by track and then by mule train, has flavor and humorous gusto.In these fanciful activities, Mr. Dailey acts with verve and glee, throwing himself enthusiastically into his haphazard role of a thoroughly innocent bystander taken along for the ride. He also handles competently the two indifferent songs, "Oh, What a Forward Young Man" and "On the Colorado Trail." Miss Baxter is fair and more than middling as the marshal's daughter who escorts the enterprise, while Rory Calhoun is slinky as a villain and Walter Brennan plays himself as an engineer.We might also add that Chief Yowlachie is cast in the imitative role of an ex-Wild West show performer who helps to save the enterprise in the clutch. Indeed, the Chief even is permitted to express the sentiment that "there's no business like show business." That's putting it on the line.On the stage at the Roxy are Ken Murray, Ruby Keeler, Darla Hood and the Enchanters, The Three Rockets, D'Vaughn Pershing, Joe Wong and Oswald, the "Oh Yeah" man.

A TICKET TO TOMAHAWK, screen play by Mary Loos and Richard Sale; directed by Mr. Sale; produced by Robert Bassler for Twentieth Century-Fox. At the Roxy. Johnny... Dan Dailey, Klt Dodge Jr... Anne Baxter, Dakota... Rory Calhoun, Terence Sweeney... Walter Brennan, Chuckity... Charles Kemper, Madame Adelaide... Connie Gilchrist, Sad Eyes... Arthur Hunnicutt, Conductor... Olin Howlin, Dodge... Will Wright, Pawnee... Chief Yowlachie, Long Time... Victor Sen Yung, Dawson... Mauritz Hugo, Mayor... Raymond Greenleaf, Charley... Harry Carter
Il n'y a pas de business comme le show business. Cette vérité incontestable, qui est actuellement démontrée avec une joyeuse impudence dans "Annie Get Your Gun", a évidemment captivé la Twentieth Century-Fox et l'a inspirée à entrer en compétition au niveau "Annie" avec la M.-G.-M. . Hier, la Fox s'est installée sur le grand écran du Roxy avec un show sur le Far West conçu pour rivaliser - ou, du moins, pour défier - celle du coin. "A Ticket to Tomahawk" est son titre et, par George, c'est un très bon spectacle. Ce n'est peut-être pas aussi bon que "Annie". Cette comparaison est inévitable. D'une part, il n'y a pas de tireur d'élite à comparer à Miss Oakley, bénisse son cœur. Anne Baxter, qui joue un hoyden occidental avec une curiosité brûlante pour la romance, est un bon tireur obstiné dans tous les départements, mais elle n'est pas dans la classe de championnat. Et Dan Dailey, dans le rôle d'un vendeur pacifique qui se fait prendre dans une folle querelle du Far West, s'en sort bien avec un tout petit pistolet, mais le compagnon de Miss Oakley tire avec une arme à feu. De plus, il faut reconnaître que les munitions que ces gens ont l'habitude d'utiliser n'emballe pas le coup de pied ou le coup de poing de celui de la troupe rivale. L'histoire fournie pour la procédure par Mary Loos et Richard Sale est facturée pour un tournage ordinaire, mais vous ne pouvez pas exactement l'appeler une charge magnum. Et certainement les munitions musicales que Cyril Mockridge a lancées avec désinvolture sonnent comme les faibles explosifs des popguns aux côtés des gros trucs d'Irving Berlin. Cependant, comme on dit, il y a beaucoup de plaisir dans "A Ticket to Tomahawk". Considéré comme une entreprise non compétitive, le film offre un plaisir surprenant. Certes, son histoire fantaisiste d'une course de rail contre la diligence pour porter une locomotive à voie étroite sur un col de montagne du Colorado, avec les méchants et les Indiens opposés et M. Dailey pris entre les deux, a une tendance très perceptible à courir vers le bas bien avant la fin - une tendance que les jus héroïques avec l'action occidentale, sauvage et laineuse, ne contrôlent pas. Pourtant, c'est une idée amusante, intelligemment conçue, avec suffisamment de vitesse au départ pour la mener à bien. Et nous devons marquer un avantage pour "A Ticket to Tomahawk" ; il a été filmé, pour la plupart, au milieu de paysages magnifiques sur un écran en Technicolor. Tourné en grande partie sur place dans l'ouest du Colorado, il a une légèreté et une beauté que l'on ne trouve pas souvent dans de tels films. De même, l'action en plein air consistant à transporter un véritable cheval de fer à l'ancienne, d'abord sur piste, puis en train muletier, a une saveur et un enthousiasme humoristique. Dans ces activités fantaisistes, M. Dailey agit avec verve et joie, se jetant avec enthousiasme dans son hasard rôle d'un spectateur tout à fait innocent emmené pour la balade. Il gère également avec compétence les deux chansons distinctes, "Oh, What a Forward Young Man" et "On the Colorado Trail". Mlle Baxter est juste et plus que médiocre en tant que fille du maréchal qui escorte l'entreprise, tandis que Rory Calhoun est séduisant en tant que méchant et Walter Brennan joue lui-même en tant qu'ingénieur. Nous pourrions également ajouter que le chef Yowlachie est jeté dans le rôle imitatif d'un ancien artiste de spectacle du Far West qui aide à sauver l'entreprise dans l'embrayage. En effet, le chef est même autorisé à exprimer le sentiment qu' "il n'y a pas de business comme le show business". Sur la scène du Roxy se trouvent Ken Murray, Ruby Keeler, Darla Hood and the Enchanters, The Three Rockets, D'Vaughn Pershing, Joe Wong et Oswald, l'homme "Oh Yeah".
---
Modern Screen - July, 1950
(USA)
TICKET TO TOMAHAWK
Cast: Dan Dailey, Anne Baxter, Rory Calhoun, Walter Brennan
20th Century-Fox.
This is about the early days of a railroading, and a traveling salesman (Dan Dailey), and a trigger-happy girl (Anne Baxter) who's never been kissed. A train named Emma Sweeney is the star of the picture: she's got to get to the town of Tomahawk by a certain day in order of her operators to acquire their franchise. (Dailey's Emma's first passenger). A passel of ornery stage-coach devotees don't want no railroad runnin' through the west, and they try horrid tricks (Rory Calhoun's one of the vilains), but Emma makes the grade. Ticket to Tomahawk's an odd combination of musical and western with a huge Technicolor cast. Its very weight makes it move rather heavily, despite everybody's talent.
Il s'agit des débuts d'un chemin de fer, d'un voyageur de commerce (Dan Dailey) et d'une fille à la gâchette facile (Anne Baxter) qui n'a jamais été embrassée. Un train nommé Emma Sweeney est la star du film: il doit arriver à la ville de Tomahawk à un jour précis pour que ses opérateurs acquièrent leur franchise (Dailey en est le premier passager). Un groupe de passionnés de diligences désagréables ne veulent pas qu'aucun chemin de fer ne traverse l'ouest, et ils tentent d'horribles tours (Rory Calhoun est l'un des méchants), mais Emma réussit à les contrer. Ticket to Tomahawk est une étrange combinaison de comédie musicale et de western avec une énorme distribution en technicolor. C'est plutôt fortement lourd, malgré le talent de chacun.
---
Photoplay - July, 1950
(USA)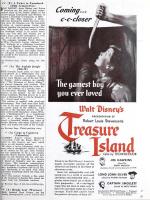 VV (F) A Ticket to Tomahawk
(20th Century Fox)
DAN DAILEY, Anne Baxter and Emma Sweeney are the stars of this action-packed story of the frantic efforts of the narrow-gauge Tomahawk and Western to acquire a franchise in Colorado, in 1876.
You'll like Miss Sweeney, a thirty-eight-ton locomotive which has been running since the Nineties over the hundreds of miles of narrow-gauge tracks that thread together the mining towns of Colorado. She wears big deer antlers across her headlight which is an ornate kerosene one, her bell and whistle are of bright brass and her cowcatcher is very big. All in all, she's trim and perky.
The company includes Walter Brennan as Miss Sweeney's loving engineer and Rory Calhoun as a villainous henchman of the rival Epitaph Overland Stage Company. Dan Dailey, a traveling salesman with an itching foot, and Anne Baxter, the ridingest, shootingest half-pint deputy sheriff in the business, add their share to the hilarity.
Your reviewer says: Come along for the ride.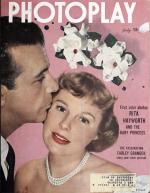 DAN DAILEY, Anne Baxter et Emma Sweeney sont les vedettes de cette histoire pleine d'action des efforts frénétiques du Tomahawk et de l'Ouest à la voie étroite pour acquérir une franchise dans le Colorado, en 1876.
Vous aimerez Miss Sweeney, une locomotive de trente-huit tonnes qui roule depuis les années 90 sur les centaines de kilomètres de voies étroites qui relient les villes minières du Colorado. Elle porte de gros bois de cerf sur son phare qui est un kérosène orné, sa cloche et son sifflet sont en laiton brillant et son chasse-buffles (à l'avant) est très gros. Dans l'ensemble, elle est soignée et guillerette.
L'équipe comprend Walter Brennan en tant qu'ingénieur amoureux de Miss Sweeney et Rory Calhoun en tant qu'homme de main méchant de la rivale Epitaph Overland Stage Company. Dan Dailey, un vendeur ambulant avec un pied qui gratte, et Anne Baxter, la shérif adjointe, la plus chevauchante et la plus tireuse de l'équipe, ajoutent leur part à l'hilarité.
Votre critique dit : Venez faire un tour.
---
Screenland - July, 1950
(USA)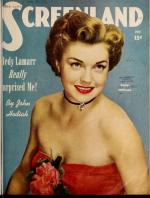 A Ticket to Tomahawk
Technicolor
20th Century Fox
EVEN traveling salesman Dan Dailey can't cope with knife-tossing, straight-shooting Anne baxter, who is in charge of getting the first steam locomotive over dangerous territory to Tomahawk. The fact that the train has to go forty miles on trackless terrain, where the local Indians are on the warpath, makes Dan wish he'd never been bitten by the traveling bug. Then to add insult to probable injury. Dan can't even operate in the traveling salesman tradition. Anne's chaperone is an oversized Indian who just about parts Dan's scalp with a bowie knife on more than one occasion. It all adds ups to a trainful of fun that sidetracks only for some whooping excitement.
MÊME le vendeur itinérant Dan Dailey ne peut pas faire face à Anne Baxter, qui lance des couteaux et tire droit, et qui est chargée d'amener la première locomotive à vapeur sur un territoire dangereux jusqu'à Tomahawk. Le fait que le train doive parcourir quarante milles sur un terrain sans rails, où les Indiens locaux sont sur le sentier de la guerre, fait souhaiter à Dan qu'il n'ait jamais été mordu par le virus du voyage. Puis pour ajouter l'insulte à l'injure probable. Dan ne peut même pas fonctionner dans la tradition des voyageurs de commerce. Le chaperon d'Anne est un Indien surdimensionné qui écarte à peu près le cuir chevelu de Dan avec un couteau Bowie à plus d'une occasion. Tout cela s'ajoute à un train de plaisir qui ne se détourne que pour une certaine excitation.
---
Focus a film review - September, 1950
(USA)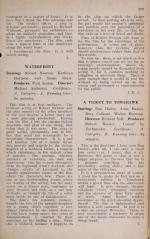 A TICKET TO TOMAHAWK
Starring: Dan Dailey, Anne Baxter, Rory Calhoun, Walter Brennan.
Director: Richard Sale. Producer: Robert Bassler. Colour by Technicolor. Certificate: A. Categorie: B. Running time: 89 minutes.
This is the first time I have seen Dan Dailey -after all, I am only a small time critic- yes, I insist, that is all. However, the point is that it was a happy surprise to discover that he is a genuine comedian. He has personality, acting ability and a fine sense of the ridiculous.
It is a preposterous story of course. A train has to make its first run on a newly-built railway to Tomahawk within a given time else the concession will lapse. It gets through, despite villainous rivals, whooping redskins and the absence of about forty miles of track. Anne Baxter renders assistance as the quick -shooting deputy sheriff. The film is lighthearted and interest is well sustained. In part it is a skit on current Westerns. There is very occasionnaly a tendency to allow one of the lesser characters to raise a cheap laugh.
C'est la première fois que je vois Dan Dailey -après tout, je ne suis qu'un petit journaliste- oui, j'insiste, c'est tout. Cependant, le fait est que ce fut une heureuse surprise de découvrir qu'il est un véritable comédien. Il a de la personnalité, des capacités d'acteur et un sens aigu du ridicule.
C'est une histoire absurde bien sûr. Un train doit effectuer son premier trajet sur une voie ferrée nouvellement construite vers Tomahawk dans un délai donné, sinon la concession expirera. Il y parviendra, malgré des rivaux crapuleux, des Peaux-Rouges coqueluches et l'absence d'une quarantaine de kilomètres de piste. Anne Baxter apporte son aide en tant que shérif adjointe à la gachette rapide. Le film est léger et l'intérêt est bien soutenu. Il s'agit en partie d'une parodie sur les westerns actuels. Il y a très occasionnellement une tendance à permettre à l'un des personnages inférieurs de faire un rire bon marché.
---
La Cinématographie Française - 17 mars 1951
(FRANCE)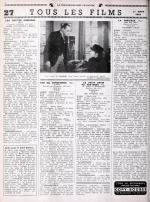 LE PETIT TRAIN DU FAR-WEST (G.)
( A Ticket to Tomahawk)
Western (90 min.)
Technicolor
(V.O.)
20th CENTURY FOX
Origine: Américaine
Prod.: Robert Bassler-Fox, 1950
Réal.: Richard Sale
Auteurs: Scen. de M Loos et R. Sale
Chef opérateur: Harry Jackson
Dir. musicale: Lionel Newman
Musique: Cyril Mockridge
Dir. artistiques: L. Wheeler, G. W. Davis
Décors: Th. Little, F. J. Rode
Montage: Harlon Jones
Chef-opérateurs du son: W. D. Flick, H. M. Leonard
Interprètes: Dan Dailey, Anne Baxter, Rory Calhoun, Walter Brennan
Première représnetation (Paris): 9 mars 1951, "Lord-Byron"
EXPLOITATION. - Délicieux western, où toutes les scènes classiques de ce genre de film ont été réunies dans un digest d'un humour excellent. Il doit plaire à tous, petits et grands.
SCENARIO. - Une ligne de chemin de fer doit réunir deux viles du Texas. La société de diligences s'y oppose. Or, la voie n'est pas terminée et il faut que le train arrive dans les deux jours. Il sera tiré sur la route par des mules, sous la protection d'une femme shériff. Elle est aidée par un commis-voyageur, dont un ami commande la tribu indienne Aparahos. Malgré les attaques, le train réussit à joindre le but. Les deux héros s'épouseront.
REALISATION. - Toutes les scènes ç succès ont été réunies avec une pointe légère d'ironie. Attaque du train, bataille avec les Peaux-Rouges, danses, etc., avec un Technicolor très coloré exactement dans la note. Rires fréquents.
INTERPRETATION. - Anne Baxter est délicieuse en cow-girl. Dan Dailey est plein d'entrain. Toute la troupe est bien typée. - J. L.

EXPLOITATION. - Delicious western, where all the classic scenes of this kind of film have been brought together in a digest of excellent humor. It should appeal to everyone, young and old.
SCRIPT. - A railway line must connect two towns in Texas. The diligence company opposes it. However, the track is not finished and the train must arrive within two days. It will be pulled on the road by mules, under the protection of a female sheriff. She is helped by a traveling salesman, whose friend commands the Aparahos Indian tribe. Despite the attacks, the train managed to reach the goal. The two heroes will marry.
MAKING OF. - All successful scenes have been brought together with a slight hint of irony. Attack of the train, battle with the Redskins, dances, etc., with a very colorful Technicolor exactly in the note. Frequent laughter.
INTERPRETATION. - Anne Baxter is delicious in cowgirl. Dan Dailey is full of spirit. The whole troop is well typed. - J.L.
---
Liste critiques et articles parus dans la presse d'époque

List of reviews and articles published in the era press
source liste sur AFI Catalog
Daily Variety - 17 avril 1950 (p.03)
Box Office - 22 avril 1950
Film Daily - 21 avril 1950 (p.06)
Motion Picture Herald Product Digest - 22 avril 1950 (p. 269)
New York Times - 20 mai 1950 (p. 08)
Motion Picture Herald - 01er juillet 1950
Hollywood Reporter - dates:
12 août 1949 (p. 13)
22 september 1949 (p. 03)
21 octobre 1949 (p. 11)
17 avril 1950 (p. 03)
Variety - - dates:
19 avril 1950 (p.08)
23 juin 1950
---
source:
scan magazines sur Lantern
---
© All images are copyright and protected by their respective owners, assignees or others.
19 mars 2023
Und sie hieß Marilyn

Paroles : Hildegard Knef
Musique : Hans Hammerschmid
Chant: Hildegard Knef
Année de sortie: 1974
Crédit label: Philips

---
Le titre figure sur les singles et albums suivants:
1974 - Single EP / 45 Tours de "Der Alte Wolf" - en Face B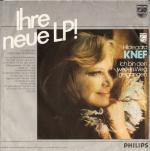 1975 - Album LP / 33 Tours de "Star Für Millionen" - 12 Titres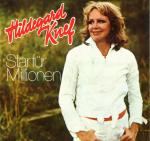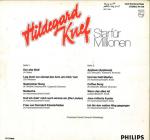 1976 - Album LP / 33 Tours de "Star Für Millionen" - 12 Titres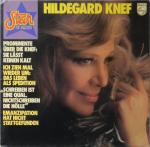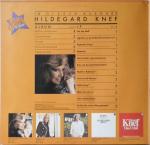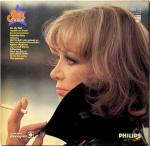 ---
---
Paroles
Und sie hieß Marilyn
Ein scheues Kind
Ein dreistes Kind
Ein Waisenkind

Mit Namen Marilyn
Wer kannte nicht
Wer wusste nicht
Die traurige Geschicht?
Des Mädchens Marilyn

Und sie hieß Marilyn
Sie blieb allein
Ein Leben lang
Ein kurzes Leben lang

Man sprach von Marilyn
Man sang ihr Lied
Man malt ihr Bild
Man wärmte sich im Licht
Des Mädchens Marilyn

Sie konnte lächeln wie kein andres,
Mit leisem Stimmchen singen
Und die sanften Träume schüren

Und in staunend weiten Augen
Unter platinweißer Strähne
Standen Ängste vor der Nacht

Und sie hieß Marilyn
Sie war der Preis
Wer gab sie preis
Für was, für wen

Man spricht von Marilyn
Man singt ihr Lied
Man malt ihr Bild
Man wärmt sich in dem Licht
Des Mädchens Marilyn

Als Andy Warhol, Arthur Miller, Norman Mailer
Und noch viele sie umschwärmten, war's zu spät.

Die Legende geht des Weges,
Und am Ende steht ein Bildnis
Und ein Mund, der lächelnd schweigt

Und sie hieß Marilyn
Sie suchte sie
Sie brauchte sie
Die Liebe, die sie nie und nimmer fand
Und so ging sie und ließ uns die Legende
Von dem Mädchen
Dem Mädchen Marilyn
Dem Mädchen Marilyn
Monroe
---
Traduction
Et son nom était Marilyn
Une enfant timide
Une enfant audacieuce
Une orphelin

Quis 'appelait Marilyn
Qui ne savait pas
Qui ne savait pas
La triste histoire ?
De la fille Marilyn

Et son nom était Marilyn
Elle est restée seule
Une longue vie
Une courte durée de vie

Ils ont parlé de Marilyn
Ils ont chanté sa chanson
Tu peins son image
On se réchauffait à la lumière
De la fille Marilyn

Elle pouvait sourire comme aucune autre
Chanter à voix basse
Et attiser les doux rêves

Et dans de grands yeux étonnés
Sous une mèche blonde platine
Debout apeurée dans la nuit

Et son nom était Marilyn
Elle était le prix
qui les a révélés
Pour quoi, pour qui

On parle de Marilyn
Tu chantes sa chanson
Tu peins son image
Tu te réchauffes à la lumière
De la fille Marilyn

Comme Andy Warhol, Arthur Miller, Norman Mailer
Et bien d'autres grouillaient autour d'elle, il était trop tard.

La légende va dans le sens
Et à la fin il y a une image
Et une bouche qui sourit et se tait

Et son nom était Marilyn
Elle la cherchait
Elle avait besoin d'eux
L'amour qu'elle n'a jamais, jamais trouvé
Et donc elle est partie et nous a laissé la légende
De la fille
La fille Marilyn
La fille Marilyn
Monroe

---
Translation

And her name was Marilyn
A shy child
A bold child
An orphan

Named Marilyn
Who didn't know
Who didn't know
The sad story?
Of the girl Marilyn

And her name was Marilyn
She stayed alone
A life long
A short lifetime

They spoke of Marilyn
They sang her song
You paint her picture
One warmed oneself in the light
Of the girl Marilyn

She could smile like no other
Sing in a low voice
And stir up the gentle dreams

And in astonished wide eyes
Under platinum blond strand
Standing fears of the night

And her name was Marilyn
She was the prize
who revealed them
For what, for whom

One speaks of Marilyn
You sing her song
You paint her picture
You warm yourself in the light
Of the girl Marilyn

As Andy Warhol, Arthur Miller, Norman Mailer
And many more swarmed around her, it was too late.

The legend goes the way
And at the end there is an image
And a mouth that smiles and is silent

And her name was Marilyn
She was looking for her
She needed them
The love she never, ever found
And so she went and left us the legend
From the girl
The girl Marilyn
The girl Marilyn
Monroe
---
Bonus Infos
Hildegard Knef (1925 - 2002) était une actrice, chanteuse et compositrice allemande. Elle débute sa carrière dans le cinéma allemand pendant la seconde guerre mondiale. Maîtresse du producteur de films allemands Ewald Von Demandowsky, ils s'engagent ensemble dans la lutte contre les nazis. Arrêtée par les soviétiques, Hildegard est envoyée dans un camp de prisonniers, d'où elle parvient à s'échapper grâce aux autres codétenus. Elle retourne à Berlin où elle intègre le théâtre de Viktor de Kowa. Elle tient des rôles marquants dans le cinéma allemand et après la guerre, elle part aux Etats-Unis où elle tourne Les Neiges de Kilimanjaro (1952) et se produit ensuite sur la scène musicale de Broadway (en 1955). A la fin des années 1950s, elle s'installe à Paris et noue une liaison avec Boris Vian, qui lui écrit des chansons. Elle engage ainsi en parallèle une belle carrière de chanteuse de jazz. En 1970, elle publie son autobiographie qui devient un best-seller en Allemagne. Elle décède d'une pneunomie à l'âge de 76 ans.



Hildegard Knef (1925 - 2002) was a German actress, singer and songwriter.

She began her career in German cinema during the Second World War.

Mistress of the German film producer Ewald Von Demandowsky, they engage together in the fight against the Nazis.

Arrested by the Soviets, Hildegard is sent to a prison camp, from where she manages to escape thanks to the other fellow prisoners.

She returned to Berlin where she joined Viktor de Kowa's theater.

She held significant roles in German cinema and after the war, she left for the United States where she filmed The Snows of Kilimanjaro (1952) and then performed on the Broadway musical stage (in 1955).

At the end of the 1950s, she moved to Paris and formed an affair with Boris Vian, who wrote songs for her.

She thus engages in parallel a beautiful career of jazz singer.

In 1970, she published her autobiography which became a bestseller in Germany.

She died of pneumonia at the age of 76.
Son plus grand succès américain reste l'adaptation du roman d'Ernest Hemingway "Les Neiges du Kilimanjaro" en

1952

, où elle joue un rôle secondaire auprès des têtes d'affiche Gregory Peck, Ava Garder et Susan Hayward. Elle sera très surprise et déçue de constater que le montage de la version américaine a supprimé bon nombre de ses scènes (notamment celles où elle chantait deux chansons: "Just One Of Those Things" et "Alles war so leer/You Do Something To Me").
Dans le film, Hildegard Knef porte des tenues du costumier de la Fox

Charles Le Maire

. Marilyn Monroe empruntera à son tour deux robes portées par Hildegard dans le film, pour des poses de portraits publicitaires.
Apparemment, elles se seraient rencontrées dans les studios de la 20th Century Fox durant cette période (vers

octobre 1951

) au département des costumes de la Fox. Elles auraient même liées une sorte d'amitié autour de la littérature. Marilyn posait beaucoup de questions sur les auteurs et livres allemands et Hildegard lui prêtait des livres; c'est ainsi que Marilyn a porté son dévolu sur les auteurs allemands

Thomas Mann et Rainer Maria Rilke.


En plus d'avoir écrit cette chanson en hommage à Marilyn, Hildegard évoque Marilyn dans ses Mémoires (À cheval donné (Der geschenkte Gaul - Bericht aus einem Leben):
'

"Une fille à l'air moitié endormie, aux cheveux blonds platine pris dans un bonnet de douche en plastique transparent, au visage pâle barbouillé d'une épaisse couche de crème, s'assied à côté de moi. Elle fouille dans un sac de plage délavé et en sort un sandwich, un pilulier,

un livre. Elle sourit à mon reflet dans le miroir. "Salut, je m'appelle Marilyn Monroe, et toi ?""


La p

remière impression d'Hildegard sur Marilyn est:

"une enfant aux jambes courtes sur pattes et aux fesses grasses, qui se dirigeait d'un pas traînant, en vielles sandales, vers la salle de maquillage.

Une

heure et demie après, elle en ressort:

seuls les yeux sont encore reconnaissables. Elle semble avoir mûrie grâce au maquillage, les jambes semblent plus longues, le corps plus élancé, le visage lumineux brille comme s'il était éclairé par des bougies..."




Les deux femmes sont invitées à la même soirée lors d'un dîner pour annoncer des récompenses et de nouvelles découvertes. Hildegard raconte: '

"Maintenant, elle porte une robe rouge qui est trop étroite pour elle ; robe que j'ai déjà vue dans la garde-robe de la Fox - bien qu'elle soit très moulante, elle ressemble à une vieille robe de maman sortie de l'armoire. Yeux mi-clos, bouche

entr'ouverte, les mains un peu tremblantes. Un verre de trop, comme une enfant qui prend son premier punch. Les photographes lèvent leurs appareils haut, flashent dans son décolleté. Elle se penche et s'étire, se tourne et sourit, consent, s'offre aux objectifs

. Quelqu'un se penche en avant et lui chuchote à l'oreille. "Non, s'il vous plaît", dit-elle, "je ne peux pas." La main tremblante renverse un verre. Enfin, elle se lève, les gens ricanent, la jupe serrée pressent ses genoux l'un contre l'autre

, elle trébuche vers le micro. La marche est absurde et elle a des kilomètres à parcourir ; ils fixent la robe, attendent qu'elle éclate et libèrent la poitrine, le ventre, les fesses. Le maître de cérémonie rugit: "Marilyn

Monroe !" Elle se stabilise sur le pied du micro, ferme les yeux, laisse une longue pause pendant laquelle on entend sa respiration amplifiée par la sono

- court, haletant, obscène.

"Salut", murmure-t-elle, puis retourne à sa place.'

Her greatest American success remains the adaptation of Ernest Hemingway's novel "The Snows of Kilimanjaro" in 1952, where she plays a secondary role alongside headliners Gregory Peck, Ava Garder and Susan Hayward. She will be very surprised and disappointed to find that the editing of the American version deleted many of her scenes (in particular those where she sang two songs: "Just One Of Those Things" and "Alles war so leer/You Do Something To Me

").




In the film, Hildegard Knef wears outfits by Fox costume designer Charles Le Maire.

Marilyn Monroe will in turn borrow two dresses worn by Hildegard in the film, for publicity portrait poses.

Apparently, they would have met in the studios of 20th Century Fox during this period (around October 1951) in the Fox' costume department.

They would even have linked a kind of friendship around literature.

Marilyn asked a lot of questions about German authors and books and Hildegard lent her books;

this is how Marilyn set her sights on the German authors Thomas Mann and Rainer Maria Rilke.


In addition to having written this song in homage to Marilyn, Hildegard evokes Marilyn in her Memoirs (The Gift Horse: Report on a Life):
"The sleepy-looking girl, with the transparent plastic shower cap over her whiteblonde hair and a thick layer of cream on her pale face, sits down beside me. She digs around in a faded beach bag and takes out a sandwich, a pillbox, a book. She smiles at my reflection in the mirror. "Hi, my name's Marilyn Monroe, what's yours ?""
The first impression of Knef about Marilyn is: "a child with short legs and a fat bottom, scuffing over the makeup room in old sandals. An hour and half later, only the eyes are still recognizable. She seems to have grown with the makeup, the legs seem longer, the body more willowy, the face glows as if lit by candles..."


The two women are invited to the same party for a dinner to announce awards and new discoveries.

Hildegard recounts:

'Now, she's wearing a red dress that's too tight for her; I've seen it before in the Fox wardrobe - although it's too tight, it looks like one of Mum's old ones dug out of the wardrobe. Eyes Half-closed, mouth half-open, hands trembling a little. One glass too many, a child's first go at the punch. The photographers hold their cameras up high, flash into her cleavage. She leans and streches, turns and smiles, is willing, offers herself to the lenses. Someone bends forward and whispers into her ear. "No, please," she says, "I can't." The trembling hand knocks over a glass. Finally she stands up, the people snigger, the tight skirt presses her knees together, she trips to the microphone. The walk is absurd and she's got miles to go; they stare at the dress, wait for it to burst and liberate the bosom, the belly, the bottom. The master of ceremonies roars: "Marilyn Monroe !" She steadies herself on the mike stand, closes her eyes, leaves a long pause in which one hears her amplified breathing - short, panting, obscene. "Hi", she whispers, and starts the trip back.'

Sur le blog:
article Robe noire avec col à bijoux de Charles Le Maire
article Robe orange ornée de perles de Charles Le Maire
---
Sources :
discographie sur discogs.com de Hildegard Knef
biographie sur wikipedia
filmographie sur imdb
chronologie biographie sur le site officiel hildegardknef.de
Livre "The Secret lives of Marilyn Monroe" ("Les vies secrètes de Marilyn Monroe") d'Anthony Summers

---
© All images are copyright and protected by their respective owners, assignees or others.
copyright text by GinieLand.
09 mars 2023
Année: 1951
Marque / Produit: Wilton / cigarettes
Pays: Argentine
Photographies: Portrait de Marilyn pour le film "Quand la ville dort"
avec la mention "artiste MGM"
Publication: pub publiée dans le magazine Atlantida, avril 1951, p 72
Year: 1951
Brand / Product: Wilton / cigarettes
Country: ARGENTINA
Photographs: Marilyn portrait for the movie "The Asphalt Jungle" in 1950
with mention "Artist from MGM"
Publication: ad published in Atlantida magazine, April 1951, p 72

---
Photographie originale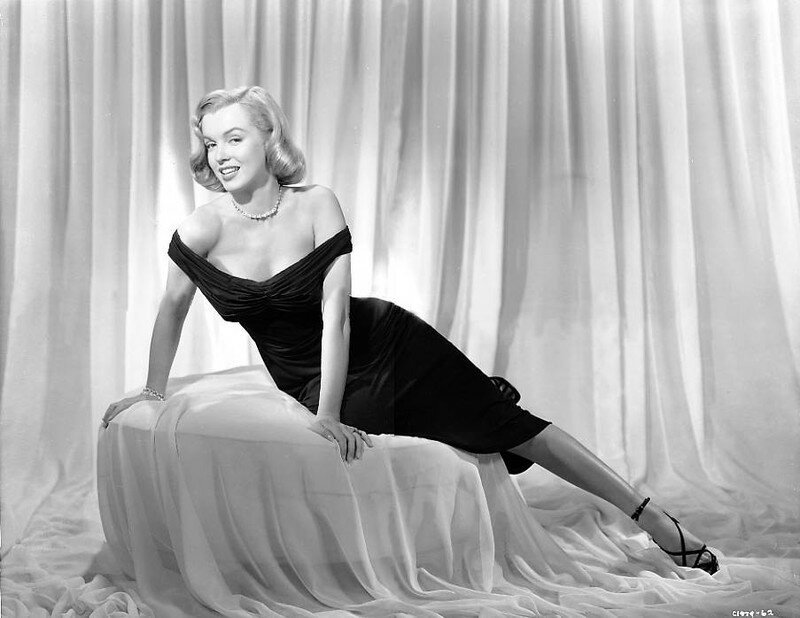 - Blog: film 1950 The Asphalt Jungle
---
© All images are copyright and protected by their respective owners, assignees or others.
18 décembre 2021
Maillot de bain une pièce métallique
Metallic one-piece swimsuit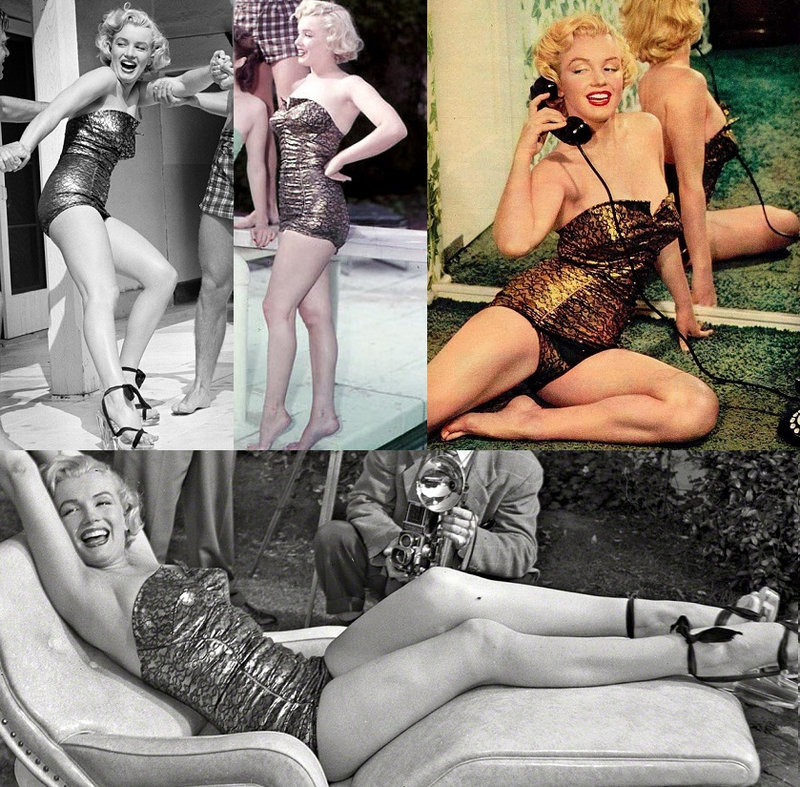 Maillot de bain bustier une pièce métallique conçu par la créatrice américaine Rose Marie Reid, de forme bustier sans bretelles, avec plusieurs lignes de coutures, et des motifs géométriques noirs.
Metallic one-piece swimsuit designed by American designer Rose Marie Reid, strapless bustier shape, with several seam lines, and black geometric patterns.
---
Marilyn porte le maillot le 12 juin 1951 à une fête l'après-midi chez la villa d'Herman Hover, une séance photos organisée par le magazine Modern Screen et photographiée par Bob Beerman. Le maillot métallique qu'elle porte est dans les tons de couleur marron dorée.
Marilyn wears the swimsuit on June 12, 1951 to an afternoon party at Herman Hover's villa, a photoshoot organized by Modern Screen magazine and photographed by Bob Beerman. The metallic swimsuit she wears is in shades of golden brown.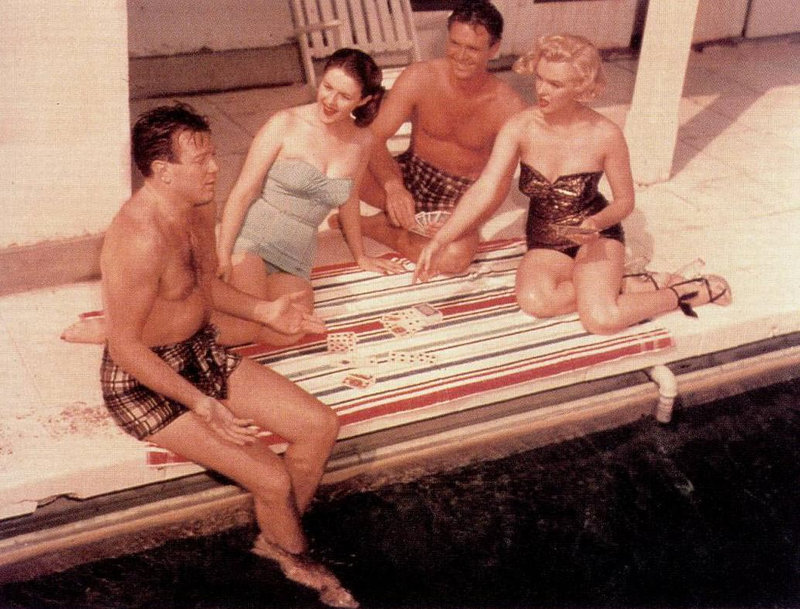 ---
Version 'alternative' du maillot métallique
The 'alternative' versions of the metallic swimsuit

---
Marilyn porte un autre maillot très ressemblant, lors d'une séance photos organisée en studio à la Fox, en 1951, sous l'objectif du photographe Earl Theisen. La couleur est plus claire, mais toujours dans les tons dorés; de plus, il y a un revers au décolleté.
Marilyn wears another very similar swimsuit, during a photo shoot organized in the studio at Fox, in 1951, posing for photographer Earl Theisen. The color is lighter, but still in golden tones; in addition, there is a lapel at the neckline.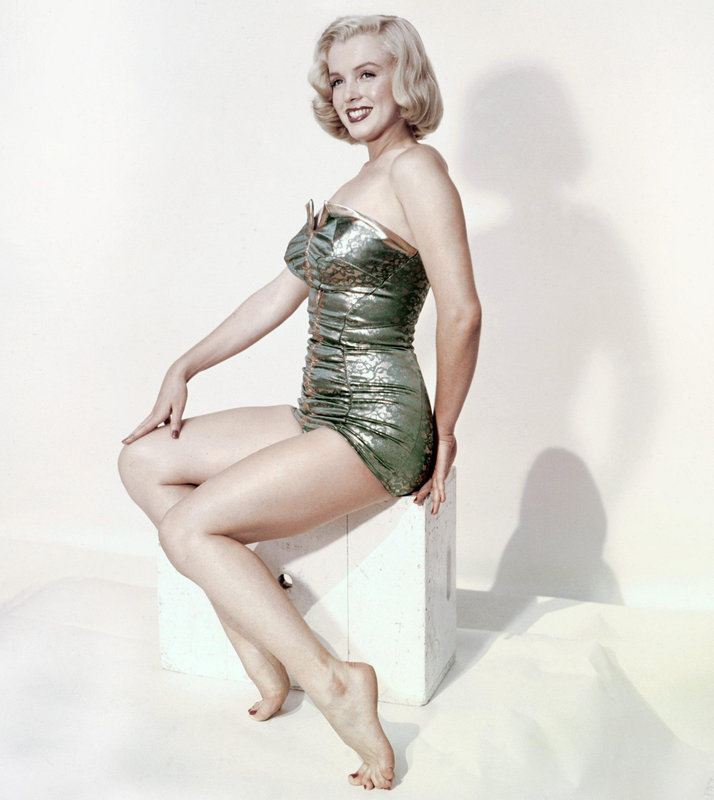 ---
Même style
Ne pas confondre avec d'autres maillot une pièce métallique
Not to be confused with other metallic one-piece swimsuit

Le maillot de la créatrice Renié
porté dans le film Chéri Divorçons, 1951
et pour une séance photos de Earl Theisen, 1951
The swimsuit of the designer Renié
worn in the movie Let's Make it Legal, 1951
and for a photo shoot by Earl Theisen, 1951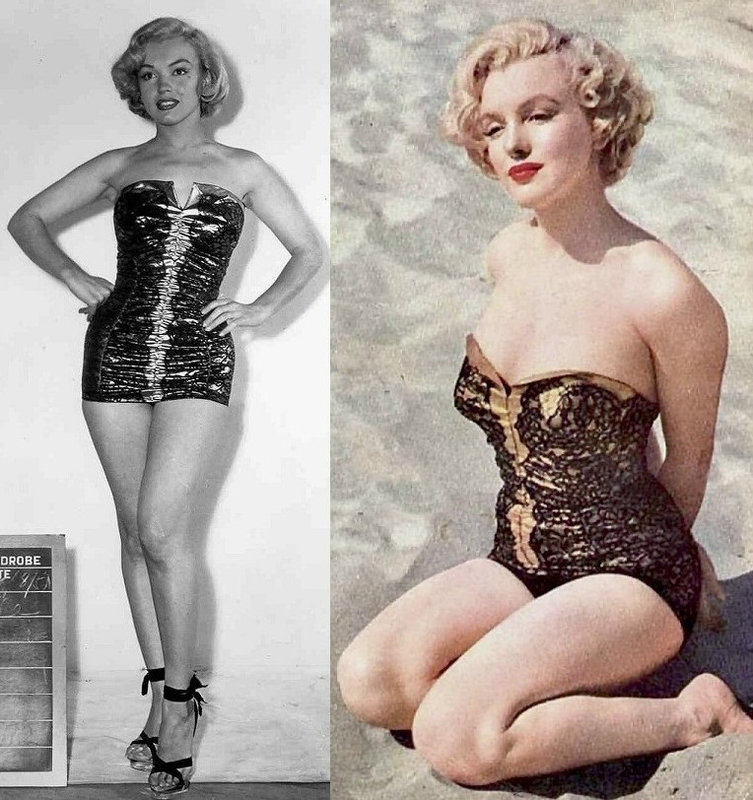 Le maillot de la marque Catalina
porté pour une séance en studio pour le film Nid d'Amour, 1951
et pour une séance de Frank Powolny en 1951
et pour une séance au Beverly Carlton Hotel en 1951
The swimsuit of Catalina brand
worn for a shoot in the studio for the movie Love Nest, 1951
and for a photoshoot by Frank Powolny in 1951
and for a session at the Beverly Carlton Hotel in 1951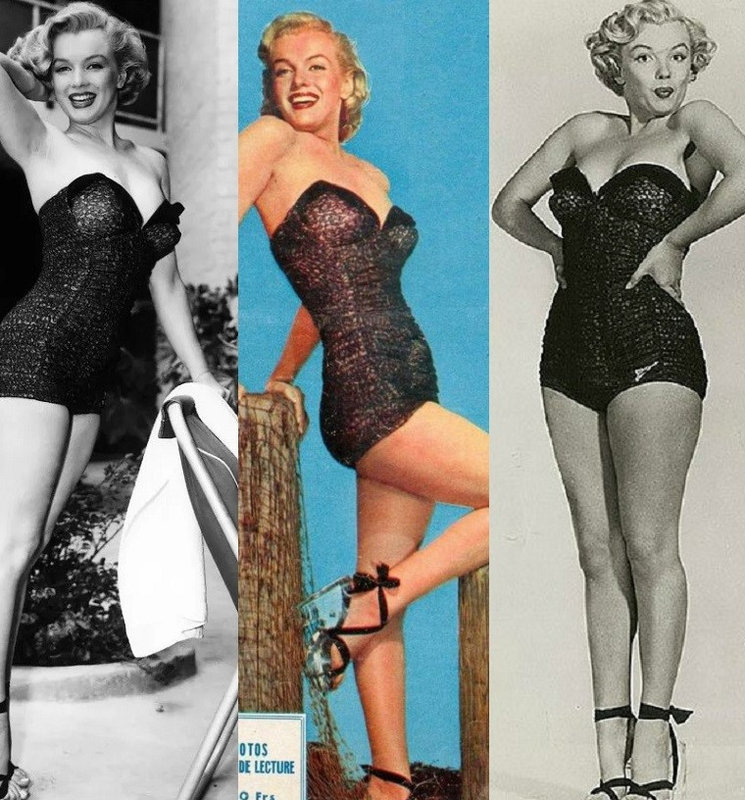 ---
- Bonus sur le blog -
styliste Rose Marie Reid
---
© All images are copyright and protected by their respective owners, assignees or others.
copyright text by GinieLand.
19 novembre 2021
Le 7 juin 1951 Marilyn Monroe fait partie des invités à la soirée d'anniversaire de Lester Cown (homme d'affaires, dont le beau père J. Myer Schine, était le propriétaire de l'hôtel Ambassador) au club de l'hôtel Ambassador, le Cocoanut Grove.
Marilyn a emprunté sa tenue aux studios de la Fox, une robe en satin noir de la costumière Renié, qu'elle porte dans le film Rendez-moi ma femme.

On June 7, 1951 Marilyn Monroe is one of the guests at the birthday party of Lester Cown (businessman, whose father-in-law, J. Myer Schine, was the owner of the Ambassador hotel) at the hotel club Ambassador, the Cocoanut Grove.
Marilyn borrowed her outfit from the Fox studios, a black satin dress by costume designer Renié, which she wears in the film "As young as you feel"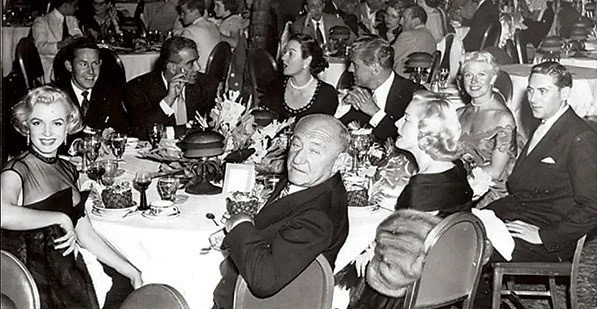 Marilyn est à la table de Lester Crown, avec l'avocat des célébrités Greg Bautzer, l'actrice Ginger Rogers, et l'ancien patron de la Fox Joseph M Schenck.

Marilyn is at Lester Crown's table, with celebrity lawyer Greg Bautzer, actress Ginger Rogers, and former Fox boss Joseph M Schenck.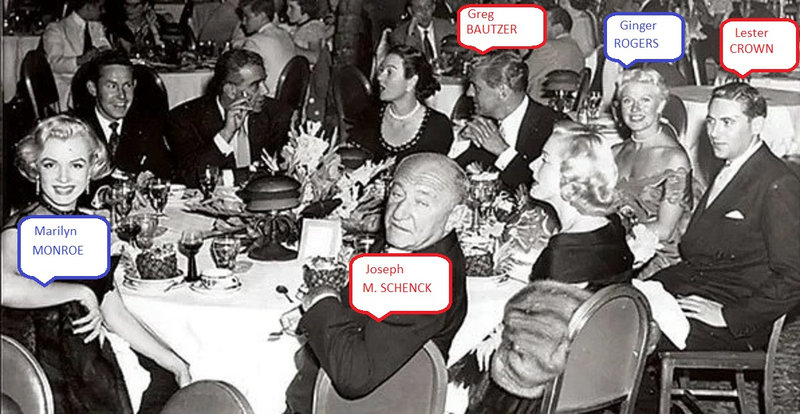 ---
> Source Web
article "Happy 90th Birthday, Lester Crown" sur Chicago Business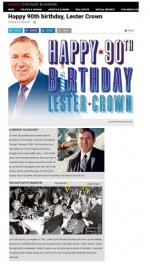 ---
© All images are copyright and protected by their respective owners, assignees or others.
copyright text by GinieLand.