Pink Dress
The Niagara Dress
robe rose, portée pour
le film Niagara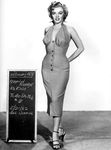 Cette longue robe rose au décolleté si caractéristique des robes de Marilyn, boutonnée devant (par sept gros boutons) et au dos nu, a été conçue par la célèbre costumière de cinéma, Dorothy Jeakins pour le film Niagara tourné l'été 1952 à la frontière canadienne. Dorothy Jeakins s'occupa de tous les costumes du film. Marilyn Monroe fit les essais de test costumes avec cette robe le 21 mai 1952 (voir photo ci-contre). La tenue, provocante et féline permettant de mouler au plus près du corps de Marilyn, ne sera pourtant pas retenue pour le film; il est en effet courant que les acteurs et actrices s'adonnent, avant d'entamer un tournage, à des essayages de divers costumes et de coiffures, qui sont photographiés et parfois même filmés.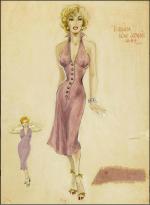 Bien que Marilyn n'apparait pas dans le film avec cette robe, elle la porta néanmoins à de nombreuses occasions, à commencer sur le tournage du film. Pour une séance photos organisée par la presse pendant le tournage, Marilyn déambule sur une route de campagne et prend la pose devant les célèbres chutes du Niagara, vêtue de la robe. Par ailleurs, une fois rentrée à Hollywood pour finaliser quelques scènes à tourner en studio, les acteurs et actrices se prêtent au jeu des photographies officielles, servant de publicité au film. Marilyn va ainsi prendre la pose devant un muret au faux décor des Chutes, habillée de cette robe rose, sous l'objectif du photographe portraitiste Bruno Bernard.
Et Marilyn n'hésite pas à empreinter la robe aux studios de la Fox, pour la porter à des soirées événementielles. D'abord, à la fin du mois d'août 1952 , la robe faisait partie des bagages de Marilyn qui était alors en tournée sur la côte est des Etats-Unis pour promouvoir le film Monkey Business (Chérie, je me sens rajeunir). Durant son escale new-yorkaise, elle se fait photographier dans le Sherry Netherland Hotel vêtue de la robe rose.
Quelques jours plus tard, le 15 septembre 1952, elle se rend à un match de base-ball caritatif à Los Angeles, moulée dans sa robe rose, afin de donner le coup d'envoi en lançant la balle.

---
Puis la robe retourne dans les placards à costumes des studios, jusqu'en 1959, l'année de la sortie du film Woman Obsessed d'Henry Hataway (qui est aussi le réalisateur de Niagara) dans lequel l'actrice Barbara Nichols apparaît dans cette tenue dans deux courtes scènes.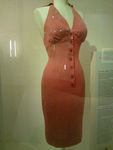 La robe est aujourd'hui la propriété du fan et collectionneur de Marilyn, David Gainsborogh-Roberts, qui a notamment prêté la robe à l'exposition qu'il avait organisé sur l'île de Jersey en 2009 (photo ci-contre).
Cependant, on remarque que la robe a subi des retouches: elle a notamment été raccourcie.
>> sources:
le film Woman Obsessed en vidéo sur youtube (voir les scènes à 34min24sec et à 35min39sec).
---
© All images are copyright and protected by their respective owners, assignees or others.
copyright text by GinieLand.
Enregistrer
Enregistrer