05 octobre 2017
Hugh Hefner, fondateur de Playboy est décédé

Hugh Hefner, fondateur du magazine Playboy, pionnier de la presse érotique grand public, est décédé mercredi 27 septembre 2017 à l'âge de 91 ans, annoncé par Playboy via son compte Twitter, via cette citation d'Hefner: "La vie est trop courte pour vivre le rêve de quelqu'un d'autre". Il est mort chez lui, à Beverly Hills, dans son manoir -la "Playboy Mansion"- devenu célèbre par ses folles soirées avec ses playmates "bunnies". Sa mort est dûe à un arrêt respiratoire survenu après un arrêt cardiaque: Hugh Hefner souffrait depuis plusieurs semaines d'une septicémie, soit un empoisonnement bactérien du sang, qui l'ont considérablement affaibli.
Hefner a lancé le magazine Playboy en 1953: le premier numéro (de décembre 1953) figurait Marilyn Monroe en couverture. Le magazine va devenir célèbre et apporter sa pierre à la révolution sexuelle aux Etats-Unis. Il sera édité dans de nombreux pays.
Célèbre pour son magazine mais aussi sa vie d'excès et fêtes, entouré de ses nombreuses petites amies, le fondateur de Playboy continuait à sortir dans les discothèques et entretenait sa vie intime à coup de Viagra, dont il n'hésitait pas à faire la promotion.
Retraité depuis longtemps, Hugh Hefner a continué pendant des années à participer aux décisions au sein du magazine, choisissant par exemple les couvertures et les Playmates du mois. Sa playmate préférée était Pamela Anderson, qui détient le record du nombre de couertures du magazine (14 fois; elle fera d'ailleurs la couverture du dernier numéro de janvier/février 2016 incluant des photos de femmes nues dans ses pages).
Hugh Hefner repose au cimetière de Westwood Village Memorial Park de Los Angeles, placé à la droite de Marilyn Monroe: il avait en effet planifié sa place en achetant son caveau pour 75.000 dollars, en déclarant à l'époque: «L'idée d'être toute l'éternité à côté de Marilyn est trop doux pour passer à côté».

Enregistrer
18 juin 2014

USA : 4,6 millions de dollars pour reposer aux côtés de Marilyn Monroe
Article publié le 17/06/2014
en ligne sur lefigaro.fr
Aux États-Unis, les emplacements mortuaires situés à côté de tombes célèbres se vendent à prix d'or. Un business florissant, sordide mais en pleine expansion.

Qui veut être enterré à côté de Marilyn Monroe pour 4,6 millions de dollars ? Au pays de la démesure, rien n'est impossible. La nouvelle tendance permet de dire: «À la vie à la mort» à son idole, en se faisant enterrer le plus près possible de la tombe de celle-ci. Le New York Times explique qu'aux États-Unis il est tout à fait envisageable, et même de plus en plus à la mode, d'acheter des lots de terre et réserver son emplacement mortuaire auprès des grands artistes de ce monde. Pour reposer dans l'éternité auprès de Duke Ellington et de Miles Davis, un saxophoniste de 52 ans, Victore Goines, a déboursé la modique somme de 25.000 dollars.

C'est en 1992 que cette idée loufoque a été lancée. Hugh Hefner, le fondateur et propriétaire du magazine Playboy, avait acheté, pour 75.000 dollars, l'emplacement situé à côté de la tombe de Marilyn Monroe au Westwood Village Memorial Park Cemetery de Los Angeles. «Passer l'éternité aux côtés de Marilyn était une perspective trop plaisante pour qu'on la laisse filer», avait-il lancé. Chanceux d'avoir été un pionnier en la matière, les places aux côtés de la pin-up se sont ensuite vendues jusqu'à 4,6 millions de dollars sur eBay.

En France, un tel trafic est impossible

La vente d'emplacements «VIP» devient un vrai business aux États-Unis. Heureusement, en France, un tel trafic ne serait envisageable puisque les emplacements parisiens (cimetières où reposent la majorité des célébrités) sont donnés aléatoirement, selon disponibilités. Inutile donc d'espérer débourser des sommes astronomiques pour reposer auprès d'Oscar Wilde, Jim Morrison ou de Frédéric Chopin...
22 février 2014
Eternity with the In-Crowd: Funny Fellows, Doomed Damsels and Hollywood Hangers-on of Westwood Village Memorial Park

by Hadley Mearers
published on October, 25, 2013
online kcet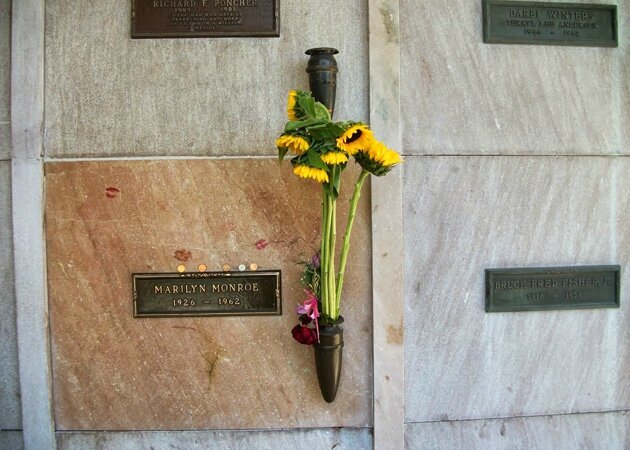 Is it bad luck to laugh in a cemetery? If it is, then I'm in for a lifetime of doom. Is it strange to feel the crackling of opportunity and mid-century American idealism in the air of the dead? Then I am one odd bird. Is there a graveyard where you can transport yourself into the VIP room of a Dean Martin Celebrity Roast? There sure is, pal o'mine, and it is right in the heart of our dear old Los Angeles, USA.

Westwood Village Memorial Park is hard to find, as any legendary Hollywood haunt should be. Nestled behind the towers of Wilshire Boulevard, off Glendon Avenue, it is hidden by tall trees and high walls. It is an elegant little cemetery, and when I get there on a Saturday afternoon, it is quietly humming. The sparse modern chapel, akin to a ski lodge, has been roped off in anticipation of a memorial service later in the day. A smattering of people mill along the grassy yard with their heads down. They are not mourners but tourists, forever on the hunt for the next name they recognize. Every few minutes one motions over to another, their eyes never leaving the ground. This is a signal that another celebrity has been "spotted," and a picture of the cold stone must be taken.

A bald man with purple shorts and a large calf tattoo walks slowly around the cemetery, placing a single sunflower on select celebrities' simple graves. Many of the names evoke a glamorous sadness. There are the famous women who met untimely ends -- Natalie Wood, Dorothy Stratton, Dominique Dunne, Farrah Fawcett, Heather O'Rourke, Minnie Riperton, and Marilyn Monroe. But there are so many other notables -- Karl Malden, Truman Capote, John Cassavetes, Mel Torme, Walter Matthau, Ray Bradbury, Burt Lancaster, Eve Arden, Jack Lemmon, Donna Reed, Don Knotts, Roy Orbison, Rodney Dangerfield, Billy Wilder, Bob Crane, Dean Martin, Peggy Lee, Fanny Brice, Frank Zappa, George C. Scott, James Wong Howe, Peter Falk, Eva Gabor, Bettie Page, Darryl Zanuck and Janet Leigh, to name a few -- that the sadness is quickly snuffed out by sheer celeb-shock.
Overall, this unassuming, lovely place gives off the feel of a friendly studio commissary, of lives well lived and then some. There is evidence of rapid expansion, as uninhabited grave sites and uninscribed headstones abound. Sage Stallone, the tragic son of Sly, is buried all alone amongst a new corridor of deluxe plot berths. Each features a blank headstone and a ceremonial bench. There are several of these VIP corridors, including a couple which make up a sort of frat-row of famous chums. They seem to have tried to out funny each other, even in death (but more on that later). I laugh out loud at many of the epitaphs, and realize I have been on my feet so long I am absolutely knackered. I want to rest, but it feels presumptuous and rude to sit on a stranger's memorial bench. Then, by some kind of magic or sheer luck, I come to the grave of a couple named Lewis Hyman and Sandra Moss. Their bench reads: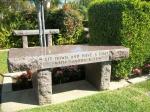 "Sit down and have a chat with Sandra and Lew."

"Well, thank you," I say aloud, taking a load off as my eyes follow sunflower man, who has just reached Marilyn Monroe's lipstick stained crypt, on the other side of the park. "Don't mind if I do."

Sunrise in Sunset
"God's acre beautiful." 1
Westwood Village Memorial Park has existed under several names. There is some conjecture that it was a burial ground as early as the 1820s, when the area was part of the Rancho San Jose de Buenos Ayres. Burials were almost certainly taking place by the 1880s, and in 1904 the cemetery was legally established as Sunset Cemetery. The first recorded burial was in 1905. The cemetery was briefly part of the short lived boom town of Sunset, while the area to the north became the city of Sawtelle (1899-1922), a town of farms and small homes, which was centered around the Soldiers Home (now the VA complex). For a few years, the cemetery's mailing address was listed as Sawtelle.
The cemetery was thoroughly run of the mill, a place for the lower to upper-middle class residents in the surrounding area. In 1916, the dedication of a granite soldier's monument was conducted by the Burnside Post, Daughters of Veterans and the Corps of Sawtelle. In 1922 a civil war veteran named Dr. Osborne Wilson, who, it was claimed, developed the world's first life-like false teeth, was buried in the cemetery. His wife, Mary, one of the last commissioned civil war nurses, was in attendance. Sunset was sold in 1923, and in 1926 its name was changed to Westwood Memorial Park. The new owners of the expanded 3-acre park began to make extensive improvements. A promotional brochure promised potential residents:
It is being gradually improved with beautiful and permanent shade trees, shrubs and flowers. All existing monuments were lowered to grade and all future markings are restricted to uniform size, of granite or bronze, set flush at the head of each grade, thereby creating the effect of a pleasant and shaded park.2
In 1933, the owners and neighboring citizens squared off over the construction of a crematorium on site. In superior court, neighbors argued that smoke fumes and noxious gasses would cover their property and diminish its value. Despite protests and a temporary injunction, the crematorium was built in 1934. A year later, the L.A. Times profiled LaDessa Gibson Schaffnit, who had inherited the cemetery and crematorium from her father, as part of an article called "Why Women Won't Stay at Home." The article heralded LaDessa, a "pretty" L.A. native, who had witnessed her first cremation at the age of five. She subsequently ran the business operation at Westwood Memorial, although the family eventually sold the property.
In 1948, 68 year-old Ana Lower's ashes were interred at Westwood Memorial. This burial would change the pedestrian cemetery's destiny, though no one could have known this at the time. In 1953, Ana's niece, Grace Goddard, was also buried in the cemetery. Her small stone simply listed her name, birth and death dates, and the words "beloved sister." The quiet burial was reputedly paid for by a woman, whom Grace had taken care of as a child after her mother had been placed in a sanitarium. Grace had often sent this exceptionally attractive girl to live with her loving and maternal Aunt Ana, who, the woman claimed, was the first person whom she ever really loved. The woman was an actress, who, after years of bit parts, finally struck it big with the movie, "Gentlemen Prefer Blondes." Her name was Marilyn Monroe.
It almost seems like fate that the famed Pierce Brothers bought the cemetery in 1959, right before the deluge of celebrities began. If ever there were superstars in the L.A. mortuary business, then the Pierce Brothers were it. In the early 1880s, William and Fred Pierce opened a livery stable at Alameda and 16th Street. They soon found that some of their best passengers were the dead, and expanded into the mortuary business. In 1924, they built the first full service funeral home in the city, at 720 West Washington Boulevard. Expert showmen, they offered tours of their mortuaries to church groups to help assuage people's fears about the modern death industry. One night, dramatic actress and blowsy eccentric person, Tallulah Bankhead, burst into the mortuary with a gaggle of drunken friends and demanded a tour.
Pierce Brothers expanded exponentially, buying up most of the mortuaries in the city, opening more, and running three cemeteries. The same year they bought Westwood Memorial, they sold their large chain of mortuaries and graveyards for $6.5 million. Befitting the family's status, the cemetery was now called "Pierce Brothers Westwood Village Memorial Park," or just "Pierce Brothers." Indeed, it was a village -- with a crematorium, a mortuary (that had been built earlier in the decade) and a cemetery -- it was a one stop shop for the bereaved. The family set about expanding and beautifying the grounds. The small peaked-roof chapel was built, as were new mausoleums. Neighbors complained once again, fearful that the construction and expansion would lead to noise and increased traffic in the neighborhood.
They had no idea what they were in for.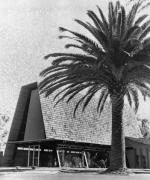 Westwood Memorial Chapel, 1962 | Herald-Examiner Collection,
Courtesy of the Los Angeles Public Library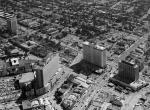 Westwood Village Memorial Park can be seen behind the church facing Wilshire |
Courtesy of the Los Angeles Public Library
The Marilyn Effect
"So many people kiss the monument that we can't get the lipstick stains out of the granite." 3
It was August 8, 1962. The exhausted director of Westwood Memorial, Guy R. Hockett, was close to collapse on account of phone calls that had been pouring in from all over the world. But he still had to manage a small memorial service for 31 people, only the second ever performed in the new chapel. The deceased lay in her coffin, dressed in a simple green dress, a small bouquet of baby pink roses pressed into her hands. Before the casket was closed, her second husband kissed her lips and whispered, "I love you, I love you."
Marilyn Monroe had been discovered three days before in Brentwood, dead from an overdose of barbiturates. She had died in bed all alone, her only link to the world a telephone receiver clutched in her cold hand. On the day of her funeral, over 500 fans and the ever present press stood outside the gates, on walls and on neighboring roofs, straining to catch a glimpse of the select mourners, as they walked from the chapel to her new crypt. Over 100 police officers, studio security guards, and Pinkerton detectives were on hand to ensure order. Only those invited by the family and second husband, Joe DiMaggio, were allowed to enter the cemetery grounds. Those not on the list included almost all of her famous Hollywood friends. According to DiMaggio: "If it hadn't been for some of her friends, she wouldn't be where she is." 4
Where she was now -- near Ana and Grace, the guardian angels of her unhappy childhood -- quickly became a mecca for tourists from all over the world. Luckily, they tended to come in ones and twos. On the one year anniversary of her death, a reporter came across two women praying in front of the crypt, which was festooned with more than a dozen floral remembrances. No matter what time of the year it was, there was always one bouquet of six red roses, placed in the black ceremonial urn next to her nameplate. For over twenty years, they were delivered thrice weekly by the Parisian Flower Shop on a standing order from Joe DiMaggio. His instructions to the family run florist simply read, "three times a week ... forever." 5
These flowers were often stolen by trophy hunters, while thrill seekers often attempted to pry open Marilyn's crypt, or steal the brass nameplate. A tradition arose of kissing the crypt, which over the years has turned it a pale rose that stands out from the rest of the mausoleum. Celebrations on her birthday have grown over the years. On the 30-year anniversary of her death in 1992, over 200 impersonators, fans, and her longtime stand-in attended a service held in the rustic chapel. Afterwards, paparazzi snapped pictures of women modeling versions of her low-cut, iconic white gown on the cemetery grounds.
Perhaps in search of those eternal flashing bulbs, Marilyn's presence transformed this rather blasé cemetery into the in-eternity spot for the movie makers and shakers of her generation. Cemetery neighbors soon learned to deal with the crush of mourners and press each new celebrity burial would bring. There was Natalie Wood's heart breaking burial in 1981, where her husband, Robert Wagner, took three gardenias from her beige coffin, and handed them to their three daughters. At Dean Martin's nighttime memorial, reporters on a nearby rooftop garage struggled to see a who's-who of the rat pack generation enter the cemetery grounds. Prices for plots skyrocketed, leading Walter Matthau's son to joke: "Poppy, you said that you wanted a simple pine casket, so that's what we got you. But we want you to know, this plot alone cost as much as Ebbets Field." 6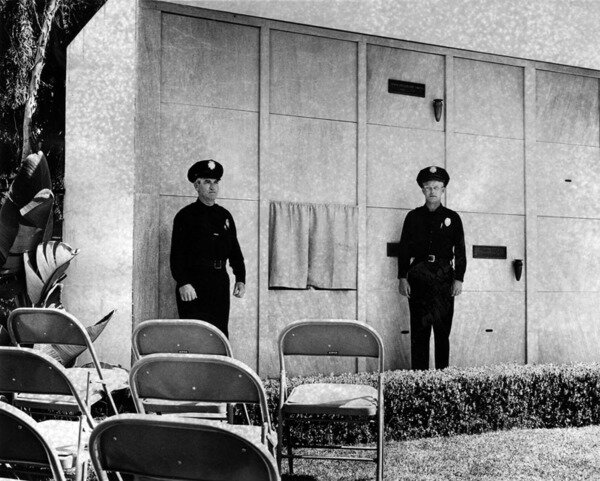 Studio police guard Marilyn Monroe's crypt, August 8, 1962 |
Herald-Examiner Collection, Los Angeles Public Library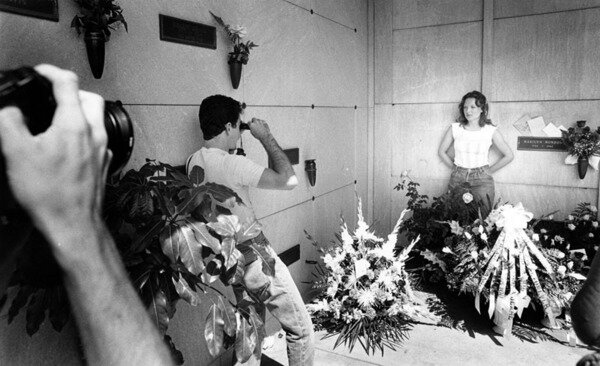 Fans of Marilyn Monroe photograph each other today at star's tomb |
Herald-Examiner Collection, Los Angeles Public Library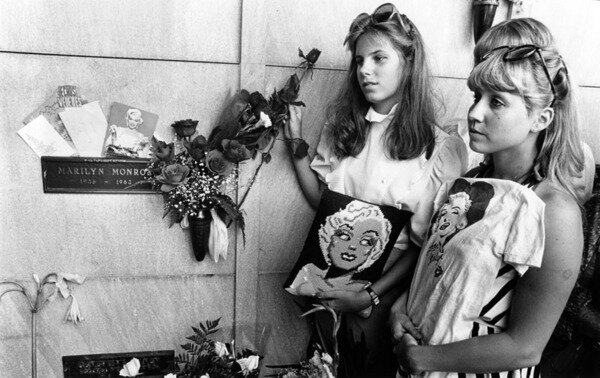 Nancy Yorkshaitis, 14, left, and Jamie Steward, 18, pay their respects at cryptside ceremonies
in Westwood for Marilyn Monroe, who died 20 years ago. August 8, 1982 |
Herald-Examiner Collection, Los Angeles Public Library
Darling, you should have been there
Houston-based Service Corp International bought the cemetery in 1996, "with dollar signs in their eyes," according to Steve Sann, current chair of the Westwood Community Council. In 2002, a plan for massive expansion of crypt space sparked a nasty fight, which pitted the mega-corporation against plot-holders and neighbors in Westwood. Spearheaded by Steven Sann and Tamar Hoffs, a civic action committee called The Friends of Westwood Village Memorial Park was formed. At a heated meeting with city planners, Audrey Wilder, widow of Billy, voiced the sentiments of many.
"How dare you turn this beautiful and sacred place into Disneyland for the dead!" 7
Those opposed to the expansion fought back by campaigning for the cemetery to be designated as a historic cultural monument. This status was granted, and the West Los Angeles Planning Commission reversed an earlier OK of the plan, which would have granted the construction of two new large mausoleums. In the end, the smaller mausoleum was built, but the larger and more offensive one was not. A wall separating neighbors from the cemetery was also built, after having been promised to the neighborhood for 60 years.
Obviously, many people care deeply about this lovely cemetery. My favorite thing about Westwood Memorial is the culture of epitaphs, rich in café society élan and slapstick humor. In the newer part of the cemetery, near the chapel, some of the crème de la crème of '60s, '70s, and '80s Hollywood are buried close together. Many of the public figures buried at Westwood have crafted one last headline, one last punch line, to amuse their friends, family and the public -- their personas etched into stone:
Rodney Dangerfield: "There goes the neighborhood"
Merv Griffin: "I will not be right back after this message"
Jack Lemmon: "in"
Walter Matthau memorial bench: "There was a star danced and under that was I born"
Peter Falk: "I'm not here, I'm home with Shera"
Dean Martin: "Everybody loves somebody sometime"
Miss Peggy Lee: "Music is my life's breath"
Mel Torme: "Music, the greatest good that mortals know, and all of heaven we have below"
Billy Wilder: "I'm a writer but then nobody's perfect"
Audrey Wilder: "I'm right here Billy"

It isn't just the famous whose epitaphs sparkle and shine. Scattered all over the cemetery are epitaphs rich in humor, joie de vivre, and professional pride. Some include pictures, like Jacques and Madeline Delobel, who smile at each other warmly, a glass of spirits raised in his hand. Some of my personal favorites include:

Douglas Wicks Walker: "WOW!"
Lewis I.: "Finally under par"
Marilyn Dunton Simpson: "I could have danced all night..."
Vince Eckhart: "The 'computer guys'"
The Young family memorial bench: "Forever Young"
Biff Elliot, actor: "It was easy."
Milton A. Rudin: "Counselor at law"
Charles McKey Hart: "A twinkle in his eyes, a smile, life was good"
Alice Gilbert Hart: "She cared"
Robert Earl Bradley: "Loving husband, terrific father and a super good guy"
Jeffery Craig Burkhart: "Darling, you should have been there."
Dorothy McKee Wray: "She passed the good around."
Lord Bacon Scherer: "God knows we love you!"
Hannah Russell: "...And life goes on."

Indeed, life does go on. But at Westwood Village Memorial Park, the spirits of those who have left -- be they tragic or comic, famous or not -- are celebrated in an elegant and graceful way. One hopes that the owners of the cemetery will preserve the intimate, cocktail party feel of this peaceful oasis.. For as every good Hollywood insider knows, parties are best when they aren't too crowded.
1"Graveyard of stars hard to locate" Los Angeles Times, October 1976: graveyard of stars hard to locate
2Ibid.
3"Rest in Peace Fan Adoration Can Make It Hard" Los Angeles Times, July 24, 1995
4 "Joe Dimaggio weeps at Marilyn's funeral" Los Angeles Times, August 9, 1962
5"Three times a week...forever" Los Angeles Times, August 6, 1972
6"He Was No Grumpy Old Man" Los Angeles Times, July 26, 2000
7"Los Angeles; Cemetery's Expansion Plans OKd" Los Angeles Times, July 26, 2002
09 février 2014
Le matin du lundi 6 août 1962, Berniece Miracle (la demie-soeur de Marilyn) arrive de Gainesville, au Texas, où elle vit, à l'aéroport de Los Angeles. C'est Inez Melson (la conseillère financière de Marilyn) qui vient la chercher à l'aéroport.
On Monday morning, August 6, 1962, Berniece Miracle (Marilyn's half-sister) arrives from Gainesville, Texas, where she lives, at Los Angeles. This is Inez Melson (Marilyn's financial advisor) who joins her at the L.A. airport.

> Berniece Miracle avec Inez Melson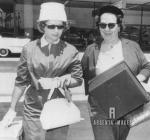 Elles se rendent au cimetière de Westwood Village pour finaliser l'organisation des funérailles de Marilyn avec Joe DiMaggio.
They go to the Westwood Village Mortuary to make final arrangments for the funeral services with Joe DiMaggio.
> Berniece Miracle avec Inez Melson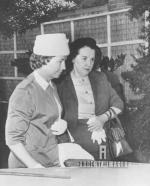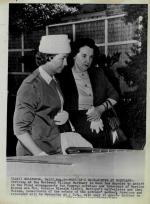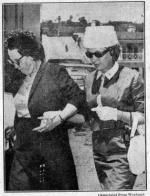 Joe DiMaggio se rend au cimetière de Westwood Village Memorial Park pour organiser les funérailles de Marilyn Monroe (qui se tiendront le 8 août), en compagnie de Milton Rudin (l'avocat de Marilyn).
Joe DiMaggio goes to Westwood Village Memorial Park to make arrangments for the funeral of Marilyn Monroe (which will be held in August, 8) with Milton Rudin (the Marilyn's lawyer).
> Joe DiMaggio (photo de Lawrence Schiller)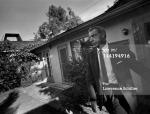 > Joe DiMaggio et Milton Rudin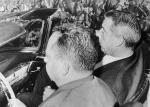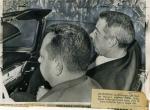 ---
Inez Melson et son mari se rendent à la maison de Marilyn, au Fifth Helene Drive, pour trier les effets personnels de la star. Melson se souvient que la table de nuit était encore encombrée de divers flacons: "Nous en trouvions sans cesse: des somnifères, du nembutal et du seconal". Soucieuse de la réputation de Marilyn, Mrs Melson détruit alors les pillules, en les jetant dans les toilettes et en emportant le reste pour les mettre à la poubelle. Elle a par la suite beaucoup regretté son geste.
Inez Melson and her husband go to Marilyn's house at Fifth Helena Drive, to sort the belongings of the celebrity. Melson remembers that the night table was still cluttered with various bottles: "We found it constantly: sleeping pills, nembutal and seconal." Concerning about the reputation of Marilyn, Mrs. Melson then destroyed pills, throwing them in the toilet and taking the rest to put in the trash. She has later deeply regretted her actions.
---
Eunice Murray est interviewée par des journalistes: "Je n'ai jamais vu Marilyn Monroe pleurer" et elle ajoute: "Marilyn n'a jamais parlé de la mort".
Eunice Murray talks to press: "I never saw Marilyn Monroe cry." She also says "Marilyn never mentioned death."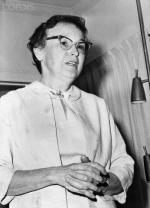 ---
En début d'après-midi, à 14 heures, le corps de Marilyn Monroe est transféré de la morgue au cimetière de Westwood, où auront lieu les funérailles.
At 2 pm, the body of Marilyn Monroe is wheeled from the Los Angeles County morgue and taken to Westwood Village Mortuary, Los Angeles, where funeral services will be held.
---
© All images are copyright and protected by their respective owners, assignees or others.
copyright text by GinieLand.
Le mardi 7 août 1962, la police de Los Angeles et celle de New York font l'inventaire des fourrures et des bijoux de Marilyn Monroe. Ils sont stockés temporairement aux postes de police pour être conservés en sécurité.
On Tuesday, August 7, 1962, Los Angeles Police and New York Police made an inventory of Marilyn Monroe's furs and jewelry . They are temporarily stored at police stations to be kept safe.
> Los Angeles

---
Au Grauman's Chinese Theatre de Los Angeles, des petites filles mettent leurs mains dans les empreintes laissées par Marilyn (le 26 juin 1953).
At Grauman's Chinese Theatre in Los Angeles, little girls put their hands in the handprints left by Marilyn (in June, 26, 1953).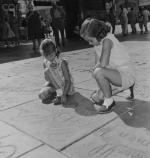 ---
Joe Jr., le fils de Joe DiMaggio, arrive à Santa Monica avec son costume pour assister le lendemain aux funérailles de Marilyn.
Joe Jr., the son of Joe DiMaggio, arrived in Santa Monica with his costume to attend the day after the funeral of Marilyn.
---
Dans la journée, Eunice Murray (la gouvernante de Marilyn), Inez Melson (la conseillère financière de Marilyn) et Berniece Miracle (demie-soeur de Marilyn) se retrouvent à la maison de Marilyn, au Fifth Helena Drive dans le quartier de Brentwood de Los Angeles, pour choisir la tenue que Marilyn portera pour ses funérailles. Quand Berniece demande où se trouvent les robes bleues de Marilyn, Eunice Murray lui explique que Marilyn ne portait plus de bleu depuis longtemps. Eunice choisit une robe vert pâle de Pucci suspendue dans la penderie, qui était la robe préférée de Marilyn.
In the afternoon, Eunice Murray (Marilyn's housekeeper), Inez Melson (financial advisor of Marilyn) and Berniece Miracle (half-sister of Marilyn) are meeting in Marilyn's house at Fifth Helena Drive at Brentwood, in Los Angeles to choose the outfit that will wear Marilyn for her funeral. When Berniece asks where are the Marilyn's blue dresses, Eunice Murray explains that Marilyn was not wearing color blue since a long time. Eunice chooses a Pucci pale green dress hanging in the closet, which was the favorite dress of Marilyn.
> Eunice Murray au 5 Helena Drive
-photographies de Gene Anthony-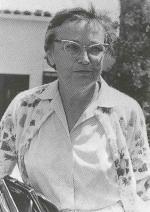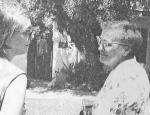 > Eunice Murray accueille Berniece Miracle et Inez Melson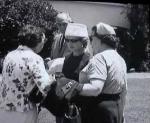 > Berniece Miracle ressort avec les affaires vérifiées par la police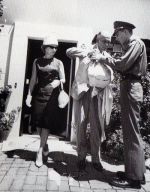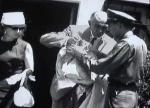 > Berniece Miracle avec Inez Melson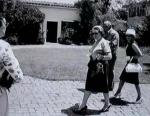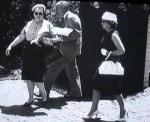 Après qu'elles soient sorties de la maison, la police pose à nouveau les scellés sur la porte.
After they have gone out the house, the police once again raises the seals on the main door.

La robe verte de chez Pucci choisie pour l'inhumation de Marilyn était la robe qu'elle avait portée le 22 février 1962 à la conférence de presse au Hilton de Mexico:
The green dress from Pucci which has been chosen for the burial of Marilyn was the dress that she wore in February, 22, 1962 at the press conference at the Hilton in Mexico City:
---
Puis Berniece se rend au cimetière Westwood Village Mortuary, où elle s'entretient avec le révérend Floyd Darling.
Berniece then goes to the Westwood Village Mortuary Cemetery , where she speaks with the Rev. Floyd Darling.
Joe DiMaggio reste 4 à 5 heures seul dans la pièce avec le corps de Marilyn.
Joe DiMaggio stays 4 to 5 hours alone in the room with the body of Marilyn.
---
On prépare la chapelle du cimetière de Westwood où aura lieu la cérémonie des funérailles.
The chapel of the Westwood cimetery where the ceremony will be held is prepared.
---
L'emplacement où reposera Marilyn Monroe est décidé: elle sera inhumée dans la crypte au marbre rose du "corridor of Memories" n°24 du cimetière de Wetswood Village Memorial Park.
The place where Marilyn Monroe will be rested is decided: she will be intered in a pink marble crypt at Corridor of Memories, #24, at the Wetswood Village Memorial Park Cimetery.
---
Le cercueil dans lequel elle reposera a été fabriqué par la société de cercueil Belmont à Shadyside, dans l'Ohio. C'est un cercueil que l'on a appelé la "Cadillac des cercueils" - en argent antique de gros calibre, de fermeture hermétique, en bronze doublé à l'intérieur d'un tossi de satin de couleur champagne-soie.
The casket in which she will rest was manufactured by the Belmont casket company in Shadyside, Ohio. It's a casket known at that time as the "Cadillac of caskets" – a hermetically sealing antique-silver-finished 48-ounce (heavy gauge) solid bronze "masterpiece" casket lined with champagne-colored satin-silk.
---
© All images are copyright and protected by their respective owners, assignees or others.
copyright text by GinieLand.
06 septembre 2013
Le 13 août 1962, Jose Bolanos se recueille sur la tombe de Marilyn en y déposant un bouquet de fleurs.
On August 13, 1962, Jose Bolanos (her Mexican lover) is at the Marilyn's grave of Marilyn by laying down a bouquet of flowers.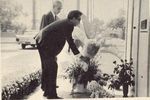 Des passants viennent déposer des fleurs.
Some people comes to lay flowers.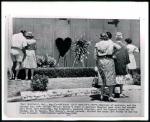 ---
© All images are copyright and protected by their respective owners, assignees or others.
copyright text by GinieLand.

02 février 2008
Marilyn Monroe est inhumée le 8 août 1962 au Westwood Memorial Cemetary de Los Angeles. C'est son ex-mari et ami fidèle Joe DiMaggio, épaulé par Berniece Miracle la demie-soeur de Marilyn, qui se chargèrent d'organiser les funérailles - une petite cérémonie privée à 13h00 où aucune star d'Hollywood - Frank Sinatra, les Lawford, et même Dean Martin, qui épaula Marilyn lors de ses démêlés avec la Fox - ne furent conviés, malgré leurs protestations. Joe DiMaggio a écarté le tout Hollywood, qu'il rendait responsable de la disparition de Marilyn. On raconte que Frank Sinatra serait venu restant derrière les portes du cimetière; quand à Peter Lawford, il déclare: "Je suis choquée. Pat est venue par avion lundi soir en provenance de Hyannis Port, où elle était en vacances avec les enfants, pour assister aux funérailles de Marilyn. Mais nous n'avions pas été invités. Je ne sais pas qui en est responsable mais tout ça a été mal géré." Et Arthur Jacobs, responsable de la publicité de Marilyn, de déclarer que si Marilyn aurait elle-même établi la liste des invités, la moitié des personnes présentes n'aurait pas été sur sa liste et beaucoup de ses amis y auraient été inclus.
Allan Abbott et Ron Hast, qui étaient dans les porteurs du cercueil, ont aidé Joe DiMaggio pour l'organisation des funérailles: le corbillard, les fleurs, et d'autres services.
Parmi les 25 invités, se trouvent l'entourage professionnel de Marilyn, certains pourtant fraîchement remerciés: Pat Newcomb, Eunice Murray, Ralph Greenson en famille, et des amis de toujours comme Anne Karger et les Strasberg. Whitney Snyder, son maquilleur de toujours, l'a maquillée pour la dernière fois (après avoir bu du whisky), et on lui a passé la robe verte de chez Pucci qu'elle aimait tant porter. A cause des dommages créés par l'autopsie, la coiffeuse de Marilyn, Agnes Flanagan, lui fixa une perruque, reproduisant la coiffure de la star lors de son dernier film Something's Got to Give. L'éloge funèbre fut prononcée par Lee Strasberg. Bouleversé, Joe DiMaggio se pencha pour un dernier hommage sur le cerceuil de bronze et murmura à trois reprises: "Je t'aime." La cérémonie prit fin avec l'un des airs préférés de Marilyn: "Over the Rainbow" interprété par Judy Garland.
Marilyn Monroe is buried in August 8, 1962 in Westwood Memorial Cemetery in Los Angeles. This is her ex-husband Joe DiMaggio, supported by Berniece Miracle -the half-sister of Marilyn-, who took charge of the funeral arrangements - a small private ceremony at 1 am where no Hollywood celebrities - Frank Sinatra, the Lawford, and even Dean Martin, who helped Marilyn with her involvements with the Fox - were not invited, despite their protests. Joe DiMaggio dismissed the Hollywood middle, that he made responsible for the disappearance of Marilyn. It is said that Frank Sinatra would have come and stayed back the door of the Westwood Memorial Park; and Peter Lawford said: "I am shocked. Pat flew in monday night from Hyannis Port where she had been vacationning with the kids, to just attend the Marilyn's funeral. But we were not invited. I don't know who's responsible but the whole thing was badly handled." And Arthur Jacobs declaring that if Marilyn had herself established the guest list, half of those who were present would not have been on her list and many of her friends have been included on it.
Allan Abbott et Ron Hast, who were the pallbearers, helped Joe DiMaggio to organize the funerals: hearses, flowers, and other services.
Among the 25 guests, are the professional circle of Marilyn, some freshly yet thanked: Pat Newcomb, Eunice Murray, Ralph Greenson family, and friends always like Karger and Anne Strasberg. Whitney Snyder, her makeup artist from always has makeup her for the last time (after drinking whiskey), and Marilyn wore the green Pucci dress she loved. Because of the damage created by the autopsy, the hairdresser Marilyn, Agnes Flanagan, fixed her a wig, replicating the hairstyle of the star during her last movie "Something's Got to Give". The eulogy was given by Lee Strasberg. Affected, Joe DiMaggio leaned for a final tribute to the bronze casket and whispered three times: "I love you." The ceremony ended with a favorite tunes Marilyn: "Over the Rainbow" sung by Judy Garland.
> Avant l'enterrement, Inez Melson se rend au cimetière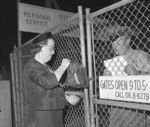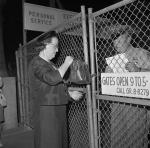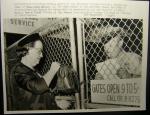 > Avant l'enterrement, préparation du service de sécurité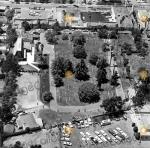 > La foule assiste de loin aux funérailles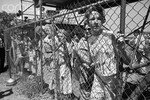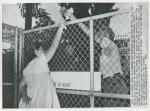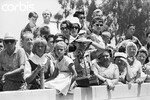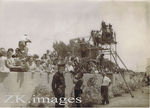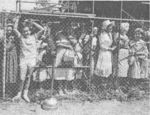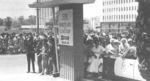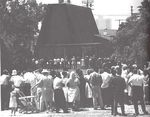 > Placement du cercueil
les "porteurs" du cercueil sont:
Allan 'Whitey' Snyder, Allen Abbott, Sidney Guilaroff, Ronald Hast, Leonard Krisminsky et Clarence Pierce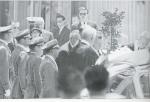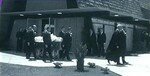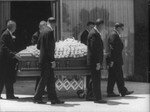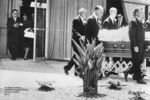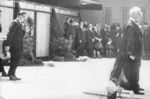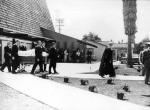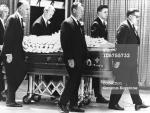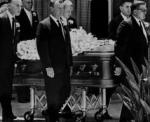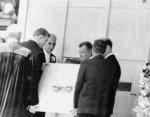 > Joe Di Maggio, son fils Joe Jr, Inez Melson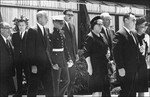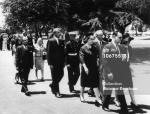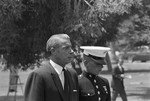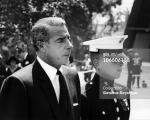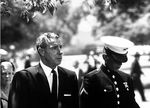 > Berniece Miracle (demie-soeur de Marilyn)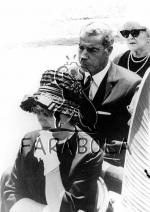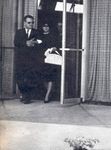 > Georges Barris (photographe)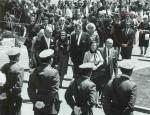 > Enid & Sam Kindelkamp (famille d'acceuil d'enfance)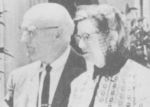 > May Reis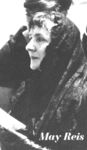 > La famille Greenson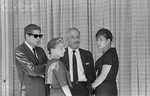 > Les Strasbergs et Agnes Flanagan

---
> photographies de Lawrence Schiller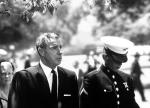 ---
> photographies de Gene Anthony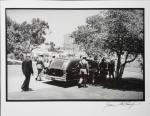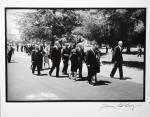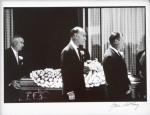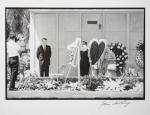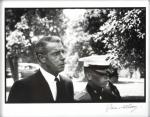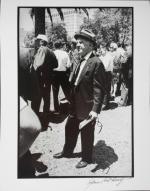 ---
> photographies de Leigh Wiener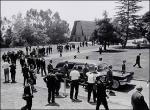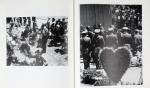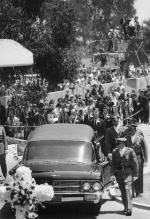 ---
> la foule photographiée par Manfred Kreiner

---
Les invités à la cérémonie (et liens avec Marilyn)
Joe DiMaggio (ex-mari et fidèle ami de Marilyn)
Joe DiMaggio Jr (le fils aîné de Joe)
Berniece Miracle (demie-soeur)
Lee Strasberg (son prof mentor de l'Actors Studio)
Paula Strasberg (la femme de Lee et sa coach)
Sidney Guilaroff (coiffeur)
Whitney Snyder (maquilleur)
Anne Karger (amie, mère de Fred Karger ex-amour de Marilyn)
Masry Karger (amie)
George Solataire (ami)
Ralph Roberts (ami)
Patricia Newcomb (attachée de presse)
Eunice Murray (gouvernante et infirmière)
Ralph Greenson & sa femme (médecin psy)
Rudy Kadensky ( ??)
Inez Melson (manager)
Pat Melson (fille du manager)
Agnes Flanagan (coiffeuse)
Florence Thomas (amie)
Enid & Sam Kindelkamp (famille d'acceuil d'enfance)
Aaron Frosch (avocat New York)
Milton Rudin (avocat Los Angeles)
May Reiss (ancienne attachée de presse)
Allocution prononcée par LEE STRASBERG:
Marilyn Monroe était un mythe. Elle fut la vivante incarnation de ce dont est capable une femme pauvre issue d'un milieu déshérité et, pour tous, le symbole de l'éternel féminin. Mais les mots me manquent pour décrire le mythe et la légende; cette Marilyn Monroe, je ne l'ai pas connue.
Pour nous, qui sommes aujourd'hui rassemblés, Marilyn était un être vibrant, hardi et timide à la fois, sensible, craignant toujours d'être rejeté, mais également avide de vivre, sans cesse préoccupée de s'accomplir. Je m'en voudrais de heurter ce que le souvenir que vous conservez d'elle peut avoir d'intime et de personnel --elle même recherchait et appréciait cette intimité-- en m'efforçant de raconter à vous qui la connaissiez celle que vous avez connue. Non seulement comme une ombre sur un écran mais aussi comme une brillante individualité, elle se survit dans nos mémoires. Pour nous, Marilyn était une amie dévouée et fidèle, une collègue qui s'efforçait toujours de mieux faire; nous partagions ses angoisses, ses difficultés et certaines de ses joies. Elle faisait partie de notre famille. Que cet effroyable accident ait mis un terme à son appétit de vivre est à peine croyable.
Les succès et le triomphe qu'elle avait remportés sur l'écran ne l'empêchaient pas de caresser des projets d'avenir; elle envisageait de participer aux milles choses passionnantes dont elle rêvait. Car, pour elle comme pour moi, sa carrière ne faisait que débuter et le rêve du talent qu'enfant elle nourrissait n'avait rien d'illusoire. La première fois qu'elle vint me voir, son étonnante sensibilité, demeurée vibrante et intacte, qui cherchait à s'extérioriser en dépit des conditions de vie auxquelles elle avait été astreinte, me stupéfia. D'autres femmes étaient aussi belles mais il y avait apparemment chez elle un élément de plus, que le public décelait et percevait dans ses interprétations. Quelque chose dans laquelle il se reconnaissait. Elle possédait le don étonnant --à base de désir silencieux, de rayonnement et d'ambition-- de garder ses distances et, en même temps, de faire en sorte que chacun veuille partager ce sentiment, cette candeur enfantine, mélange de timidité et de ferveur. Ce don était plus évident encore lorsque Marilyn était sur scène. Du fond du cœur je regrette que le public qui l'aimait n'ait pu la voir, comme nous l'avons vue, interpréter des rôles qui laissaient pressentir ce qu'elle serait devenue. Elle aurait été, j'en suis persuadé, une grande actrice. Désormais c'en est fait. J'espère que sa disparition contribuera à faire mieux aimer et comprendre une artiste sensible et une femme qui fut pour tous une source de joie et de plaisir esthétiques.
Je ne lui dirai pas adieu, Marilyn détestait les adieux, mais, comme elle qui savait retourner les choses pour qu'elles concordent avec la réalité, je lui dirai au revoir. Car, nous aussi, nous rejoindrons, un jour, le pays pour lequel elle nous a quittés.
---
> video 1

> video 2

> video 3 (narré par John Huston)

---
---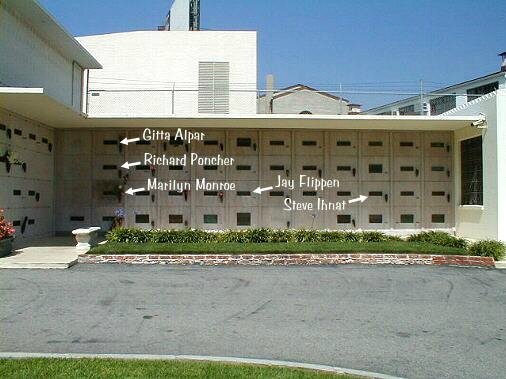 ---
> New York Mirror du 9 août 1962 - (source: marilyncollector)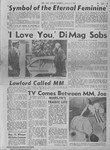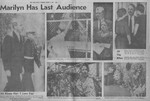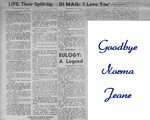 > Daily News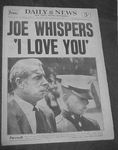 ---
> Fleurissement de la tombe
- le 13 août 1962 -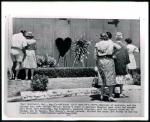 -le 1er juin 1963-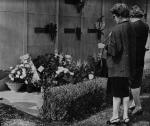 ---
>> Sur le web:
- infos sur page cemetaryguide (en anglais)
- infos sur site marilynmonroe.ca (en anglais)
- des photos sur thinesclaude (en français)
- photos & infos sur abbott & hast publications (en anglais)
---
© All images are copyright and protected by their respective owners, assignees or others.
copyright text by GinieLand.